SITE MENU
/
This Article Content
RENÉ CHARTRAND, ILLUSTRATED BY RON VOLSTAD
CANADIAN FORCES IN WORLD WAR II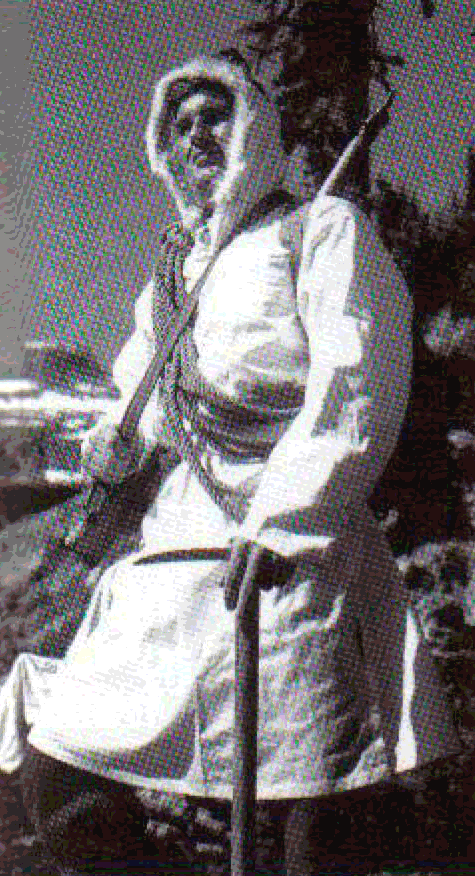 Alpine troop training in Yoho National Park, British Columbia, 1943; the Canadian Rocky Mountains offered ideal conditions for this type of training. The white parka has white fur hood trim. (Canadian Dept of National Defence, ZK-330)
Finally, the 1st Cdn Inf Div and a tank brigade landed in force in Sicily in July 1943 as part of the British 8th Army, and subsequently crossed onto the Italian mainland. At last the army was being used, and used well; and the arrival of 5th Cdn Armd Div brought the strength of I Cdn Corps in Italy to 75,000 men. Many more Canadians remained in England; and these men would finally have their chance to avenge the dead of Dieppe on 6 June 1944 at Juno Beach in Normandy. Here the 3rd Cdn Inf Div saw hard fighting, taking 1,000 casualties in the course of getting further inland other Allied formation by nightfall on D-Day.
By the end of July the 1st Canadian Army was operational; with the 2nd and 3rd Cdn Inf, 4th Cdn and 1st Polish Armd Divs under command, Gen.Crerar's army played a major role in the battle to close die Falaise Pocket in August. In the autumn the Canadians were tasked with liberating the coastal areas of France, Belgium and Holland - difficult, often flooded terrain through which they slogged steadily forward, usually in wretched weather and against bitter last-ditch resistance, with their British comrades on their right flank. Mam other Allied formations were brought under Gen.Crerar's command, and at times during the Rhineland fighting of February-March 1943. 1st Canadian Army comprised up to 13 divisions. The 3rd Inf Div and 1st Cdn Parachute Bn spearheaded the crossing of the Rhine in late March. Joined by 1 Cdn Corps from Italy, 1st Cdn Army had liberated northern Holland by the time of the ceasefire on 4 May which preceded the unconditional surrender of German forces in the theatre. Since D-Day, Canadian troops in NW Europe had suffered some 48,000 casualties including 11,546 deaths.
Thereafter, attention focused on Japan. There had been a few Canadian warships in the Pacific. The 6th Inf Div, now to be made up entirely of volunteers, was reorganised in British Columbia during summer 1945, and a naval task force with aircraft carriers was planned. The surrender of Japan on 2 September put an end to all preparations; and massive demobilisation became the order of the day. The war was over, and Canadians wanted to get on with business. By 1946 the country was back to its traditionally small army, air and sea services made up of volunteers; but - with the Cold War looming - not as small as in 1939...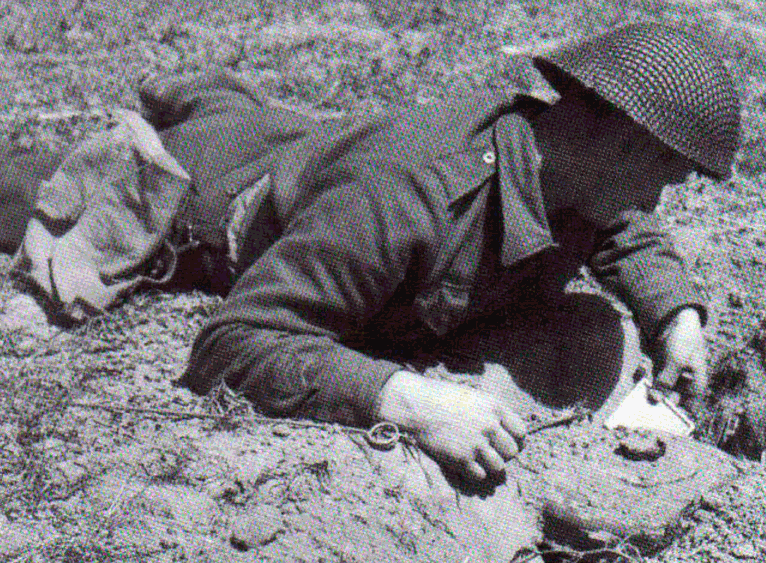 Normandy, 22 June 1944: Sapper C.W.Stevens, 18th Field Coy., Royal Canadian Engineers, using a mirror to check for anti-lifting booby traps under a German Tellermine. Note the profile of the new Mk III helmet issued to the 3rd Inf Div for the Normandy landings. Unusually, Stevens wears no insignia except the small length-of-service chevrons on his right forearm - one red chevron for each year, and the bottom one in white showing that he volunteered during the first year of the war. He has the officer's valise from the WE 37 set clipped to a belt loop of his BD trousers. (Ken Bell, National Archives of Canada, PA136278)
1939
1 September Germany invades Poland: partial mobilisation ordered in Canada.
3 September Britain and France declare war on Germany.
10 September Canadian Parliament formally declares war.
16 December 1st Canadian (Infantry) Division arrives in England.
17 December British Commonwealth Air Training Plan agreed, to be set up in Canada and managed by RGAF.
1940
10 May - 22 June. German invasion of Holland, Belgium and France ends with capitulation of France on 22 June. Elements of 1st Cdn Inf Div landed in Brittany, France, on 12 June but evacuated 17 June.
July-October. 94 Canadian aircrew take part in Battle of Britain, of whom 20 are killed.
August. Bulk of 2nd Inf Div arrives in UK, one brigade to Iceland until December.
December. 1st & 2nd Inf Divs in UK form Canadian Corps.
1941
June-July. 1st Army Tank Bde and 3rd Inf Div shipped to UK.
August. 645 men detached from 1st Inf Div participate in successful raid on Spitsbergen, Norway.
November. 5th Armd Div shipped to UK.
8-25 December. Following Japanese attacks on US, British and Dutch territories in Pacific and Asia, Royal Rifles of Canada and Winnipeg Grenadiers fight in doomed defence of Hong Kong; of 1,975 men, approx. 800 become casualties including 290 dead (another 264 will die in Japanese captivity).
1942
January. Formation of 4th Armd Div and 2nd Army Tank Bde ordered.
6-7 June. Attu and Kiska Islands (Aleutians) occupied by Japanese.
19 August. Disastrous raid by Canadian infantry and armoured units and British Commandos on Dieppe, France. Of 4,963 men of 2nd Cdn Inf Div committed, 3,367 become casualties.
August-October. 'Battle of St Lawrence' at its height; at least 23 ships sunk by U-boats in St Lawrence River and Gulf.
Summer. 4th Armd Div shipped to UK.

/ page 3 from 24 /

mobile version of the page
We have much more interesting information on this site.
Click MENU to check it out!
∎ cartalana.com© 2013-2020 ∎ mailto: koshka@cartalana.org