SITE MENU
/
This Article Content
RENÉ CHARTRAND, ILLUSTRATED BY RON VOLSTAD
CANADIAN FORCES IN WORLD WAR II
Table 1: Canadian World War II Statistics.
Men enlisted:
Canadian Army: 708,535
Casualties: 75,596, incl. 22,917 deaths
Royal Canadian Air Force: 222,501
Casualties: 21,000, incl. 13,589 deaths
Royal Canadian Navy: 98,474
Casualties: 2,343, incl. 2,024 deaths
Total men enlisted: 1,029,510
Total casualties: 98,939, incl. 38,530 deaths
Male population between 18 & 45 years old (1941): 2,474,000
Percentage of that population enlisted: 41.15%
Women enlisted:
Canadian Women's Army Corps: 21,624
Royal Canadian Air Force: 17,018
Royal Canadian Navy: 6,781
Medical Corps: 4,518
Total women enlisted: 49,941
Total men & women enlisted 1939-45: 1,079,451 Total population (1941 census): 11,506,650
Canadians in Merchant Marine: 15,000 (1,465 deaths)
Ships built in 1940: 16
Ships built by 1945: 4,419 (108,000 shipyard workers)
Aircraft built 1939-45: 16,400 (130,000 aircraft workers)
Tanks built 1940-45: approx. 8.600
Military vehicles built in 1940: 70,000
Military vehicles built in 1944: 147,000
Men & women working in war industries by 1945: 1,100,000
Civil Service employees. 1939: 46,000
Civil Service employees, 1945: 116,000
War budgets, 1939-40: $118,291,021
War budgets, 1944-45: $4,418,446,315
National debt, 1938: $3 billions
National debt, 1946: $13 billions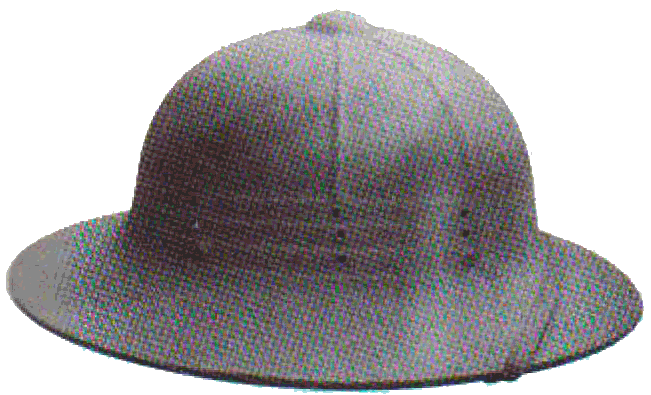 Troops who served in Canada often had the American pressed fibre sun helmet in summer - far cheaper and lighter, if not as handsome, as the British Wolseley. It was generally of a light khaki hue. (Worthington Museum, Canadian Forces Base Borden)
Many French-Canadian leaders argued that conscription was a ploy to assimilate them with the English and use them as cannon fodder. Then as now, most French-Canadians, who made up a quarter of Canada's population, did not understand the English language and were intensely proud of their French heritage. In spite of this, Canada's military services at that time operated only in English, followed British traditions and were basically an English-Canadian preserve. Although the army made some efforts to form a few francophone regiments, and the air force did set up one francophone squadron during the war, the navy was reputed to be anti-French-Canadian. The result of such policies in the services, as historian Jean-Yves Gravel put it, was that without basic equality, the nation could not expect equal sacrifice. Yet despite the attitude prevalent in Canada's armed forces, great numbers from the francophone community nevertheless enlisted - one serviceman in five was French-Canadian. In Normandy in June 1944, Suzanne Hardy of Caen recalled her surprise when she heard the liberating soldiers speaking French. (Nor were there only English or French Canadians in the Canadian forces. When Johannes Verner and his Wehrmacht comrades surrendered at Falaise in August 1944, they were startled to find that their captors spoke German; they were from western Canada, where many German families had settled early in the century.)
Conscription for overseas service was finally enacted in December 1944. There were then about 63,000 NRMA conscripts - nicknamed 'zombies' - now liable to be sent overseas. As it turned out, there were protests in army bases right across the country; many potential draftees vanished, and the few thousands who were sent across the Atlantic under this programme did not make promising candidates to face the Waffen-SS in battle. The country's resolve was shaken by this crisis, for little practical gain, since the units committed to operations overseas continued to be made up very largely of volunteers.
Another irritant was the apparent non-use by the high command of the Canadian troops sent overseas. The 1st Canadian Division had been rushed to Britain as early as December 1939, and during the invasion scare of summer 1940 it represented an important defensive asset of VII Corps. More troops had followed; but while Canadians at home could follow the feats of the Australian divisions in North Africa, their own 'war effort' appeared to be sitting in England to little effect - though this armchair impatience took little account of the 'big picture'. When Canadian troops were first committed to battle in significant numbers the outcome did little to cheer the country's mood. The large-scale raid on the port of Dieppe on 19 August 1942 - a major combined operation to rehearse the realities which would be faced when the 'Second Front' eventually opened in NW Europe - was a very costly failure. Some 3,000 of the 5,000 men committed from 2nd Cdn Inf Div were killed or captured in one of Canada's bloodiest disasters, and inevitably this confirmed the broodings of those in Canada who opposed overseas service.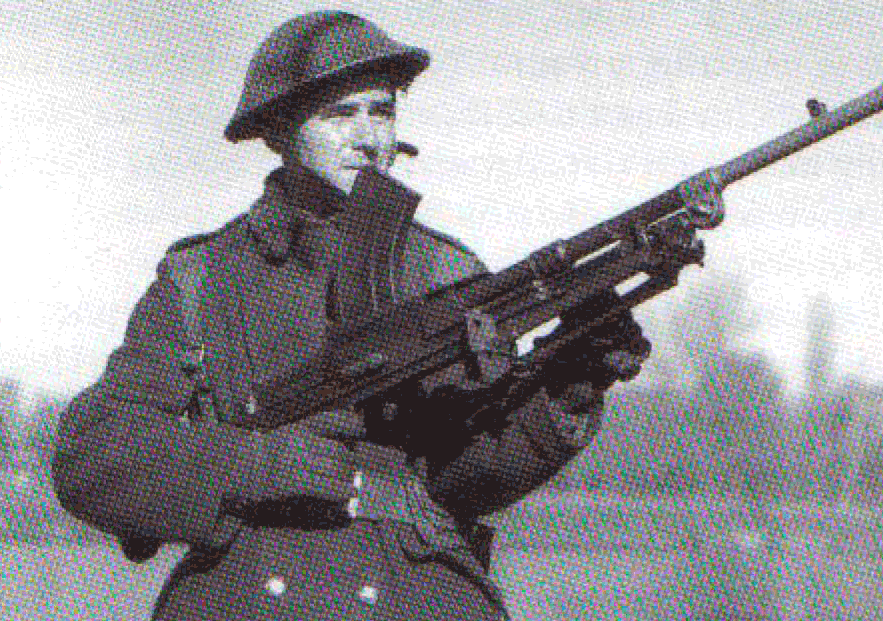 Canadian infantryman in England during the winter of 1942, armed with a Bren gun. The 1st Canadian Division arrived in Britain wearing the single- breasted pre-1939 greatcoat, but from 1940 received this copy of the double-breasted British 1939 pattern.
In March 1938 Canada's Liberal Party government had let a contract for 5,000 Bren guns to replace the venerable Lewis light machine gun, but without following the normal tendering process; this led to a furore in the House of Commons in Ottawa and in the Canadian press. The result was that only a handful of Bren guns were available in September 1939, because Prime Minister Mackenzie-King, although exonerated of any wrongdoing, had been reluctant to get into more political trouble over reequipping the armed forces. Such 'politicking' was brushed aside in wartime, and Canada quickly became a major arms producer; by 1942, 60 per cent of all Bren guns came from Canada. (Canadian Dept of National Defence, ZK-1123)

/ page 2 from 24 /

mobile version of the page
We have much more interesting information on this site.
Click MENU to check it out!
∎ cartalana.com© 2013-2020 ∎ mailto: koshka@cartalana.org