SITE MENU
Use search function please. All the info found with Ł - refers to this site
RENÉ CHARTRAND, ILLUSTRATED BY RON VOLSTAD
CANADIAN FORCES IN WORLD WAR II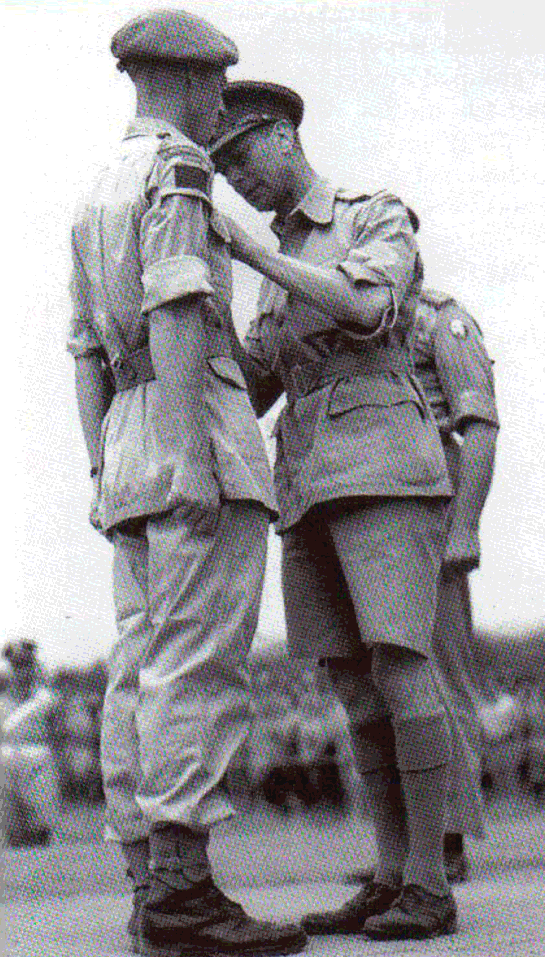 Maj. John K.Mahoney, Westminster Regiment, receives from King George VI the Victoria Cross which he earned on the Melfa River in Italy, 24 May 1944. He wears the Canadian khaki wool beret and the KD tropical bush shirt and slacks. A shallow KD brassard looped to his shoulder strap bears the title 'THE WESTMINSTER REGIMENT/ CANADA' in yellow on bright blue, above the dark red rectangle of 5th Armd Div - the Westminsters were the Motor Battalion of 5th Armd Brigade. The eleven other Canadian VC recipients were: Sgt.Maj. John Osborn, Winnipeg Grenadiers, Hong Kong, 19 December 1941; Lt.Col. Charles Merritt, South Saskatchewan Regt, Dieppe, 19 August 1942; Chaplain John Foote, Dieppe, 19 August 1942; Capt. Paul Triquet, Royal 22e Régt, Casa Berardi, Italy, 16 December 1943; PO Andrew Minarski, RCAF, over the North Sea, 25 June 1944; Capt. David Currie, South Alberta Regt, St Lambert-sur-Dives, France, 18-20 August 1944; Pte. Ernest Smith, Seaforth Highlanders of Canada, Savio River, Italy, 21-22 October 1944; Sgt. Aubrey Cosens, Queen's Own Rifles, Goch-Calcar Road, Germany, 25-26 February 1945; Maj. Frederick Tilston, Essex Scottish Regt, Hochwald, Germany, 1 March 1945; Cpl. Frederick Topham, 1st Para Bn, Diersfordt Wood, Germany, 24 March 1945; and Lt. Robert Gray, RCNVR, Onawaga Bay, Japan, 9 August 1945. (Canadian Dept of National Defence, ZK-804)
1943
June. 2nd Army Tank Bde shipped to UK (disbanded November).
10 July. 1st Cdn Inf Div & 1st Army Tank Bde land in Sicily with British

Lance-corporal of a signals unit of 1st Canadian Division in the UK, early 1940. The straight 'CANADA' shoulder title is worn above his badge of rank on both sleeves in white on khaki; this was gradually replaced, certainly from 1942, with an arc shape. Note that his web equipment if based on the old 1908 pattern; infantry had priority for issue of the WE 37 set. (Private collection)
8th Army, fighting on left flank.
28 July. PPCU take town of Agira.
3 September. Canadians cross Straits of Messina to Reggio, Italy, to advance up Adriatic coast.
14 October. Canadians take Campobasso.
November. 5th Cdn Armd Div arrives in Italy; with 1st Inf Div, forms I Gdn Corps (Lt.Gen.H.D.G. Crerar).
16 December. Capture of Casa Berardi.
21-27 December. Ortona taken in seven days of costly street fighting.
1944
23-31 May. Moved to Italian west front, I Cdn Corps breaches Hitler Line in Liri Valley as part of Operation 'Diadem', Allied break-out beyond Cassino.
6 June. Normandy landings: 3rd Cdn Inf Div secures Juno Beach, penetrates 7 miles inland. Over 100 Canadian warships participate.
July. Caen, Normandy, falls to 3rd Cdn Inf Div on 9 July. II Cdn Corps arrives in France; 1st Canadian Army formed on 23 July with 2nd & 3rd Cdn Inf, 4th Cdn Armd, 1st Polish Armd Divisions.
25 July - 16 August. Canadian drive on Falaise, Normandy, from north, to link with US forces forming southern edge of 'Falaise Pocket'. Eight German divisions destroyed; Canadians alone take 12,000 prisoners.
30 August. 2nd Cdn Inf Div takes Rouen, France.
1 September. Pesaro, Italy, taken by I Cdn Corps; Gothic Line neutralised.
22 September. Boulogne, France, liberated by Canadian troops.
1 October. Calais, France, liberated.
October-December. I Cdn Corps heavily engaged in hills above Rimini, Italy, finally stabilising on Senio River line.
9 November. Wa1cheren Island, Holland, captured by 1st Cdn Army after five weeks' fighting to clear Germans from Scheldt Estuary.
28 November. Antwerp port opened to Allied shipping.
December 1944 - January 1945. 1st Cdn Army holds line of Maas River.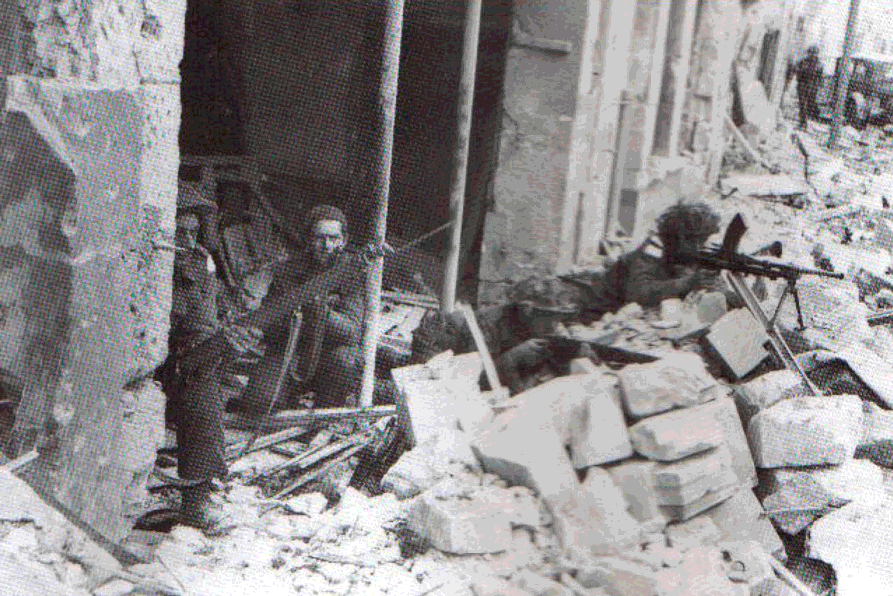 Men of the Regina Rifles during street fighting in Caen, 10 July 1944. This battalion was part of 7th Inf Bde of 3rd Inf Div; nevertheless, note the Mk II helmet. White marks show where the censor has obscured the sleeve insignia. The Regina Rifles wore a light red oval title with a rectangular bottom extension, with a light green inner rim and lettering 'REGINA RIFLE REGIMENT/CANADA'; below this was the 'French grey' rectangle of 3rd Division. Cf Plate E3. (H.Aikman, National Archives of Canada, PA115028)

1945
27 February. 1 Cdn Corps transferred from Italy to join 1st Cdn Army in Holland.
2 May. 5th Cdn Armd Div lights last battle near Delzijl, northern Holland. 5 May Surrender of German armies in Netherlands to 1st Canadian Army. 7 May Surrender of Germany, ceasefire effective from 11pm on 8 May.
2 September. Surrender of Japan following dropping of atomic bombs on Hiroshima and Nagasaki.
6 September. In Ottawa, USSR embassy employee Igor Gouzenko reveals existence of huge Soviet spy network; prelude to Cold War begins.


/ page 4 from 24 /

mobile version of the page
We have much more interesting information on this site.
Click MENU to check it out!
∎ cartalana.com© 2013-2020 ∎ mailto: koshka@cartalana.org