SITE MENU
Use search function please. All the info found with Ł - refers to this site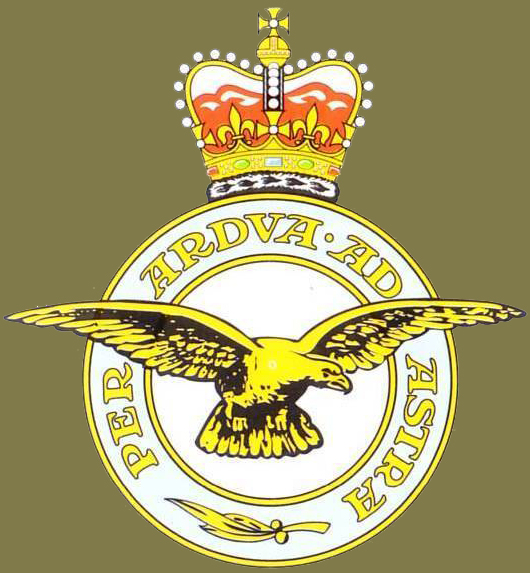 ROYAL AIR FORCE. COMMON CORE AND DEPLOYMENT SKILLS AIDE-MEMOIRE
SIMPLE RANGE CARD
A simple range card only includes objects to the front of a position and is built up as follows:
◉ Accurately describe the central point from which the card has been made out.
◉ Put in the range that each circle is to represent.
◉ Choose one unmistakable object to the front, mark it on the card and draw a thick line to it. This is the setting ray.
◉ Decide on the few objects to be recorded.
◉ Fold the card, hold it level with the eye and line up the setting ray. Hold a pencil upright in the direction of the object and mark the card. Draw a line from the central point to the object and to its correct range.
◉ Against each object, print horizontally, a short description and its range.
◉ Fill in the information required, date and sign it.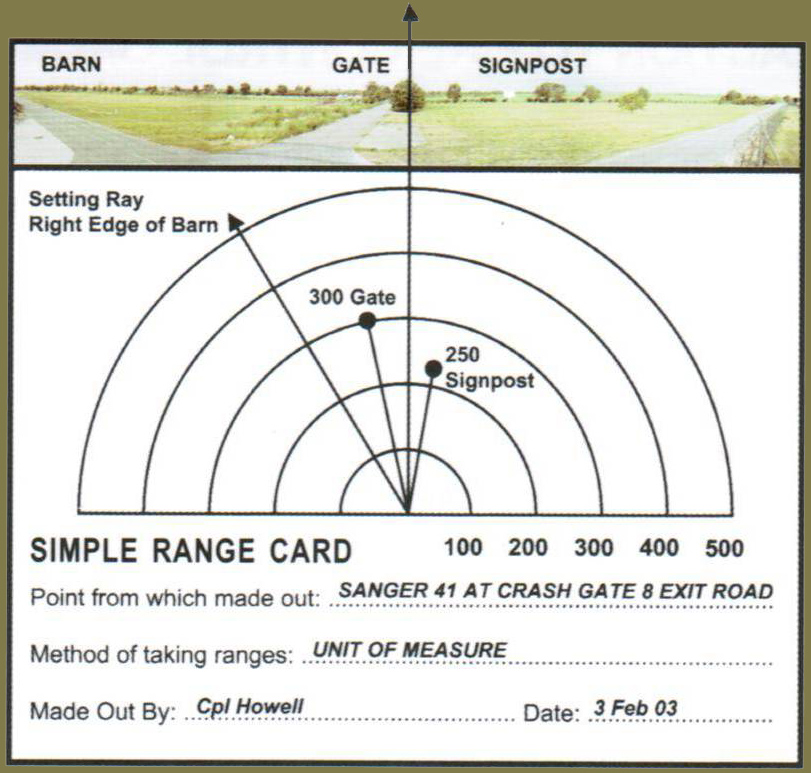 DETAILED RANGE CARD
This is made if the position is permanent or one that will be occupied for a long period. It normally includes objects all around the central position. The card build up is the same as for a simple card. More accuracy is achieved by the use of a compass, protractor and map.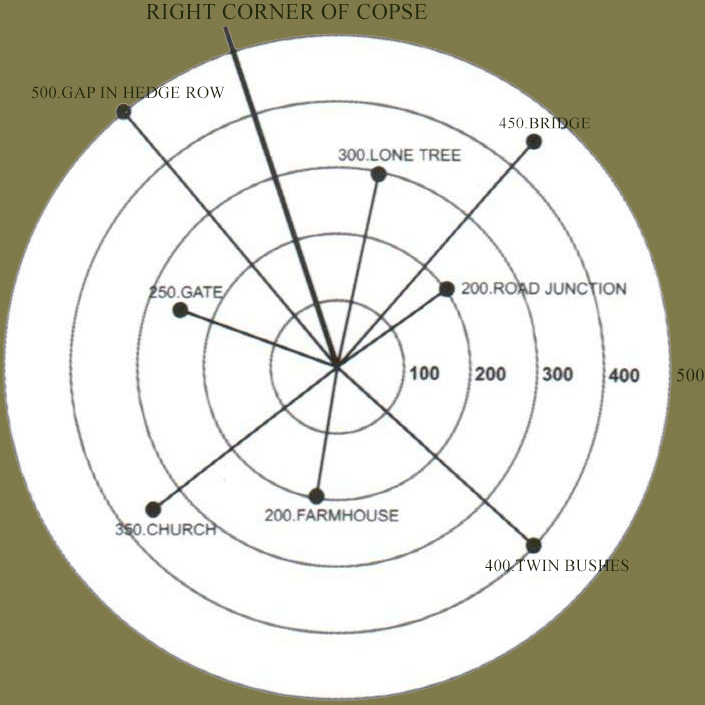 REACTION TO FIRE CONTROL ORDERS
Having identified a target, Fire Control Orders (FCO) are used to bring fire to bear quickly and effectively. The sequence of a FCO is as follows (GRIT):
◉ GROUP. Indicates who is being addressed: "Section", Tire Team", "Number 2 rifleman", etc.
◉ RANGE. This indicates the distance to the target, in metres: "200", "300", etc.
◉ INDICATION. This indicates where and what to look for.
◉ TYPE OF FIRE:
● Deliberate (up to 10 aimed shots a minute).
● Rapid (up to 30 aimed shots a minute).
● Bursts (approx 2-3 rounds on automatic).
FULL
Given if there is sufficient time. "Section - 300 - signpost - left 9 o'clock - bushes - left edge of bushes - 2 enemy - fire".
BRIEF
Given when there is little time and the target is obvious. "Delta fire team - quarter right - rapid - fire".
DELAYED
Given when the movements of friendly forces or the enemy are known or can be guessed. "Section - 300 - signpost - right 3 o'clock - 2 trees - gap in trees - await my order - fire".
INDIVIDUAL
Given when it is impracticable for the commander to control the time to open fire so he passes the responsibility to the individual(s) concerned. "Number 2 and 3 - 300 - gate - enemy crossing gate left to right - watch and shoot".
Ensure that the FCO given to direct fire legally, is permitted by the Rules of Engagement in force
The following information and equipment must be made available to the sentry:
◉ Location of post, neighbouring posts and own backup/covering sentry.
◉ Length of stay and time of relief.
◉ Enemy situation.
◉ Arcs of observation and fire.
◉ Action on suspicious movement.
◉ Method of alerting own forces.
◉ Method of challenging.
◉ Orders for opening fire.
◉ Concealment.
◉ Friendly patrols - times out and in.
◉ Location of trip flares and intruder alarms.
◉ Password.
◉ Action on NBC attack.
◉ Equipment: Binoculars, whistle, map, compass, notebook, pen/pencil, range card, communication system and torch.


/ page 11 from 65 /

mobile version of the page
We have much more interesting information on this site.
Click MENU to check it out!
∎ cartalana.com© 2013-2018 ∎ mailto: koshka@cartalana.org