SITE MENU
/
This Article Content
NIGEL THOMAS, colour plates by STEPHEN ANDREW
GERMAN ARMY 1939-1945. BLITZKRIEG
The officers' dress belt, introduced 9 July 1937, was made of bright aluminium brocade with two 5cm bluish dark-green stripes. The circular buckle was stamped bright aluminium (gold-plated or galvanically gilded for general-officers) showing a Wehrmacht eagle with folded wings in a wreath. The stone-grey officers' riding-breeches were plain, general-officers retaining their pipings and broad stripes.
The superior-quality officers' feldgrau dress greatcoat, introduced 10 September 1935, had a bluish dark-green facing-cloth collar and two rows of six matt feldgrau buttons, a back half-belt secured by two buttons, dress-quality shoulder-boards and the back seam sewn up. General-officers had matt gold pebbled buttons, leaving the top two buttons open to show bright-red facing-cloth lapel-linings. From 14 May 1937 all officers wearing collar decorations were also permitted to leave these buttons open. General-officers also wore the leather greatcoat with plain lapel-linings
'Walking-out' uniform consisted of the officers' service-cap, standard dress-tunic or officers' piped field tunic with ribbons, dress greatcoat if ordered, long trousers, lace-up shoes, white gloves and sword. The 'reporting uniform' added the M1934 belt, breeches and riding-boots, and grey gloves. The dark-brown leather officers' belt and cross-strap, introduced 18 May 1934, had a pebbled matt aluminium open-claw rectangular buckle, which was matt gilt for generals. On 20 November 1939 the cross-strap was abolished.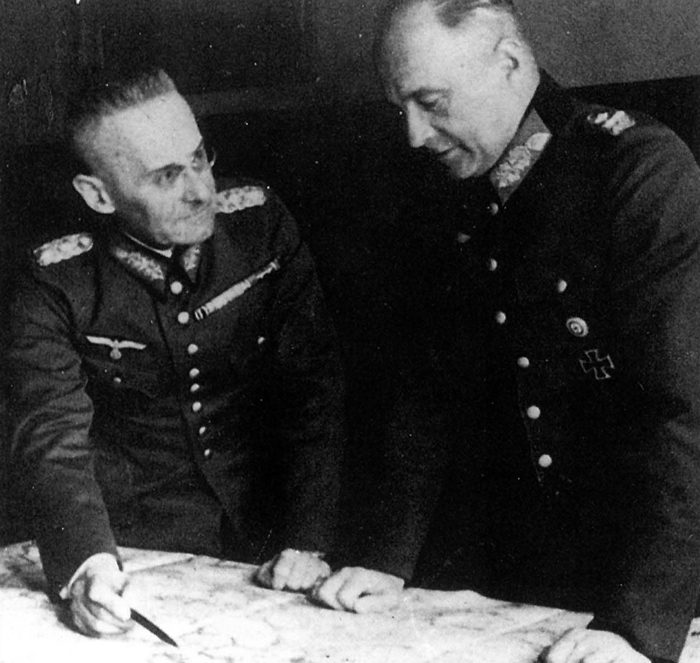 General der Artillerie Haider, Chief of General Staff (left) and Generaloberst von Brauchitsch, Chief of the Army High Command (right), photographed in Germany, 4 October 1939, discussing strategy in Poland. Both wear M1935 undress uniform. Haider wears a remodelled M1929 service tunic, with an impressive array of First World War and Wehrmacht long-service medal ribbons, while von Brauchitsch, in a M1935 field tunic, has only the Nazi Party badge and the 1939 Iron Cross First Class. (Brian Davis Collection)
Officers' training and barracks uniforms
Service uniform consisted of the officers' peaked cap, M1933 field tunic with ribbons, M1935 field greatcoat, leather-belt, breeches and riding-boots, grey suede gloves, standard pistol and holster.
The officers' field tunic was introduced 5 May 1933, replacing the M1920 Reichswehr service-tunic. It was manufactured from superior quality feldgrau cloth with five matt-grey painted pebbled buttons, four patch pockets, turn-back cuffs and a feldgrau cloth collar, replaced by feldgrau facing-cloth on 26 July 1934 and by bluish dark-green facing-cloth in March 1936. All insignia was field-quality: the breast-eagle was in matt aluminium thread on a bluish dark-green facing-cloth backing; the bluish dark-green facing-cloth collar-patches had two matt aluminium 'Guards' braids', each with a branch colour silk-embroidered centre cord. For shoulder-boards see Table 3. Many general-officers retained the M1920 or M1928 service tunic with field-quality insignia and no front piping.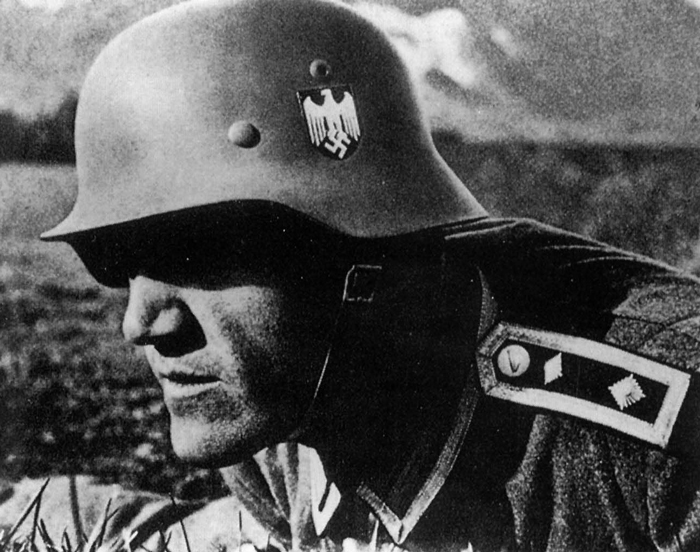 An Oberfeldwebel in M1935 field uniform wearing the M1935 steel helmet, displaying the M1934 Wehrmacht eagle. The M1938 collar-patches and the obsolete M1935 field shoulder-straps do not show branch insignia and he has removed his white metal unit insignia for security reasons. Note the company number (1 Company, 1 Battalion), worn by NCOs and enlisted men on the shoulder-strap button, replaced from September 1939 by a plain pebbled button. Germany, January 1940. (Brian Davis Collection)
The officers' field greatcoat was like the dress greatcoat, but with field-quality shoulder-boards and the back seam left open.
In the 'undress' uniform, officers omitted the belt and could wear standard piped long trousers and lace-up shoes. With the 'Guard' uniform they wore the helmet, the M1934 or M1938 field cap; the field tunic or, if leading a Guard of Honour, the dress tunic; field greatcoat; brown belt; breeches and riding-boots, grey suede gloves, and a pistol and holster.
The M1934 officers' 'old-style' field cap, introduced 24 March 1934, became the M1935 peaked cap with the addition of a bluish dark-green cap band on 10 September 1935, and the omission of the metal crown stiffener, chincords and buttons. The visor was made of soft black patent leather and, from 30 October 1935, the eagle, cockade and wreath were of bright aluminium thread on a bluish dark-green backing.
The visorless flapped M1938 officers' 'new-style' field cap, introduced 6 December 1938, was made of feldgrau cloth, piped along the crown and the front of the flap with 3mm aluminium thread cord. The narrow aluminium cord national cockade was enclosed by a branch colour chevron, point up, in facing-cloth, with a machine-woven or hand-embroidered bright aluminium thread eagle on a bluish dark-green backing above. From 24 October 1939 general-officers wore gold thread crown and flap piping and a gold artificial silk chevron.
In the field all Army officers except platoon leaders wore the standard steel helmet, officers' field tunic, with the field greatcoat if ordered, brown belt, breeches and riding-boots and grey suede gloves. Personal field equipment was usually limited to the P08 Luger or P-38 Walther pistol in a smooth leather holster - general-officers and field officers favoured the smaller Walther 7.65mm PPK - and 6 × 30 black binoculars in a smooth black or tan leather or bakelite case carried on the right front hip. Behind the front line the M1934 or M1938 field caps replaced the helmet.
NCOs of the Army Patrol Service in M1935 service uniform, with other ranks' M1935 field greatcoats and M1935 field caps, parade for duty in a German garrison town in 1940. The obsolete M1920 adjutants' aiguillettes on their right shoulder constitute their badges of office. (ECPA)
In the field the shape and colour of the helmet was often camouflaged by daubing it with mud, or tying chicken-wire or the straps of the M1931 bread-bag and securing foliage to them. On 21 March 1940 the conspicuous national shield was removed and the helmet surface roughened and repainted from matt feldgrau to matt slate-grey.

/ page 7 from 20 /

mobile version of the page
We have much more interesting information on this site.
Click MENU to check it out!
∎ cartalana.com© 2013-2020 ∎ mailto: koshka@cartalana.org