SITE MENU
/
This Article Content
NIGEL THOMAS, colour plates by STEPHEN ANDREW
GERMAN ARMY 1939-1945. BLITZKRIEG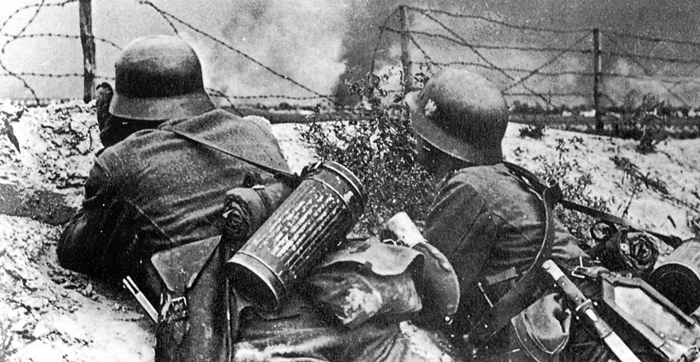 Assault engineers in M1935 field uniform prepare to advance in Poland, September 1939. The sapper (left) carries the short model wire-cutters in a black leather case on his left back hip, also the M1938 gas mask canister, M1931 camouflage shelter-quarter, M1931 canvas bread-bag and M1931 canteen. His companion's bayonet and folded entrenching tool are prominently displayed. (Brian Davis Collection)
The full ceremonial uniform consisted of the M1935 officers' peaked service cap, dress tunic (Waffenrock) with medals, aiguillettes and trousers, standard black lace-up shoes, officers' white suede gloves, and sabre. The informal ceremonial uniform omitted the aiguillettes, and substituted ribbons for medals.
The saddle-shaped officers' peaked cap, introduced 10 September 1935 and worn with most officers' uniforms, had a high crown at the front falling steeply to the sides. Later caricatured as typically German, it was in fact a revolutionary design, replacing the traditional 'plate' style with its high cap-band and low circular crown. It was manufactured in feldgrau tricot or 'eskimo' material. The Ml 935 eagle and swastika badge, manufactured in bright aluminium, was worn above a stamped bright aluminium red (inner)-white-black (outer) national cockade in an oak-leaf wreath, on the bluish dark-green facing-cloth cap band. There was 2mm thick piping around the crown in branch-of-service colour, and above and below the cap band, a plain black-lacquered vulcanised fibre peak, and a matt aluminium wire chin-cord secured by two 12mm bright aluminium pebbled buttons. General-officers had gold-coloured metallic woven cord cap-pipings and gold wire; from 15 July 1938 this became yellow artificial 'celleon' wire, woven chin-cords with matt gold pebbled buttons. Hand-embroidered bright silver or bright aluminium bullion badges on a bluish dark-green facing-cloth backing were permitted on fine-cloth privately purchased caps.
The style, though not the colour, of the feldgrau tricot pocketless waisted officers' dress-tunic, adopted 29 June 1935, invoked the proud military traditions of the Reichsheer of the German Empire. It had bluish dark-green facing-cloth collars and cuffs, branch colour facing-cloth pipings, and bright aluminium pebbled buttons and wire braids. The piped front was secured by eight buttons, with three on each of the piped ornamental back 'tail-pockets'. Insignia consisted of the officers' superior dress-quality breast-eagle, collar-patches, cuff-patches and shoulder boards. The bright, hand-embroidered, flat aluminium bullion breast eagle had a bluish dark-green backing. The piped collar had M1935 branch colour facing-cloth collar-patches, with two bright aluminium wire embroidered 'Guards' braids' developed from those worn by elite Guards regiments of the Imperial Reichsheer. Similarly, the piped cuffs had two branch colour cuff-patches, each with a button and braid. For shoulder-boards see Table 3. Privately purchased tunics were usually shaped at the waist and had higher, stiffer collars.
General-officers had a bright gold bullion or golden-yellow hand-embroidered thread breast-eagle on a bluish dark-green facing-cloth backing. The collar and cuff-patches showed the bright gold bullion or 'celleon' hand-embroidered thread Alt-Larisch design introduced 22 March 1900. After 1939 they were in matt yellow yarn picked out in dark yellow or buff, on a bright-red facing-cloth patch.
On 21 March 1940 further manufacture of the Waffenrock was forbidden, and existing tunics were to be converted to field tunics by removing the facing-cloth cuffs and tail pockets and substituting field-quality insignia. In future only the officers' 'piped field tunic', introduced 12 July 1937 as an alternative to the Waffenrock, would be worn in full-dress. This was a field tunic with branch colour collar facings, front and cuff pipings, and dress-quality collar-patches, shoulder-boards and breast-eagles. The M1920 service-tunic (introduced 22 December 1920) or the M1928 service-tunic (introduced 31 October 1928), with respectively eight or six buttons, diagonally flapped concealed hip-pockets and branch colour facing-cloth front piping, was often retained, especially by general-officers.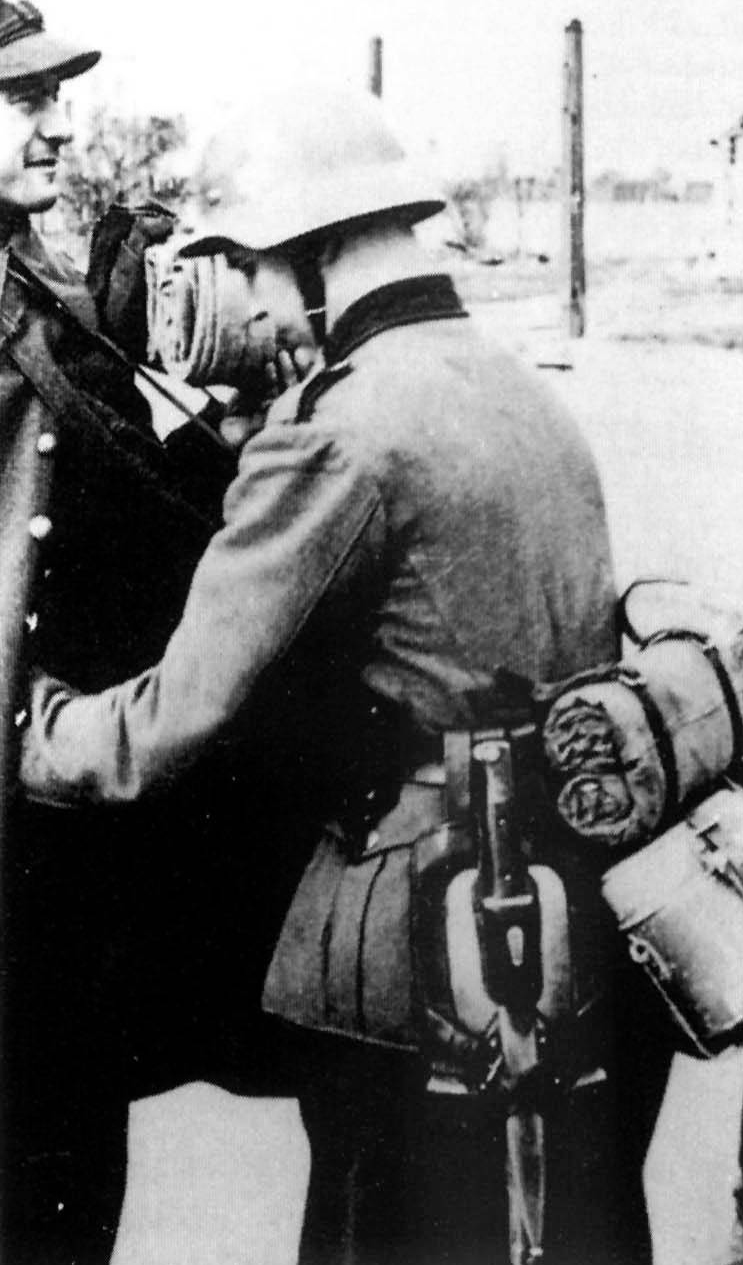 An infantryman in Poland in October 1939 wearing the M1935 field uniform, with reversed shoulder-straps to conceal unit insignia, searches a Polish prisoner. There is a particularly good view of his improvised assault-pack, consisting of a bayonet strapped to his entrenching-tool, with the M1931 camouflage shelter-quarter and the M1931 mess-kit tied to his belt with belt supporting-straps. (ECPA)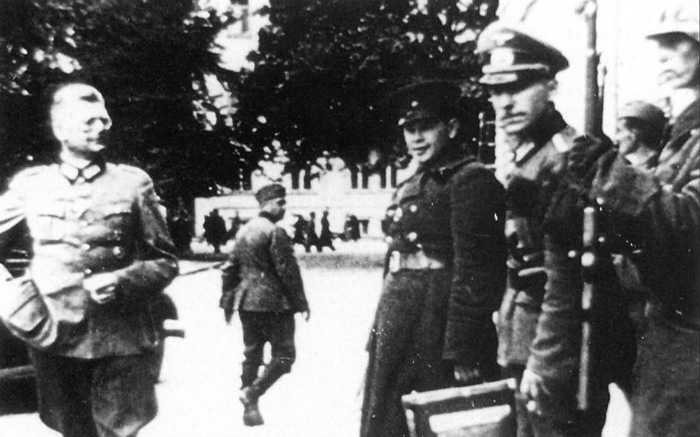 Poland, 18 September 1939. German officers in M1935 field uniform relax during negotiations with a Soviet Red Army officer (centre, in a greatcoat, carrying a map-case) over arrangements for partitioning defeated Poland between Germany and the Soviet Union. Note the German guard, in M1935 field uniform with field greatcoat, presenting arms. (Josef Charita)
The standard stone-grey trousers had a 2mm branch colour piping down the outer seam, flanked on each side by a 4cm branch colour stripe for general-officers. The bright aluminium wire dress aiguillette (gold, later 'celleon' for general-officers) was introduced 29 June 1935.
Officers' formal and semi-formal uniforms
The parade uniform consisted of the standard M1935 steel helmet or officers' peaked cap; the officers' Waffenrock with aiguillettes, M1937 officers' dress belt; breeches with black leather riding-boots and spurs, grey gloves and sword. The officers' M1935 dress greatcoat could also be worn, if ordered.
The standard M1935 steel helmet was introduced 25 June 1935, a development of the M1916 and M1918 helmets, with their prominent side-lugs. Painted matt feldgrau a black-white-red diagonally striped aluminium national shield was fixed to the right side, and a silver-white Wehrmacht eagle on a black painted aluminium shield on the left side, as ordered on 17 February 1934. Officers could also wear lightweight aluminium Vulkanfiber helmets on parade.

/ page 6 from 20 /

mobile version of the page
We have much more interesting information on this site.
Click MENU to check it out!
∎ cartalana.com© 2013-2020 ∎ mailto: koshka@cartalana.org