SITE MENU
Use search function please. All the info found with Ł - refers to this site
MARK R. HENRY, MIKE CHAPPELL
THE US ARMY IN WORLD WAR II. THE PACIFIC
The previous fatigue uniform of the Army was blue denim pants, shirt and Daisy Mae' - a floppy-brimmed hat nicknamed after a character in the popular hillbilly cartoon strip L'il Abner. In 1938 this was changed to medium weight sage green cotton cloth, woven in a herringbone twill (HBT) pattern. The blue denim remained the fatigue issue until 1941, however. The green of the original HBTs was found to fade quickly in use to an unsuitably light shade. In the Pacific this problem was sometimes remedied by vat-dyeing them en masse to a darker, even blackish colour. In 1943 the HBT manufacture colour was changed to the darker green OD#7 shade.
Most GIs felt that the HBTs were a bit hot and rather slow to dry, but generally pretty good. In North Africa and Europe HBTs were commonly worn as combat clothing alone or over brown woollen uniform for extra protection, camouflage and warmth. One 32nd Division Pacific veteran summed up the question of uniforms with the pithy and convincing comment, 'I don't believe there is any clothing or equipment adequate for jungle fighting'.
The HBT shirts all featured flapped breast pockets and exposed blackened steel '13 star' (or sometimes plain plastic) buttons. The M1942, the first of four patterns, had a two-button waistband with buttoning cuffs and rear 'take-up straps' (tightening tabs); the pleated breast pockets had clip-cornered flaps. The more common M1943 HBT shirt had larger breast pockets, but lost the buttoning cuffs and two-button waistband; it was made in a darker green than the first pattern. The first version of the M1943 shirt had unpleated pockets, while the next had a pinched sort of pleat. The rarely seen last pattern HBT shirt (M1945?) was made with smaller pockets with clipped bottom corners and squared flaps. At the end of the war a new thinner cotton poplin fatigue was just beginning to be issued.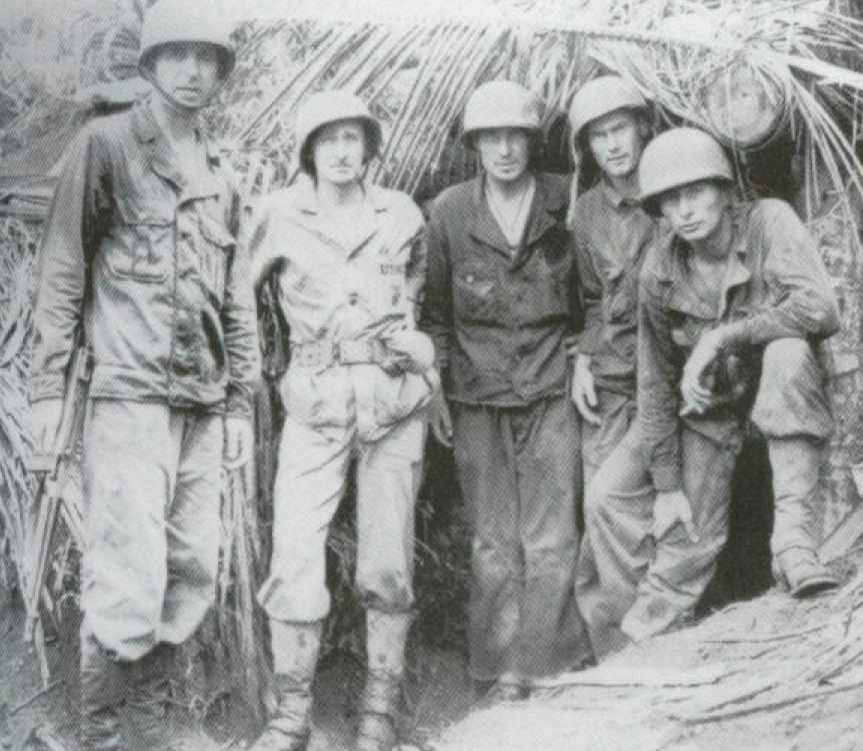 New Guinea, 1942: a battalion commander from the 32nd Division with his staff. They all wear the first pattern HBTs with two-button waistband and pleated pockets (except the visiting Marine officer, who wears USMC pattern utilities with the classic breast pocket stencil). Some of the Army HBTs appear to have been dyed a darker black/green in Australia. The lieutenant-colonel carries a M1928 Thompson SMG.
Rank was rarely displayed on fatigues, though NCO stripes were sometimes inked onto HBT sleeves. According to Capt Edmund G.Love, a 27th Division historian, this formation at one time had coded unit and rank symbols stencilled on the rear of the HBT combat uniform in black - a system copied from the US Marines. The division was identified by an outline parallelogram, enclosing unit symbols - e.g. a T, a 'bar sinister' and an Irish harp shape for the 105th, 106th and 165th Infantry Regiments respectively. Left of this, numbers indicated some ranks (e.g. 8 for sergeant, 15 for captain, etc), and right of it company letters were stencilled. Given the actual conditions of combat, and the frequency with which HBTs had to be replaced, it is doubtful if this complex system was maintained for long. Even in the six Marine divisions, which in 1943-45 seem to have had a thoroughly worked out system of back stencils, it is comparatively rare to see them in combat photographs.
Both HBTs and issue wool shirts commonly featured an extra length of material inside the buttoned closure, intended to be folded across to protect the skin against chemical agents; this 'gas flap' was sometimes cut out by the user. Trouser flys were also made with an extra interior flap of material for the same reason. (In the Normandy landings of 1944 chemically impregnated HBTs and woollens were worn by landing troops as a precaution against chemical warfare.)
The first pattern HBT trousers had sideseam and two rear pockets of a very civilian style. The second pattern (M1943) had thigh cargo pockets and sideseam pockets but no rear ones. The last pattern of the M1943 trousers had pleated thigh cargo pockets.
An HBT one-piece ('jumpsuit') work uniform had been designed in 1938 based on the B1 Air Corps mechanics' coveralls. In 1941, the M1938 was produced in HBT and featured a full buttoning front, an integral bell and a bi-swing/gusseted back; it had two each breast, rear and sideseam pockets. It was intended to be worn loose over other clothing, and the sideseam pockets opened to allow the wearer to reach inside. It was commonly worn by tank crewmen and mechanics but sometimes by other front line troops. It could be cumbersome to take off, and proved uncomfortably hot. A 1943 version was simplified and made in the darker OD colour.
In the field, women initially had to wear men's HBTs and woollens as little else was available. In 1943 one- and two-piece WAC HBT cotton fatigues became available. Both suits had angled flap front thigh patch pockets and used drab plastic buttons. The HBT shirt had two flapped patch pockets. Floppy 'Daisy Mae' hats were worn with HBTs, the special WAAC issue having a slightly longer brim at front than back.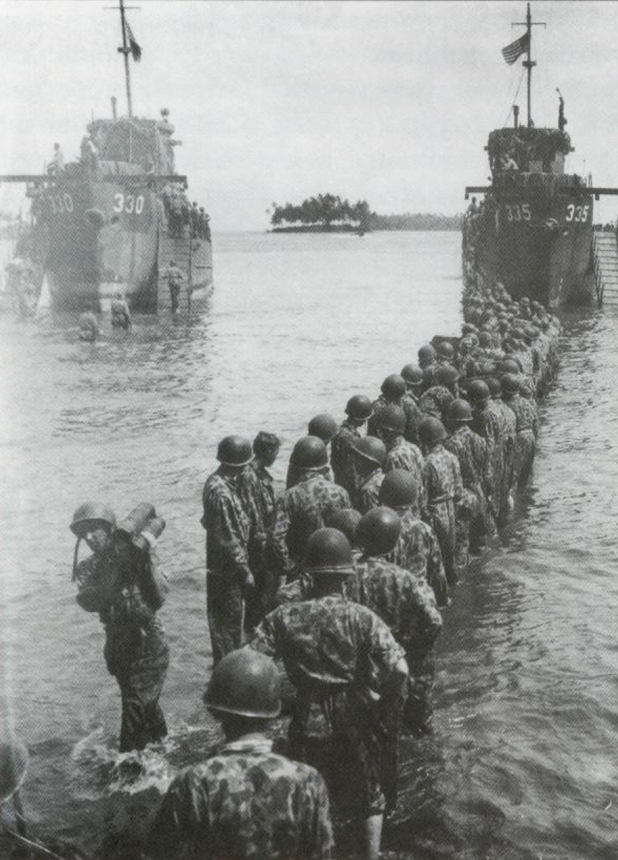 Rendova Island, New Georgia, 1943: GIs wearing M1942 one-piece camouflage uniforms unload a Landing Craft Infantry (LCI). LCIs could carry 200 men; these shallow draft ships would drop anchor, then run aground on the beach, and after dropping their load they winched themselves off by the anchor chain.
The first pattern (HBT) camouflage suits were issued in the South-West Pacific in 1943. This M1942 'frogskin' one-piece zippered suit had a green and brown coloured spot pattern on a pale neutral ground; the outside had a slight green cast to the pattern, and the lining camouflage a light brown cast. Despite this it was not truly reversible, having permanently sewn-in internal suspenders (though many CIs removed these) and pockets only on the outside surface. The suit had pairs of expanding breast and thigh pockets with two-snap flaps, and a gusseted back; the sleeves had a buttoned tab closure. The one-piece M1942 suit was too hot, and its design caused the users problems when responding to an urgent call of nature. The camouflage pattern was effective, but proved to stand out too much when the wearer moved. Some suits were later cut down into shirts worn with HBT pants.



/ page 5 from 25 /

mobile version of the page
We have much more interesting information on this site.
Click MENU to check it out!
∎ cartalana.com© 2013-2018 ∎ mailto: koshka@cartalana.org