SITE MENU
Use search function please. All the info found with Ł - refers to this site
MARK R. HENRY, MIKE CHAPPELL
THE US ARMY IN WORLD WAR II. THE PACIFIC
By 1944 an improved two-piece HBT shirt and trouser suit was issued in the same camouflage pattern. It had the same pocket arrangement as the one-piece, although the buttons were concealed. This outfit - which was distinctly different in a number of details from equivalent garments produced for the US Marine Corps - proved more popular than the one-piece suit. Reconnaissance troops and snipers were heavy users of these 'frogskins', but green HBTs were still the most common GI combat clothing in the Pacific. (Camouflage uniforms were experimentally issued to some troops in Normandy in 1944, but were quickly withdrawn due to their dangerous superficial similarity to German Waffen-SS camouflage clothing.)
The 1940 'Daisy Mae' floppy hat was produced first in khaki, then in HBT green for field and motorpool use, and was sometimes worn into combat in the Pacific. In 1941 a short-billed HBT fatigue cap (M1941) was produced, reminiscent of a railroad engineer's cap. The 11th Airborne Division had its own modified khaki version of the M1941 (the 'swing hat') made with a longer bill. These two caps proved popular, and a longer-billed version was produced in 1944.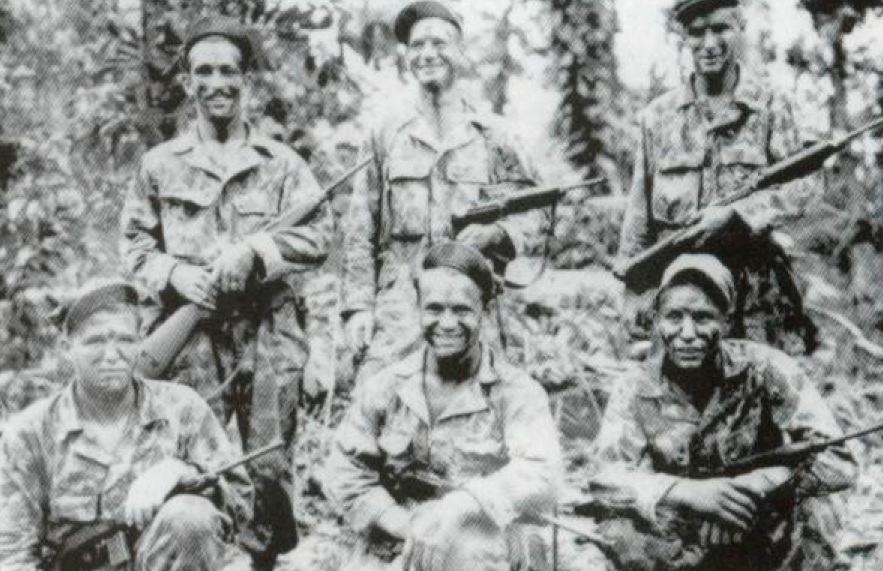 Philippines, 1944: a team of 1st Cavalry Division long range scouts wear the one-piece 'frogskin' suit, and have painted their soft OD fatigue caps with camouflage colours. All are armed with M1 carbines, the rear centre man with a paratrooper's folding stock version.
The short M1941 (PDQ-20) or 'Parsons' jacket was designed in 1940 by Gen Parsons, and went into production later that year. (The term 'M1 941' is widely used by today's collectors, but was not the contemporary designation; this was simply the 'Jacket, Field, Olive Drab'.) It featured a greenish khaki exterior and a flannel/wool lining, with a buttoned front fly over a zip fastener, an integral rear half-belt, buttoning tabs at the wrists and hips, and two diagonal front 'handwarmer' pockets with buttoned flaps. After several rapid modifications mass production began in 1941 and continued until late 1943. The full production version of the jacket had gussets behind the shoulders, and added epaulettes; the front pocket flaps of the first version were eliminated. It was manufactured in 12 sizes of windproof cotton 'Byrd' cloth or cotton poplin. This jacket was intended for light combat wear, and would be supplemented by the woollen overcoat or the raincoat in seriously bad weather. A thigh-length M1941 arctic or officer's coat similar to a mackinaw was also produced in limited numbers. A women's version of the Parsons jacket was made thigh length with reversed buttoning.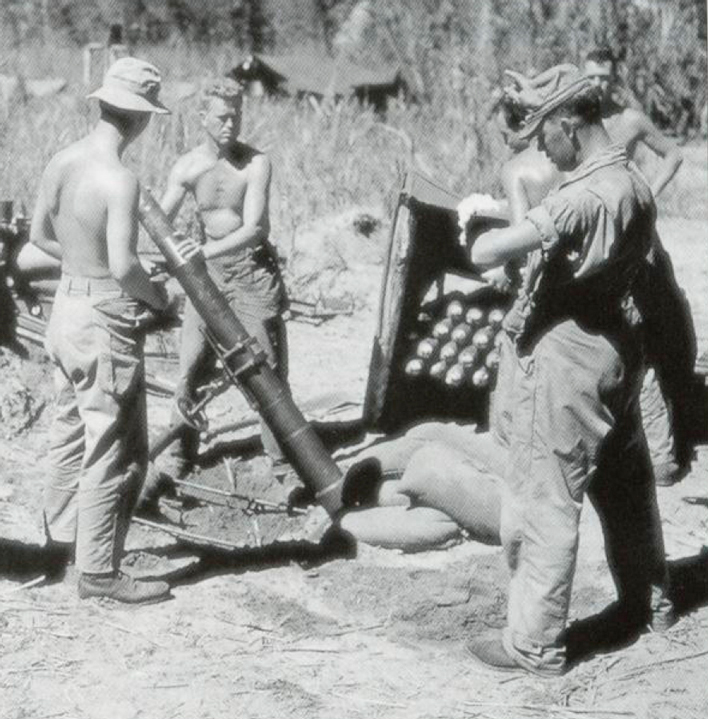 1944: both floppy hats and billed fatigue caps are worn here, with HBT cargo-pocket trousers, by a 4.2in mortar crew; the tube commander (right) still wears the one-piece HBT with 'bi-swing' back. The 4.2in (106mm) mortar excelled at putting down smoke/white phosphorus or HE; it became available in 1943, and units were normally corps-level assets assigned as needed.
Infantrymen were too heavily burdened to carry overcoats and raincoats as a matter of course, so had to rely on the Parsons field jacket for most of their needs; and it quickly garnered a significant body of complaint. It was too short and lightly constructed to stand up to the weather. It showed dirt, and quickly took on a grubby appearance. The jacket's exterior faded to a light khaki drab that could stand out too visibly; on occasion GIs actually wore the jacket inside out to lessen its signature. Soldiers also sometimes removed the collar as too ill-fitting for comfort.
Despite the later issue of the improved M1943 combat jacket, the M1941 stayed in use throughout the war. In Europe, though never particularly popular, its continued wear became a trademark of an old soldier. Ii remained the most common jacket to be seen in the CBI and northern Pacific until VJ-Day.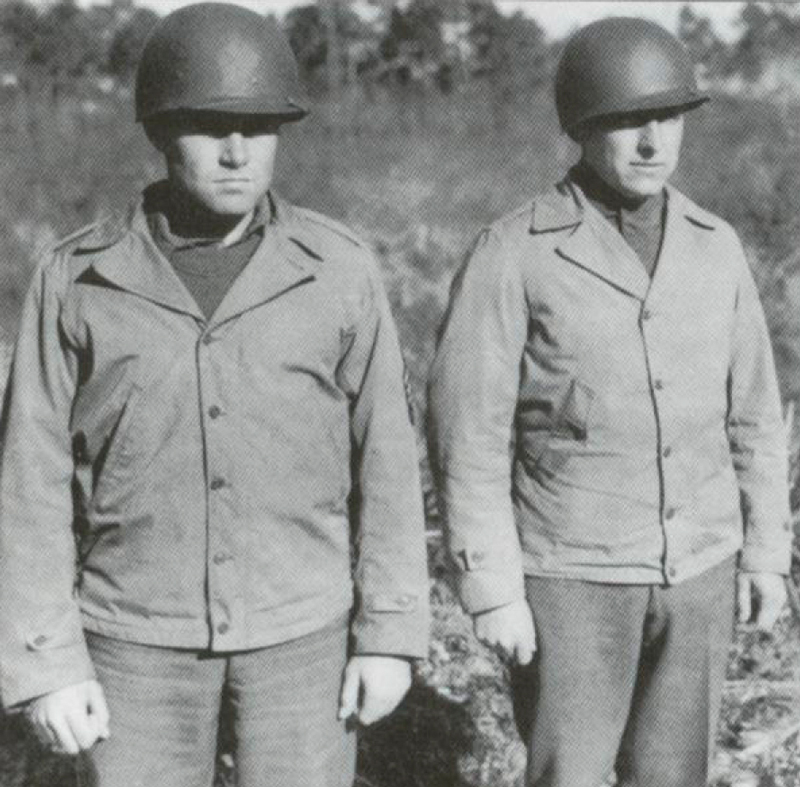 Florida, January 1943: these two sweater-wearing GIs are undergoing amphibious training. At right is the original Parsons jacket with pocket flaps, at left the more common flapless version. Both men wear M1 helmet liners without the steel shell, as was common in garrison and training.
Initially, soldiers used the manganese steel US M1917A1 'dishpan' style helmet, with a rough sand surface and non-reflective OD finish. By mid-1942 large numbers of the M1 steel 'pot' were available. This helmet was to remain in US service until the mid-1980s. The chinstrap attachment brackets were fixed (welded) on the sides of the M1 helmet shell until 1945, when hinged brackets were introduced. Both helmets used a khaki canvas chinstrap with a claw-and-ball fastener.
The unusual feature of the M1 was its light fibre helmet liner which nested inside the steel shell and contained the webbing and leather suspension. The first model liner was thick-edged and made of compressed fibre covered with fabric; a thinner bonded cloth and plastic liner soon replaced this. Both types had a narrow brown leather chinstrap, normally worn up over the front brim of the steel shell. Liners were sometimes worn as separate headgear by GIs away from the front lines.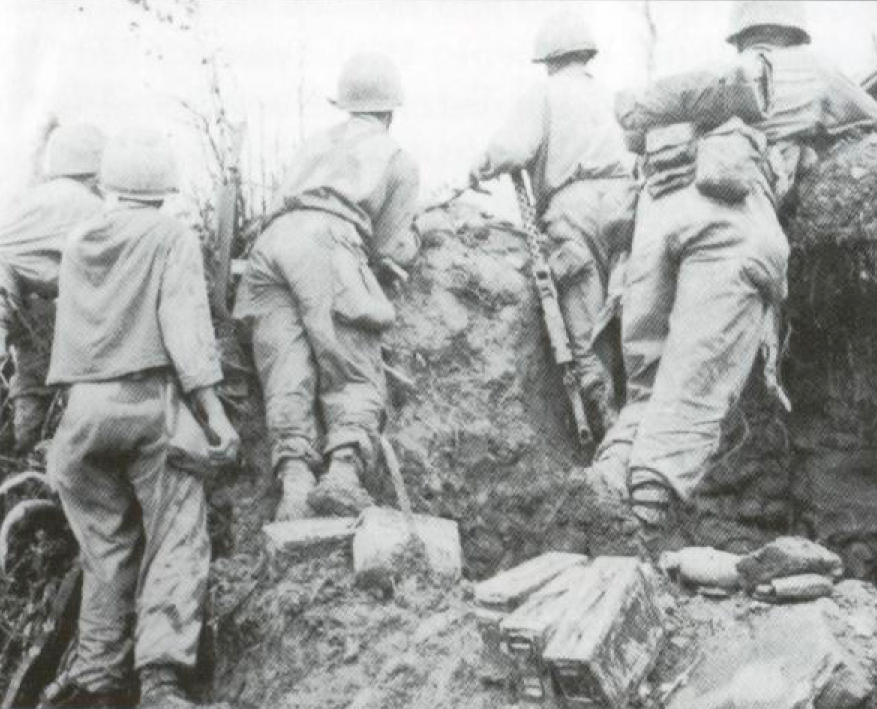 Okinawa, 1945: lightly equipped GIs of the 96th 'Deadeye' Division look for a place to deploy their Browning M1919 air-cooled machine gun. All wear cargo-pocket HBT trousers and buckle boots. The two-month fight on this island would cost the 10th Army about 7,500 killed and 32,000 wounded.
Some units in the Pacific and Mediterranean painted their helmets in camouflage patterns of large green and brown blotches or smudges. By 1943 helmet netting for the attachment of foliage was available; but as the Japanese used helmet nets, Pacific theatre GIs usually did not. Burlap covers were sometimes fashioned; and in the Pacific, US Marine Corps camouflage covers were also used occasionally. A cumbersome anti-mosquito helmet netting (face veil) cover was later issued. Helmet markings of rank and unit symbols were somewhat common in Europe, but almost unknown in the Pacific. The usual way of wearing a helmet in all theatres was without a net and with the canvas chinstrap pushed up over the rear brim, or left dangling.


/ page 6 from 25 /

mobile version of the page
We have much more interesting information on this site.
Click MENU to check it out!
∎ cartalana.com© 2013-2018 ∎ mailto: koshka@cartalana.org