SITE MENU
/
This Article Content
THE UNITED STATES MARINE CORPS (USMC) DEVOTIONAL FIELD BOOK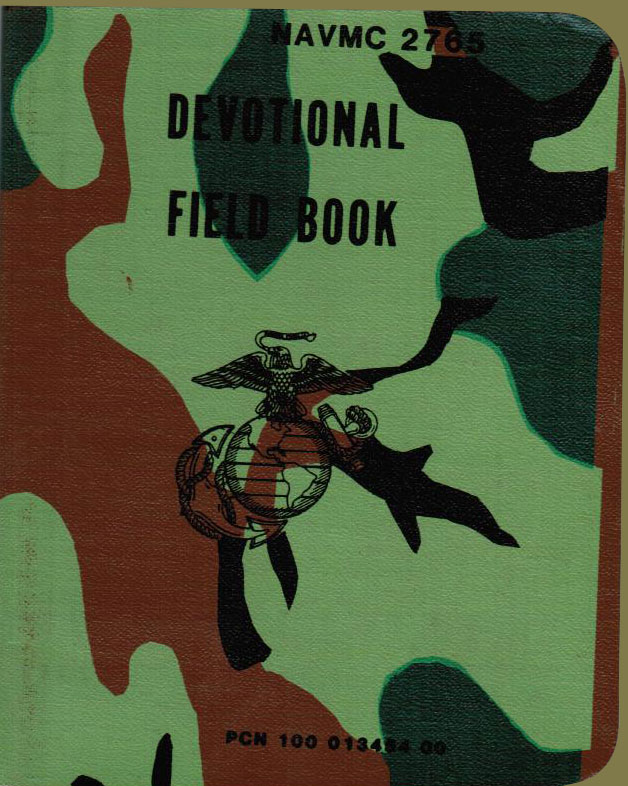 31 What then shall we say to this? If God is for us, who is against us?
32 He who did not spare his own Son but gave him up for us all, will he not also give us all things with him?
33 Who shall bring any charge against God's elect? It is God who justifies;
34 who is to condemn? Is it Christ Jesus, who died, yes, who was raised from the dead, who is at the right hand of God, who indeed intercedes for us?
35 Who shall separate us from the love of Christ? Shall tribulation, or distress, or persecution, or famine, or nakedness, or peril, or sword?
36 As it is written, "For thy sake we are being killed all the day long; we are regarded as sheep to be slaughtered."
37 No, in all these things we are more than conquerors through him who loved us.
38 For I am sure that neither death, nor life, nor angels, nor principalities, nor things present, nor things to come, nor powers,
39 nor height, nor depth, nor anything else in all creation, will be able to separate us from the love of God in Christ Jesus our Lord.
9 Let love be genuine; hate what is evil, hold fast to what is good;
10 love one another with brotherly affection; outdo one another in showing honor.
11 Never flag in zeal, be aglow with the Spirit, serve the Lord.
12 Rejoice in your hope, be patient in tribulation, be constant in prayer.
13 Contribute to the needs of the saints, practice hospitality.
14 Bless those who persecute you; bless and do not curse them.
15 Rejoice with those who rejoice, weep with those who weep.
16 Live in harmony with one another; do not be haughty, but associate with the lowly; never be conceited.
17 Repay no one evil for evil, but take thought for what is noble in the sight of all.
18 If possible, so far as it depends upon you, live peaceably with all.
19 Beloved, never avenge yourselves, but leave it to the wrath of God; for it is written, "Vengeance is mine, I will repay, says the Lord."
20 No, "if your enemy is hungry, feed him; if he is thirsty, give him drink; for by so doing you will heap burning coals upon his head."
21 Do not be overcome by evil, but overcome evil with good.
If I speak in the tongues of men and of angels, but have not love, I am a noisy gong or a clanging cymbal.
2 And if I have prophetic powers, and understand all mysteries and all knowledge, and if I have all faith, so as to remove mountains, but have not love, I am nothing.
3 If I give away all I have, and if I deliver my body to be burned, but have not love, I gain nothing.
4 Love is patient and kind; love is not jealous or boastful;
5 it is not arrogant or rude. Love does not insist on its own; it is not irritable or resentful;
6 it does not rejoice at wrong, but rejoices in the right.
7 Love bears all things, believes all things, hopes all things, endures all things.
8 Love never ends; as for prophecies, they will pass away; as for tongues, they will cease; as for knowledge, it will pass away.
9 For our knowledge is imperfect and our prophecy is imperfect;
10 but when the perfect comes, the imperfect will pass away.
11 When I was a child, I spoke like a child, I thought like a child, I reasoned like a child; when I became a man, I gave up childish ways.
12 For now we see in a mirror dimly, but then face to face. Now I know in part; then I shall understand fully, even as I have been fully understood.
13 So faith, hope, love abide, these three; but the greatest of these is love.

/ page 5 from 27 /

mobile version of the page
We have much more interesting information on this site.
Click MENU to check it out!
∎ cartalana.com© 2013-2020 ∎ mailto: koshka@cartalana.org