Let me offer you a link to the TransferGo,
where in the "Send to" line you only need to enter IBAN: UA423348510000026200404121108


SITE MENU / Heading Content
GEORGE FORTY
WORLD WAR TWO. ARMOURED FIGHTING VEHICLES & SELF-PROPELLED ARTILLERY
In the United States, the use of armored cars by the cavalry had barely begun when their role was largely taken over by tracked vehicles. The operations in Africa revived the development of armored cars in the United States.
With the start World War Two a period of massive rearmament began in the United States, which included the provision of all types of AFVs for the Armored Force. As part of the overall programme a special Armored Vehicle Board (the Palmer Board), was formed, with the task of evaluating all the available models. Comparative testing took place between late 1942 and early 1943, after which the Board decided that an armored car would be defined as: 'an armored wheeled reconnaissance vehicle weighing not more than seven short tons'. This resulted in the cancellation of most of those AFVs proposed with only a few left in production. In a similar manner, a large number of different types of self-propelled guns and howitzers were designed and built in the United States, but many were just prototypes or produced in small numbers of around 100, which were then used only for extended testing, but failed their acceptance tests. Nevertheless, the Gun Motor Carriages (GMCs) and Howitzer Motor Carriages (HMCs) which were produced and built in significant numbers, made a major contribution to Allied battlefield successes. Other AFVs, such as carriers did not have quite so many problems, the T16 and the M28/M29 (Weasel) both being produced in large numbers.
Although the Americans built a number of different armored cars during World War Two - nearly 16,500 in total - many of these were for export to Britain and not for their own use. Apart from the M8 Greyhound of which nearly 3,000 were built, the US Army did not use armored cars, but preferred to reconnoitre either in halftracks or jeeps the latter being closely followed by a tank. Close battlefield reconnaissance was invariably performed in a tank, armored protection being preferred to stealth. There were of course reconnaissance units, some of which built quite a reputation for themselves - such as a Third Army unit which earned the nickname; Patron's Household Cavalry! This unit was Colonel Edward M Fickett's 6th Cavalry Group. It comprised a number of reconnaissance platoons (each two officers, twenty-eight men, six armored cars and six jeeps). Their task was to send back a steady stream of up to the minute battlefield information, which their HQ would then teletype direct to Patton's forward headquarters, so that he was usually better informed than anyone else about any situation!
As well as tanks, the American armament industry also produced large numbers of a wide range of AFVs which were then generously supplied to their Allies: the British Army, the Red Army, the Chinese and many others benefited from the United States. For example, the Red Army was supplied with 3,340 M3A1 scout cars, over 1,800 mechanised guns and nearly one hundred T16 carriers. The British even had an armored car built almost exclusively for their own use, over 2,400 Staghounds were delivered and over 1.600, 3-inch GMC M10s along with 830, HMC M7s served with the British Army.
The notion of having a wheeled, light vehicle with which to carry out reconnaissance was first seriously considered by the US Army in 1897, when Royal P. Davidson, then professor of tactics at Wisconsin Military Academy, designed the Davidson Duryea, which fitted a .45 Colt automatic machine gun with an armored shield mounted on a small, motorised, commercial tricycle chassis. It was followed in 1898 by a four-wheeled vehicle. In the 1920s and 1930s a series of open-topped civilian cars - Pontiacs, Chevrolet and Studebaker which had been fitted minimal armor and a pintle-mounted machine gun, were built in small numbers. From this developed the T7 scout car of 1934, built by the White Motor Company, which was the first of a long line of highly successful scout cars leading in 1938 to the development of M3.
The M3A1 was the only scout car to be built in any significant numbers - 20,918 being produced during World War Two. Although it has already been covered in a companion volume to this book: World War Two Military Vehicles Transport & Halftracks by G. N. Georgano, I must also include it here for completeness as it was the most important American-produced scout car.
Its ancestry goes back through the long line of armored scout cars, built by the White Motor Company, such as the T7 (M1) Scout Car of the early 1930s. The final form of the White scout car could be seen in the M2A1, which was tested by Ordnance in September 1937. A second wheeled version was built in 1938, at the same time as the halftrack was being developed at the Rock Island Arsenal. Illinois. The M3 scout car had a skate-type mount for a the .50in heavy machine gun in front and fitted a .30in machine gun at the rear. It had increased in weight to 4.45tons, could carry eight men and had a top speed of 65mph. The M3A1 first shown in 1939, was now powered by a 110hp Hercules petrol engine, weighed 3,85 tons was fast and reliable and was used for a wide variety of tasks, including gun towing and also as an ambulance Final dimensions were 18ft 5½ins long (with a sprung-roller front bumper) 6ft 5½ins wide and 6ft 3ins high.
Other versions were: M3A1E1 with a Buda diesel engine in place of the Hercules JXD petrol engine; M3A1E2 with a mock-up armored roof; M3A1E3 which had a pedestal mounted 37mm gun behind the front seats; M3A1 Command Car, built in 1943 with an armored windscreen, a .50in HMG and built-up armored sides.
Chrysler also produced a simple 'add-on armor' scout car in 1941, built for convoy protection or as a small APC, the armored body being bolted on to a Dodge 1½ton 4×4 truck chassis. However, due to problems with its narrow body and high silhouette, it did not enter production.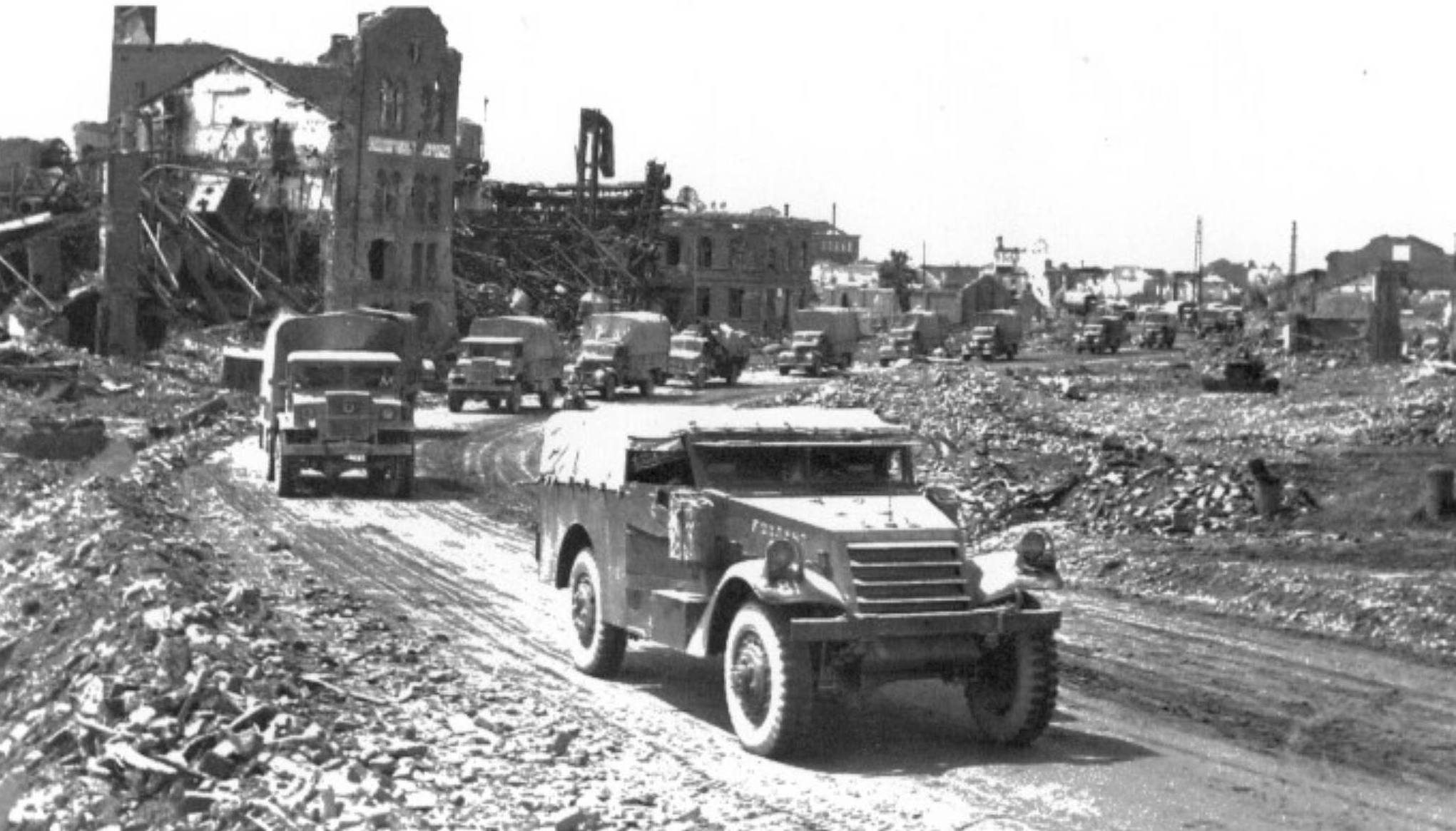 Leading a supply convoy on the approaches to the River Po, through the rubble of war torn Ponteloscuro, Italy. April 1945, is an M3A1 scout car in service with the British Eighth Army. (TM)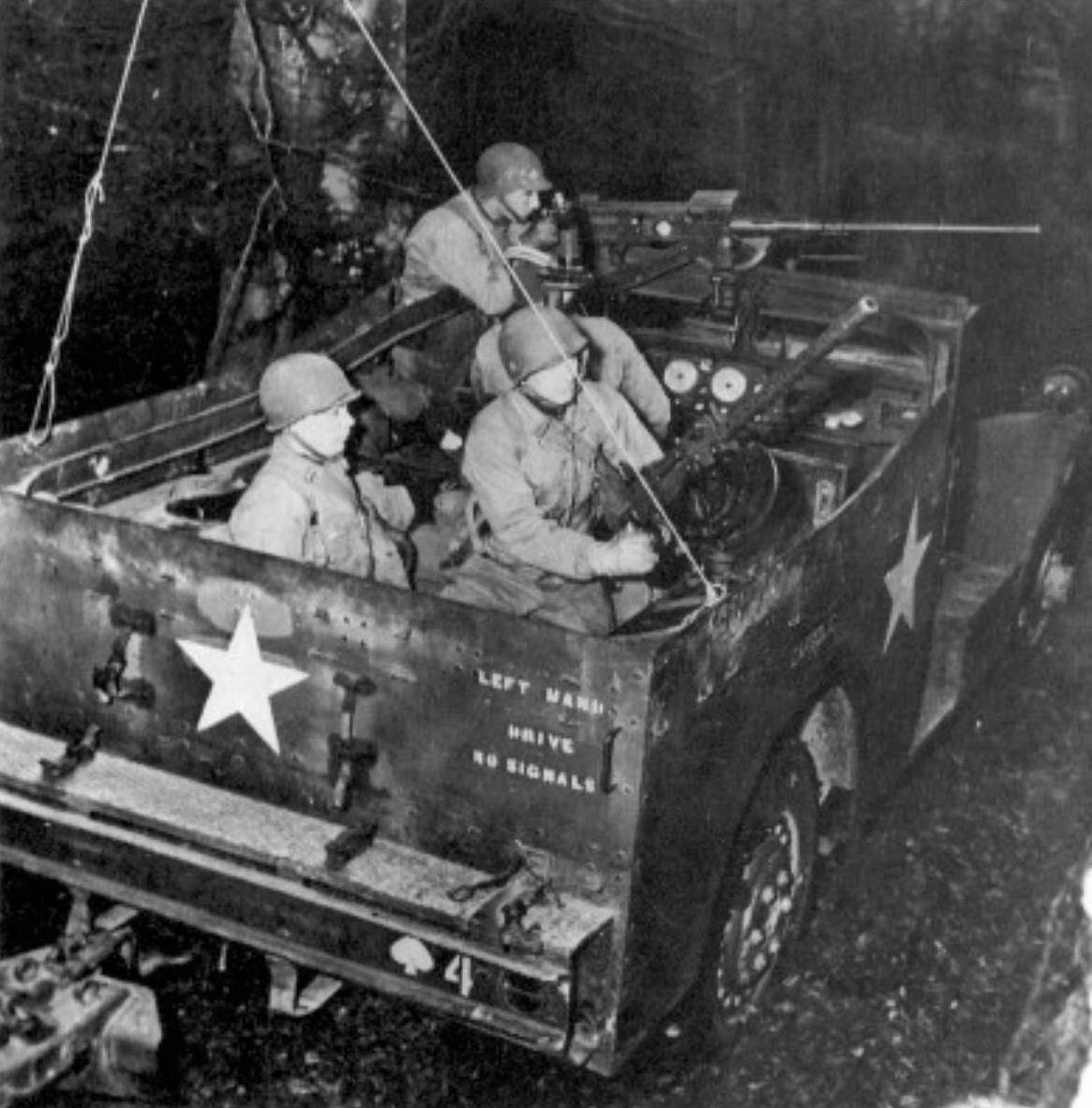 During training exercises in the United States, probably prior to America entering the war, a column of M3A1s cross a pontoon bridge. (TM)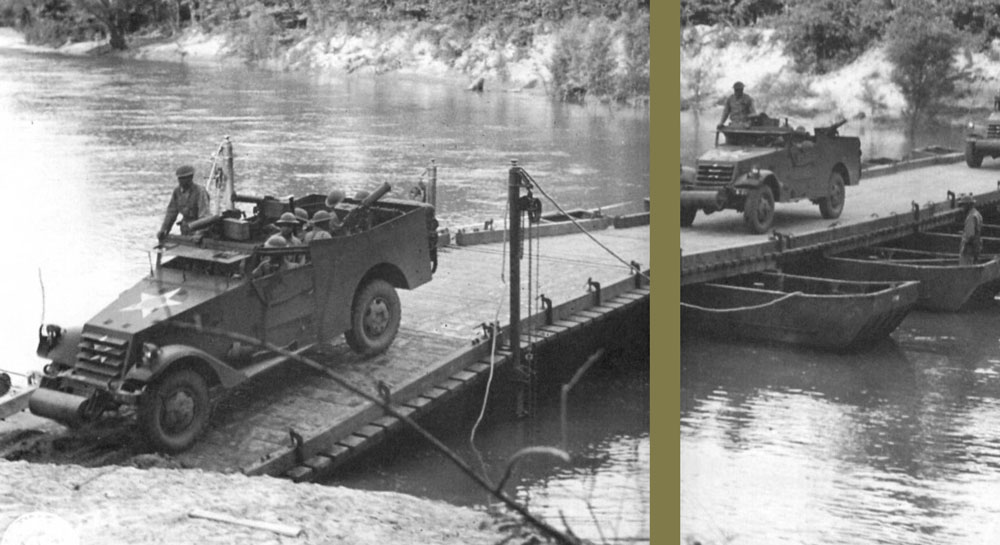 M3A1 scout car fitted with the standard .50in Browning heavy MG at the front and a 30in at the rear, both on pintle mountings. (TM)
During the development of the 4×4 Jeep, a larger ¾ton 6×6 version was built as a cargo carrier or ambulance and other uses. Smart Engineering Company of Detroit also produced the T24 scout car, an armored version of the 6×6, weighing 2.4tons. Its armament was a single .50in Browning heavy machine gun on a pedestal mount in the centre of an open-topped with all-round sloping armor. After testing, it was decided not to proceed, as there was considered to be no requirement.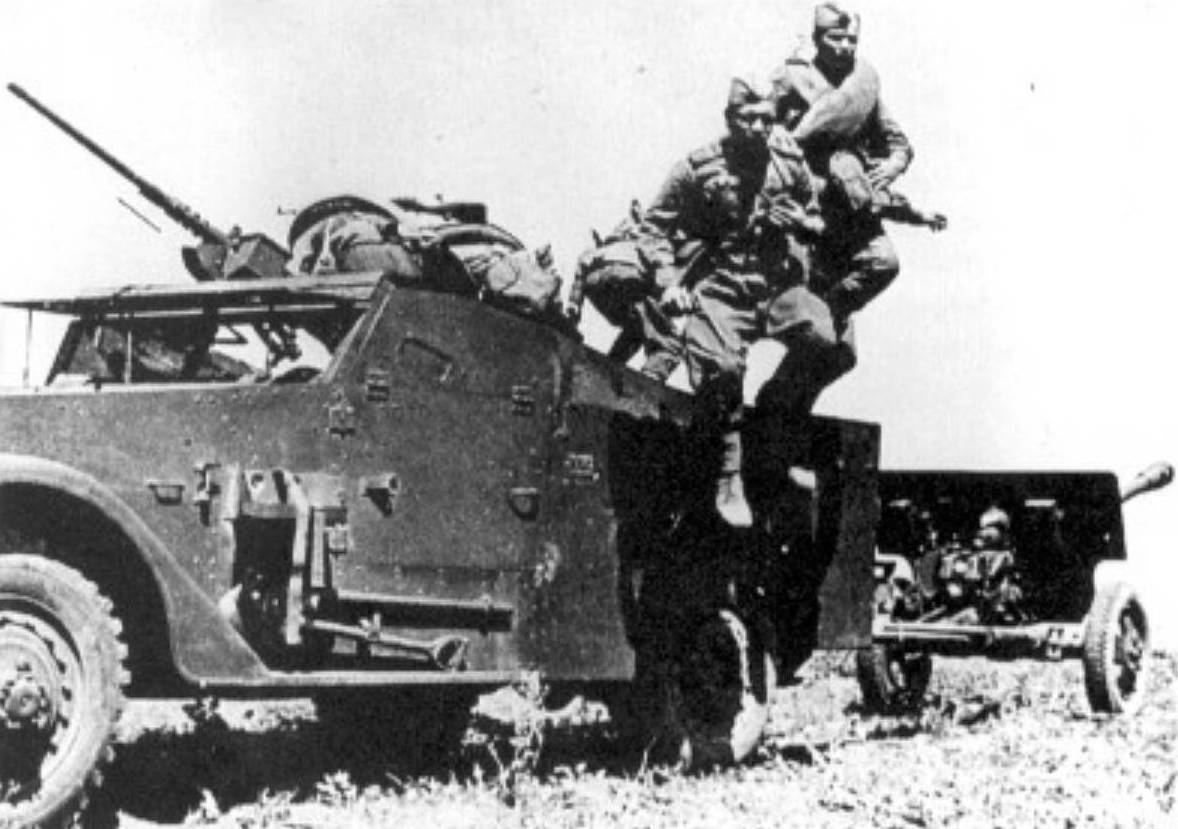 One of the 'Lend-Lease' M3A1 scout cars delivered to the Soviet Union, being used to tow a small field gun. (TM)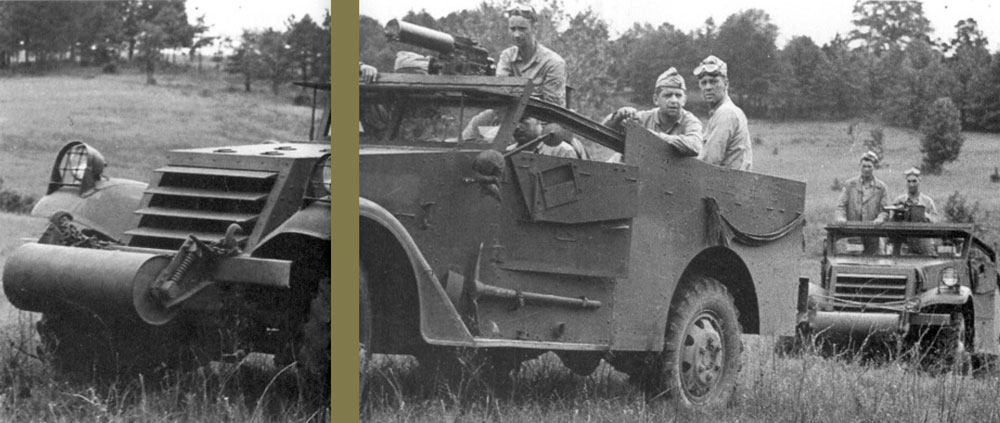 Photographed in 1938 these early M3A1 scout cars show clearly the spring-roller front bumper. The leading car mounts a water- cooled .30in Browning machine gun. (TM)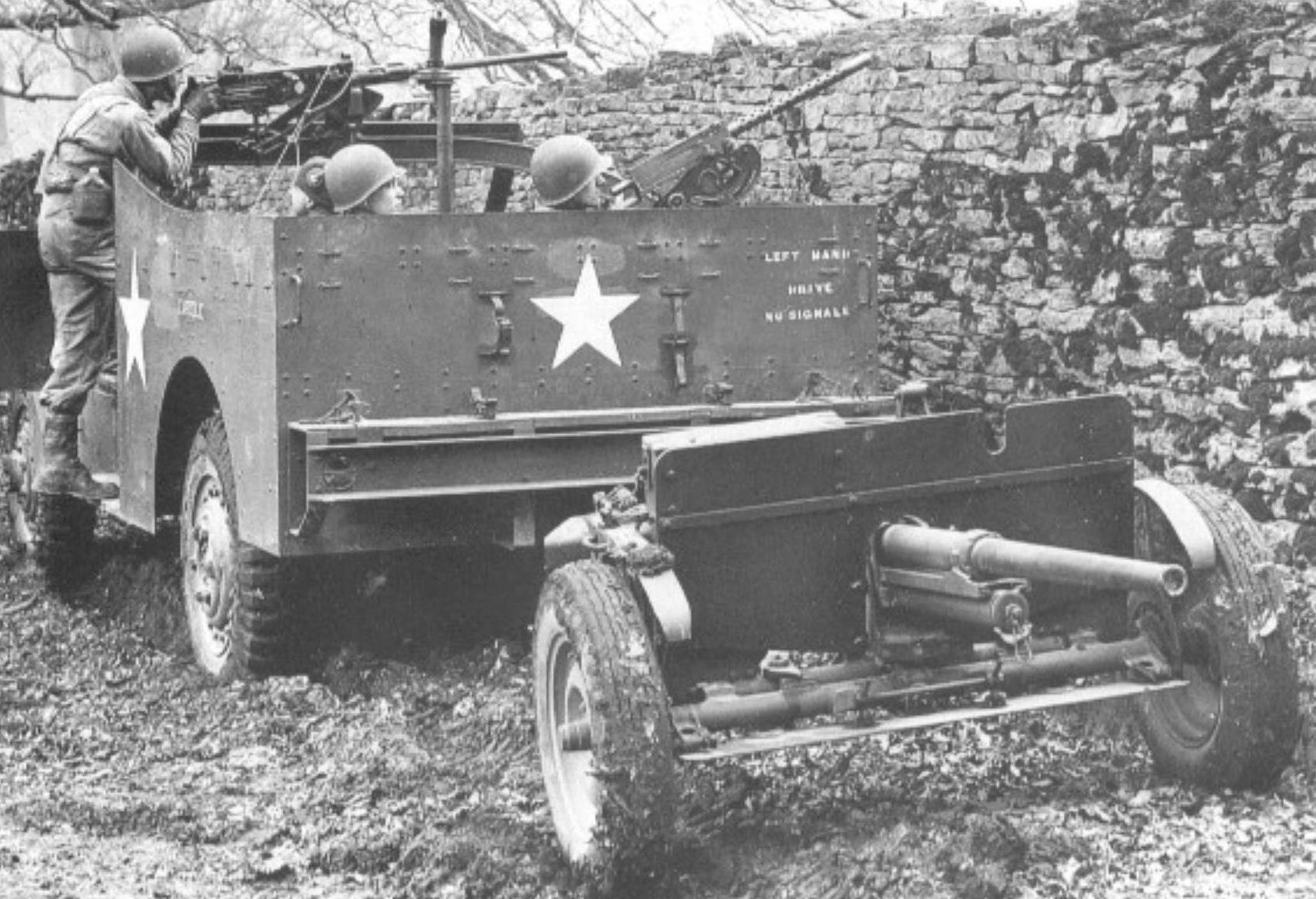 M3A1 towing a 37mm anti-tank gun, as the crew prepare to engage the enemy with their Browning machine guns. (TM)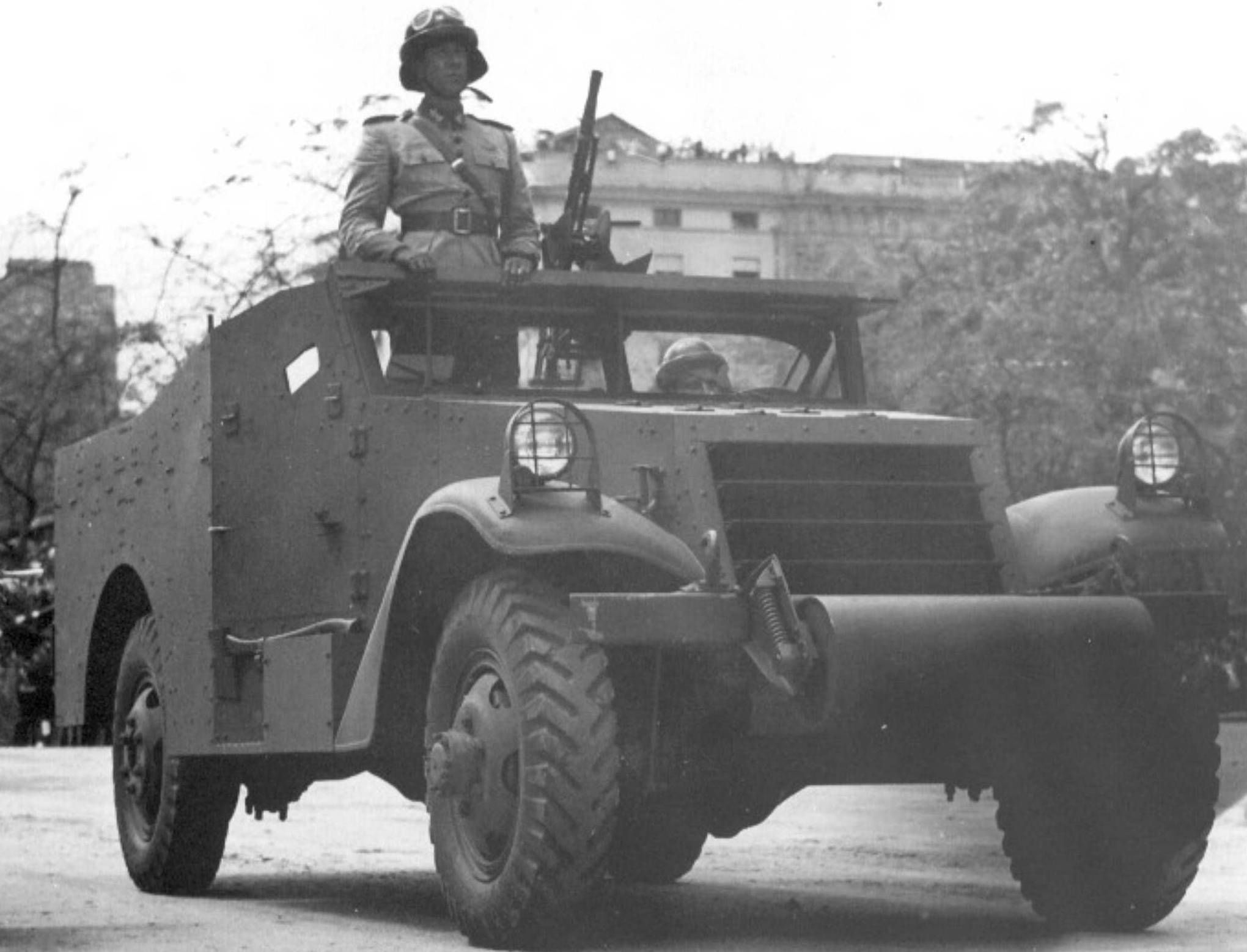 White M3A1 scout cars on parade with the Brazilian Army shortly after that country's declaration of war on 22 August 1942. (TM)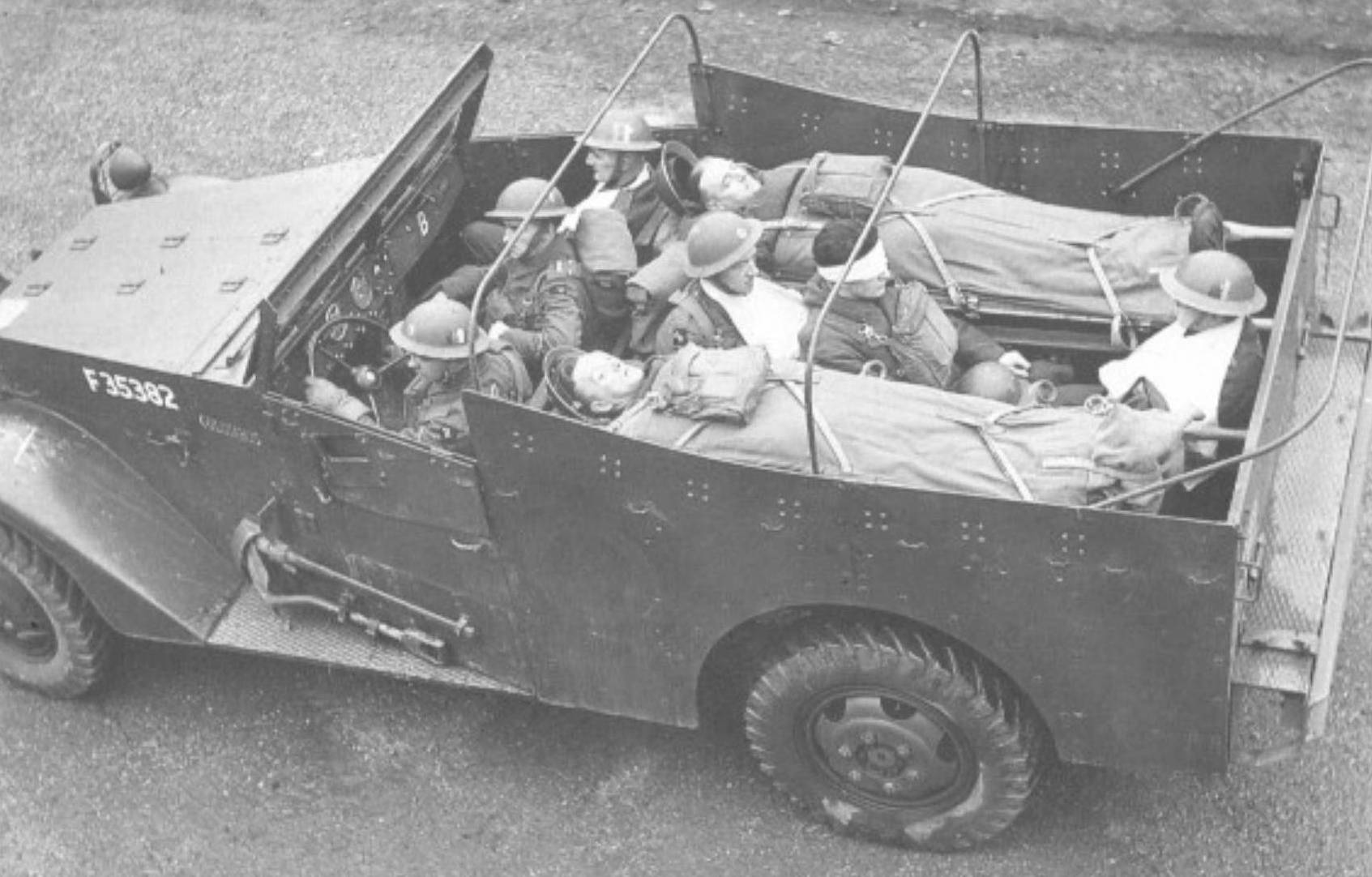 The M3A1 was a versatile vehicle, seen here being used as an ambulance for carrying both stretcher cases and walking wounded. (TM)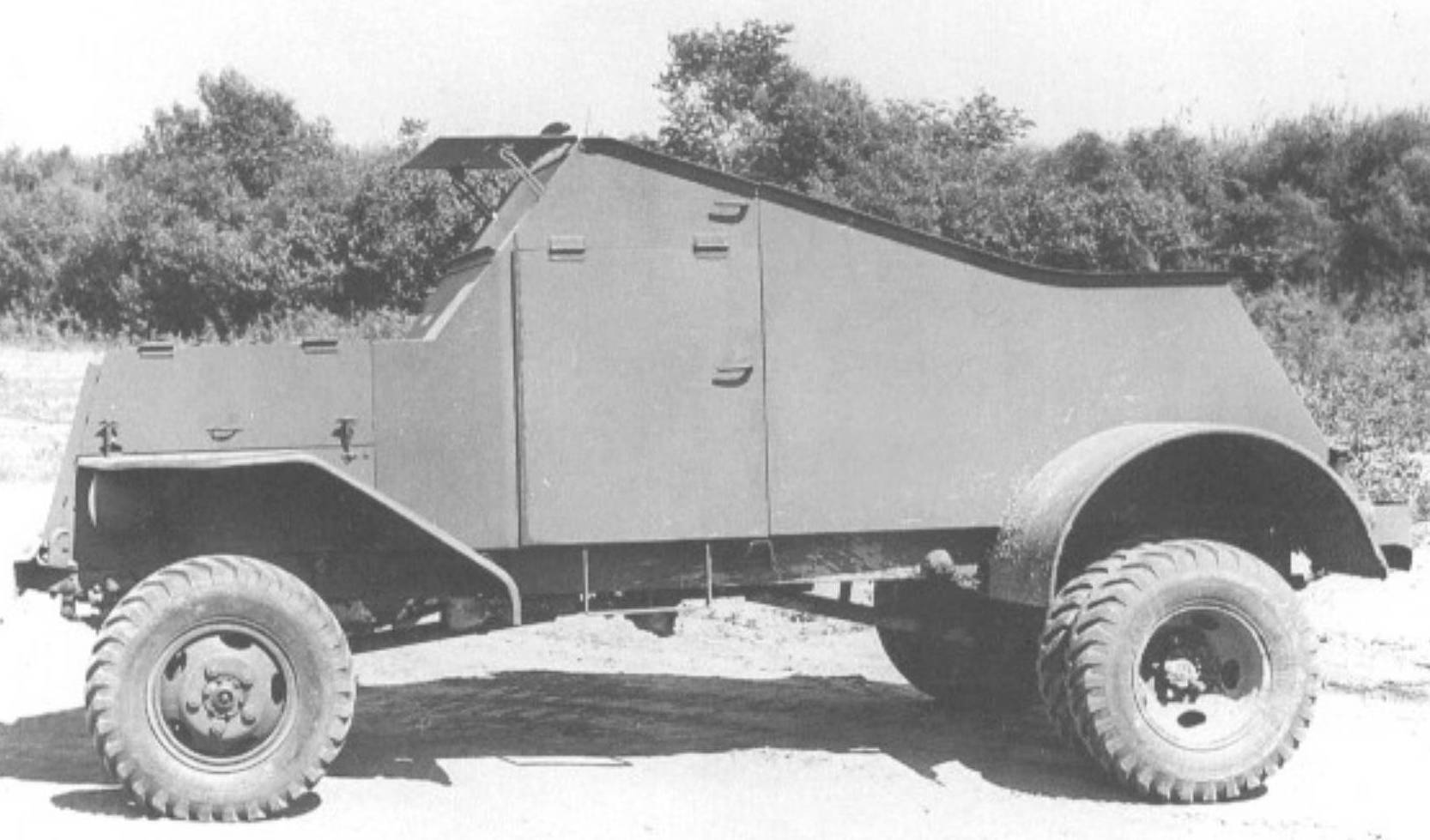 The Chrysler scout car 1941, with a simple armor plate body bolted to a 1.5 ton 4×4 Dodge truck chassis. (TM)
As well as various field conversions of the Jeep, with add-on armor which have also been covered in Georgano's book, there was a series of scout cars designed and built by the Smart Engineering Company, which- used the standard Willys 4×4 chassis. First in the series was the Smart scout car, built in 1941, which was followed by the T25, the T25E1, T25E2 and T25E3. All had slightly different armor configurations, the last one being 12ft long, by 5ft 5ins wide and 4ft 1lins high. It hail better cooling for the radiator, hinged side and rear armor, while the bonnet armor extended forward so that in appearance it resembled the Russian BTR-40 built after the war.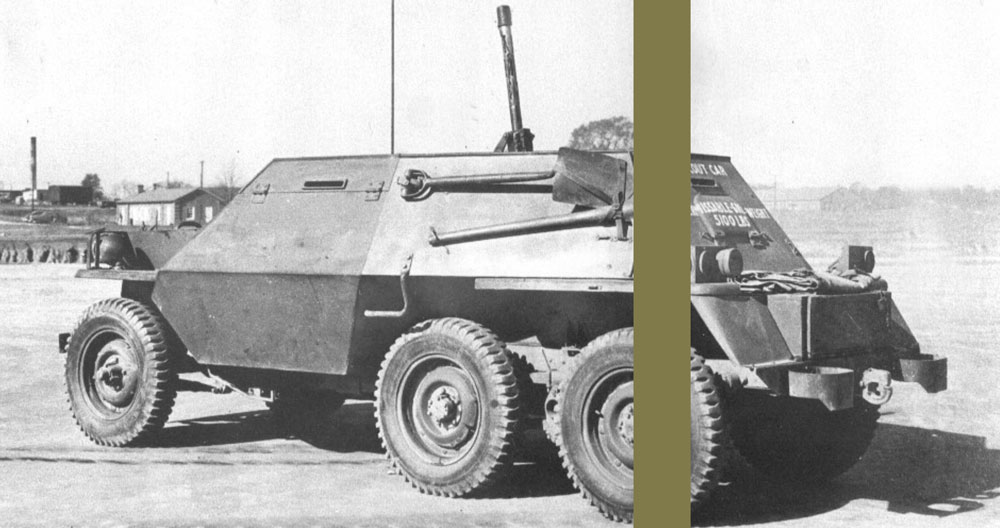 The T24 scout car was produced by Smart Engineering in 1942. It was 14ft long and armed with a .50in Browning machine gun on a pedestal mount. It did not enter production. (TM)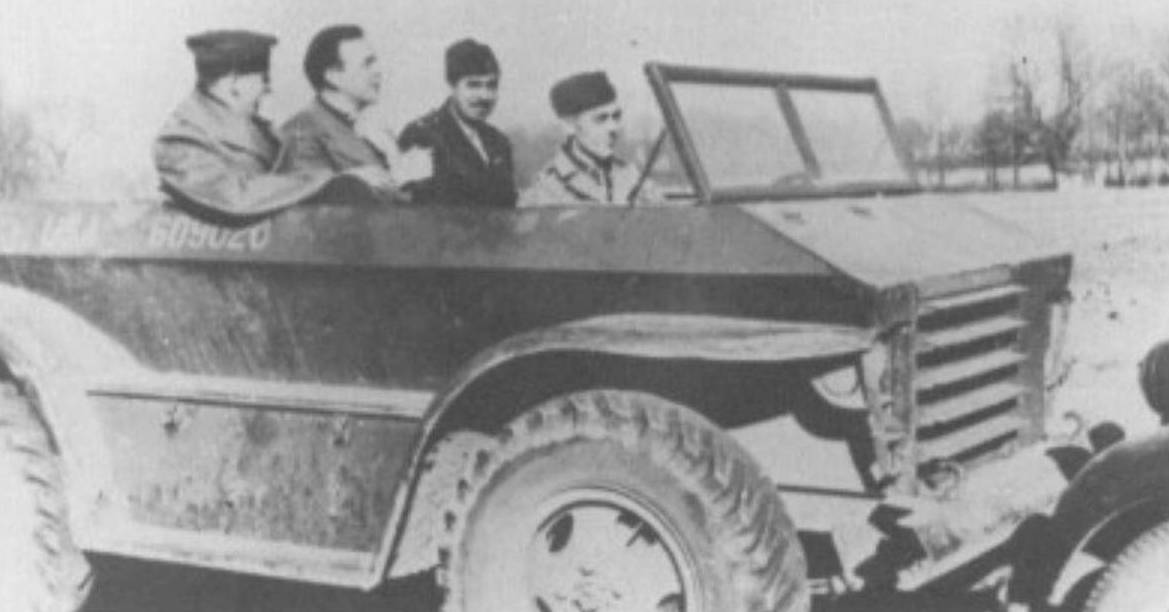 Observation Post Tender T1 was built by Ford and intended for use by intelligence gathering personnel. (TM)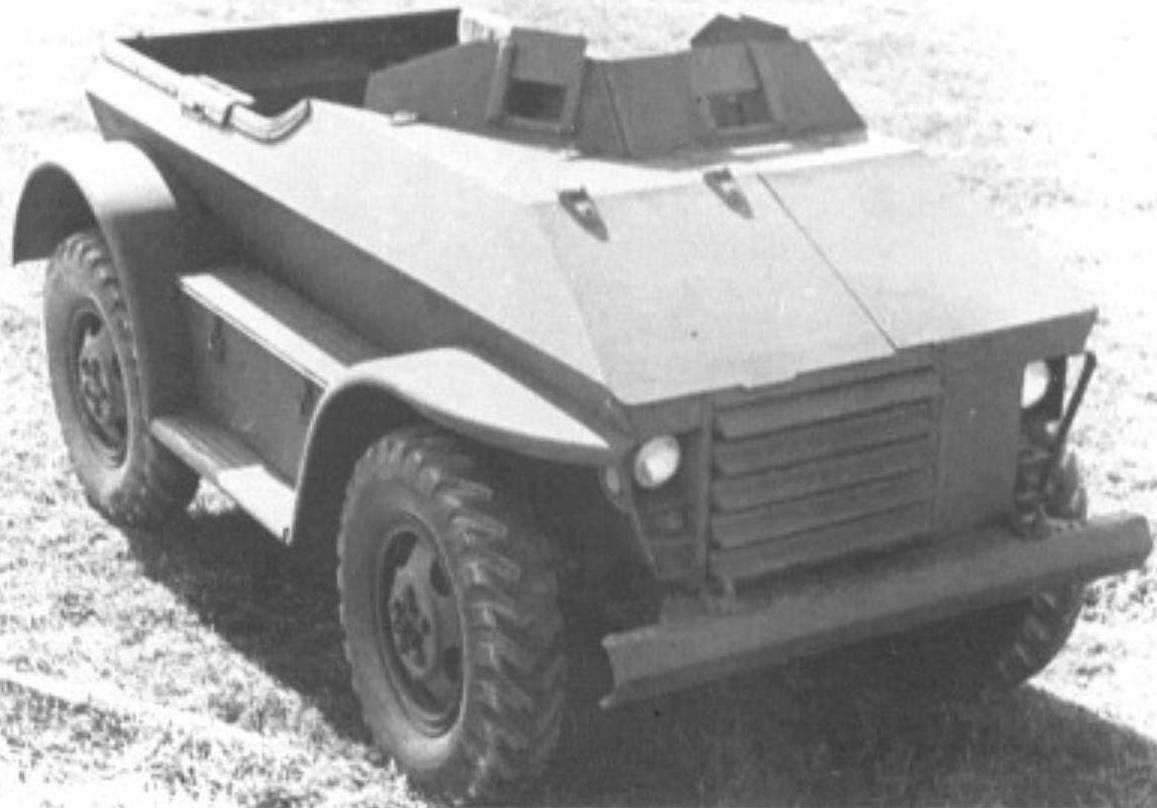 The Observation Post Tender T2 weighed 6600lbs fully laden and was better armoured than the T1, but never entered production. (TM)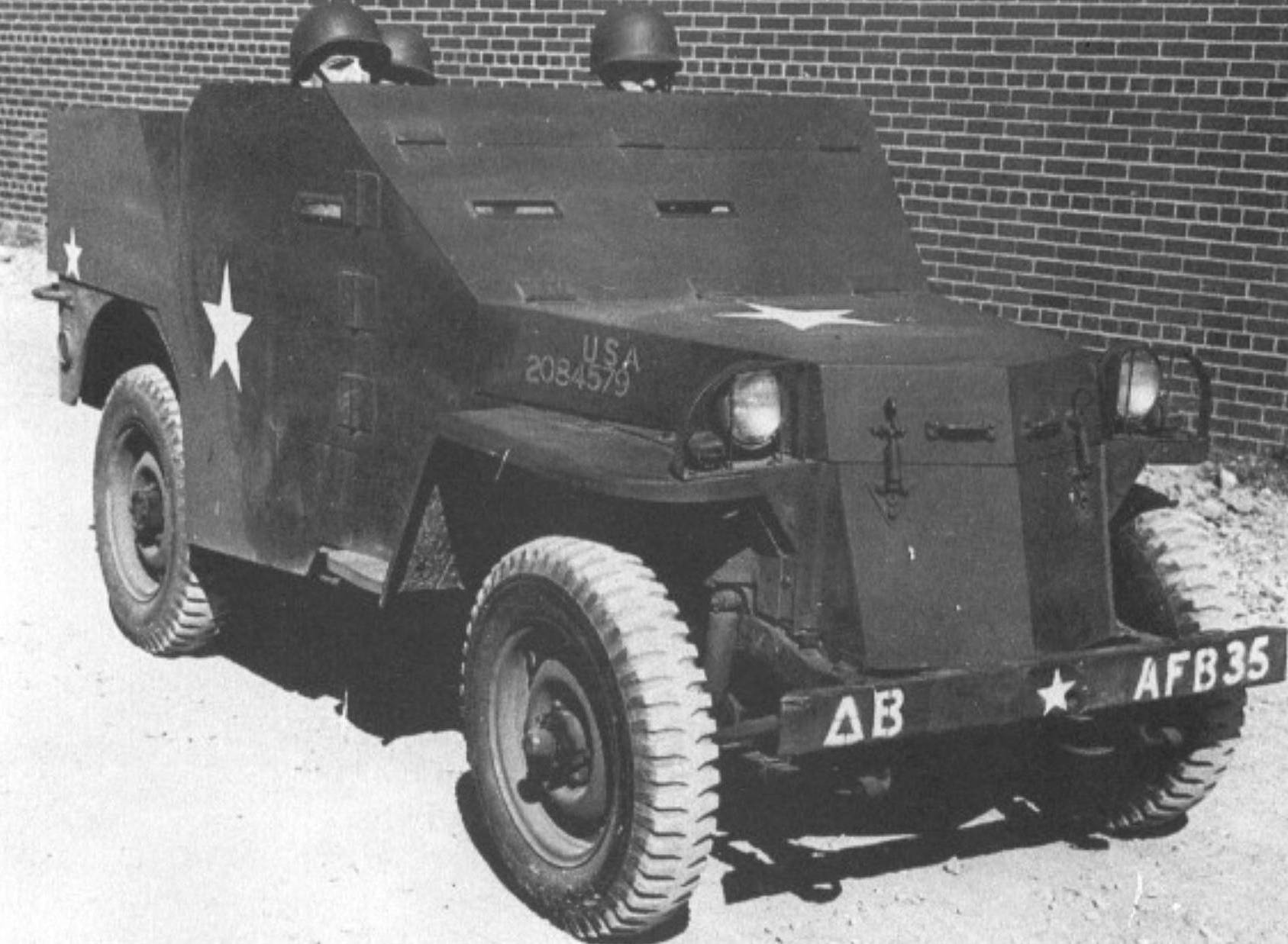 The T25 scout car was produced on the Willys Jeep chassis by Smart Engineering in 1942. It was 14ft long and armed with a .50in Browning machine gun on a pedestal mount. It did not enter production. (TM)
There were also a number of small cars, such as the Observation Post Tender T1 & T2, small 12ft long vehicles built by Ford for use by intelligence gathering personnel. They all weighed around 3tons and were powered by a 90hp Ford engine. Another was the Fort Meade Car (also known as the Howard Johnson Car and as the Blitzwagen), which looked similar to the M3 stout car, built on a Ford chassis, with a .50in machine gun on the top of the hull, rifle ports at the sides and a rear ramp for loading a wheeled 37mm anti-tank gun.
A third was the John Deere Model A armored tractor of 1941, which was a small agricultural-type tractor with an armored bonnet, flat shaped armor covering for the driver, small front wheels and larger rear ones, measuring 11ft 5in high, by 8ft wide and 7ft 8in wide. It was designed for use as a prime mover in areas where hostile tire could be expected. Tested at the Aberdeen Proving Ground (APG) in 1941, the 4.25 ton vehicle was both cumbersome and slow, so was eventually deemed unsuitable for military use.
The Chevrolet Division of General Motors, Detroit, Michigan built the Staghound, a four-wheeled armored car to specifications agreed between the US Armored force command and the British Army staff in Washington. It was designated the T17E1, because the T17 design and development number had been allocated to the Ford Deerhound. An order for 3,500 was placed to be shared between the British and Americans, however, the US Army cancelled their smaller share. Fortunately for the British Army, production continued and over 2,400 were eventually completed and shipped to Britain. The 13.7 ton, 4×4 Staghound was powered by two six-cylinder 97hp GMC petrol engines, which gave it a top speed of 56mph and a range of 450 miles. Staghound carried a crew of five and was an extremely robust and useful vehicle. It was 18ft long, 8ft 10ms wide, 7ft 9ins high and was armed with a 37nim gun and a co-ax .30in Browning machine gun. There was another .30in MG in a ball mounting in the hull and a third on an AA mounting on top of the turret. Armor thickness was 9.45mm.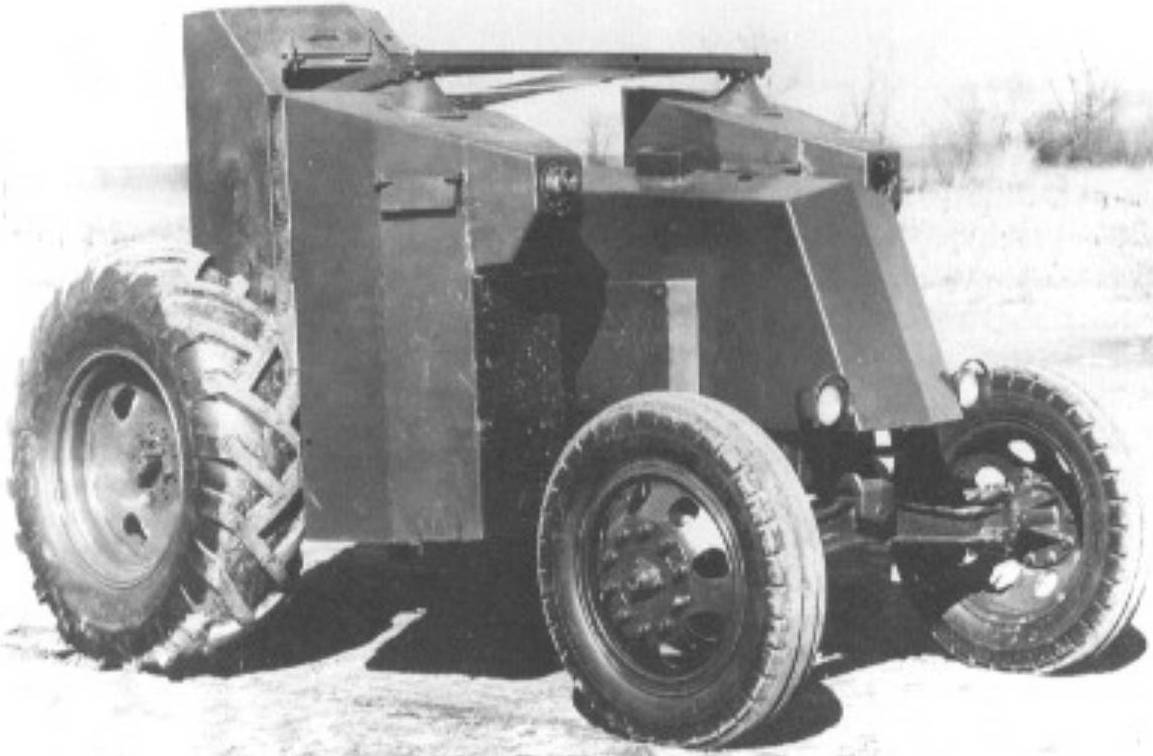 The John Deere Model A armored tractor of 1941, was based on a small agricultural vehicle. It never entered service. (TM)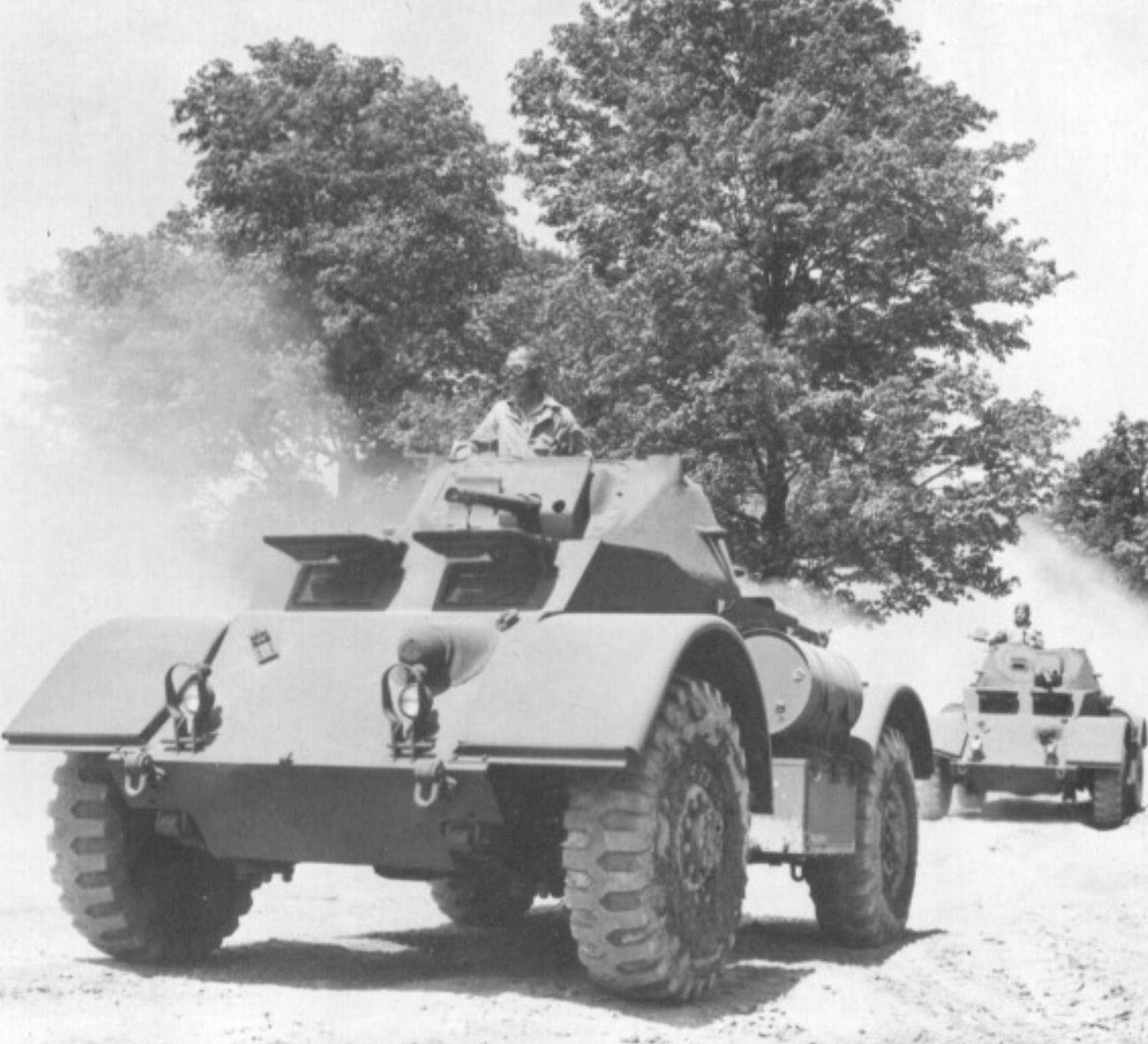 New ready for delivery T17E1 Staghounds which were, according to the original photograph caption, '....... a closely-guarded military secret'. (TM)


Staghound equipped with Bantu - a system for mine locating, which employed electro-magnetic rollers front and rear. (TM)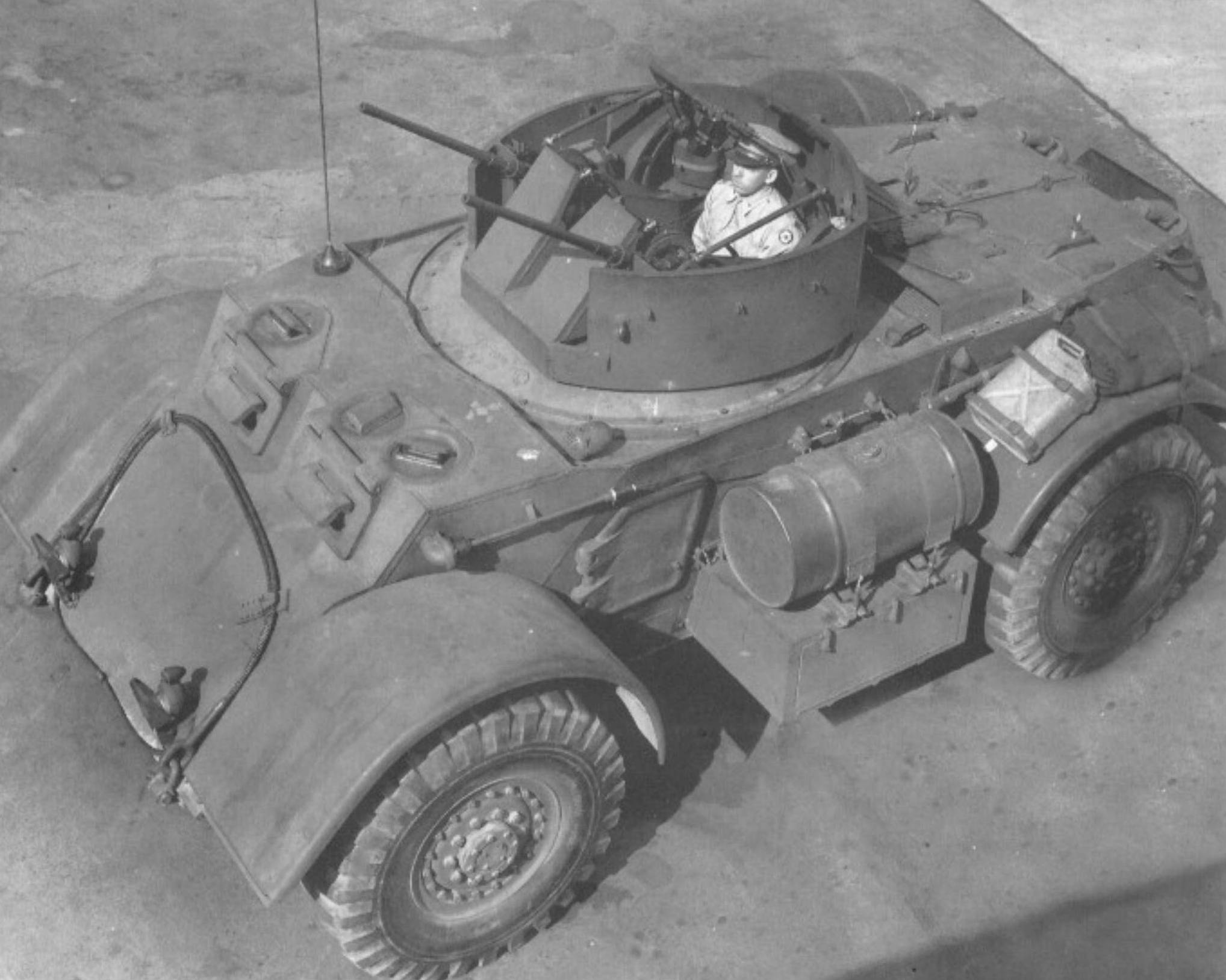 T17E2 fitted with the British-designed Frazer Nash D8394 open-topped turret mounting twin .50in machine guns. A total of 100 were produced. (TM)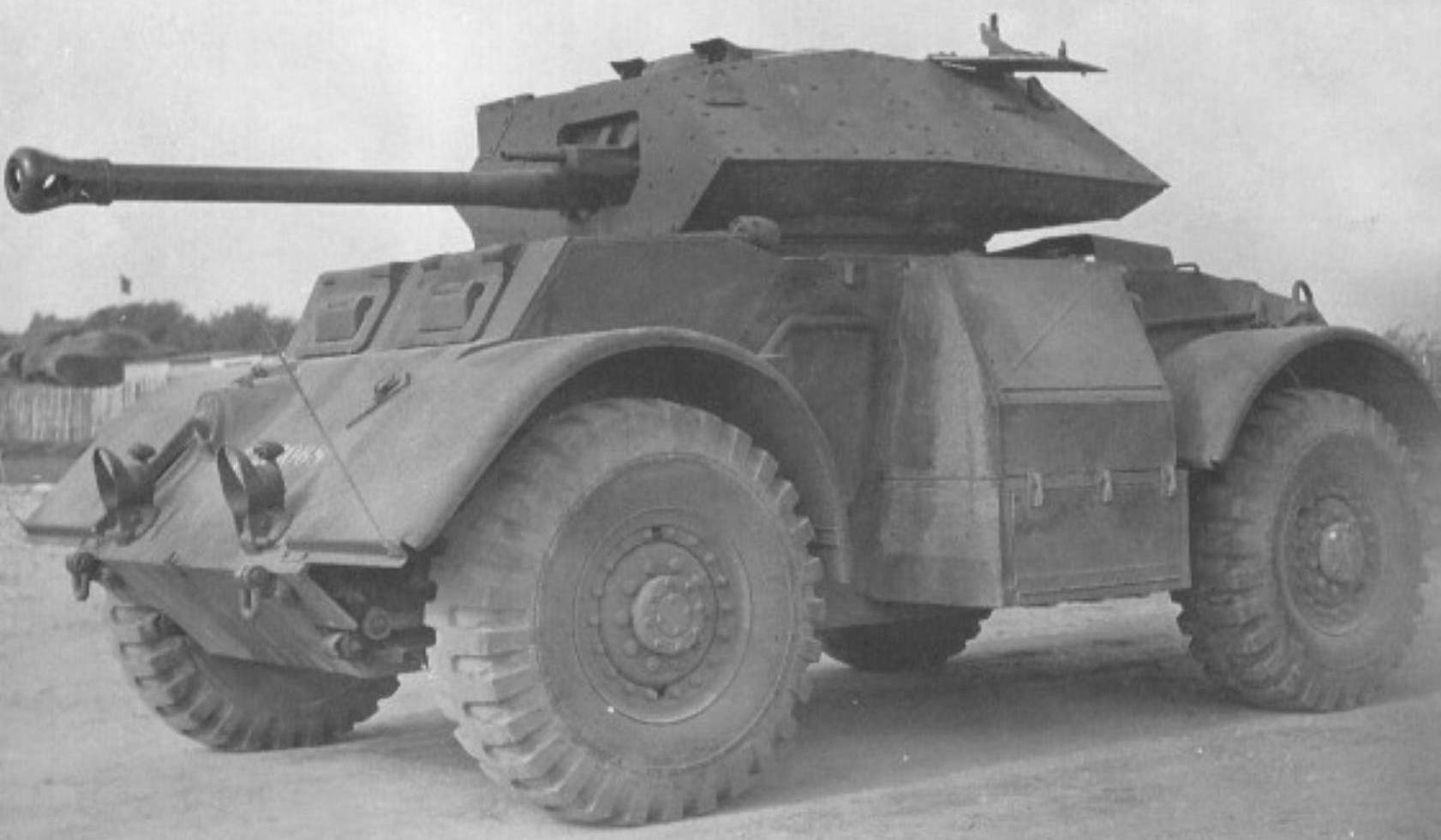 Staghound fitted with a British Crusader tank turret, mounting a 75mm gun and co-ax BESA machine gun. (TM)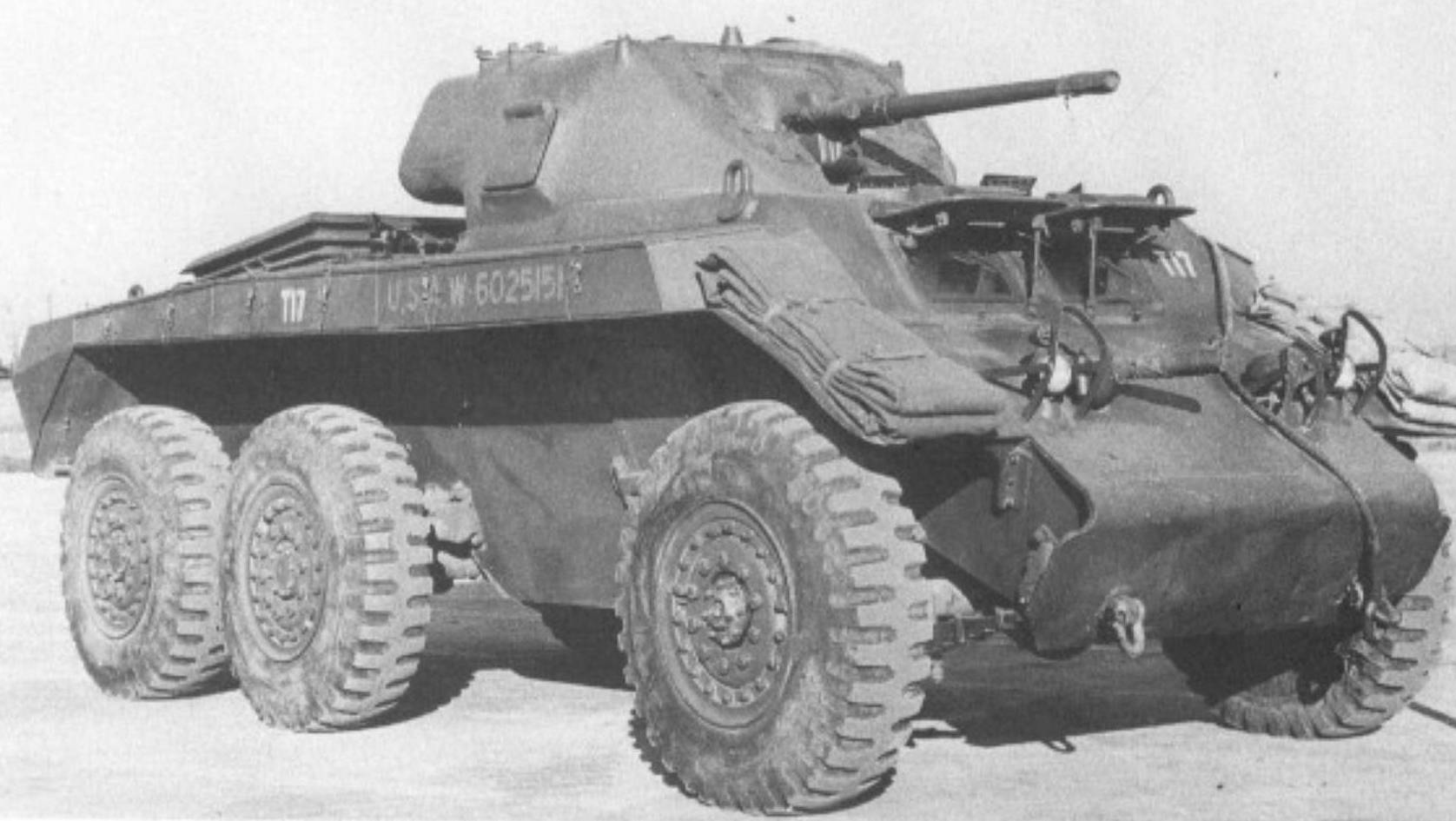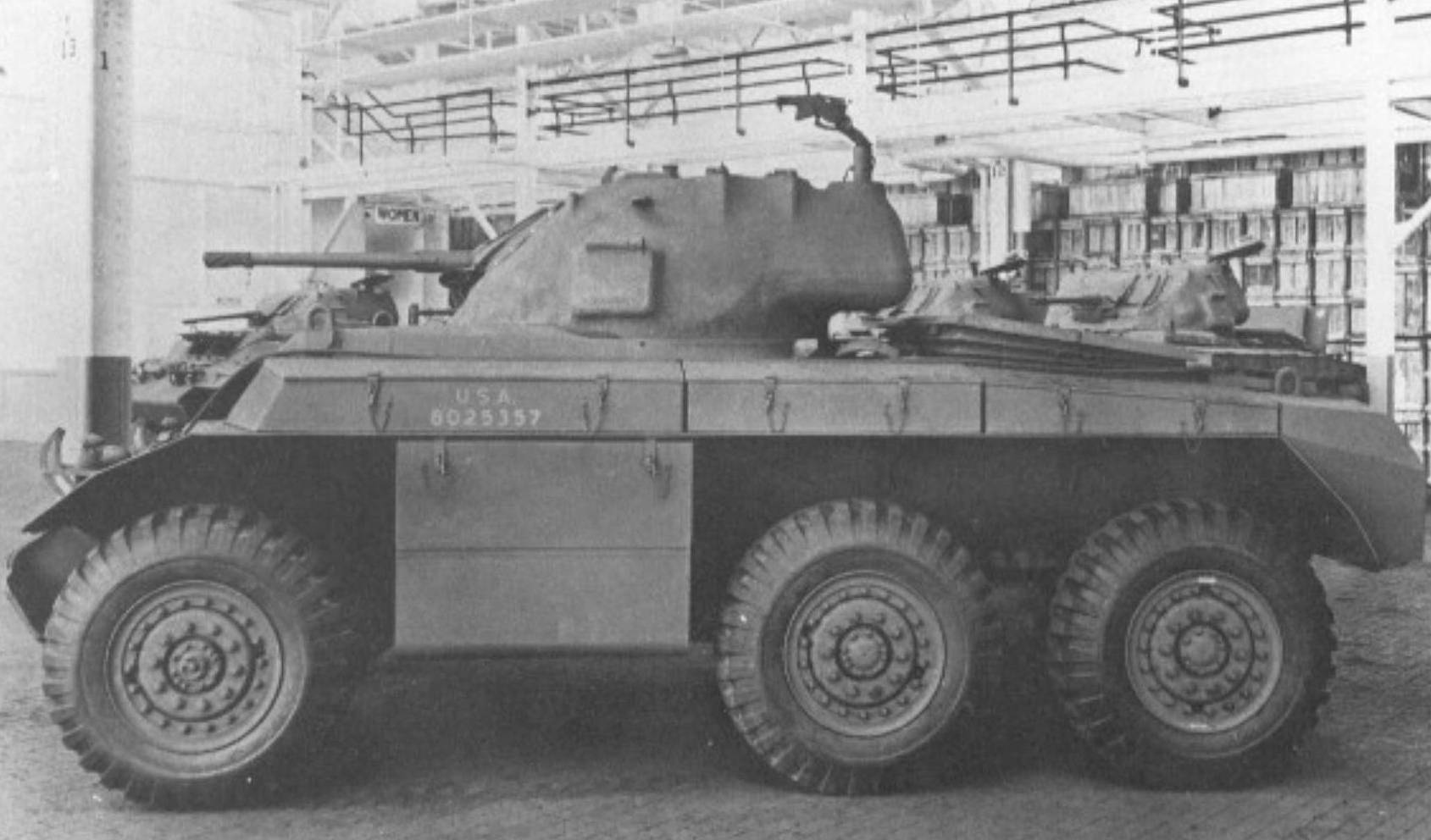 Left and right views of the T17 Deerhound armored car which was designed and built by Ford at the same time as Chevrolet were building Staghound. It was fitted with the same turret as the T7 light tank. (TM)
The standard armored car was followed by an AA version, the T17E2, which had a completely new turret designed by Frazer-Nash in Britain mounting two .50in Brownings. The Frazer-Nash D8394 hydraulically-operated open turret had all-round traverse and was fitted with a gun-mount which allowed the guns to elevate to seventy-five degrees and depress to ten degrees. One hundred were built. Staghound was also modified to mount a 75mm howitzer, but this was only built as a prototype and never entered production.



Let me offer you a link to the TransferGo,
where in the "Send to" line you only need to enter IBAN: UA423348510000026200404121108


(⇚ + ctrl) PREVIOUS PAGE ◄► NEXT PAGE (ctrl + ⇛)