IBAN: UA423348510000026200404121108


SITE MENU
Rights Reserved - Free Access.
This digital object is protected by copyright and/or related rights. This digital object is accessible without charge, but its use is subject to written permission.
Unless expressly stated otherwise in the licensing conditions, you are free to make any of the acts permitted by your national copyright and related rights act, including browsing, printing and making a copy for your own personal purposes.
All other acts of reproduction and communication to the public are subject to the licensing conditions attached to the digital object.
ARMY BOOTS OF THE WORLD. REVIEWS
Important notice: we do not sell any boots! The prices are given for information purposes only!
Norway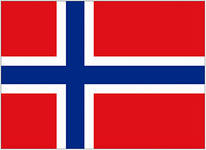 Norwegian Military Boots M/77 ("Støvel Marsj M/77")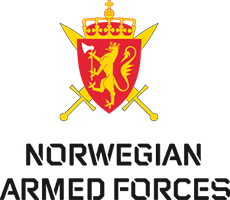 M/77 type boots are the standard footwear of the Norwegian Armed Forces ("Forsvaret", that means "The Defence" in Norwegian language) and in Estonian military forces. The original Norwegian title for this type boots is "Støvel Marsj M/77."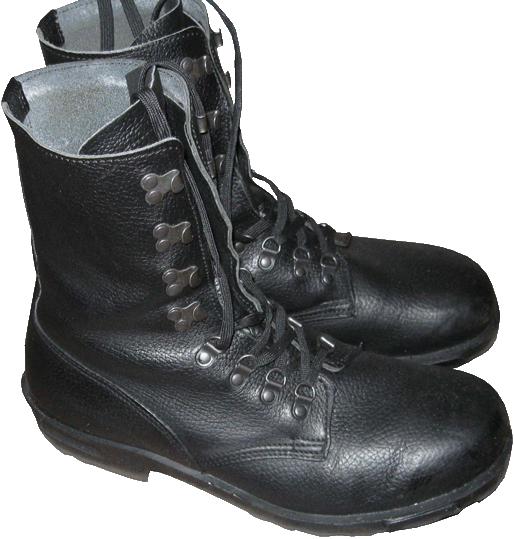 The boots of M/77 type were originally produced by the well-known Norwegian footwear company "ALFA SKOFABRIK AS", or simply "Alfa". Army boots of M/77 type had been developed by "Alfa" company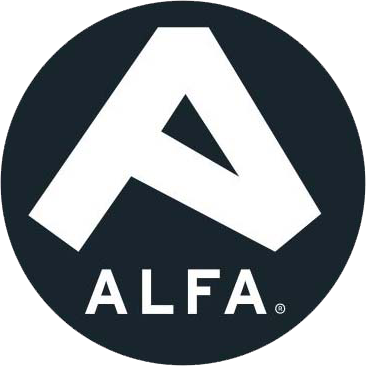 in close cooperation with the Norwegian Ministry of Defense the year 1976, and became widely used in 1977, so they are called model 1977 boots, or simply M/77 boots.
The overall construction and materials of the model M/77 boots appeared to be so successful that are have been used without modification for more than 35 years.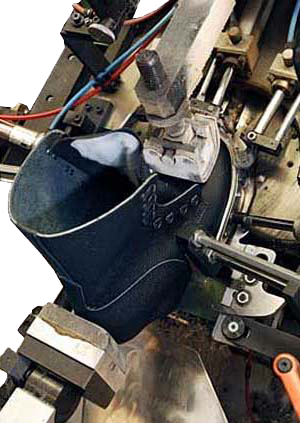 These boots are very robust and lightweight. The method of soles attaching is the most progressive at the moment - "Direct Molded Soles" (DMS).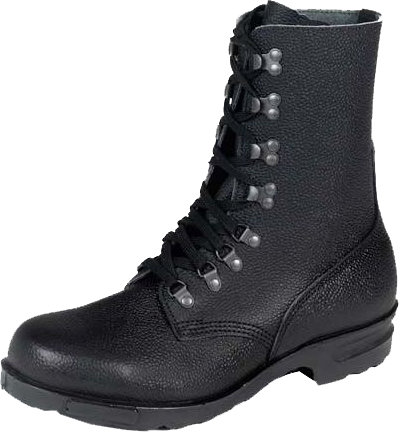 The weight of one M/77 Norwegian military boot is just 666 grams, i.e. they are lighter than most similar types of leather boots, which are used in other armies of the world (e.g. in German Bundeswehr, armed forces of France, UK, Netherlands, Belgium, Sweden, Finland...), which use military boots, more or less approaching to one kilogram, depending on the materials used in each particular case.
The height of the M/77 is medium, the lacing system is provided by 8 lace eyelets (4 lower "D"-shaped semicircular rings plus 4 upper hooks for laces, allowing to lace up the boots quickly).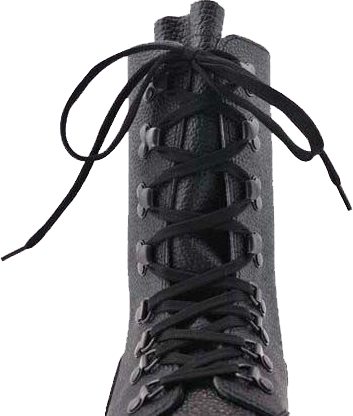 The Norwegian military boots have no lining, which promotes rapid drying. Over time, after "breaking in" and some period of active wear, these thick leather boots fit the shape of the wearer's feet perfectly and become even more comfortable. Their safety factor of each pair of M/77 boots provides for many years of faithful service.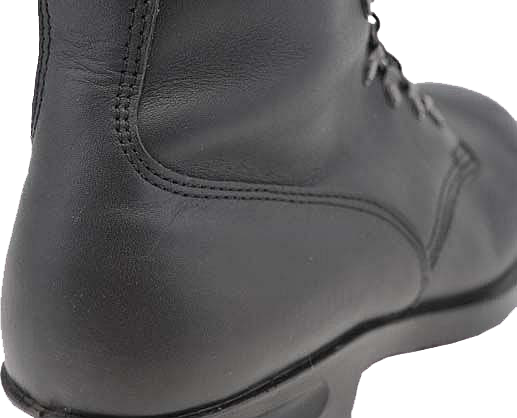 Nowadays, due to globalization process and deference between manufacturing costs the Norwegian M/77 boots are manufactured on Estonian factories and are widely used by Estonian Armed Forces.
Norwegian M/77 boots are available in the range of sizes from 36 to 52, the color is black only. Besides the Norwegian and Estonian Armed Forces, these boots are very popular among Norwegian hunters, fishermen and tourists, as well as abroad (of course, among those who are willing to pay quite a high price requested for them). One can purchase these boots on the manufacturer's web-site, and, if not to take into account the shipping cost, these boots cost 1668 Norwegian Krones, that corresponds to the sum of 210 Euros.
It is widely known that the Kingdom of Norway is the most expensive European country, so the products made, for example in the United Kingdom or Sweden are quite cheap in comparence with local prices and wages.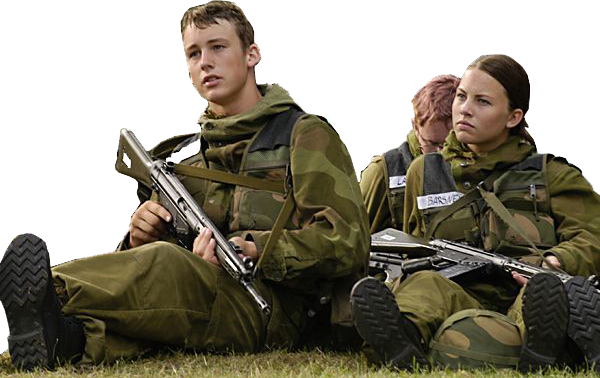 The tread pattern type of the Norwegian boots soles, "Chevron", was modeled on the basis of contemporary US army combat boots, similar to the military boots of Israel and Greece.
This pretty simple, yet effective tread design provides good adhesion to different types of surfaces under different weather conditions, and unchanged design since 1977 is the best evidence of this.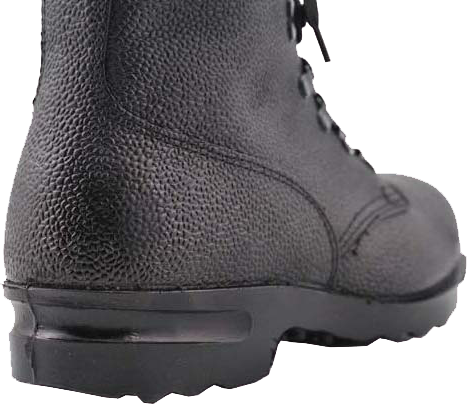 Two stubs on the outsole welt and longitudinal grooves along the outer surface of the heels serve for ski bindings, also the grooves reduce the overall weight of the heels.
Another popular type of Norwegian army black boots, the so-called "Pilot's boots" or "Pilotstøvel M/77" was developed around the same time.
In general they are very similar to conventional M/77 boots, except for some details: 4 upper hooks for lacing were replaced by D-shaped semi-circular rings.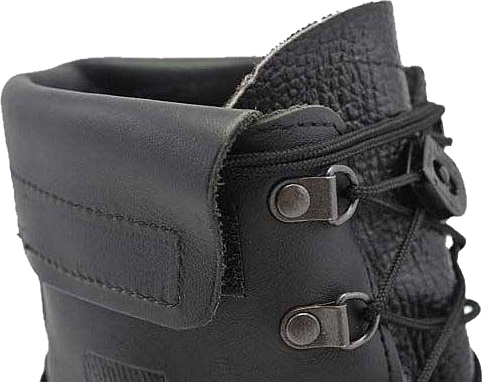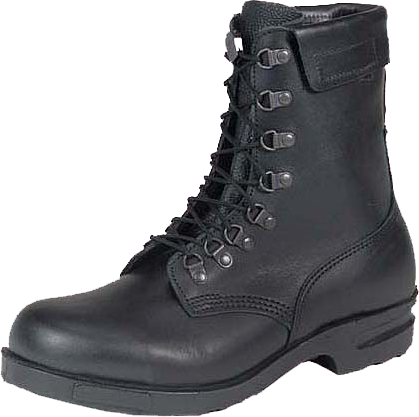 The top of such boots is equipped with a folding "velcro"-type leather cuffs while the bootlaces are fixed with movable clamps, which help to pull on the boots easier and faster without tying the bootlaces.
This type of boot is available in the range of sizes from 36 to 48, the weight of one boot is just 645 grams, as there is no lining. The price of a pair of such boots in Norway is 1899 Norwegian Krones, i.e. 235 Euros.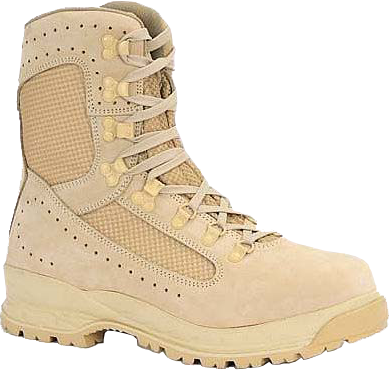 The Kingdom of Norway is quite an active member of NATO and takes an active part in all the overseas operations of the Alliance. The Norwegian army boots manufacturer has developed a series of advanced models of "desert" boots in addition to standard M/77 military boots.
As an example, let's consider a couple of such models. The first of them is a composite structure type boots, in which the breathable synthetic materials are used in conjunction with top-quality and wear-resistant suede. These boots are sandy-colored, with three lower "D"-shaped semicircular rings and five hooks for speed lacing.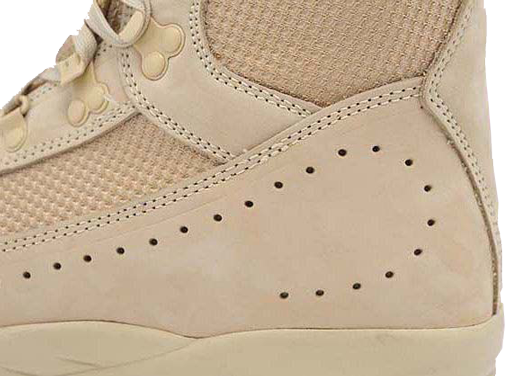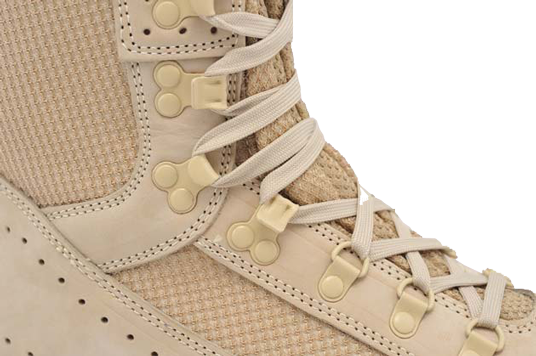 The outsole of these boots is made by "Davos", an Italian manufacturer of soles for standard Italian and Swiss army boots. In terms of quality and durability, the level of "Davos" products is approximately equal to "Vibram SpA", the famous manufacturer of high quality outsoles, named in honor of it's founder - Vitale Bramani. However, "Davos" is just less "promoted" and famous in the world.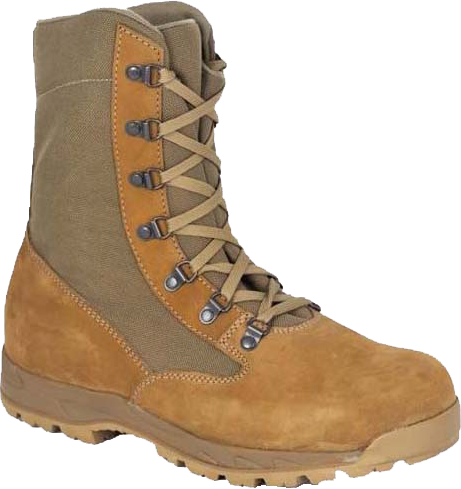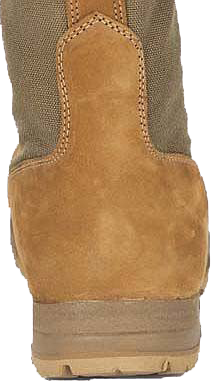 The second type of Norwegian "desert" boots are of more dark color, and the lacing system is provided by 7 "D"-shaped semi-circular rings. The outsole is composite by its structure and provides good thermal insulation.
Norwegian Winter "Booties" - the "Støvel Overtrekk"
Among the Nordic European countries, Norway is the most cold by climate, and a part of the country in general is located within the Arctic Circle. In case of extreme cold weather the Norwegian military use to put light, warm and versatile "booties" over the standard Norwegian M-77 boots. In Norwegian such booties are called "Støvel Overtrekk". This kind of footwear is made from the layers of felt and reinforced polyurethane fibers with hydrophobic taped seams and thermal insulating sole protector, which provides good adhesion to different surfaces.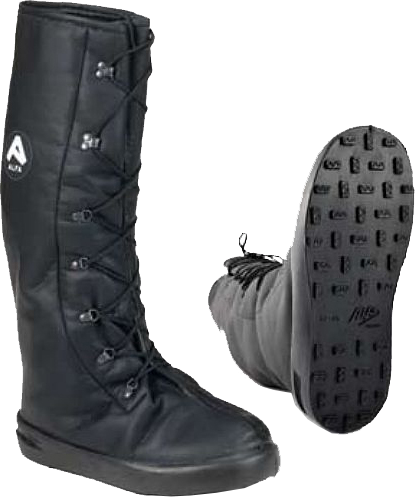 The height of such booties is enough to protect the feet in high snowdrifts, while the fur lining provides extra protection from the cold. These booties are available in sizes from 36 to 49 in the models for women and from 37 to 51 for men's models. In Norway, these boots can be purchased at the manufacturer's website for 1299 Norwegian Krones, or 161 Euros.
Exclusively for cartalana.com




IBAN: UA423348510000026200404121108


(⇚ + ctrl) PREVIOUS PAGE ◄► NEXT PAGE (ctrl + ⇛)