P.D. GRIFFIN
ENCYCLOPEDIA OF MODERN BRITISH ARMY REGIMENTS
The first march of the corps was Sousa's Washington Post, but in 1914 a change was made to Her Bright Eyes Haunt Me Still, an arrangement of an 1856 composition in honour of Florence Nightingale.
In 1923 Bonnie Nell was favoured, but replaced in 1948 by a seventeenth-century air, Here's a Health unto His Majesty. Shortly after this Her Bright Eyes was reintroduced as the corps slow march.
When HM Queen Elizabeth The Queen Mother was Colonel-in-Chief, The Eriskay Love Lilt would be played on officers' guest nights.
Corps Day (23 June) was set down in 1948, on the 50th anniversary of the formation of the RAMC, being the day on which the Medical Staff joined forces with the Medical Staff Corps in 1898.
The First World War had caused a rapid expansion of army medical services to cope with the vast numbers of casualties and new types of wound. Through impossible conditions members of the RAMC struggled and adapted to support the wounded on the front line, in the regimental aid posts, the dressing stations, casualty clearing stations, base hospitals, and the hospital ships and trains.
In spite of superhuman efforts to alleviate the suffering of soldiers and civilians in all corners of the globe, the RAMC suffered an abuse of its initials, with interpretations like 'Rob All My Comrades', 'Run Away Matron's Coming', 'Radier A Mixed Crowd' and, in reverse order, 'Can't Manage A Rifle'. Rifles haven't always been carried in the corps but arms are borne today for personal protection. Medical services are subject to the Geneva Convention and although swords and bayonets are carried on parade they have to remain sheadied.
The corps continues to attend casualties and the sick in all situations, deploying field ambulance units, air ambulance, surgical teams, transfusion units, medical equipment depots, hygiene units and convalescent training depots.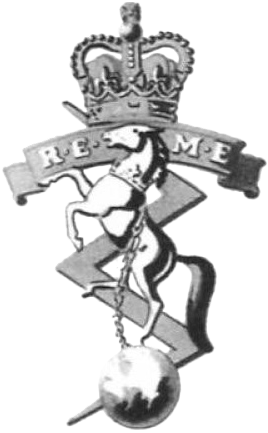 THE CORPS OF ROYAL ELECTRICAL AND MECHANICAL ENGINEERS
The Royal Electrical and Mechanical Engineers (REME) was formed in 1942 by the collation of the engineering workshops of the Royal Engineers, Royal Army Service Corps and the Royal Army Ordnance Corps, to organise and rationalise engineering support for the army's vehicles, guns and technical equipment. The corps' skills were put to the test at El Alamein, from where they grew with each development in army equipment, and now extend to eight trades and nearly 10,000 personnel.
Headquarters are located at Arborfield in Berkshire, an engineering training establishment since 1942.
The blue peaked cap has the scarlet band of royal infantry regiments and the 1947 pattern badge - a horse, gorged with a coronet and chain reflexed over its back, rearing up on a globe and superimposed on a flash of lightning, all beneath a crown and scroll inscribed R.E.M.E. The horse with chain symbolises power under control, the lightning flash denotes electrical force.
The REME stable belt is blue with two yellow on red stripes, its clasp raised with the motto Arte et marte (By skill and by fighting). Trade emblems are worn on the sleeve.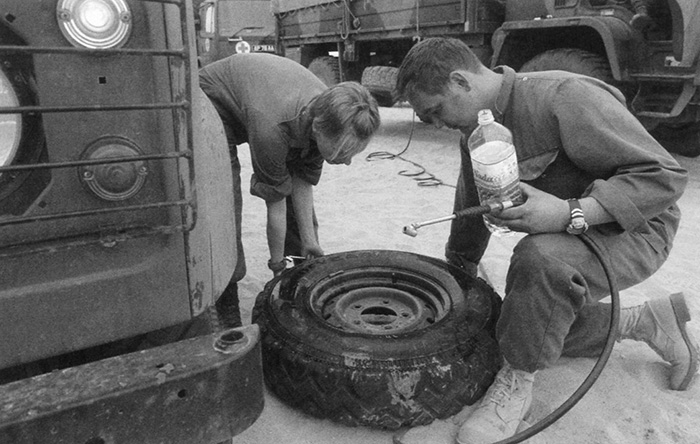 Vehicle mechanics of a Light Aid Detachment in Kuwait. (MoD)
Musicians were issued with full dress in 1979. It consists of a blue Victorian uniform and infantry pattern helmet, with scarlet facings and the Royal Engineers' broad scarlet stripe down the trousers' seams.
The corps quick march is a combination of the old army song, Lillieburlero, once used by the BBC News during the Second World War, and the French Aupres de ma Blonde for the trio section.
The REME band was formed in 1944 and became a major staff band in 1971.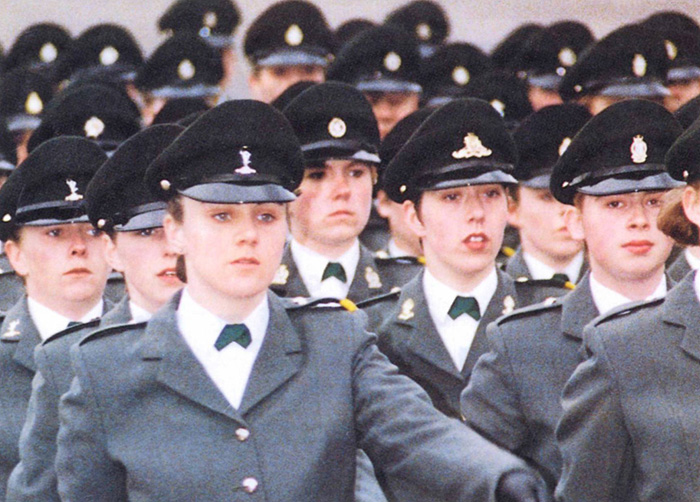 WRAC passing-out parade with a variety of cap badges showing destinations to which the women were being sent. They were employed as cooks, drivers, analysts, clerks, police, stewardesses, communications operatives and hairdressers
REME suffered the usual misinterpretation of its initials through its early years. Old soldiers know them as 'Rarely Electrically or Mechanically Efficient', 'Rough Engineering Made Easy', etc. Today the efficiency of the corps in combat support is beyond doubt.
Soldiers belowr lance corporal hold the rank of craftsman and train for one of the corps' trades. Avionics technicians repair and maintain instrument systems on helicopters; aircraft technicians look after everything else on helicopters; electronics technicians maintain and repair all of the army's electronic systems, largely to be found in tanks, self-propelled guns and guided weapons; metalsmiths make tools and equipment parts, and repair vehicle bodywork; armourers repair and maintain the full range of weapons; vehicle mechanics work on heavy armoured track vehicles or light tracked and wheeled vehicles; recovery mechanics use cranes and lifting gear to rescue overturned and broken-down vehicles; and technical stores staff keep track of the thousands of REME special tools and test equipment. The best technicians are selected for artificer rank.

We have much more interesting information on this site.
Click MENU to check it out!
∎ cartalana.com© 2013-2017 ∎ mailto: koshka@cartalana.org