SITE MENU
/
This Article Content
J. ARNOLD, S. SINTON, illustrated by DARKO PAVLOVIC
US COMMANDERS OF WORLD WAR II. NAVY AND USMC
Once war began, Major-General Smith held a stateside assignment directing amphibious training. He wanted a combat command, and in June 1943 persuaded Admiral Nimitz to appoint him to an amphibious command. He served as Head of the Joint Army-Marine 5th Amphibious Corps in the Central Pacific. The horrific assault on Tarawa, in which landing craft ran aground on the coral reef and marines had to wade to shore under heavy fire, angered Smith. He called it a "futile sacrifice of Marines." With characteristic bluntness, he demanded improvements, including more amphibious tractors, better landing craft, and increased naval bombardment.
His prickly personality caused numerous conflicts with fellow officers. It did not help that Smith freely criticized officers who, in his opinion, lacked experience or were too old. He also believed that speed in the attack saved lives and was sharply critical of cautious officers. His criticisms offended many, all of whom agreed with one officer's observation: "General Smith was a sorehead, indignant and griping about everything." He earned the nickname "Howling Mad" Smith.
Smith received his first chance at independent command during the invasion of Saipan. The (altering performance of the army's 27th Division persuaded him to relieve its commander. He knew that this step, a marine general relieving an army general, would cause an inter-service firestorm. Nonetheless, he firmly believed the action necessary, "I know I'm sticking my neck out ... I don't care what they do to me. I'll be 63 years old next April and I'll retire anytime after that." Until this time, five army divisional generals had been relieved of command in the Pacific, so Smith's action had solid precedents. Yet it did cause an enormous controversy. The press also turned against Smith, labeling him a "reckless butcher."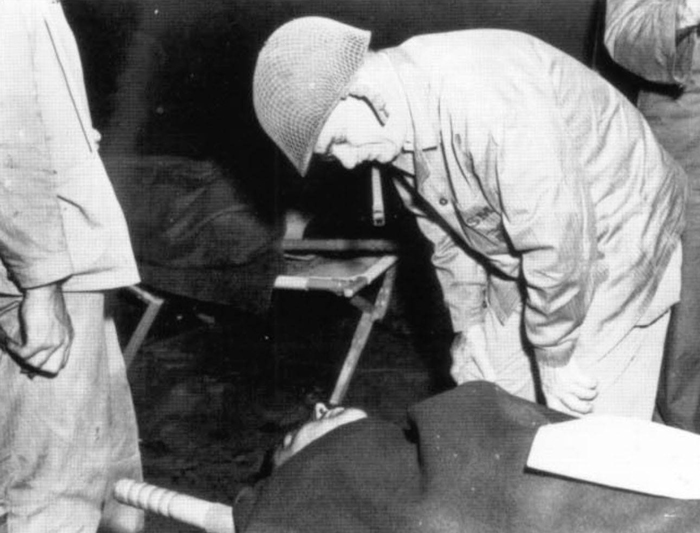 Having distinguished himself in combat in World War One, Holland Smith, shown here bending over to talk with a wounded marine, understood the horrible cost of combat. He labored hard to make their job easier. He later recalled the impact of Tarawa: "I could not forget the sight of Marines floating in the lagoon or lying on the beaches at Tarawa, men who died assaulting defenses which should have been taken out by naval gunfire." (National Archives)
Still, he rose in rank to lieutenant-general and commander of the Pacific Fleet's entire marine force. He commanded the initial assault on Iwo Jima. He had argued for more pre-invasion bombardment. He felt betrayed by the ensuing heavy casualties and requested reassignment in July 1945. For the rest of the war, he supervised training in San Diego. After the war. Smith vigorously continued the war with his pen. He tried to vindicate his own decisions, and the Marine Corps in general, in a series of partisan, controversial articles. As a result, his reputation suffered. Smith died in 1967.
Smith's aggressive leadership and blunt opinions made many enemies. His personality partially obscured his real talents. Admiral Raymond Spruance called the invasion of Tinian "the most brilliantly conceived and executed amphibious operation of the war" and gave Smith full credit. Smith's absence was fully felt during the invasion of Okinawa. Here, the army's slow progress frustrated Spruance. He doubted whether the army's methodical approach really saved lives and commented, "There are times when I get impatient for some of Holland Smith's drive." No single man did more to advance amphibious doctrine. The eulogy at his funeral accurately portrayed Smith as the "father of amphibious warfare."
Born in Middleburg, Florida in 1885, Roy Geiger did not attend the US Naval Academy but instead earned a law degree from Stetson University. He joined the marines and went through Marine Officers' School at Parris Island in 1909. At this time, he met and befriended "Archie" Vandegrift. Geiger served in Nicaragua and the Philippine Islands in 1912-13 and in Peking from 1913 to 1916. He became one of the first marines to qualify as an aviator and commanded Squadron A, 1st Marine Aviation Force in France during World War One. During the interwar years, Geiger graduated from both the Command and General Staff School and the Army War College. He was head of Marine Corps aviation from 1931 to 1935. Holding the rank of brigadier-general, Geiger served as assistant naval attache for air in London from 1941 to 1942. His acquaintance with Admiral Ghormley and aviation experience made him a natural choice to take command of the mixed force of navy and marine aircraft, the "Cactus Airforce," operating from Guadalcanal.
Promoted to the rank of major-general, Geiger assumed command at Guadalcanal in September 1942. The "Cactus Airforce," officially redesignated as the 1st Marine Aircraft Wing, supported both ground operations on Guadalcanal and, more decisively, interdicted Japanese naval efforts to reinforce the island. During this period, Geiger had to contend with numerous problems, ranging from a severe shortage of aviation fuel to keeping the airfield operable amidst frequent Japanese attacks. Through it all, he carefully deployed his scarce resources for specific objectives. Working closely with his friend Vandegrift, Geiger performed flawlessly during the late October battle for Henderson Field. In a remarkable ten-day period, October 16-25, his aviators shot down 103 enemy aircraft, sank a Japanese cruiser, and provided close support for the Marine Infantry. Relieved on Guadalcanal on November 7, Geiger returned to the headquarters of the 1st Marine Aircraft Wing on Espiritu Santo. Subsequently, this wing supported the advance in the Solomon Islands.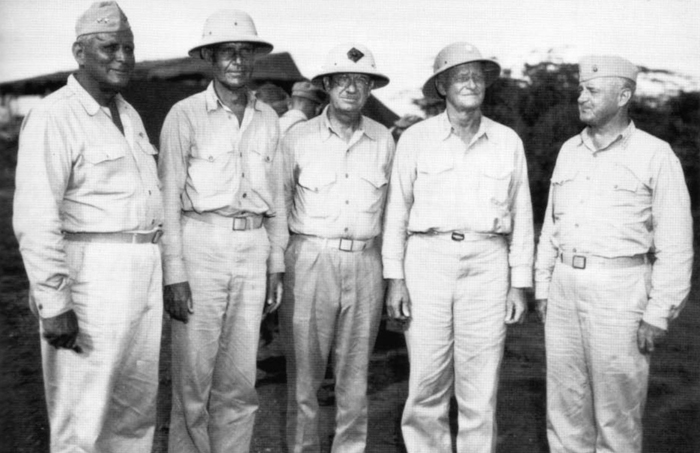 Photographed on Guam in August 1944, from left to right are: General Roy Geiger, Admiral Spruance, General Holland Smith, Admiral Nimitz, and General Vandegrift. Geiger commanded the 1st Marine Aircraft Wing on Guadalcanal. After Japanese battleships savagely bombarded Henderson Field, knocked out half the "Cactus Airforce," and destroyed most fuel supplies, Geiger was told that there was no gas to fill his planes. He replied, "Then by God, find some!" Fuel was even siphoned from disabled aircraft so that a handful of Geiger's planes could fly the ten miles to the target area where Japanese transports unloaded reinforcements. (US Naval Historical Center)
In November 1943, Geiger relieved Vandegrift as the commander of 1st Marine Amphibious Corps, when Vandegrift departed to serve as the Marine Corps Commandant. At this time, the marines were fighting on Bougainville. Geiger subsequently commanded the 1st Marine Amphibious Corps in landings on Guam, Peleliu (by which time it had been redesignated 3d Marine Amphibious Command), and Okinawa. Before the invasion of Guam, Geiger broadcast a speech over loudspeakers on the troop transports: "The eyes of the nation watch you as you go into battle to liberate this former American bastion from the enemy. Make no mistake; it will be a tough, bitter fight against a wily, stubborn foe who will doggedly defend Guam against this invasion. May the glorious tradition of the Marine esprit tie corps spur you to victory. You have been honored." Like all marines, Geiger believed in front-line leadership. At Peleliu, he came ashore to look things over on the first day, before the beachhead was secured. He had to be talked into returning to his ship by anxious subordinates. Promoted to lieutenant- general, Geiger briefly took over command of the 10th Army from General Buckner in 1945, when that army officer was killed on Okinawa. He thus became the first US marine ever to command a field army. Having succeeded Holland Smith as Commanding General Fleet Marine Force Pacific, Geiger was the only marine general present at the Japanese surrender ceremony on board the battleship Missouri. Geiger continued as Fleet Marine Commander until 1946. He died the next year while still on active duty.
A big bear of a man, Geiger is best remembered for his valuable service during the Guadalcanal campaign.

/ page 18 from 24 /

mobile version of the page
We have much more interesting information on this site.
Click MENU to check it out!
∎ cartalana.com© 2013-2020 ∎ mailto: koshka@cartalana.org