SITE MENU
/
This Article Content
J. ARNOLD, S. SINTON, illustrated by DARKO PAVLOVIC
US COMMANDERS OF WORLD WAR II. NAVY AND USMC
Admiral Charles Lockwood was the most experienced American submariner. When he took command in Australia, his submarines were failing to achieve good results. They used the M-14 torpedo. It was an expensive, technical marvel equipped with a magnetic exploder. Because of its cost, the M-14 was never tested with a live warhead. Frustrated submariners reported that they seemed to miss their target repeatedly. Lockwood ordered tests and soon discovered that the torpedo's depth control mechanism was defective. At first, the Bureau of Ordnance refused to believe these results until Admiral King pressured the bureau into running its own tests, which confirmed the problem. The M-14 still suffered from faulty magnetic and contact exploders. The torpedo design did not compensate for variations in a ship's magnetic field caused by the ship's position on the earth's surface. Much more basic, the torpedo's firing-pin mechanism did not work. (National Archives)
"Uncle Charlie" Lockwood looks on while Admiral Nimitz shakes hands with a submarine crew. (National Archives)
Lockwood s force continued to grow. By July 1944, some 100 submarines operated from Pearl Harbor and another 40 from Australia. They carried the now reliable M-14 torpedo as well as an electrical torpedo that left no wake. By the year s end, about half of the Japanese merchant fleet, including replacements, and two-thirds of her tanker fleet, had been sunk. The submarines had closed the flow of oil from the East Indies to Japan and cut her bulk imports by about 40 percent. Overall, they accounted for over 1,300 Japanese ships, or some 55 percent of Japan's entire losses at sea. The cost to Lockwood's submariners was heavy; about one in five submariners who made war patrols failed to return.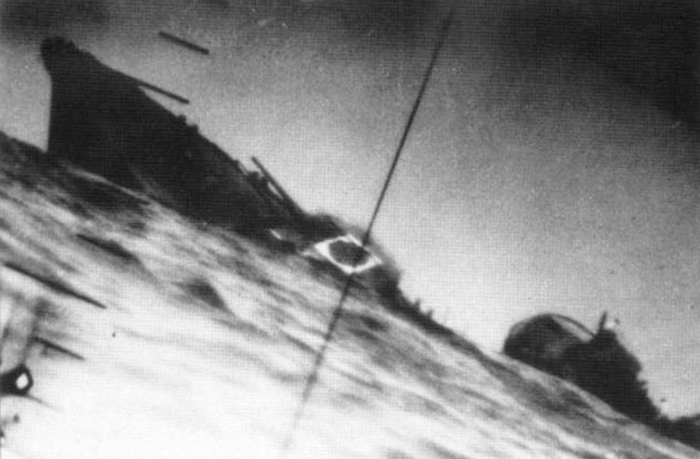 A torpedoed Japanese destroyer photographed in 1942 through the periscope of an American sub. By the war's end, the Pacific Fleet's submarines had sunk an impressive number of capital ships, including a battleship, eight aircraft carriers, and 11 cruisers. National Archives)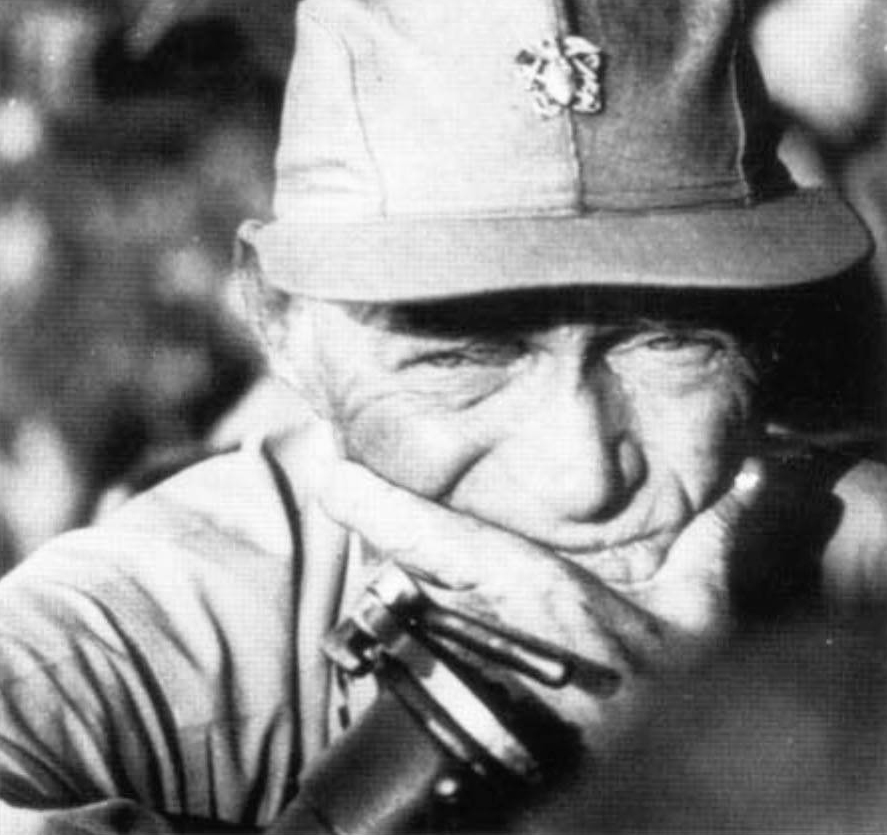 Admiral Marc Mitscher, a master of carrier warfare, is shown here. (National Archives)
Lockwood retired as a vice admiral in 1947 and died 20 years later. Although little remembered, Lockwood deserves great praise for contributing to the success of the American submarine campaign in the Pacific.
Born in 1887 in Hillsboro, Wisconsin, Marc Mitscher graduated from the US Naval Academy in 1910. He was an average student whose wild escapades earned him the nickname "Oklahoma Pete." After serving on a variety of surface ships, Mitscher attended flight school in 1915 and qualified as a pilot the following year. Mitscher earned the Navy Cross in 1919 for piloting a flying boat across the Atlantic Ocean. His interwar service focused on the development of naval aviation. .After serving at several naval air stations and working on experimental aircraft, Mitscher was assigned to the US Navy's first carrier in 1926. That same year, he landed the first aircraft on the newly constructed giant carrier, the Saratoga.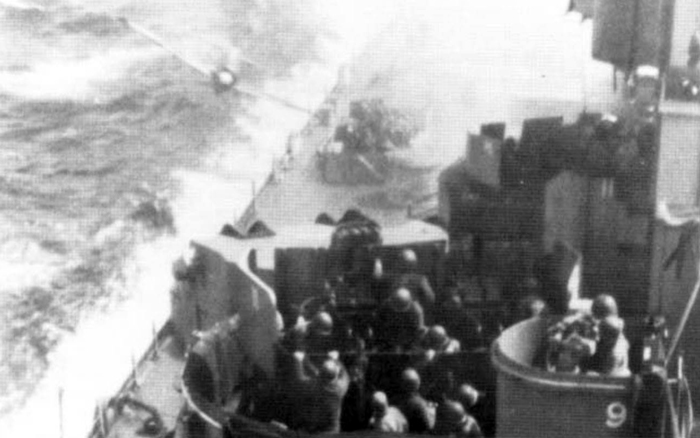 Marc Mitscher's fleet endured punishing kamikaze attacks while operating near to the Japanese home waters. Here a Japanese "Zeke" (Zero) is shown on final approach against the battleship Missouri in 1945. (US Naval Historical Center)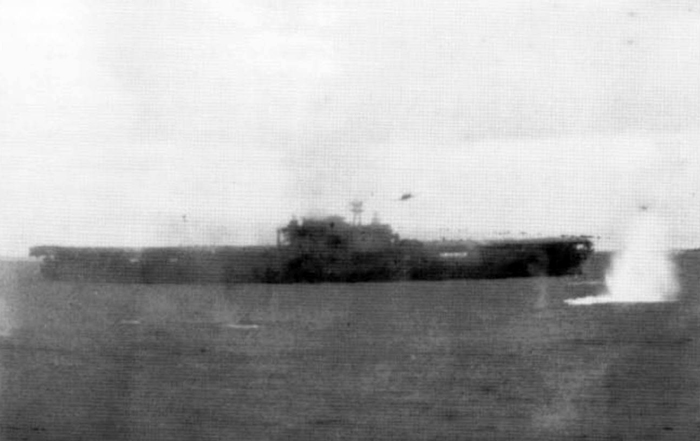 In this faded and scratched but remarkable navy photo, a Japanese "Kate" torpedo bomber bores in toward the Hornet's island at center. At right is the splash of the torpedo that has just been dropped. It will hit the damaged Hornet and end any chance of saving her. (National Archives)
In July 1941, Mitscher was assigned to the new carrier, Hornet. He oversaw its commissioning and received promotion to rear admiral three days before war broke out. Mitscher's Hornet carried the B-25 bombers flown by the Doolittle raiders. As the Hornet passed beneath San Francisco's Golden Gate Bridge on April 2, 1942, Mitscher announced over the Hornet's speakers, "This force is bound for Tokyo!" He commanded the carrier at the decisive Battle of Midway. After some land-based assignments, Mitscher took charge of all air units on Guadalcanal in April 1943. He led navy, army, marine, and New Zealand aircraft during the ensuing Solomon Islands campaign. In January 1944, Mitscher became commander of Carrier Division Three, which served with Admiral Halsey's and Admiral Spruance's Fast Carrier Task Force. He led the carrier attacks against the Marshall Islands. To support the invasion of Eniwetok, Mitscher's carrier task force attacked the Japanese base at Truk in February 1944. Historian, Ronald Spector, observes: "For a carrier task force to attack such a base unaided by land based planes ... would have seemed near madness a year ago. Yet Mitscher, masterfully handling his carriers its a single striking force, showed how easily it could be done." Mitscher's carriers sent 30 strikes against Truk, each of them more powerful than either of the two Japanese strikes against Pearl Harbor.

/ page 13 from 24 /

mobile version of the page
We have much more interesting information on this site.
Click MENU to check it out!
∎ cartalana.com© 2013-2020 ∎ mailto: koshka@cartalana.org