SITE MENU
/
This Article Content
J. ARNOLD, S. SINTON, illustrated by DARKO PAVLOVIC
US COMMANDERS OF WORLD WAR II. NAVY AND USMC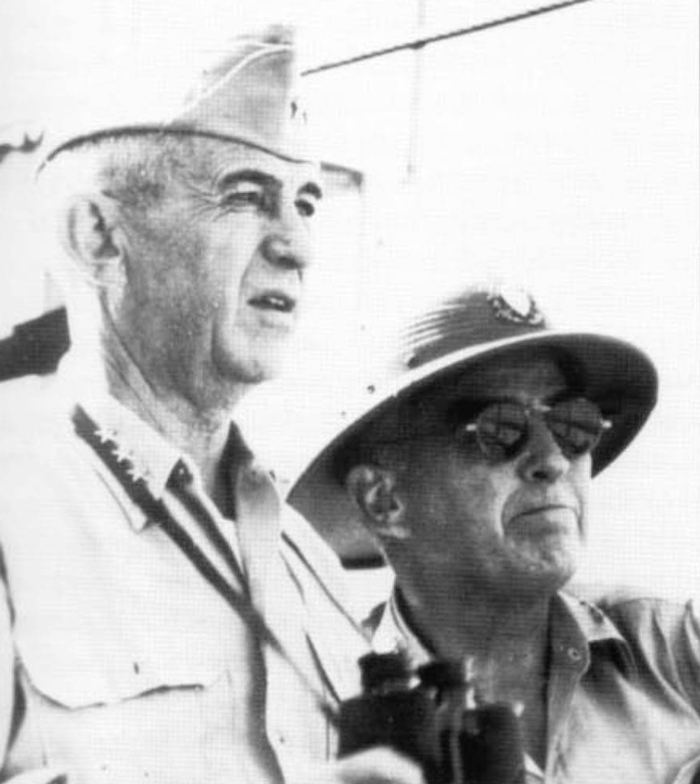 Admiral Kinkaid (left) with General Walter Krueger during the invasion of Leyte. (National Archives)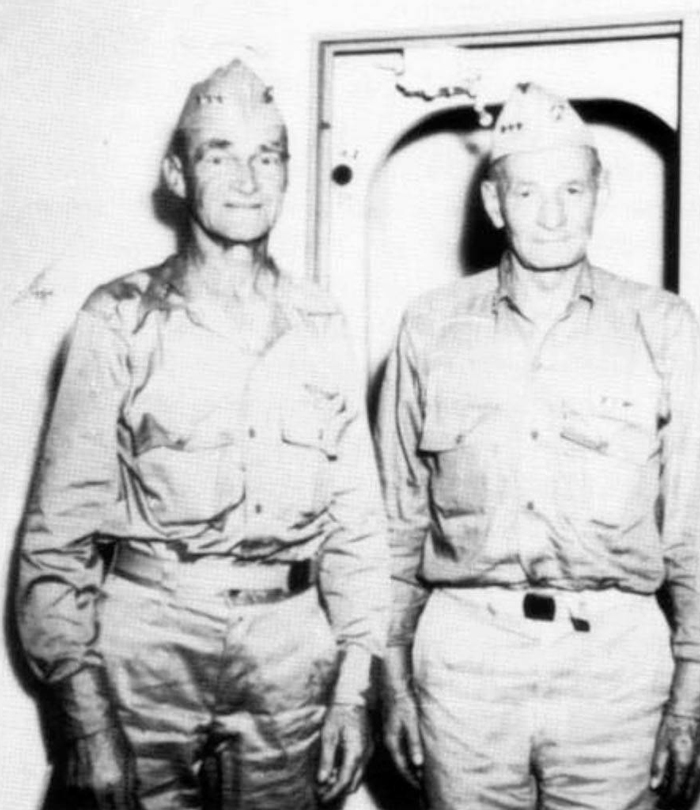 Called "Slew" by his friends and "Popeye" by his men because of his skinny frame, sunken cheeks (he wore false teeth), and prominent nose, Admiral John McCain (left) was a strong advocate for naval aviation both before the war and during the war's early years. On McCain's left is Admiral Marc Mitscher. (National Archives)
When the surprise Japanese thrust came, Kinkaid sent Rear Admiral Jesse B. Oldendorf's battleships to block the Surigao Strait. Five of Oldendorf's six battleships had been salvaged from the wreckage of Pearl Harbor. Oldendorf's battleships "capped the F on the Japanese. Having defeated the Japanese thrust through the Surigao Strait, Kinkaid was well satisfied. On the morning of October 25, he asked his chief of staff , "Is there anything we haven't done." The staff officer replied that they should ensure that Halsey was blocking the San Bernardino Strait. The surprising response came that Halsey was not doing this. Twenty minutes later Kinkaid learned that Japanese battleships and cruisers were attacking his escort carriers in the Leyte Gulf. Heroic American fighting and Japanese blunders saved the invasion fleet. After supporting MacArthur in the Philippines, Kinkaid performed a final operation, when his ships landed US forces in Korea following the Japanese surrender. Kinkaid retired in 1950 and died in 1972.
During the war, Kinkaid served under the Pacific Theater s two most demanding and difficult leaders, Halsey and MacArthur. As both a surface unit commander and a carrier leader under Halsey, he performed solidly. His ability to avoid confrontation and cooperate with MacArthur was unusual and his performance satisfied MacArthur as well. Kinkaid was one of very few officers whose wartime duties included extensive surface actions, carrier combat, and amphibious support.
Born in rural Mississippi in 1884, John McCain graduated from Annapolis in 1906 and received a commission two years later. During the interwar period he served on surface ships but became steadily more interested in naval aviation. He waited nine years for acceptance to flight school and finally qualified as a naval aviator in 1936 at the age of 52. He commanded the carrier Ranger from 1937 to 1939. The attack on Pearl Harbor found him in command of naval aircraft on the American west coast. His first important wartime service came in May 1942 when he was named Commander, Air Forces, South Pacific Area under Vice Admiral Ghormley. His forces included army, navy, and Marine Corps planes operating from island bases or seaplane tenders in New Caledonia, Fiji, Efate, and Espiritu Santo. Initially, McCains most important responsibility was to conduct air searches in the Solomons. After an airfield on Guadalcanal had been secured, McCain worked to provide scarce planes for service at Guadalcanal. He managed this key task well and, hereby, helped make Guadalcanal an unsinkable aircraft carrier that dominated the surrounding waters. In October, he became Chief of the Bureau of Aeronautics. In August 1943, he was promoted to vice admiral and became the first officer to hold a newly created post, Deputy Chief of Naval Operations for Air. The posting put McCain in charge of developing and training the air arm assigned to carrier task forces, land- based naval forces, and the Marine Corps air arm.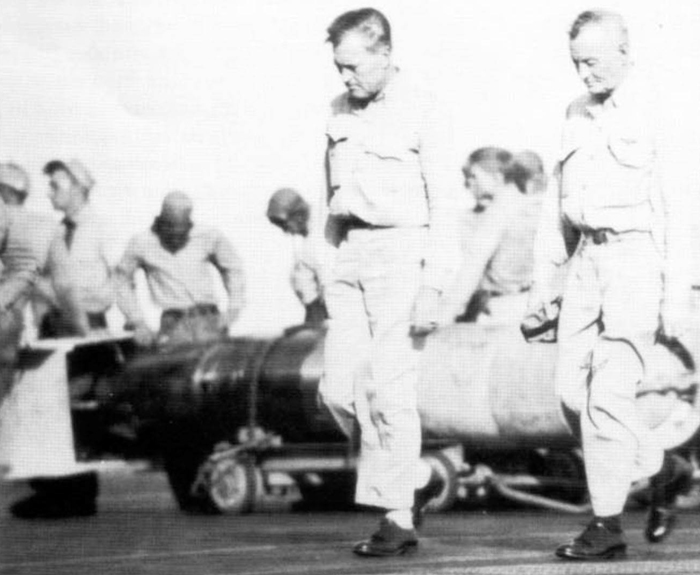 Admiral McCain (left) paces a carrier flight deck in 1944. (National Archives)
In August 1944, McCain received a coveted combat position as commander of Carrier Task Force 38.1 under Admiral Mitscher. During the Leyte campaign, an overconfident Halsey released McCain's Task Force for rest and refit at Ulithi. Then came the startling news, on October 25, that Japanese battlewagons were loose among the Leyte invasion fleet. Halsey hurriedly recalled McCain. McCain rushed toward Leyte Gulf. In order to recover his patrol aircraft, he boldly ordered his carriers to surge ahead at full speed and then, to gain a favorable wind for landing, to reverse at 33 knots and countermarch through the fleet. Having recovered his planes, McCain launched a strike, at the long range of 340 miles, against the marauding Japanese surface fleet. In the event, the strike did little damage, but McCain's performance showed that he was an aggressive leader willing to take risks.
Subsequently, McCain commanded Halsey's Task Force 38 and led a two-week raid against Hainan and Formosa in January 1945. The main Japanese threat had become kamikaze attacks. McCain improvised effective anti-kamikaze tactics. In addition, a damaging typhoon struck McCain's fleet. McCain was almost relieved of command because of this storm. As the war neared an end, McCain's health failed and he was relieved in September 1945. He died at his home in Colorado on September 6. McCain's son achieved four-star rank and was US Commander-in-Chief Pacific Command during much of the Vietnam War. His grandson, a navy pilot in that war, was shot down over North Vietnam, and imprisoned for the war's duration. As of 2002, McCain's grandson serves in the US Senate and holds presidential ambitions.
Born in 1889 in Indianapolis, Indiana, Norman Scott received his commission from the US Naval Academy in 1911. He was the executive officer aboard a destroyer when it was sunk by a German submarine in December 1917. During this incident, he exhibited stellar conduct. During the interwar years, Scott served as naval aide to President Woodrow Wilson, held various staff and line assignments, including a three-year stint as instructor at Annapolis, was a student at the Naval War College, and command of the heavy cruiser Pensacola. When the United States entered World War Two, Scott was serving on the staff of the Chief of Naval Operations. According to Admiral Spruance, Scott "made things so miserable for everyone around him in Washington that he finally got what he wanted - sea duty."

/ page 10 from 24 /

mobile version of the page
We have much more interesting information on this site.
Click MENU to check it out!
∎ cartalana.com© 2013-2020 ∎ mailto: koshka@cartalana.org