SITE MENU
/
This Article Content
J. ARNOLD, S. SINTON, illustrated by DARKO PAVLOVIC
US COMMANDERS OF WORLD WAR II. NAVY AND USMC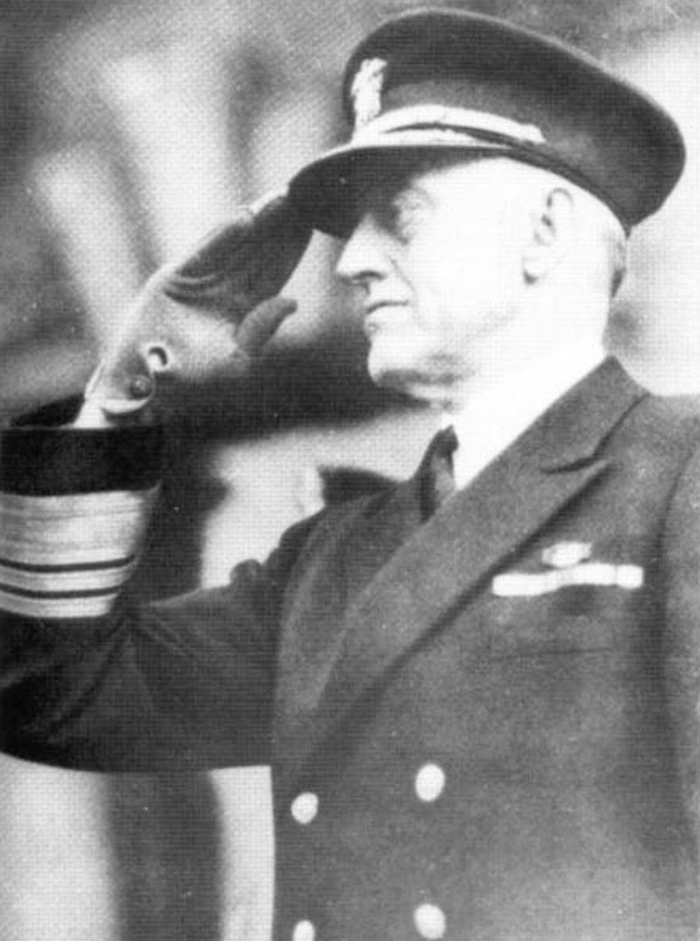 Vice Admiral Robert L. Ghormley's excessive caution during the naval battle of attrition for Guadalcanal caused him to be relieved of command. When he asked Admiral Nimitz why, Nimitz replied, "I had to pick from the whole Navy the man best fitted to handle that situation. Were you that man?" Ghormley candidly answered, "No. If you put it that way, I guess I wasn't." (US Naval Historical Center)
The next seven months placed him in a crucial position as the US Navy began its first significant offensive, Operation Watchtower, the invasion of Tulagi and Guadalcanal. Admiral King told Ghormley, "You have a large and important area and a most difficult task. I do not have the tools to give you to carry out that task as it should be done." From the beginning, Ghormley believed that this invasion was unwise because the forces were too few and unready. Surprisingly, Ghormley remained at his headquarters in New Caledonia instead of taking an active role aboard a combat ship. Still, his planning measurably contributed to the fact that the invasion force reached the beaches of Tulagi and Guadalcanal with little difficulty on August 7, 1942. Ghormley well knew that he possessed so few resources that any loss would be significant. The disastrous Battle of Savo Island on August 9 subtracted four Allied cruisers from his order of battle and caused Ghormley and his headquarters staff to become excessively anxious and cautious.
Subsequent combat further reduced Ghormley's surface fleet as Guadalcanal became a war of attrition: the carrier Enterprise damaged during the Battle of the Eastern Solomons on August 24; the carrier Saratoga torpedoed on August 31; the carrier Wasp torpedoed and sunk on September 15. The steady losses wore down Ghormley. His caution changed to indecision. In addition, he suffered from badly abscessed teeth at this time. As a result, while the battle for Guadalcanal raged, Ghormley worked extremely hard to little avail, at one point radioing Nimitz, "My forces totally inadequate to meet the situation." General "Hap" Arnold reported that Ghormley did not leave his shipboard office in Noumea for about a month and commented, "no man can sit continuously in a small office fighting a war ... without suffering mentally, physically and nervously." The strain caused depression and defeatism and prompted concerned senior commanders to investigate. Both Arnold and Nimitz concurred that Ghormley seemed to have lost his confidence. The burden of work and worry had crushed him. They recommended that he be relieved. Nimitz commented that Ghormley was "too immersed in detail and not sufficiently bold and aggressive at the right time." On October 18, the far more aggressive Admiral William Halsey replaced Ghormley.
Ghormley was reassigned to the 14th Naval District, a largely administrative post. Thereafter, he served on the staff of Admiral Stark in Europe from 1944 to 1945. In this capacity, he oversaw the demobilization of the German Navy. Ghormley commanded US Navy forces in German waters from May 1945 until his retirement in August 1946. He died in 1958.
According to naval historian, Samuel Eliot Morison, Ghormley was "a meticulous and conscientious man with a long record of achievement." Morison adds, that he "apparently lacked the personal qualities needed to inspire American fighting men in a tough spot." In August 1942, Ghormley was thrust into the most critical combat assignment in the Pacific. He proved wanting.
Born in Portland, Oregon in 1885, Richmond Turner graduated fifth in his class from Annapolis in 1908. During World War One, he served aboard battleships as a gunnery officer but did not see combat. Following the war, he had ordnance duty ashore for three years and then joined the staff of the Commander Scouting Fleet in 1923 as a gunnery officer. He commanded a destroyer in 1924. At the age of 42, he entered flight training and became a naval aviator in 1927. He commanded aircraft squadrons assigned to the Asiatic Fleet and then served as a technical adviser on naval aviation to the American delegation that participated in the Geneva Disarmament Conference. Promoted to captain in 1935, Turner attended the Naval War College and then stayed at the school to teach strategic studies. He commanded the cruiser Astoria from 1938 to 1940. In October 1940, Turner became director of the navy's War Plans Division. Promoted to rear admiral, he served as one of Admiral King's top strategists after Pearl Harbor.
Turner became the commander of Amphibious Forces South Pacific in July 1942. This placed him in charge of the scarce, but all-important, transports and cargo ships necessary to land and support amphibious invasions. In preparation for the invasion of Guadalcanal, the first major amphibious operation undertaken by the United States since 1898, Turner met with Admiral Fletcher. When he learned that Fletcher intended to keep his carriers within supporting distance for only 48 hours. Turner vehemently protested, to no avail. In the event, when Fletcher's carriers withdrew only 36 hours after the landing on Guadalcanal, the withdrawal left Turner "bare-arse" in his own colorful words. Turner made the stunning decision to withdraw his transports as well. The marine commander, General Vandegrift, vehemently protested about his "running away," but Turner believed that he had no choice. Before he could withdraw, the disastrous Battle of Savo Island took place on August 9, 1942. It was the worst defeat ever suffered by the US Navy and it was Turner who designed the flawed Allied pre-battle dispositions. Turner bravely continued unloading operations the next morning, but that afternoon ordered the transports to retire "in view of impending heavy air attacks." It was a controversial decision that left the marines without their 1,000-man reserve, most of their artillery and heavy equipment, and half of their food supplies.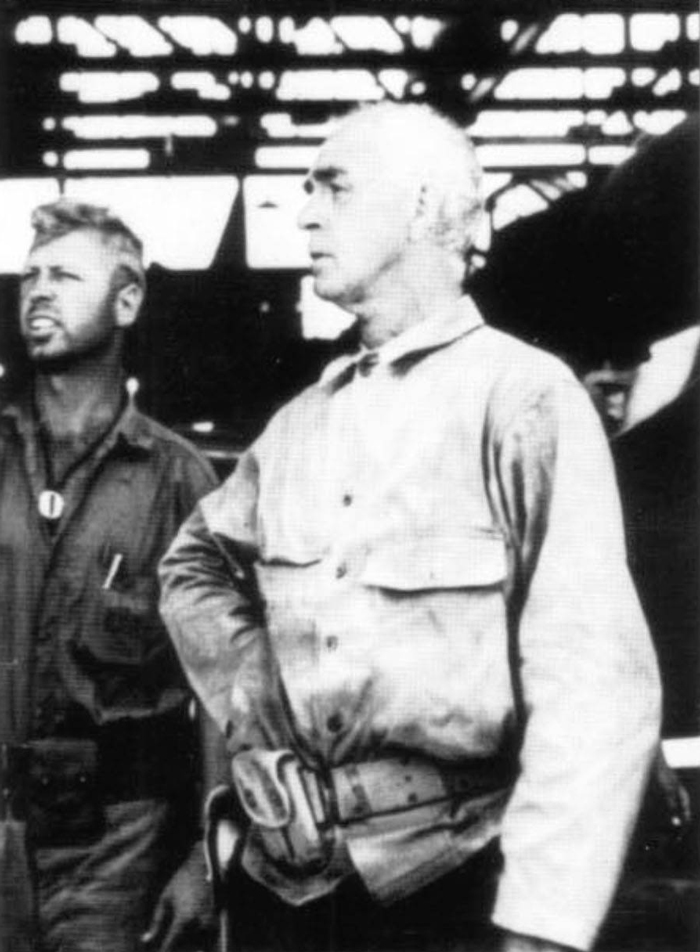 Richmond Kelly Turner possessed a "grizzled head, beetling black brows, tireless energy and ferocious language," that made him legendary in the Pacific. Fully aware that it was the first American amphibious operation of the war, Turner carefully planned Operation Watchtower, the invasion of Tulagi and Guadalcanal. He attended to all essential details, including the employment of every landing craft and the exact times and amounts of naval gunfire support. He often explained his exacting attention to detail with the remark that he "hated above all things to see soldiers swimming." (National Archives)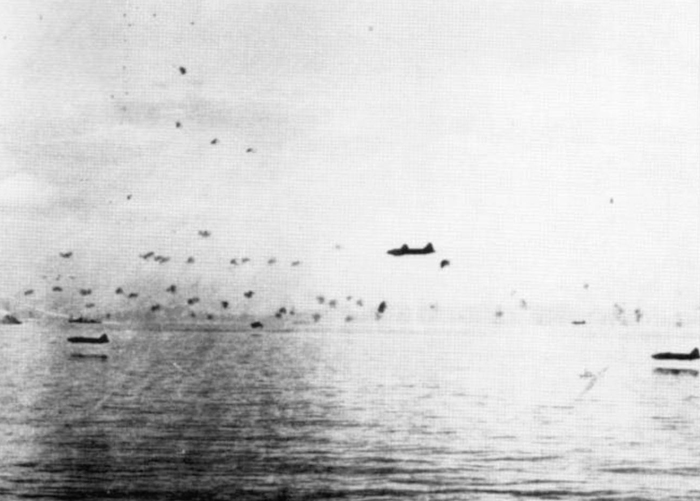 Fear of a Japanese air attack caused Turner to withdraw his vulnerable transports before they had completely unloaded their cargo at Guadalcanal. A flight of four Japanese bombers makes a low level attack against transports off Guadalcanal. (US Naval Historical Center)


/ page 8 from 24 /

mobile version of the page
We have much more interesting information on this site.
Click MENU to check it out!
∎ cartalana.com© 2013-2020 ∎ mailto: koshka@cartalana.org