SITE MENU
/
This Article Content
NIGEL THOMAS, colour plates by STEPHEN ANDREW
GERMAN ARMY 1939-1945. BLITZKRIEG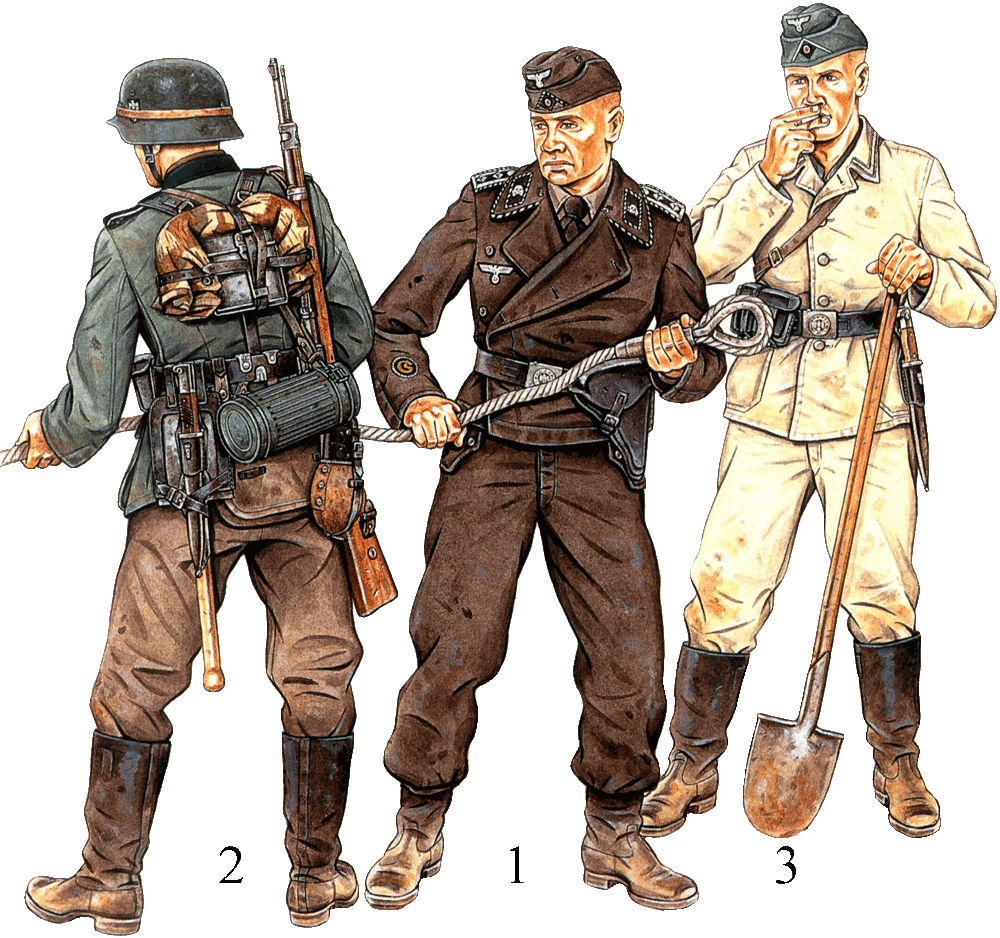 G1: Oberschirrmeister, Panzerpionierbataillon 37, field uniform, Besancon, France, June 1940
From 10 May 1940 engineer battalions of Panzer divisions wore black-and-white branch colour piping, instead of black, which was invisible on their black uniforms. This reverted to black in 1941 when special feldgrau AFV uniforms were adopted. This Oberfeldwebel (Oberschirrmeister), supervising his company's technical equipment, wears his yellow wool embroidery trade-badge on a dark bluish-green facing-colour disc, with the aluminium wire edging denoting his NCO status. His battalion, formed 15 April 1940, fought in France with 1 Panzerdivision.
Luxembourg, 18 September 1940. A cavalry Wachtmeister in parade uniform without the usual belt, but with the steel helmet, which he has removed in favour of an M1938 field cap, as he tries to make friends with a local girl. Unlike most scenes of this type, this one does not seem to be stage-managed. He wears the Iron Cross 1st Class and seems to have been awarded the Iron Cross 2nd Class quite recently. Note the highly polished riding-boots. (Josef Charita)
G2: Schütze, Infanterieregiment 154, field uniform, De Panne, Belgium, June 1940
The A-frame battle-pack, introduced 18 April 1939, was still comparatively rare in 1940, so infantry and assault engineers improvised, using M1939 black leather belt supporting straps to carry the M1931 shelter-quarter wrapped around the M1931 mess-kit. This infantryman, with the 58th Infantry Division in action in France and Belgium, wears the standard short entrenching-tool, bayonet, scabbard and frog on his left back hip, the M1938 gas mask canister above the M1931 bread-bag on the lower back, and the M1931 canteen on the right back hip.
G3: Unteroffizier, Infanterieregiment (mot.) 66, fatigue uniform, Amiens, France, June 1940
This member of the 13th Motorised Division, newly arrived in France, undertakes labouring duties in the M1933 white twill fatigue uniform. This uniform was already being replaced by the more practical reed-green, and junior NCO collar insignia was worn until 22 August 1942.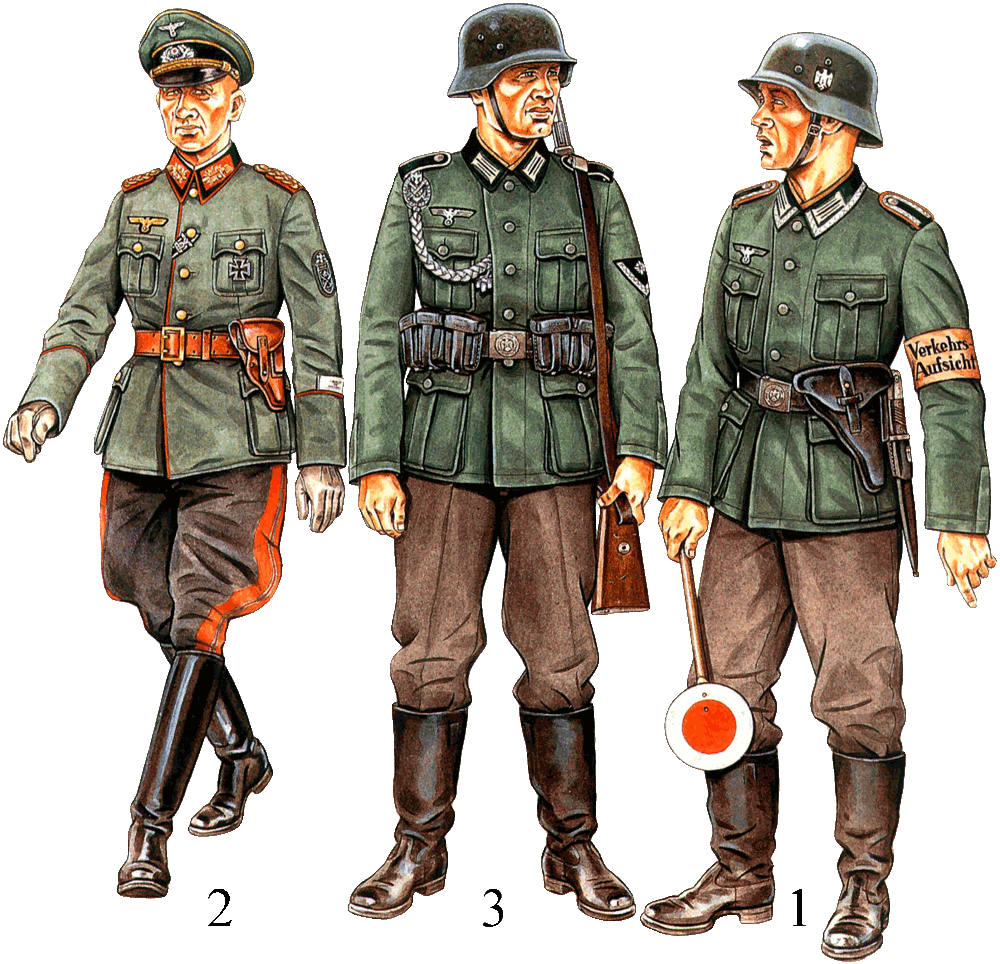 H1: Unteroffizier, Verkehrsregelungsbataillon 754, field uniform, Arras, France, July 1940
Traffic Control battalions were raised to regulate the swiftly advancing German road-traffic. Personnel wore police uniforms, adopting in early 1940 Army uniforms with orange branch colour pipings and a distinctive armband, but not the arm-badge, cuff-title and duty gorget normally associated with German Military Police. Although feldgrau collars, shoulder-straps and trousers were prescribed in May 1940, they were not general issue until 1941-2, and so this NCO, his battalion operating under OKH command in occupied northern France, still wears M1935 bluish dark-green facing-cloth collar and straps and stone-grey trousers.

H2: Generalmajor, 215.Infanteriedivision, service uniform, Chaumont, France, September 1940
The deputy commander of the 215th Infantry Division, on occupation duties with the 1st Army in eastern France, wears the officers' service uniform with the M1937 officers' piped field tunic and carries a Walther PPK 7.65mm Luger pistol in a hardshell holster. He wears the Iron Cross 1st Class on his left breast pocket, the 1914 2nd Class ribbon and bar on his second button-hole, and the Narvik Shield for service in the Norwegian campaign.
H3: Obergefreiter, Oberfeldkommandantur 672, guard uniform, Brussels, Belgium, September 1940
This soldier at the HQ of 672 District Command, covering Brussels, wears the guard uniform. It is a more formal field uniform with the marksman's lanyard and equipment limited to belt, ammunition-pouches, bayonet and scabbard. As a lance-corporal, with six years seniority and little likelihood of promotion to NCO rank, he wears the uncommon chevron and pip sleeve rank insignia worn until the end of the war by soldiers not promoted to the new Stabsgefreiter rank after 25 April 1942

/ page 20 from 20 /

mobile version of the page
We have much more interesting information on this site.
Click MENU to check it out!
∎ cartalana.com© 2013-2020 ∎ mailto: koshka@cartalana.org