SITE MENU
/
This Article Content
NIGEL THOMAS, colour plates by STEPHEN ANDREW
GERMAN ARMY 1939-1945. BLITZKRIEG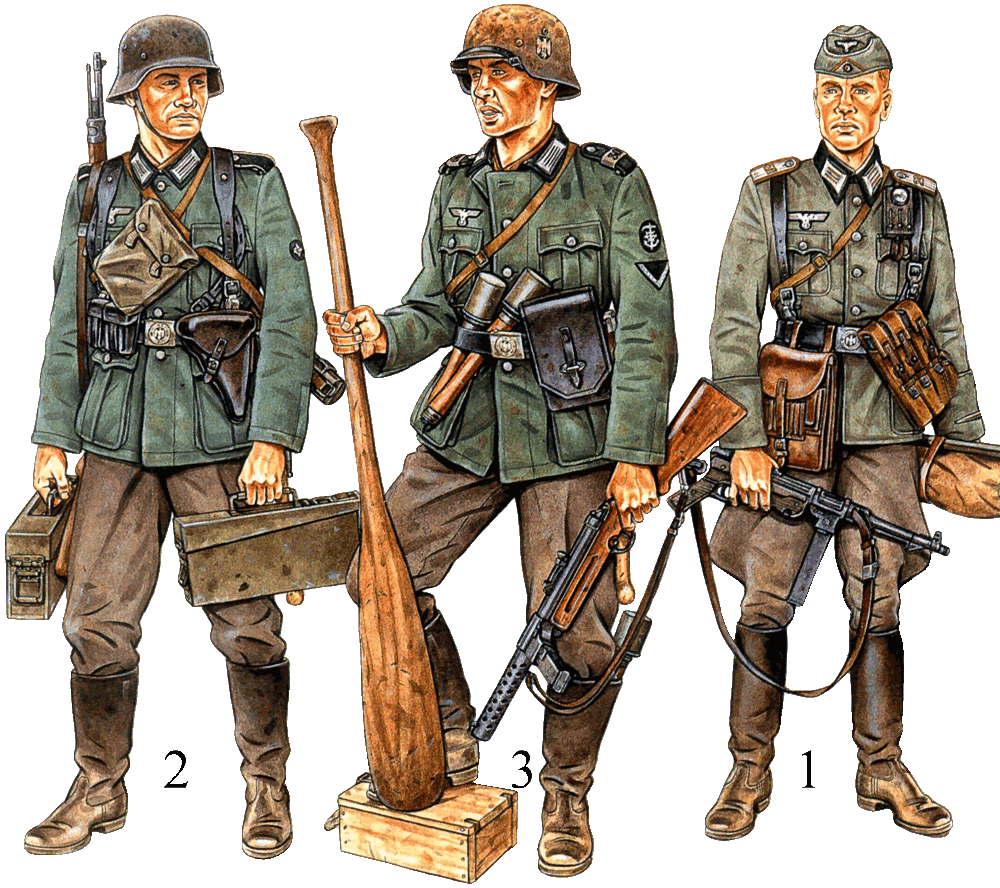 E1: Leutnant, Aufklärungsabteilung 254, field uniform, Breda, Netherlands, May 1940
This Bicycle Squadron officer wears regulation platoon leader's field equipment, with the prescribed other ranks' black belt, with one MP38 ammunition-pouch and a M1935 dispatch-case. He wears the cavalry golden-yellow branch colour and the Gothic A for Aufklärung - 'reconnaissance' on his field shoulder-boards. His battalion invaded the Netherlands in May 1940 with 254 Infantry Division.
E2: Oberschütze, Infanterieregiment 49, field uniform, Namur, Belgium, May 1940
As Second Gunner, this infantryman wears one set of ammunition pouches for his Karabiner 98k and, for close combat, a P08 Luger pistol. He carries two 300-round ammunition boxes and an M34 single-barrel case on his back - LMG34 barrels were normally changed after 250 rounds of full automatic fire. This regiment fought in Poland, Belgium and France with 28 Infantry Division.
E3: Gefreiter, Pionierbataillon 30, River Meuse, Belgium, May 1940
This assault boat engineer has camouflaged his helmet with mud and wears simplified field equipment - an M1928 leather ammunition-pouch for his MP28/II Schmeisser submachine gun, a gas mask canister, bayonet and entrenching-tool. He wears the Helmsman's qualification-badge in the aluminium machine-embroidered version introduced 7 November 1935, and, against regulations in a forward area, feldgrau slip-on unit shoulder-slides. He carries an assault-boat paddle and M1924 stick-grenades. His battalion fought with the 30 Infantry Division in Poland, Belgium and France.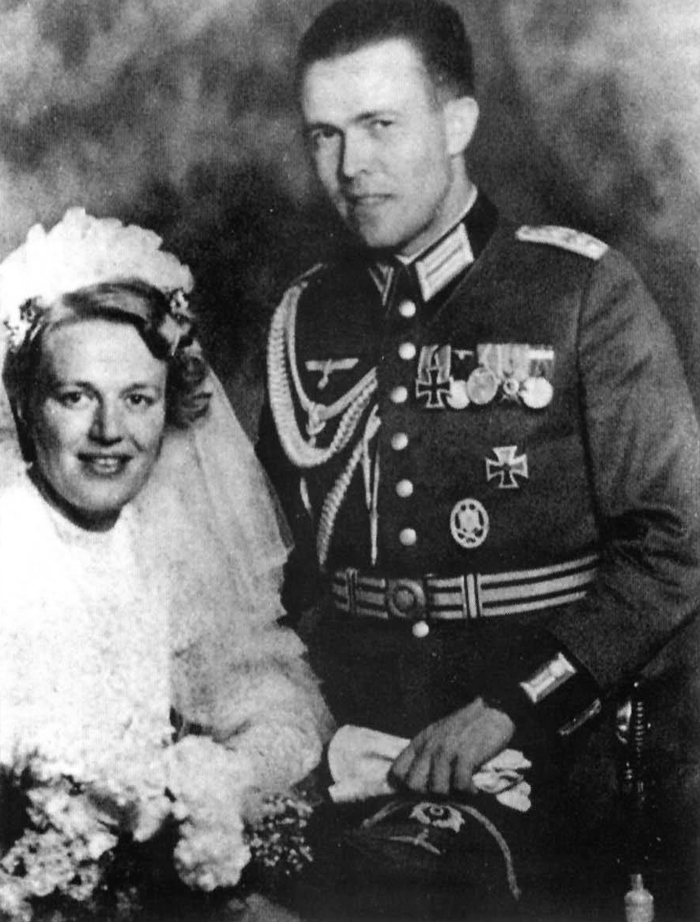 A Hauptmann in M1935 full ceremonial uniform poses with his bride on his wedding day in July 1940. He wears the Iron Cross 1st and 2nd Class, Wehrmacht long-service medals and 'Flower Wars' campaign medals, as well as the General Assault Badge. (Brian Davis Collection)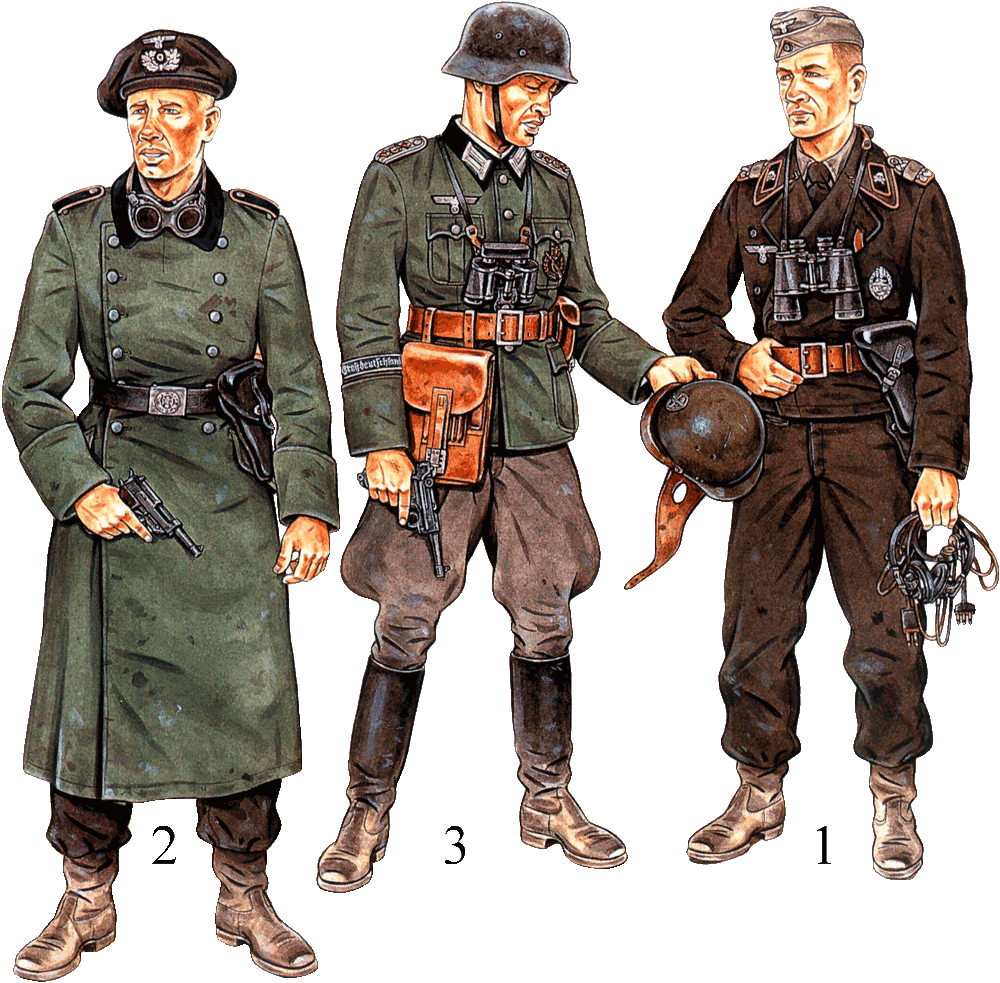 F1: Major, Panzerregiment 25, field uniform, Cambrai, France, May 1940
This battalion commander wears the M1935 tank crew uniform and M1938 officers' feldgrau field cap, his feldgrau slip-on shoulder straps concealing his regimental number but not his rank. He carries the P08 Luger pistol in a hardshell holster, and 10 × 50 'short design' binoculars. His awards are the aluminium Tank Combat Badge on his left breast, and the 1939 Iron Cross 2nd Class ribbon from his first button-hole. He carries a tank-commander's headset with rubber earcups. His regiment fought in Belgium and France with 7 Panzerdivision. F2: Panzerschütze, Panzeraufklärungsabteilung 5, field uniform, Aisne, France, May 1940 AFV-crews often wore their feldgrau field greatcoats to protect their black uniforms from dirt and grease, even though black was intended to disguise such soiling. This armoured-car driver wears the unpopular padded beret, a Walther P38 pistol in a hardshell holster and general purpose goggles. This battalion fought in Poland, Luxembourg and France with 2 Panzerdivision.
F3: Hauptmann, Infanterieregiment (mot.) Groβdeutschland, field uniform, Stonne, France, May 1940
The regiment, which fought under direct OKH command in Poland, Luxembourg and at Dunkirk, was the first army unit with an elite unit cuff-band and shoulder-board monogram, which was retained in battle. This battalion commander, examining a discarded French M1935 tank-crew protective helmet, has removed the national shield from his helmet. He wears the Infantry Assault Badge in bronze for motorised infantry on his left breast-pocket, carries the M35 map-case with modified fastener, a P08 Luger in a hardshell holster, and 6 × 30 standard binoculars.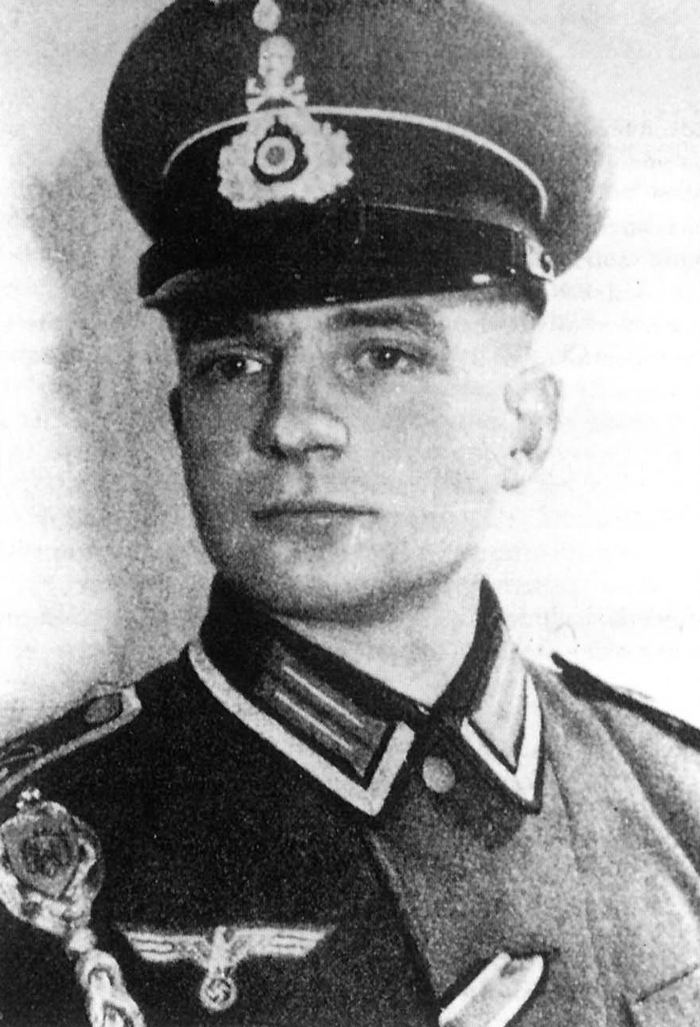 An Unteroffizier of the 17th Infantry Regiment in Germany in July 1940 in walking-out uniform, wearing the Brunswick skull and crossbones commemorative cap-badge of his regiment. Note the marksman's lanyard, the Iron Cross 2nd Class button-ribbon and the typically pre-war style of shoulder-strap numerals. (Brian Davis Collection)

/ page 19 from 20 /

mobile version of the page
We have much more interesting information on this site.
Click MENU to check it out!
∎ cartalana.com© 2013-2020 ∎ mailto: koshka@cartalana.org