SITE MENU
/
This Article Content
NIGEL THOMAS, colour plates by STEPHEN ANDREW
GERMAN ARMY 1939-1945. BLITZKRIEG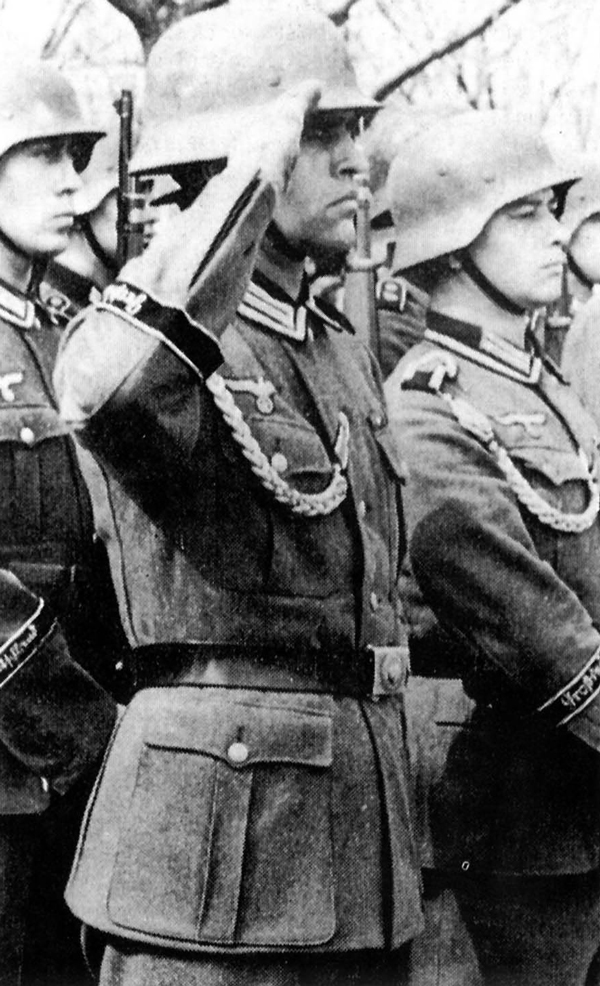 A section of the Groβdeutschland Regiment in M1935 guard uniform, France, June 1940. Members of this élite German infantry regiment wore the regimental cuff-title and shoulder-strap monogram on all uniforms, even in the field. Note the marksman's lanyards, as worn on this uniform, and the soldierly parade ground bearing of the troops. (ECPA)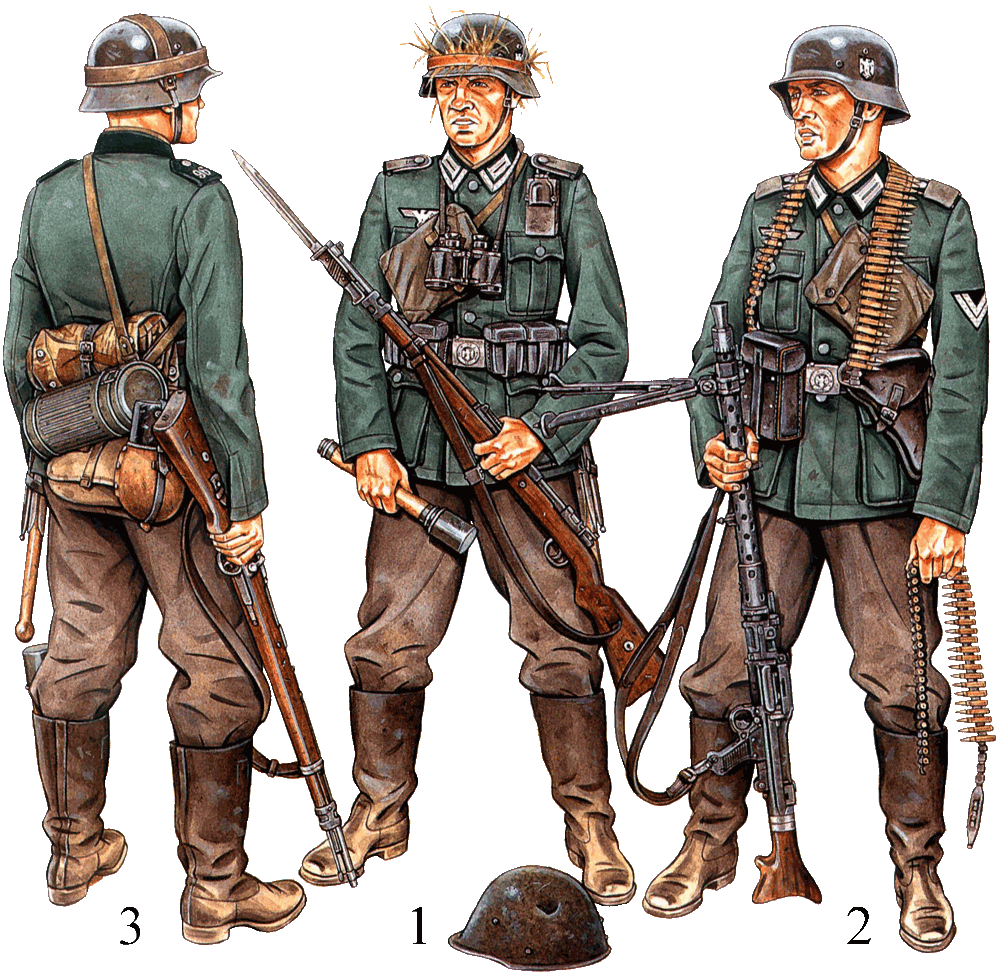 C1: Unteroffizier, Infanterieregiment 96, field uniform, Chelmo, Poland, September 1939
As a section leader this NCO is wearing the standard field equipment with a flashlight and 6 × 30 issue binoculars. He carries the Karabiner 98k rifle - section leaders were not normally issued submachine guns until 1941 - and a M1924 stick-grenade, known as the 'potato masher'. He has reversed his shoulder-straps to conceal his unit insignia and tied a thick rubber band to his helmet to secure his camouflage foliage. His regiment fought in Poland, Belgium and France with the 32nd Infantry Division. In the foreground lies a discarded Polish M1931 helmet.
C2: Obergefreiter, Infanterieregiment 96, field uniform, Chelmo, Poland, September 1939
This Landser ('German soldier') is the Section First Gunner, typically an Obergefreiter, with the 7.92mm IMG34 general-purpose light machine gun. He carries a machine gunner's field equipment: a P38 pistol in a hard-shell holster for close combat and an M34 spares pouch, a gas cape pouch across his chest in the prescribed manner, and two 50-round belts of 7.92 × 57 ammunition.
C3: Schütze, Infanterieregiment 96, field uniform, Chelmo, Poland, September 1939
The bulky M1934 backpack, introduced 10 February 1934, and the M1939, introduced 18 April 1939, was normally left with the unit's transport column, allowing infantrymen to fight in light order. The bayonet and bayonet-frog was strapped to the entrenching-tool on the left back hip, the mess-kit, camouflage shelter-quarter and gas mask canister worn on the lower back, and the bread-bag and canteen on the right back hip. The private carries a Karabiner 98k and has tied bread-bag straps to his helmet to fix camouflage foliage. In defiance of regulations he is displaying his regimental number on his shoulder-straps.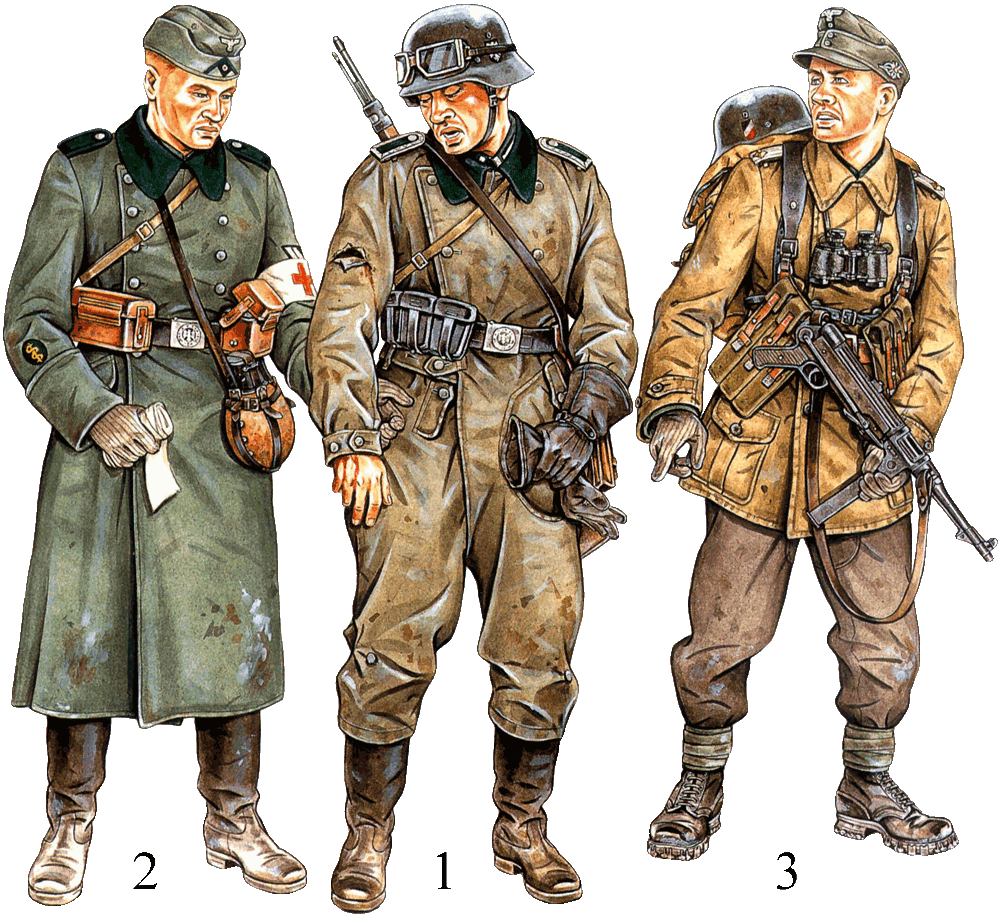 D1: Unterfeldwebel, Divisional Staff, 198.Infanterie-division, field uniform, Copenhagen, Denmark, April 1940
The 198th Division staff dispatch rider wears the M1934 motorcylists' rubberised coat. He carries one set of ammunition pouches for his Karabiner 98k, the M1935 dispatch case and leather gauntlets. 'Square-lens' protective goggles are on his helmet. This division, raised in Bohemia-Moravia, occupied Denmark, taking the Danish flag as its vehicle-sign, before fighting in France.
D2: Sanitätsobergefreiter, Sanitätskompanie 1/234, field uniform, Kristiansand, Norway, April 1940
This Medical Corps orderly, assigned to a company of 163rd Infantry Division in Norway, wears the M1934 field cap and M1935 field greatcoat. He carries medical pouches on his belt, the gas mask slung on his back, and the larger, one litre, medical corps canteen at the front of his left hip. He wears the red-cross armband on his left upper sleeve and the medical qualification badge on his right cuff. He is holding a field dressing.
France, May 1940. An infantry Oberst in M1935 field uniform. The 'saddle-shape' of his M1935 officer's peaked cap is particularly noticeable. The distinctive officers' collar-patches, unlike those of other ranks, retained the branch colour piping throughout the Second World War. This officer is wearing the Knight's Cross, and his regimental number is concealed by a feldgrau slip-on shoulder strap. (Brian Davis Collection)
D3: Oberleutnant, Gebirgsjägerregiment 138, field uniform, Narvik, Norway, May 1940
This officer in 3rd Mountain Division in Poland and Norway, wears platoon leader's field equipment over his M1925 wind-jacket, with first model ammunition-pouches for his MP38 submachine gun, shown here with the stock folded. Against regulations, he retains his officers' brown belt, and carries a M1931 model rucksack, later superseded by a more utilitarian wartime model. Note the helmet's national shield, worn in the Danish and Norwegian campaigns despite orders on 21 March 1940 to remove it, and the distinctive 'T' form eagle and cockade worn on the mountain cap.

/ page 18 from 20 /

mobile version of the page
We have much more interesting information on this site.
Click MENU to check it out!
∎ cartalana.com© 2013-2020 ∎ mailto: koshka@cartalana.org