SITE MENU
/
This Article Content
NIGEL THOMAS, colour plates by STEPHEN ANDREW
GERMAN ARMY 1939-1945. BLITZKRIEG
The most common military bravery award for courage in the field was the Iron Cross, reconstituted 1 September 1939 as a black and silver cross with a red, white and black ribbon. The Iron Cross 2nd Class was worn as a ribbon attached to the second button-hole of the field tunic, or as a small silver eagle, swastika and 1939 to the black and white 1914 ribbon. The Iron Cross 1st Class was a medal pinned to the left breast-pocket or as a larger eagle, above the 1914 cross. The Knight's Cross, instituted 1 September 1939, was worn from a ribbon around the neck. The War Merit Cross, a bronze cross with a red, white and black ribbon, was worn in 2nd Class as a ribbon, or as 1st Class pinned to the left breast-pocket. It was awarded for merit or bravery in places other than the front line.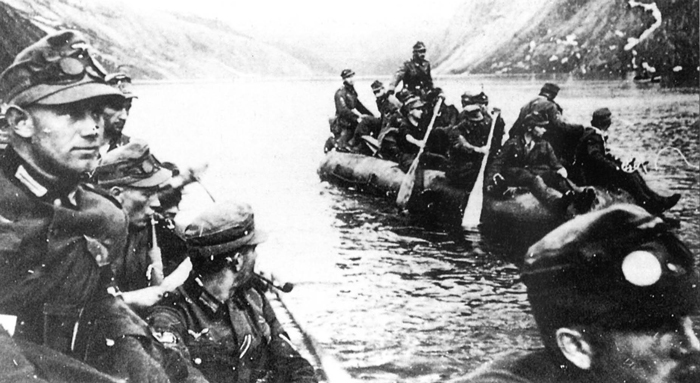 Mountain troops in M1935 field uniform and round-lens general purpose goggles, cross a Norwegen fjord in eight-man rubber dinghies in June 1940. The relaxed scenario and lack of field equipment indicate that hostilities have ceased. (Brian Davis Collection)
On 22 May 1939 an oval aluminium pin-back wound-badge for the left breast-pocket was instituted for service in the Spanish Civil War, featuring a swastika and Spanish helmet on crossed swords within a wreath, manufactured in three versions - black, for one or two wounds; silver, for three or four wounds; and gold, for five or more, although not surprisingly, the gold was never awarded. On l September 1939 the badge, now with a German helmet, was introduced for the Second World War.
Four pin-back combat qualification-badges could be worn on the left breast pocket. The Condor Legion Tank Combat Badge, a bronze or white aluminium skull, tank and wreath, was instituted 10 July 1939. The Infantry Assault Badge, a white aluminium eagle, rifle and wreath, was issued from 20 December 1939, with a bronze version for Motorised Infantry from 1 June 1940. The Tank Combat Badge, a white aluminium eagle, tank and wreath, was instituted 20 December 1939 for tank-crews and medical support personnel, followed on 1 June 1940 by a bronze version for armoured car crews and medical personnel. The Engineers' Assault Badge, later the General Assault Badge, a white aluminium eagle, crossed bayonet and grenade and wreath, was instituted 1 June 1940, initially for assault engineers.
The Narvik Shield was awarded on 19 August 1940 for personnel who fought in Norway at the Battle of Narvik, 9 April - 9 June 1940. It was a grey aluminium eagle above Narvik and a crossed edelweiss, propeller and anchor, worn on a feldgrau oval on the upper left sleeve.
Army personnel could also wear First World War medals and Nazi awards, such as the SA Defence Badge.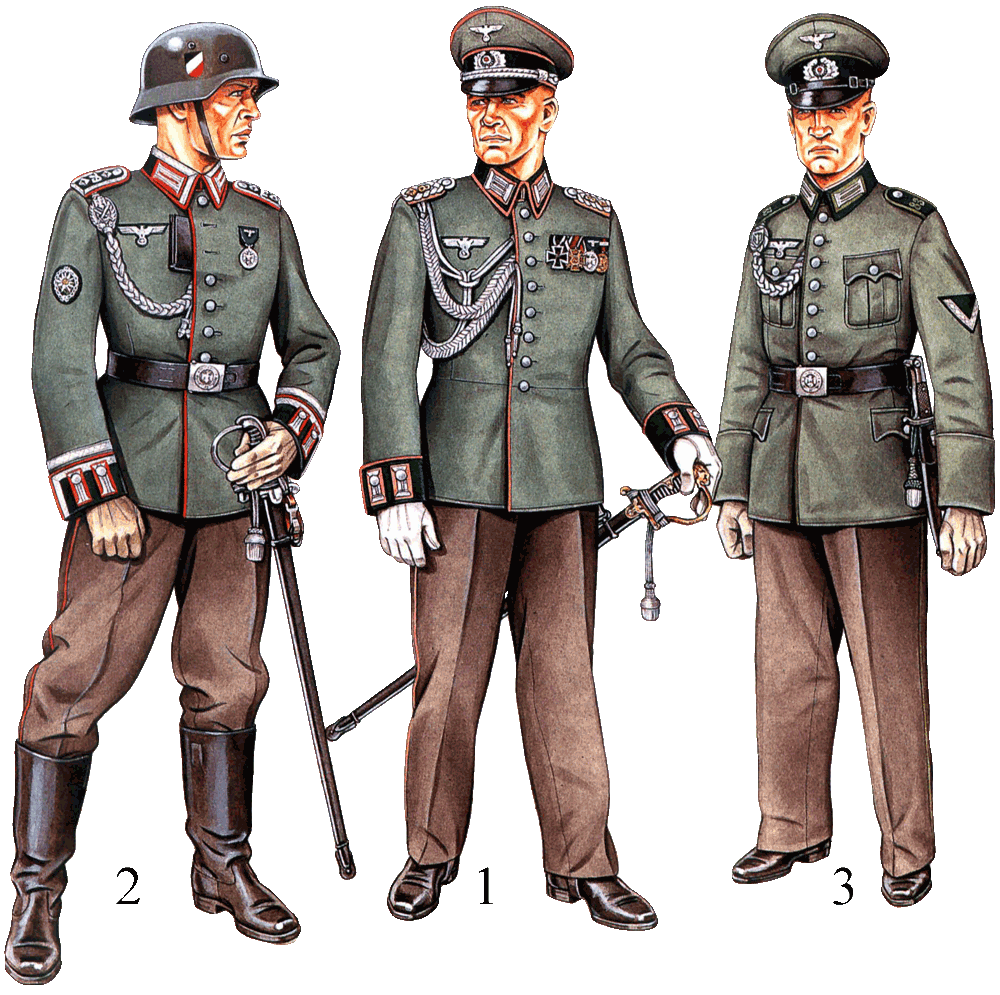 A1: Oberstleutnant, Panzerregiment 8, full ceremonial uniform, Böblingen, Germany, July 1939
This battalion commander of Panzerregiment 8, which later fought in Poland, Luxembourg and France with 10.Panzerdivision, wears the regulation M1935 full ceremonial uniform with 'Flower Wars' and Nazi decorations, and the Army Long Service medal. The officers' M1935 sword-knot, made of feldgrau leather with an aluminium ball, introduced 7 November 1935, hangs from his privately purchased officers' sword, usually preferred to the M1922 issue sword introduced 17 February 1922.
A2: Hauptwachtmeister, Gebirgsartillerieregiment 79, parade uniform, Garmisch-Partenkirchen, Germany, July 1939
As the ranking artillery battery NCO, the Hauptwachtmeister was a formidable personality, wearing the double NCO cuff-braids of his appointment and his report-book stuffed into his dress or field tunic. He wears the marksman's lanyard, with artillery shells to denote the awards, and carries the officers' sword and sword-knot. As a member of the elite 1st Mountain Division, which later fought in Poland and France, he wears the Edelweiss arm-badge.
A3: Fahnenjunker-Gefreiter, III (Jäg)/Infanterieregiment 83, walking-out uniform, Hirschberg, Germany, July 1939
This conscript, accepted for officer-training, wears the other ranks' field tunic with officers' cuffs, branch colour pipings and dress-quality insignia as an alternative to the Waffenrock. The junior NCO bayonet-knot tied to the bayonet-frog is the only indication of his status.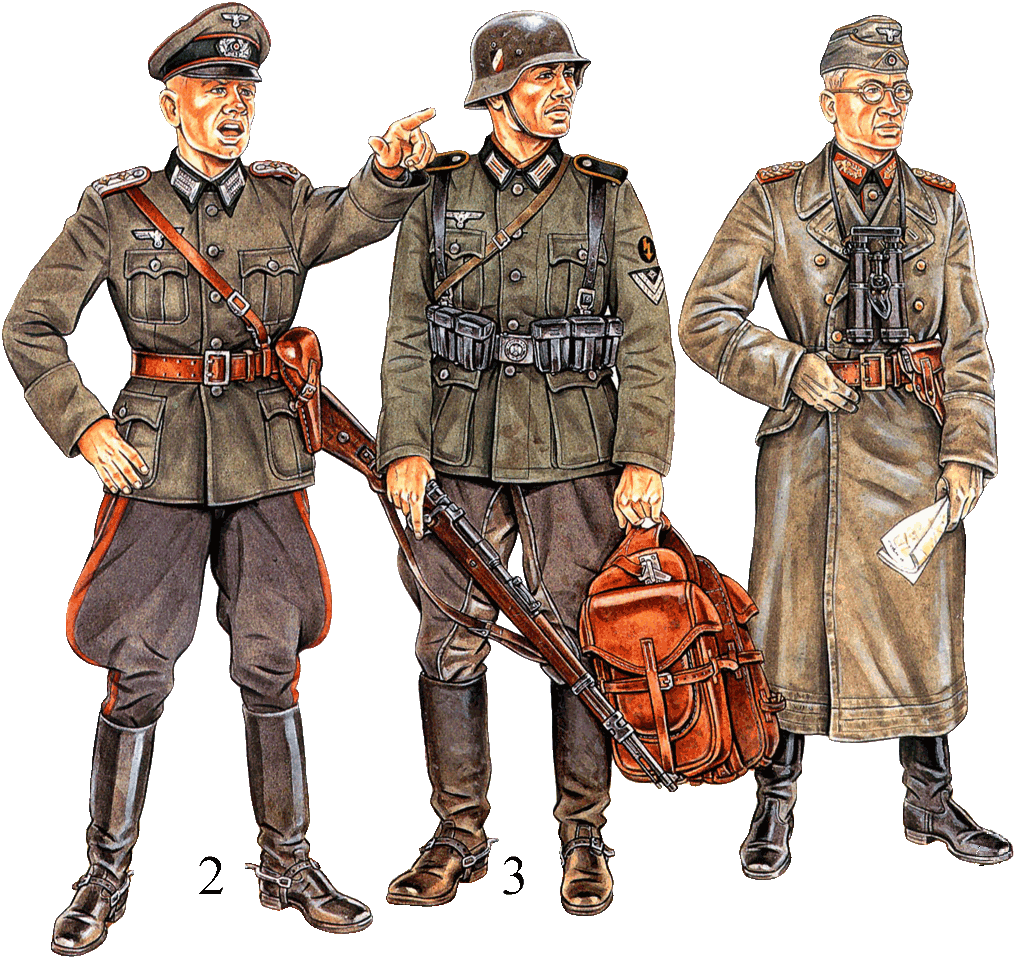 B1: Generalleutnant, 14.Infanteriedivision, field uniform, Lublin, Poland, September 1939.
The commander of 14th Infantry Division, which fought in southern Poland with the 10th Army, and later in Belgium with the 6th Army, wears the leather greatcoat popular with general-officers over his field tunic. He wears the M1938 officers' field cap, carries the Walther PPK 7.65mm pistol on his belt, and has powerful 10 × 50 Zeiss binoculars.
B2: Hauptmann i.G., 14.Infanteriedivision, field uniform, Lublin, Poland, September 1939
General Staff officers were ranked Generaloberst - Hauptmann im Generalstab (Captain). This officer, the third divisional staff officer, the '1c' (Intelligence Officer), wears field-quality staff Kolben collar-patches and breech stripes, and the M1934 'old style' field cap. He carries a P08 Luger pistol in a hard shell holster and wears the cross-belt, which was abolished after the Polish campaign.
B3: Stabsgefreiter, Reiterregiment 2, field uniform, Rozan, Poland, September 1939
This cavalryman, a Reichswehr veteran promoted to Stabsgefreiter before the rank was abolished on 1 October 1934, wears the cavalry field uniform with reinforced breeches and riding boots. The 'lightning' arm badge indicates that he is a signalman in the regimental signals platoon. He carries the M1934 saddlebags for mounted personnel introduced 7 May 1934, and the M1934 Karabiner 98k, the standard German rifle. His regiment fought in Poland and France with 1st Cavalry Division.

/ page 17 from 20 /

mobile version of the page
We have much more interesting information on this site.
Click MENU to check it out!
∎ cartalana.com© 2013-2020 ∎ mailto: koshka@cartalana.org