SITE MENU
/
This Article Content
NIGEL THOMAS, colour plates by STEPHEN ANDREW
GERMAN ARMY 1939-1945. BLITZKRIEG
Dress-quality shoulder-boards for captains and subalterns consisted of two 7-8mm wide bright flat aluminium braids placed side-by-side on a branch colour facing-cloth backing with 2-0 gilt aluminium pips and branch insignia as for field officers. Field-quality boards had matt aluminium, later feldgrau braid.
Music Directors wore field officers' shoulder-boards with two 4mm wide bright flat aluminium braids with a 3mm wide bright-red central silk cord, all on a bright-red facing-cloth backing (from 18 February 1943 the branch colour as for bandmasters) with a gilt aluminium lyre and 1-0 gilt aluminium pips. Senior and Junior Bandmasters wore shoulder-boards consisting of five 7mm wide bright flat aluminium braids placed side-by-side, alternating with four 5mm bright red silk braids on a branch colour facing-cloth backing (white, light-green, bright red or golden-yellow or black) with a gilt aluminium lyre and up to two gilt aluminium pips. Field-quality boards had matt aluminium, later feldgrau braid.
Technical NCOs had distinctive plaited shoulder-boards with devices and pips in white aluminium; these were made from grey aluminium or zinc alloy during the war. From 23 September 1937 Farrier-Instructors wore interwoven triple golden-yellow woollen cords with a double golden-yellow woollen cord edging all on a crimson branch colour underlay, a horseshoe and 1-0 pips. From 9 January 1939 Fortress Engineer Foremen wore the same shoulder-boards in black artificial silk with a white artificial silk inner edging all on a black branch colour underlay, with a cogwheel (from 9 June 1939 a Gothic Fp) and 1-0 pips. On 7 May 1942 both sets of shoulder-boards were changed to red, with bright aluminium and red interwoven cords, with a double red cord edging. Farrier-instructors had a crimson underlay and a horseshoe, fortress-engineers a black underlay and Fp, and 2-1 pips.
Dress-quality rank insignia for senior NCOs consisted of 3-1 bright aluminium pips (1.8cm, 2cm or 2.4cm wide) on M1935 bluish dark-green cloth shoulder-straps, with branch colour piping and edged on all sides by 9mm wide bright aluminium 'single-diamond' pattern yarn braid introduced 10 September 1935. Field-quality rank insignia consisted of the same pips and braid on the M1933, M1934 and M1935 unpiped, and M1938 and M1940 piped field shoulder-straps. 9mm silver-grey artificial silk braid was also worn, with grey aluminium and zinc alloy pips during the war, and from 25 April 1940 feldgrau matt artificial silk or cellulose-fibre wool braid. Branch insignia was of the same metal as the pips. A Hauptfeldwebel/Hauptfeldwebeldiensttuer wore a second 1.5cm wide bright aluminium 'double-diamond' pattern yarn braid above the cuff of the Waffenrock, and two 9mm braids on the cuff of other uniforms.
Junior NCOs wore the same shoulder-straps and braids as senior NCOs, the Unterfeldwebel wearing braid around the shoulder-strap, the Unteroffizier omitting braid across the base of the strap. Dress-quality branch insignia was fully embroidered in the branch colour on the shoulder-strap, while field-quality insignia was in branch colour wool or cotton yarn, and from 19 March 1937, also in artificial silk, embroidered in a chain-stitch pattern. Engineers' black and Medical Corps' dark-blue unit insignia were outlined in white chain-stitch on bluish dark-green shoulder-straps to render them more visible. During the war the embroidery was often full flat thin yarn.
Other ranks wore the same shoulder-straps as junior NCOs, with branch colour branch insignia but without braids. The M1936 rank insignia consisted of chevrons, point-down, of 9mm NCO braid combined with embroidered silver-grey or aluminium thread pips (hand-embroidered bright aluminium bullion on privately purchased items). The insignia was sewn on to a triangular (circular for Obersoldat) backing of bluish dark-green facing-cloth, changed in May 1940 to feldgrau uniform cloth, and black for tank crew uniforms. This rank insignia was adopted on 25 September 1936 (with effect from 1 October 1936) and developed from the original Reichswehr system adopted 22 December 1920.
From 26 November 1938 rank insignia on the white and reed-green twill fatigue-uniforms consisted of 1cm wide feldgrau fabric and 'single diamond' braid with two thin black inner pipings. A Stabsfeldwebel wore a braid ring below two braid chevrons point-up, on each lower-sleeve; Hauptfeldwebel two rings; Oberfeldwebel, a ring and a chevron, Feldwebel, a ring only. Unterfeldwebel and Unteroffizier wore braid collar edging only. This NCO insignia was replaced by new sleeve rank insignia introduced 22 August 1942. Men wore chevrons of the same braid and feldgrau fabric, with braid pips sewn on to white or reed-green backings.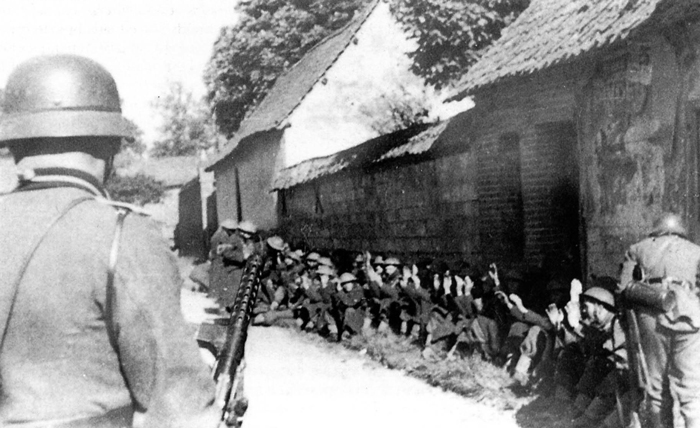 Two soldiers in M1935 field uniform, the NCO (left) carrying an MP28/II Schmeisser submachine gun, guard British prisoners in northern France, May 1940. Note the general absence of field equipment - M1938 gas mask canister and M1931 canvas bread-bag and bayonet - but no Y-straps. (Josef Charita)
A German soldier's branch of service was indicated by a branch colour, worn on the collar and shoulder-board and shoulder-straps, and as cap, tunic and trouser pipings. The system of branch colours, a development of the regimental facing-colours in the Reichsheer of the German Empire, was established on 22 December 1920, continued, with comparatively few changes, until 9 May 1945.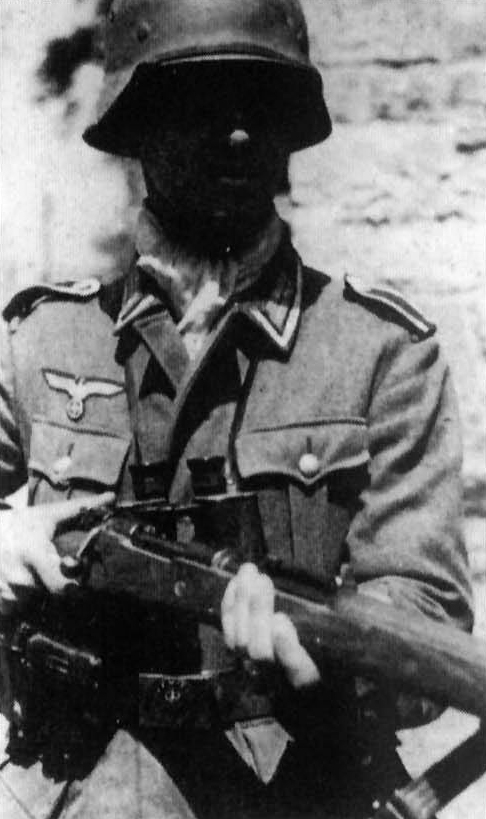 An Unteroffizier, in M1935 field uniform, threatens French prisoners with his Karabiner 98k in northern France, May 1940. He wears a single set of ammunition-pouches and carries standard 6 × 30 binoculars, suggesting he is a section leader, and is sporting a civilian scarf against regulations. (ECPA)
Branch insignia comprised a symbol, or a letter in Gothic script, worn by certain specialised troops within a branch, above the unit insignia - an Arabic or Roman numeral, or, in the case of Army Schools, Gothic letter(s). There was a wide variety of such insignia, and so only a selection of the principal combat units is covered here.
Such precise unit identification aided personal and unit morale, but jeopardised field security and so, from l September 1939, troops in the Field Army were ordered to remove or conceal their unit insignia. Many troops covered the unit insignia on their field shoulder-boards and shoulder-straps with a feldgrau (black for Panzer units) shoulder-slide or wore their shoulder-boards/straps reversed. The branch insignia, which was less specific, was usually retained. Unit insignia could still be worn by the Replacement Army or by Field Army troops on leave in Germany. In fact, unit insignia was often worn in the field in defiance of these regulations. On 24 January 1940 3cm wide feldgrau shoulder-slides with branch and unit insignia in branch colour chain-stitch were introduced for NCOs and other ranks, but senior NCOs often continued to wear their white aluminium insignia. Insignia on dress uniforms not worn in the field, was unaffected.

/ page 15 from 20 /

mobile version of the page
We have much more interesting information on this site.
Click MENU to check it out!
∎ cartalana.com© 2013-2020 ∎ mailto: koshka@cartalana.org