SITE MENU
/
This Article Content
NIGEL THOMAS, colour plates by STEPHEN ANDREW
GERMAN ARMY 1939-1945. BLITZKRIEG
Mountain Troops also wore M1935 stone-grey (from 1939 feldgrau) ski-trousers with feldgrau ankle puttees and fawn, brown or black leather studded climbing ankle-boots. They occasionally wore the greenish-khaki double-breasted close-woven calico wind-jacket, probably introduced in 1925, with shoulder-boards and straps the only authorised insignia, and the M1938 hooded reversible water-repellent fabric white-feldgrau anorak. Mountaineering equipment included the M1931 greenish-khaki canvas rucksack.
The commando units of Army Intelligence (Abwehr) wore German or foreign uniform appropriate to the occasion. It is known that some Abwehr troops wore Polish, Belgian and Dutch uniforms during the Blitzkrieg period. From 13 November 1939 the inmates of the four Army Penal Battalions wore the standard Army uniform without any decorations, national, rank or branch insignia, and probably also a belt-buckle with a plain pebbled disc.
TABLE 3. Rank insignia of the German Army 1 September 1939 - 9 May 1945
Staff and Infantry ranks are normally given, but are in brackets where the insignia illustrates a rank variant. Most Bandmaster Officer and both Technical NCO ranks are omitted, and insignia on camouflage and fatigue tunics are excluded.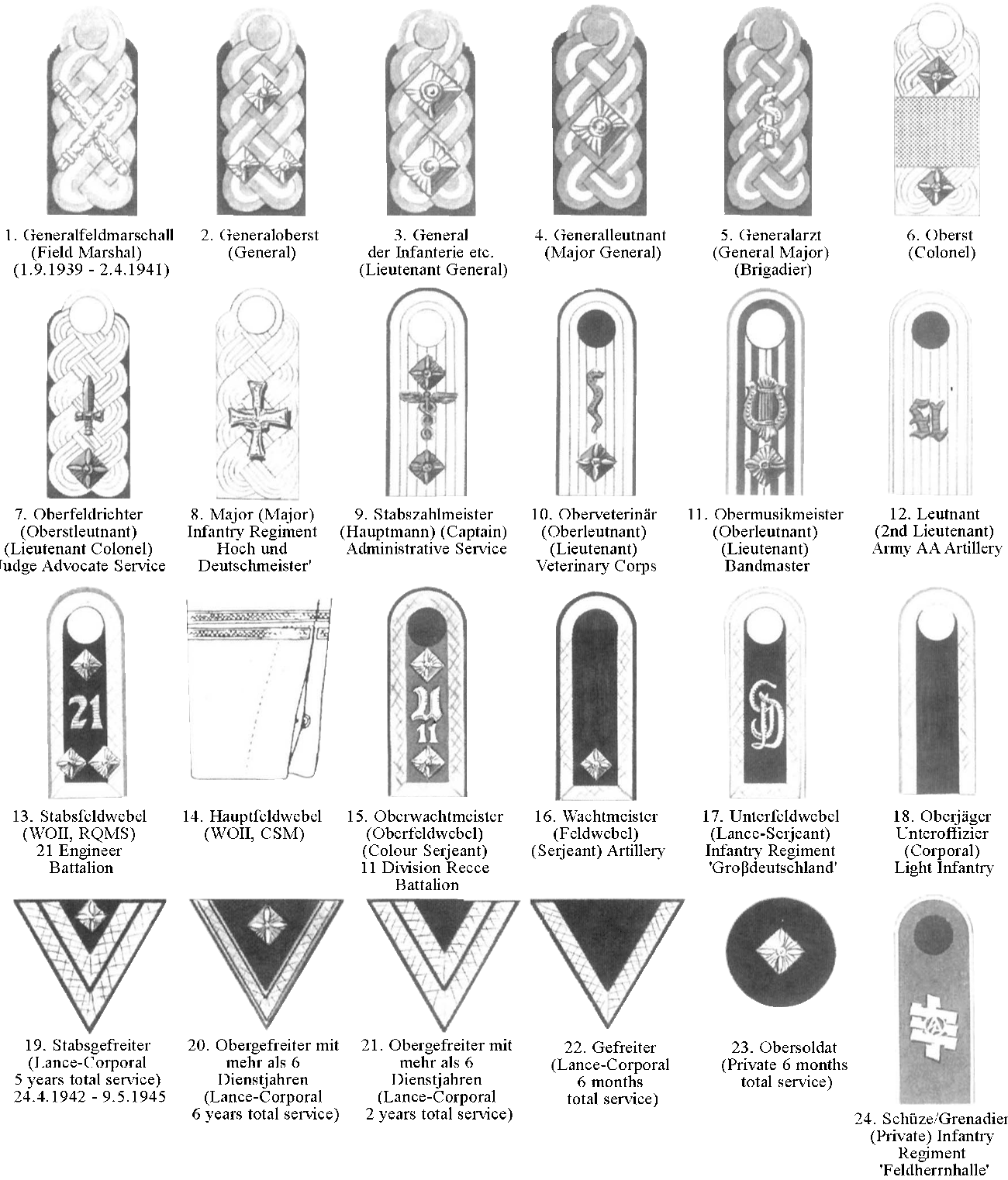 All ranks of mounted personnel of the cavalry or any other branch wore stone-grey (from April 1940) feldgrau riding-breeches with grey leather reinforcements. From 12 November 1934 motorcycle couriers and personnel in motorcycle reconnaissance battalions were issued feldgrau special clothing, consisting of a motorcyclist's protective greatcoat, a woollen turtle-neck sweater, long woollen stockings, and waterproof cotton gauntlets. The feldgrau heavy twill cloth M1934 greatcoat was rubberised on both sides and had a large feldgrau cloth collar, with feldgrau facings from 22 June 1935, bluish dark-green facings from November 1935 and finally back to feldgrau cloth in May 1940. Insignia was confined to shoulder-boards or straps.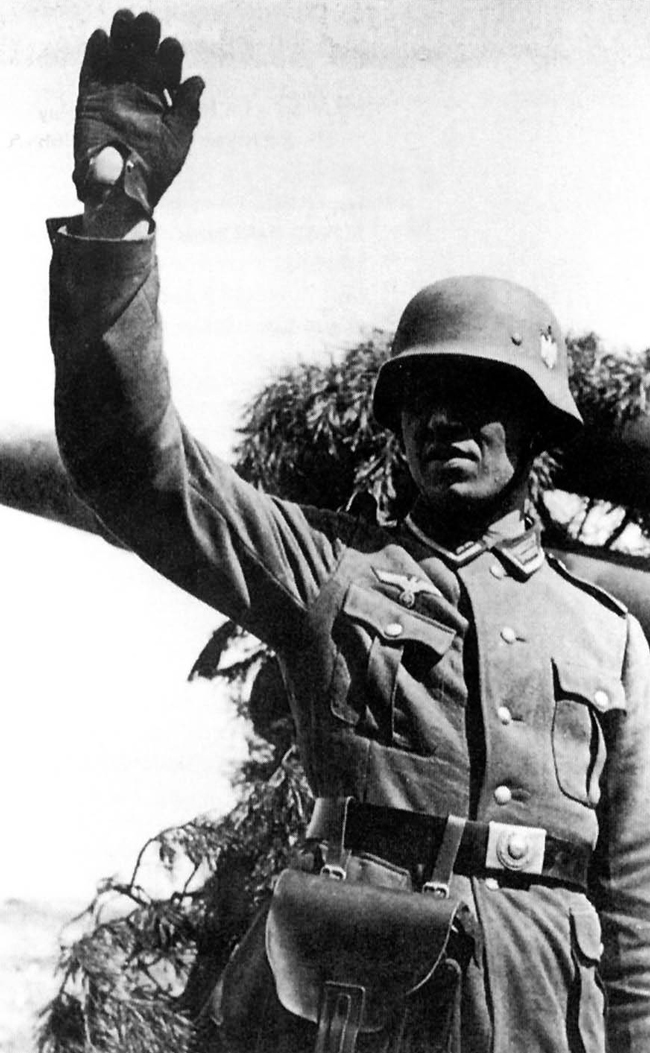 A good view of the M1935 field tunic worn by a Wachtmeister of Artillery in France, May 1940. His lack of field equipment and M1935 dispatch-case with modified fastener suggest assignment to the Regimental Staff. (Brian Davis Collection)
Motorised Artillery and Motorised Infantry vehicle crews, Motor Transport drivers, and guards and sentries were issued the feldgrau waterproof M1934 surcoat. It was the same design as the field greatcoat, but ankle-length and cut generously at the waist to allow wear over a field greatcoat. Smoke Troops were issued protective clothing consisting of a dark-brown single-breasted leather tunic, trousers, gauntlets, peaked cap, face-mask and goggles.
On 26 August 1939 220 1,700-strong pioneer battalions were formed from members of the RAD (Reichsarbeitsdienst, the Nazi labour service) for construction duties along the eastern and western frontiers. Personnel wore RAD uniforms and insignia, changing to Army uniforms during the winter of 1939-40.
All Medical Corps personnel wore the M1937 white armband with a red cross on the upper left sleeve, introduced 6 March 1937. Orderlies also carried their first-aid kit in two smooth brown leather pouches.
The uniforms and insignia of Army Officials, including Chaplains and Sonderführer will be covered in Volume 3.

/ page 12 from 20 /

mobile version of the page
We have much more interesting information on this site.
Click MENU to check it out!
∎ cartalana.com© 2013-2020 ∎ mailto: koshka@cartalana.org