SITE MENU
/
This Article Content
NIGEL THOMAS, colour plates by STEPHEN ANDREW
GERMAN ARMY 1939-1945. BLITZKRIEG
A ten-man rifle-section had an Unteroffizier as section leader, a Gefreiter as deputy, a light machine gun team with three Schützen (gunners), and five riflemen. The section leader wore the platoon leader's equipment, but was not normally issued with a submachine gun until 1941. The First Gunner, the machine gunner, operating the LMG34 light machine gun introduced in 1936, carried a pistol and holster instead of ammunition-pouches on his left front hip; and on his right front hip he had a black-leather spares-pouch. The Second Gunner, also the replacement machine gunner, carried standard riflemen's equipment with a pistol and holster instead of one set of ammunition-pouches; four 50-round ammunition drums, a 300-round ammunition box, and a sheet-metal barrel protector with one or two spare barrels. The deputy section leader, ordinary riflemen and the Third Gunner wore standard riflemen's equipment. Gunner 3 also carried two ammunition-boxes.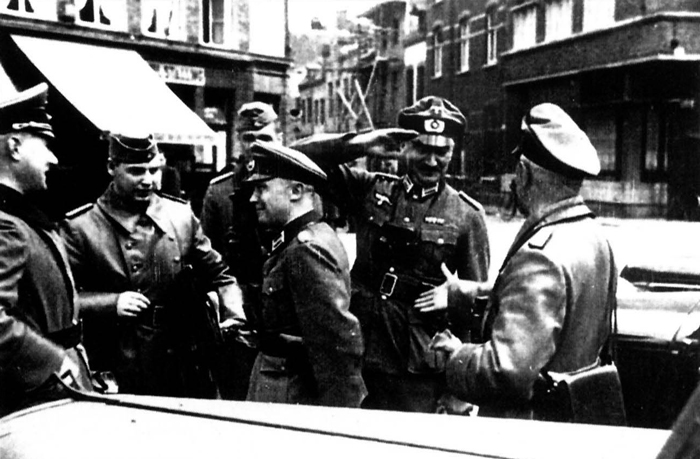 Officers in M1935 field uniform hold an impromptu meeting in Lichtervelde, Belgium, May 1940. Note the M1934 field cap worn by three officers and the leather greatcoat worn by the Major (2nd left). The Hauptmann (2nd right) is saluting before shaking the hand of the Major (1st right). (Josef Charita)
The white drill fatigue uniform was usually worn by enlisted men and only rarely by NCOs. It consisted of the M1934 field cap, M1933 fatigue tunic, fatigue-trousers introduced 1 April 1933, black belt and marching-boots. The tunic, made of cream or off-white cotton herringbone twill, had two patch side-pockets and five matt-grey painted pebbled buttons. Badges were confined to the special rank insignia described below. In 1940 the off-white colour was replaced on 12 February 1940 by a more practical mid-green, called 'reed-green'.
The M1934 black uniform was closely associated with the Panzer branch, but initially only tank-crews were authorised to wear it. Later, units of other branches in Panzer divisions were allowed to wear this prestigious uniform: signals battalions from 2 April 1937, artillery regiments from mid-1938, armoured reconnaissance battalions in March 1940, and on 10 May 1940 armoured engineer battalions. However, unauthorised personnel, such as general-officers, staff officers and members of unit staffs such as doctors, paymasters and company sergeant-majors, unofficially adopted the uniform. The colour, the distinctive double-breasted jacket and the collar patch skulls were intended to evoke the prestige of the Imperial German Cavalry.
The black uniform, introduced 12 November 1934, could be worn on all occasions except ceremonial. It consisted of the standard M1934 padded beret, later replaced by the M1940 field cap; a dark-grey tricot pullover shirt and black tie; the M1934 field jacket; M1934 field trousers and black lace-up shoes.
The padded beret was made of thick felt or red rubber sponge covered in black wool. From 30 October 1935 officers wore an eagle and swastika in bright aluminium bullion on the front of the beret, other ranks the badge in matt silver-grey machine-woven cotton thread, above a white cotton thread, later matt silver-grey machine-woven cotton thread, cockade and wreath, all insignia on a black backing. The beret proved too cumbersome in armoured vehicles, and on 27 March 1940 it began to be replaced by the M1940 officers' black field cap and the M1940 other ranks' black field cap. These caps were identical to the M1938 and M1934 feldgrau versions, but were in black cloth, with the eagle and cockade on a black cloth backing. Many officers and NCOs also favoured the feldgrau officers' M1935 peaked cap, M1934 peaked field cap or M1938 field cap, or other ranks' M1935 peaked cap or M1934 field cap.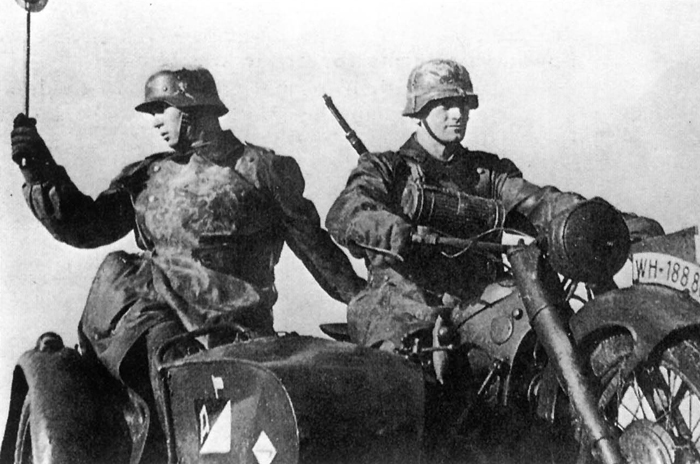 A motorcycle combination of a Military Police Traffic Control Battalion leads a convoy of trucks in France. Both riders are wearing the M1934 rubberised field greatcoat but with minimal equipment. The driver has slung his Karabiner 98k rifle over his shoulder, and wears the M1938 gas mask canister across his chest. His passenger carries a signal-baton. Note the divisional signs on the sidecar and the WH (Wehrmacht-Heer) number plate. May 1940. (Brian Davis Collection)
The black wool double-breasted hip-length Panzer field jacket had a wide collar, with a 2mm branch colour facing-cloth piping, and wide lapels. The fly-front was closed by four large black horn or plastic buttons, with three smaller buttons left exposed above. Officers wore a matt aluminium thread breast-eagle, other ranks a white cotton, later a matt silver-grey, machine-woven cotton thread breast-eagle, all on a black cloth backing. All ranks wore standard black cloth collar-patches with branch colour piping and a bright aluminium stamped skull. All ranks wore field-quality shoulder and sleeve rank insignia, with black cloth replacing the bluish dark-green facing-cloth for NCOs and men. NCOs did not wear bright aluminium yarn braid collar braid. The M1934 plain black trousers tapered at the bottom to give a bloused effect, and buttoned and tied at the ankle.
When worn as a parade-uniform, officers' jackets had aiguillettes and the M1935 brocade belt, while other ranks wore the marksmen's lanyard and black belt. On 17 October 1938 a distinctive new marksmen's lanyard was introduced for armoured troops. It featured a matt aluminium eagle above a tank in a small ring for awards 1-4, in a large oak-leaf wreath for 5-8, in gold for 9-12, with, from 9 December 1938, aluminium acorns instead of shells. In the field all ranks wore a leather belt with a pistol and holster.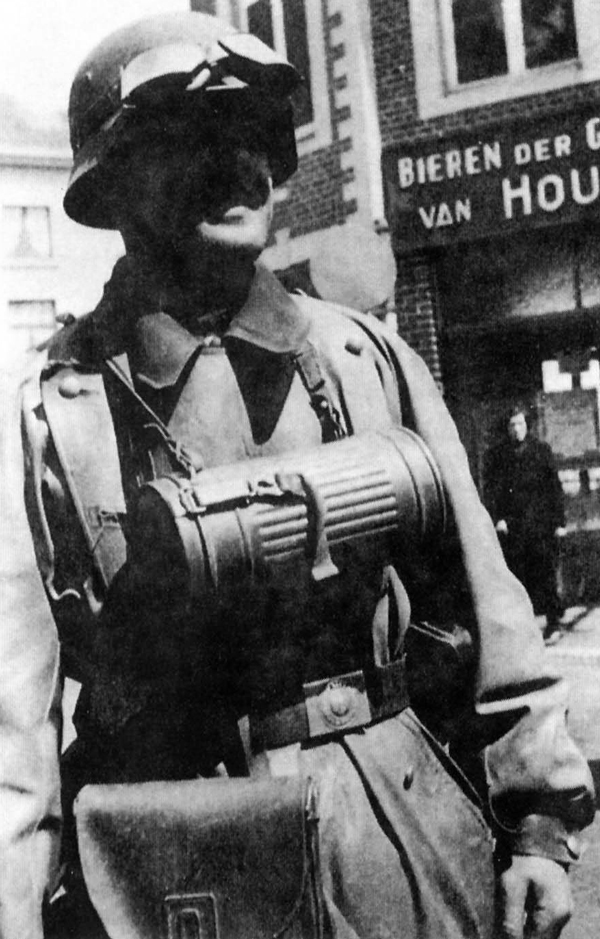 A dispatch-rider in the street of a town in German-occupied Flanders in May 1940. He is wearing the M1934 rubberised field greatcoat with an M1935 dispatch-case and has slung his M1938 gas mask canister on his chest, in order not to constrict . his rear-passenger on his motorcycle. (ECPA)
Special uniforms for other branches
General Staff officers wore bright aluminium collar and cuff-braids on the Waffenrock and matt aluminium thread collar-patches on the field tunic in the traditional Kolben pattern, whilst OKW and OKH officers wore the same insignia in bright gold thread on the Waffenrock and matt gold thread on the field tunic. These officers also wore general-officers' trouser and breeches pipings and braids in crimson facing-cloth on all uniforms.
Instead of the field cap, Mountain Troops wore the peaked mountain-cap used by German and Austro-Hungarian troops in the First World War - mountain troops were recruited heavily from Austria. The standard model, introduced about 1930, was in feldgrau cloth with a flap secured by two 12mm matt grey painted buttons, matt gold for general-officers. The eagle and cockade insignia was the same as for the M1938 officers' and M1934 other ranks' field caps, but officers did not adopt the aluminium and gold crown and flap pipings until 3 October 1942.

/ page 10 from 20 /

mobile version of the page
We have much more interesting information on this site.
Click MENU to check it out!
∎ cartalana.com© 2013-2020 ∎ mailto: koshka@cartalana.org