SITE MENU
/
This Article Content
NIGEL THOMAS, colour plates by STEPHEN ANDREW
GERMAN ARMY 1939-1945. BLITZKRIEG
From 31 October 1939 all officers below general-officer in combat units were ordered to wear the M1935 other ranks field tunic, trousers and marching-boots with the black leather belt and officers' field-quality shoulder-boards. Many officers, however, continued to wear their former uniforms or modified the other ranks' tunic by adding officers' roll-back cuffs, collar-patches and the sharper-pointed, higher officers' collars.
Subalterns acting as infantry platoon leaders wore the standard riflemen's field equipment adding the brown or black leather M1935 dispatch-case on the left front hip, binoculars, compass and signal-whistle. Riflemen's field equipment consisted of the standard smooth or grained black leather M1939 infantry support Y-straps with aluminium fittings (introduced 18 April 1939), supporting two sets of three black leather ammunition pouches for the rifle. The bayonet in a black scabbard with the black leather cavalry bayonet-frog (introduced 25 January 1939) and entrenching-tool were worn on the left back hip. On the right back hip, the M1931 feldgrau canvas bread-bag and M1931 brown felt-covered canteen and black painted aluminium cup. Webbing supported the M1931 mess-kit and M1931 camouflage shelter-quarter on the upper back, and on the lower back the M1930 or M1938 gas mask in the distinctive feldgrau-painted cylindrical corrugated metal canister. The dark greenish-brown gas cape hung on the chest from a thin brown leather strap and a field flashlight was usually carried on the left shoulder. By September 1939 most officers had the MP38 submachine gun, for which two olive-green canvas M1938 magazine pouches were issued to replace the black leather ammunition-pouches.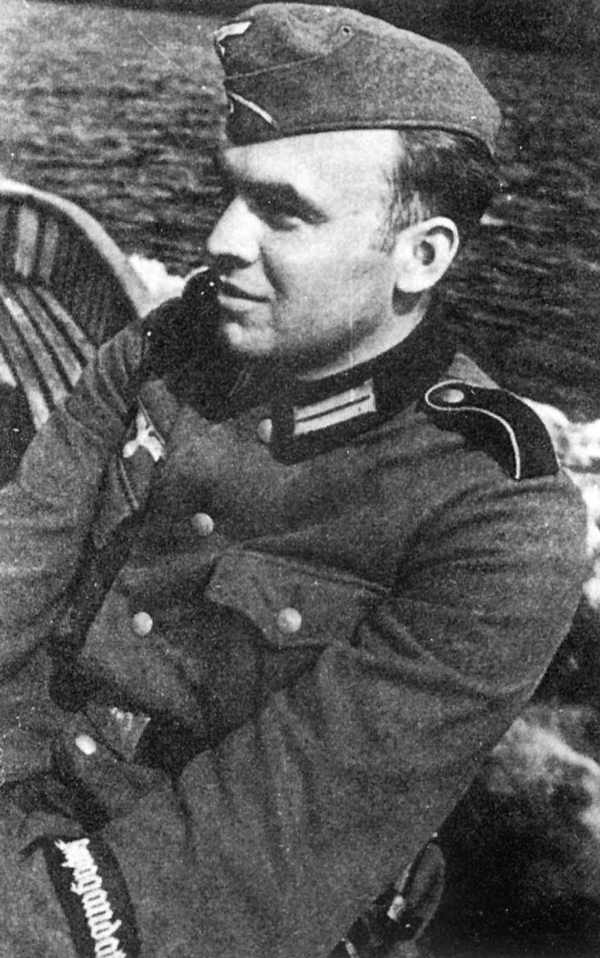 Germany, April 1940. A private of a newly created War Correspondents' Company in M1935 undress uniform with an M1935 field cap, takes a trip on the Rhine. He wears the lemon-yellow Signals branch colour on his shoulder-straps and cap, as well as the newly introduced Propagandakompanie sleeve-title. (F. Herrmann)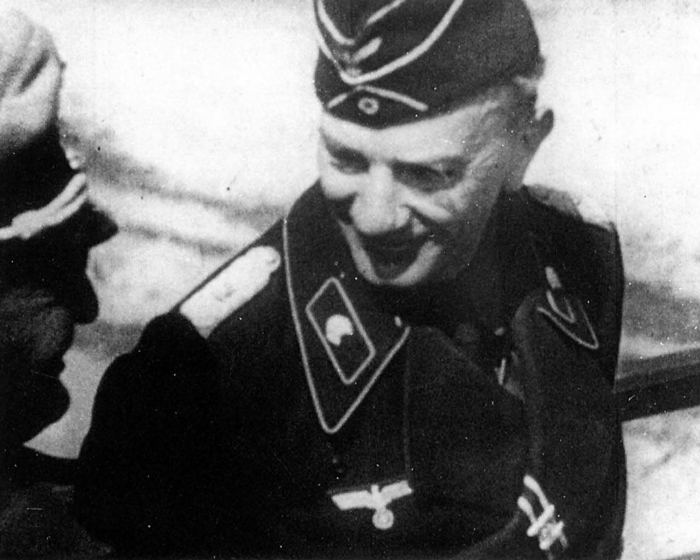 An Oberstleutnant of Panzer troops on the Belgian frontier, May 1940. He wears the M1935 black tank-crew uniform with M1940 officers' field cap, wearing the 1914 Iron Cross 2nd Class ribbon with 1939 bar in his button-hole. He is talking to a colleague, who is wearing the M1935 officers' peaked cap with Panzer pink waffenfarbe (branch-colour facing-cloth piping). (Josef Charita)
Parade Uniform for other ranks consisted of the standard M1935 steel helmet; the OR M1935 Waffenrock or M1933 field tunic with medals, and, if ordered, the OR M1935 dress greatcoat; standard M1935 piped or plain trousers and marching-boots; the M1936 marksman's lanyard, M1935 belt, bayonet and bayonet-frog. All NCOs wore grey suede gloves. Technical and senior NCOs carried a sword, while junior NCOs and men wore standard M1939 Y-straps, M1908 ammunition-pouches and carried a rifle.
The other ranks' Waffenrock, adopted 29 June 1935, was identical to the officers' pattern with bright aluminium pebbled buttons, but made of fine quality (rather than superior) feldgrau cloth, with other ranks' dress insignia. The collar had M1935 branch colour facings, collar-patches with two bright aluminium thread 'Guards braids'. The cuffs had two branch colour badge-cloth cuff-patches, each with a bright aluminium pebbled button on a bright aluminium thread braid. The matt silver-grey machine-woven breast eagle had a bluish dark-green facing-cloth backing. The bluish dark-green facing-cloth shoulder-straps had rounded ends and a branch colour piping around the outer edge. For shoulder-strap and sleeve rank insignia see Table 3. NCOs wore 1.5cm wide bright aluminium 'double-diamond' pattern yarn braid introduced 10 September 1935 on the front and top edge of the stand-up collar and on the top and back edge of the cuff to indicate their status. Privately- purchased tunics could be made of officers' tricot cloth with higher collars and tighter waisting.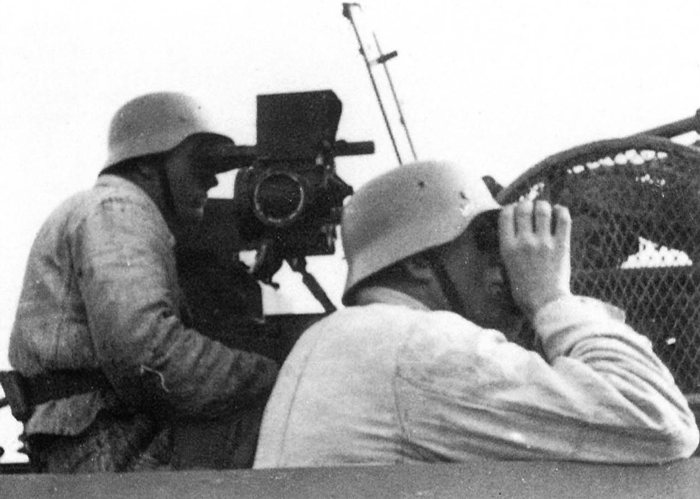 The crew of an army light antiaircraft unit on the alert for Allied aircraft in France, May 1940. The crewmen are wearing the typically soiled M1933 drill fatigue-uniform to avoid soiling their field uniforms. (Josef Charita)
The other ranks' field tunic in feldgrau cloth with matt-grey painted pebbled buttons was introduced on 5 May 1933 with the colour of the collar changing from feldgrau facing-cloth to bluish dark-green facing-cloth 10 September 1935. It resembled the officers' tunic, but the skirt was longer and cuffs were without the turn-backs. Insignia was of other ranks' field-quality.
The bluish dark-green facing-cloth M1935 collar-patches, introduced 10 September 1935, had two feldgrau braid 'Guards braids' each with branch colour facing-cloth centre stripes. They were replaced on 26 November 1938 by the 'standard braid', bluish dark-green facing-cloth stripes so the collar-patches no longer indicated branch affiliation. From 30 October 1935, the breast-eagle was embroidered in white cotton on a feldgrau backing; from 19 June 1937 it was on a bluish dark-green backing. Embroidery changed to silver-grey on 5 February 1939, and on 4 June 1940 to mouse-grey on feldgrau backing. NCOs wore 9mm wide bright aluminium 'single-diamond' pattern yarn braid introduced 10 September 1935, or silver-grey artificial silk braid, on the front and lower edge of the field tunic collar.
The M1933 pointed feldgrau cloth shoulder-straps without branch colour piping changed to feldgrau facing-cloth on 10 December 1934 and to bluish dark-green facing-cloth on 10 September 1935. They were replaced on 26 November 1938 by rounded bluish dark-green facing-cloth shoulder-straps with branch colour piping around the outer edges as worn on the field greatcoat, and on 18 March 1939 further production of the old model straps was discontinued. For shoulder-strap and sleeve rank insignia see Table 3.
On 25 April 1940 NCO collar and shoulder-strap braid of mouse-grey artificial silk or cellulose-fibre wool was introduced, and in May 1940 the bluish-green facing-cloth collars and shoulder-straps were replaced by feldgrau uniform cloth, but these changes were not implemented until after the fall of France.
The other ranks' dress greatcoat, introduced 10 September 1935, was officer pattern but made of lesser quality feldgrau cloth. The shoulder-straps were of bluish dark-green facing-cloth with branch colour piping around the outer edges. The bluish dark-green facing-cloth collar was always plain.

/ page 8 from 20 /

mobile version of the page
We have much more interesting information on this site.
Click MENU to check it out!
∎ cartalana.com© 2013-2020 ∎ mailto: koshka@cartalana.org