SITE MENU
/
This Article Content
NIGEL THOMAS, colour plates by STEPHEN ANDREW
GERMAN ARMY 1939-1945. BLITZKRIEG
TABLE 1. GERMAN ARMY ORDERS OF DRESS 1 SEPTEMBER 1939 - 9 MAY 1945
Order of Dress
General-officers, Infantry officers and bandmaster officers
Technical non-commissioned officers, Infantry senior and junior non-commissioned officers and men
When worn
Groβer
Gesellschaftsanzug
Formal ceremonial uniform
Service cap; dress tunic & medals/piped field tunic & ribbons; aiguillettes; trousers & shoes; white gloves; sword; knot
-
Presenting reports; receptions; theatre; concerts
Kleiner
Gesellschaftsanzug
Informal ceremonial uniform
Service cap; dress tunic/piped field tunic; ribbons; trousers & shoes; white gloves; sword; knot
-
Presenting reports; receptions; church-parades; funerals; theatre; concerts
Paradeanzug
Parade uniform
Helmet/peaked cap; dress tunic; medals; aiguillettes; dress greatcoat; belt; breeches & riding-boots; grey gloves; sword; knot
Helmet; dress tunic/field tunic; medals; dress greatcoat; marksman's lanyard; belt, piped/plain trousers, marching boots; grey gloves (NCOs); sword, knot (TNCOs, SNCOs); Y-straps, ammo-pouches, rifle, bayonet, knot (JNCOs, men)
Parades; church-parades; funerals
Ausgehanzug
Walking out uniform
Service cap; dress tunic/piped field tunic; ribbons; dress greatcoat; trousers & shoes; white gloves; sword; knot
Service cap; dress tunic/field tunic; ribbons; dress greatcoat; marksman's lanyard; belt; piped/plain trousers, shoes; grey gloves (NCOs); sword, knot (TNCOs, SNCOs); bayonet, knot (JNCOs, men)
Walking-out; church-parades; funerals
Meldeanzug
Reporting uniform
Service cap; dress tunic/piped field tunic; ribbons; belt; breeches & riding boots; grey gloves; sword; knot
Service cap; field tunic; ribbons; marksman's lanyard; belt; plain trousers, marching-boots; grey gloves (NCOs); sword, knot (TNCOs, SNCOs); bayonet, knot (JNCOs, men)
Presenting reports
Dienstanzug
Service uniform
Service cap; field tunic; ribbons; field greatcoat; belt; breeches & riding-boots; grey gloves; pistol; holster
Service cap (TNCOs, SNCOs); helmet/field cap (JNCOs, men); field-tunic; ribbons; field greatcoat; belt, plain trousers, marching boots; grey gloves (NCOs); pistol, holster (TNCOs, SNCOs); Y-straps, ammo-pouches; rifle, bayonet, knot (JNCOs, men)
Manoeuvres; inspections; church-parades; funerals; courts martial; parades
Kleiner Dienstanzug
Undress uniform
Service cap; dress tunic/field tunic; ribbons; field greatcoat; breeches & riding boots / trousers & shoes; grey gloves; pistol; holster
Service cap/field cap; field tunic; ribbons; field greatcoat; belt; plain trousers, marching-boots; grey gloves (NCOs); pistol, holster (TNCOs, SNCOs); Y-straps, ammopouches; rifle, bayonet, knot (JNCOs, men)
Manoeuvres; inspections; rifle-ranges; instructional classes; barracks-yards; presenting reports (officers)
Wachanzug
Guard uniform
Helmet / field-cap; field tunic (dress tunic for guards of honour); ribbons; field greatcoat; belt; breeches & riding-boots; grey gloves; pistol; holster
Helmet/field cap; field tunic; ribbons; field greatcoat; marksman's lanyard; belt; plain/ piped trousers, marching boots; grey gloves (NCOs); pistol, holster (TNCOs, SNCOs); Y-straps, ammo-pouches; rifle, bayonet, knot (JNCOs, men)
Standing guard
Feldanzug
Field uniform
Helmet / field cap; field tunic; ribbons; field greatcoat; belt; breeches & riding-boots; grey gloves; equipment (not general-officers); pistol; holster
Helmet/field cap; field tunic; ribbons; field greatcoat; belt, plain trousers, marching-boots; grey gloves (NCOs); pistol, holster (TNCOs, SNCOs); field-equipment; rifle, bayonet (JNCOs, men)
Manoeuvres; combat
Arbeitsanzug
Fatigue uniform
-
Field cap; fatigue tunic; belt; fatigue trousers, marching-boots
Fatigue duties
THE UNIFORM OF THE GERMAN ARMY
All dates connected with the introduction of new uniforms, equipment and insignia give the date of the Army Order. However, as in all armies, there was a delay (ranging from a few weeks to as much as two years) in new items reaching individual units, especially front-line units, remote garrisons, or in the Replacement Army. Furthermore, individual soldiers, especially senior officers, often preferred to retain obsolete items if they were of sentimental value, or of better quality than the replacement. They gave the owner an air of individuality and marked him as an experienced 'old sweat'. An army order of 10 July 1942 decreed that all obsolete clothing could continue to be worn for the duration of the war.
The most visible symbol of the Wehrmacht was the breast eagle, the Hoheitsabzeichen, or 'Sovereignty Badge', worn by all ranks above the right breast pocket of most uniform items, and identifying the wearer as fit to bear arms. The Army version, introduced 17 February 1934, with effect from 1 May 1934, depicted an eagle with straight, outstretched wings grasping a circled swastika. Most other uniformed organisations, including the Waffen-SS, introduced various styles of eagle badges, but were obliged to wear them on the left upper arm, since the right breast was reserved for the Wehrmacht (and, curiously enough, the National Socialist Flying Corps, the NSFK).
The various uniform items of the new Army uniform began to appear following publication of the Dress Regulations of 8 April 1935. These uniforms and insignia were developments of, and continued the traditions of, the Army's four predecessors - the Reichsheer (National Army) of the Second Reich (18 January 1871-11 November 1918); the Friedensheer (Peacetime Army, 11 November 1918-5 March 1919); the Vorläufige Reichswehr (Temporary National Armed Forces, 6 March 1919-31 December 1920); and, most importantly, the Reichsheer (usually, but incorrectly, known as the Reichswehr) of the German Republic (1 January 1921 - 15 March 1935).
By the end of 1935 the main uniform styles were established. The basic uniform colour was a greenish-grey, introduced 2 July 1929 and given the traditional but inaccurate title of feldgrau, 'field grey' (originally designating a plain mid-grey introduced 23 February 1910).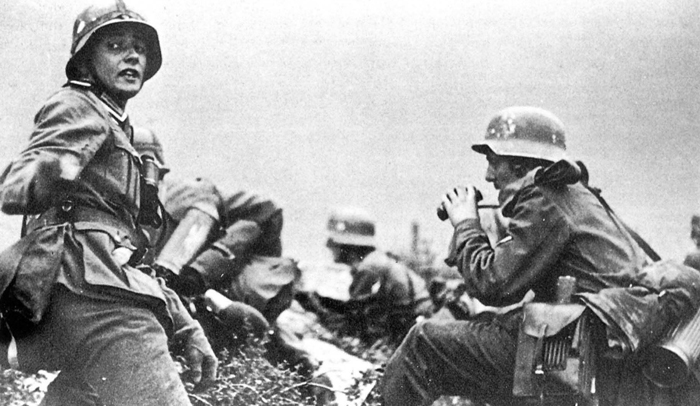 An Unterfeldwebel (left), acting as section leader, in field uniform orders his infantry section to attack. He is wearing standard M1935 field uniform with M1935 helmet with a rubber band for securing camouflage, and minimal equipment - 6 × 30 issue binoculars and the M1931 canvas bread-bag. The deputy section leader (right), laden with 6 × 30 binoculars, M1935 map-case, M1938 gas mask canister and M1931 camouflage shelter-quarter, observes the enemy in Poland, September 1939. (Brian Davis Collection)
Facings were in a bluish dark-green 'facing-cloth', finely woven to give an appearance of a thin felt, introduced 29 June 1935, and the same material was usually used for branch colour patches and pipings. Reichswehr uniform items, in M1929 feldgrau but with a darker greenish-grey facing-cloth, should have been withdrawn by 1937, but were still occasionally encountered in the 1939/40 period.
The Regulations of April 1935 prescribed ten orders of dress in peacetime for officers, two ceremonial uniforms and a parade uniform for formal occasions; a walking-out and reporting uniform for semi-formal occasions; service, undress and guard uniforms for training and barracks duties; the field uniform for combat; and sports dress (omitted in this study). (See Table 1 for more details.) Non-commissioned officers and other ranks had nine, omitting the ceremonial uniforms and adding a fatigue uniform for work-duties in barracks or in the field. Some uniform items were manufactured in different versions for officers and other ranks, while others were standard items worn by all ranks.
New regulations were issued on 28 December 1939 to cover the wartime period and the earlier strict observance of regulations eased. The types of uniforms were simplified. Service uniform could be worn on most formal and semi-formal occasions, but, inevitably, the field uniform became the most common uniform encountered in the front line and rear areas. Furthermore, Replacement Army units were often issued captured Austrian, Czech, Dutch, French, and even British uniform items, dyed and remodelled to conform to German patterns.

/ page 5 from 20 /

mobile version of the page
We have much more interesting information on this site.
Click MENU to check it out!
∎ cartalana.com© 2013-2020 ∎ mailto: koshka@cartalana.org