SITE MENU
/
This Article Content
ROBERT C. STERN, illustrated by DON GREER and RON VOLSTAD
SS ARMOR. A Pictorial History of the Armored Formations of the Waffen-SS
The end of February 1945 saw the last desperate moves by a confused and overwhelmed German High Command. Frundsberg which had been roughly handled in three months of hard fighting near Aachen, in the Saar and near Strasburg, was nevertheless transferred to Pomerania East of the Oder facing the Russians. No sooner had it taken position that it was brushed aside by the massive Russian attacks of early March. Likewise Hohenstaufen, after hard fighting around Houfalize in which most of its remaining equipment was lost, was hastily transferred to the East in early March in a futile attempt to shore up the collapsing position in Hungary. The net effect of these moves from West to East had been to weaken the West without helping the East. The four SS armored divisions in Hungary, instead of being withdrawn to bolster the German positions in Western Poland, were launched on 6 March on a last, futile offensive aimed again at Budapest.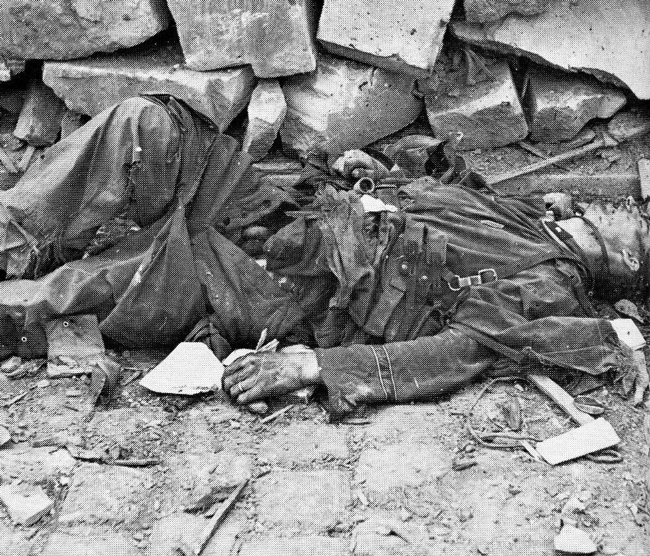 The other side of the coin, a group of GIs are glumly awaiting transfer to a POW camp, guarded by two Das Reich soldiers in the vincinity of Carentan.
The attack, was code named "Fruhlingserwachen" (Morning Watch), from the northshore of the Plattensee toward the Danube. After some initial success, the offensive ground to a halt, stopped by mud and stubborn Russian resistance. The last ounce having been wrung from these tired formations, all that remained was retreat, back to Vienna, and when that couldn't be held, further North and West.
And inevitably there was the surrender as one by one they passed into captivity; LAH, HJ, RFSS, Hohenstaufen and Totenkopf in Austria, Das Reich, Frundsberg and Wiking in Czechoslovakia, Prinz Eugen in the Balkans; GvB in Southeastern Germany; and Nordland in Berlin itself. No matter how they might have been employed, ultimately these divisions could not have stemmed the overwhelming flood of Allied and Russian power that broke over the failing Third Reich. In that last year they rapidly became mere shadows of their former strength, reflecting now only from a great distance the glory they had once believed to be theirs.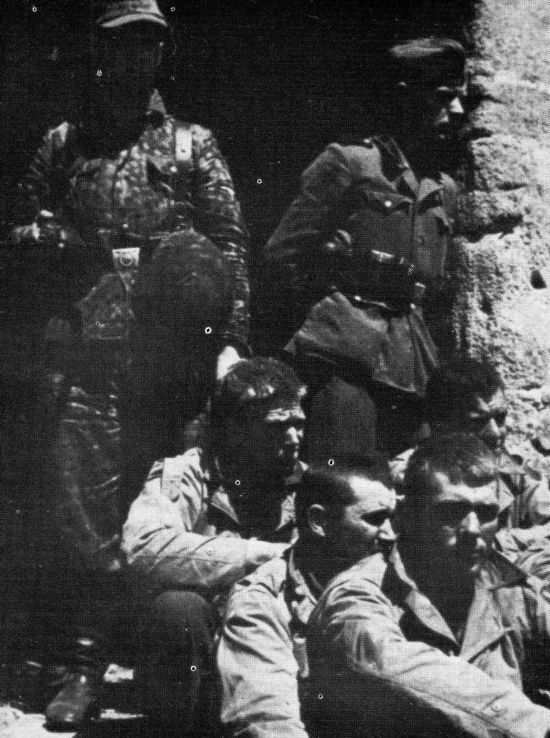 The ultimate price, an Unterscharführer of Leibstandarte, left behind in Falaise, was flushed out and killed by advancing Canadian troops, 16 August. [Public Archives Canada]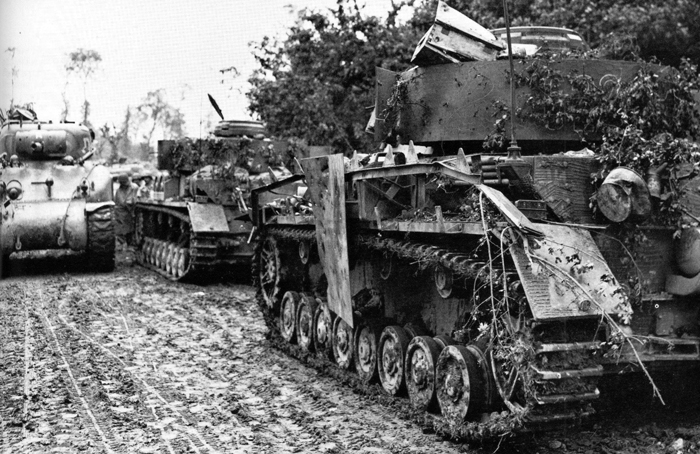 Three views of the retreat across France. Not surprisingly, these photographs are increasingly of Allied origin as the Germans were too busy to document their disasters.
A Sherman of Patton's Third Army moves to exploit the break-through West of St. Lo. On its way it passes two abandoned PzKpfw IV ausf Js of Das Reich. This division and HJ were among the last SS divisions to continue using divisional markings on their vehicles. Note the faintly visible, probably Yellow, Kampfrune on the left rear plate of both tanks. [US Army]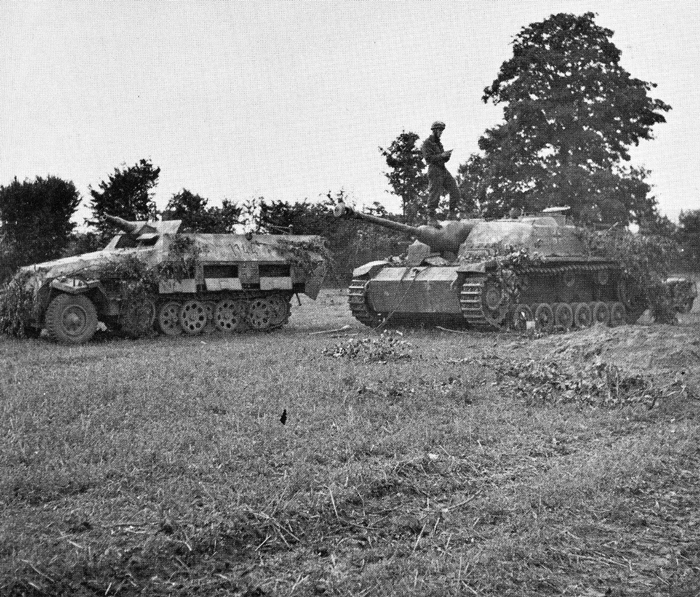 An SdKfz 251/9 support SPW and a StuG III ausf G of Das Reich are being inspected by a Canadian soldier where they were abandoned at Elbeuf. It was here at the Seine that the last efforts were made to prevent the loss of all of France. And it was here that Das Reich lost the last of its vehicles. [Public Archives Canada]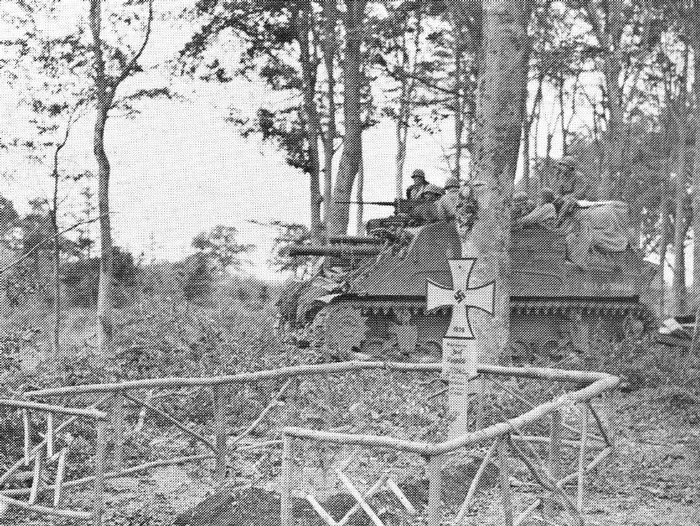 An M7 Priest passes the last resting place of Iron Cross winner, Unterscharführer Josef Richtfeld. There must have been enough time to produce the elaborate fence around his grave site before his division, GvB, was forced again into retreat. [US Army]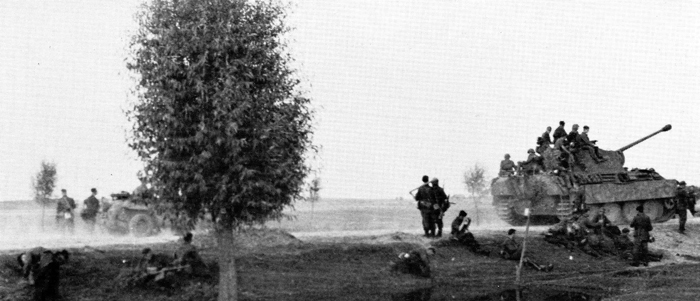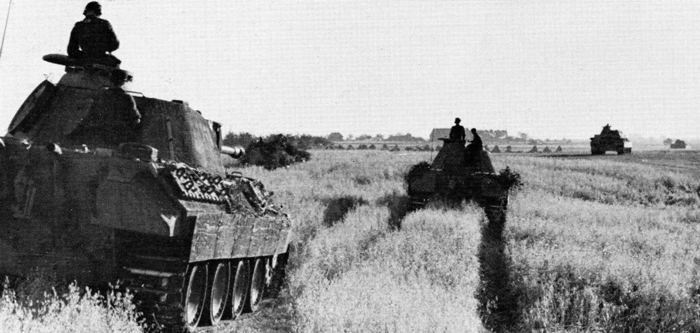 The war in the East continued with the same disastrous result. In Poland, the Germans were continually pushed back in spite of the best efforts of Wiking and Totenkopf.
Two views of Wiking Panthers moving across the flatlands of East Prussia and Western Poland. [Bundesarchiv]


/ page 29 from 31 /

mobile version of the page
We have much more interesting information on this site.
Click MENU to check it out!
∎ cartalana.com© 2013-2020 ∎ mailto: koshka@cartalana.org