SITE MENU
/
This Article Content
ROBERT C. STERN, illustrated by DON GREER and RON VOLSTAD
SS ARMOR. A Pictorial History of the Armored Formations of the Waffen-SS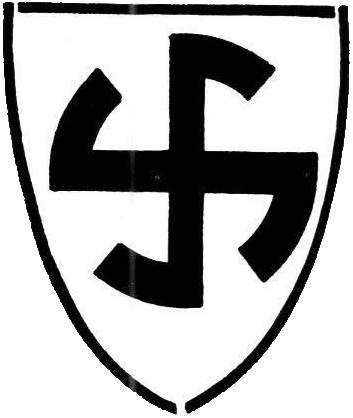 Wiking
The panzer-grenadiers of 12.Kompanie Germania regiment pause by a burning building in Kovel. The SdKfz 251/1 in the background is numbered in Red with White outline. The grenadiers in the left foreground are in shirtsleeve order.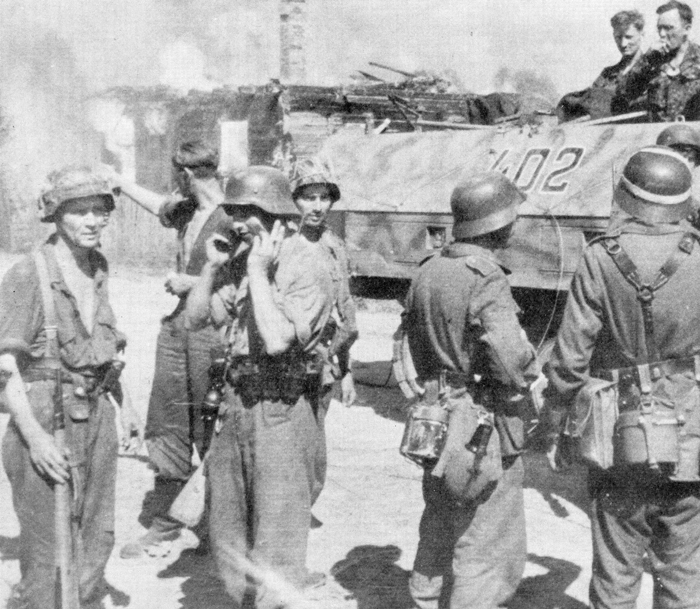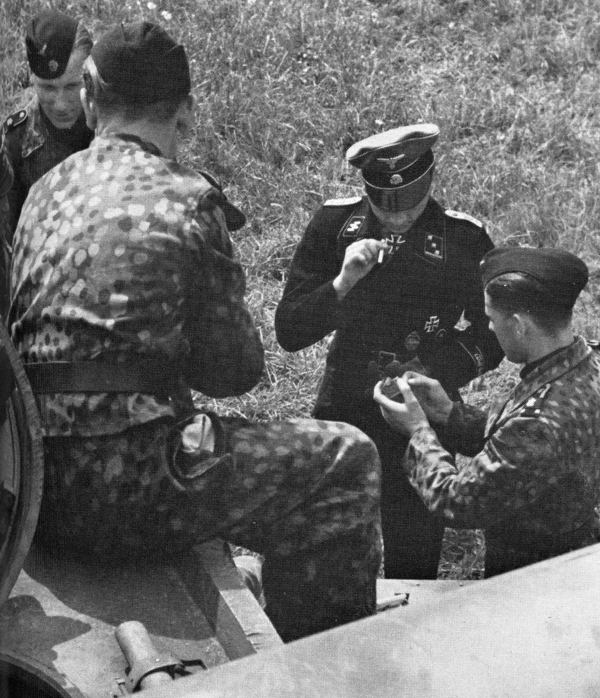 Some well known shots that deserve repetition because they depict a well known unit. SS-sPz-Abt 501. This was a unit formed around a cadre of tank aces from Leibstandarte. It was a corps-level heavy tank detachment attached to 1.SS-Panzer-Korps. The crossed keys emblem denotes its derivation from LAH.
Michel Wittman, the most famous of the aces, is seen here, in the Black uniform, along with his four crewmen. The tanks and crews of sPz-Abt 501, and Wittmann in particular, were prime targets for photographers. That may explain the brand new appearance of all the uniforms.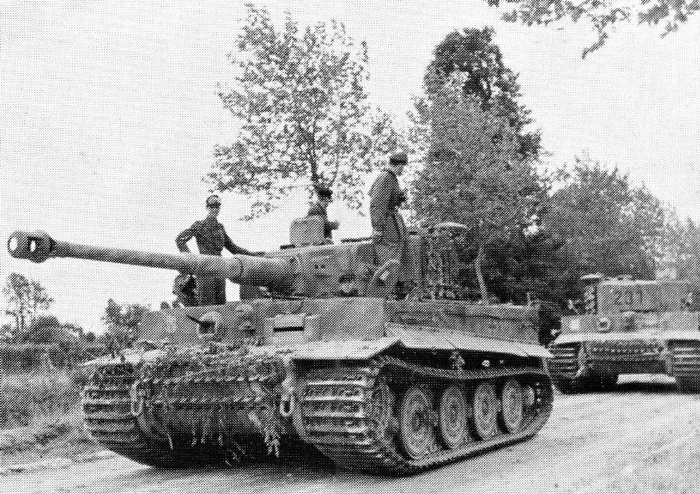 A Tiger of sPz-Abt 501 tows another that broke down during a training exercise. The lead vehicle is an extremely late Tiger ausf E. Note the all-steel road wheels. [Bundesarchiv]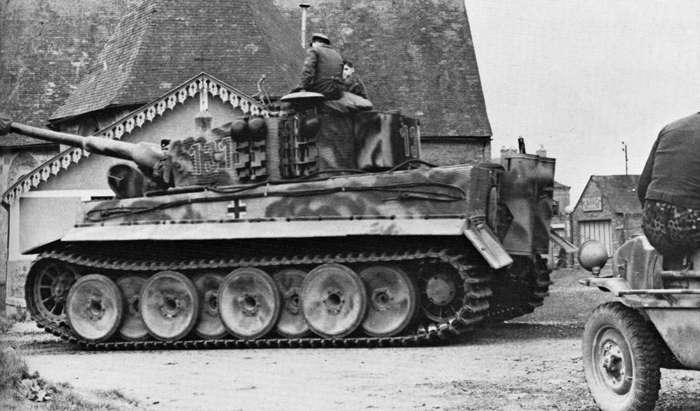 An SdKfz 1/20 VW Schwimmwagen follows a Sand Yellow and Green Tiger of sPz-Abt 501 past the church of a French town. [Bundesarchiv]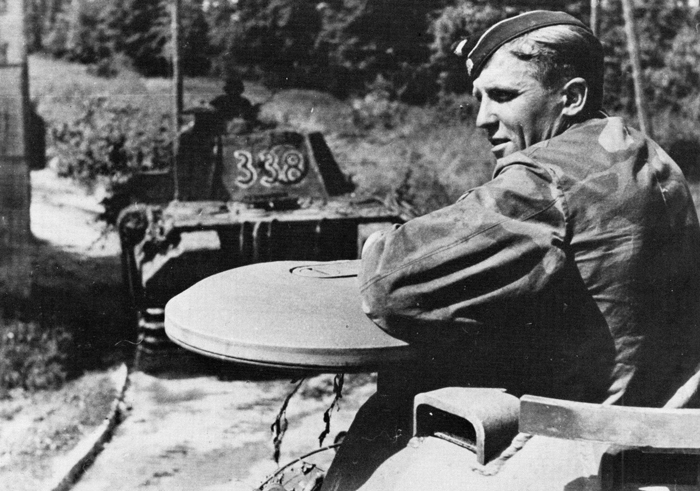 Two views of the interesting uniforms worn by crewmen of Hitlerjugend (HJ) tanks. The ability of German industry to produce the camouflage clothing required by the Waffen-SS, at a time when it was more than doubling in size, was far eclipsed by demand. This led, in the case of the divisions refitting or forming in the West, to the frequent acquisition of non-standard items of dress. The Italians proved to be a particularly useful source.
An excellent shot of the commander of an HJ Panther. His tanker's tunic has been manufactured to German specifications from Italian camouflage cloth. [Bundesarchiv]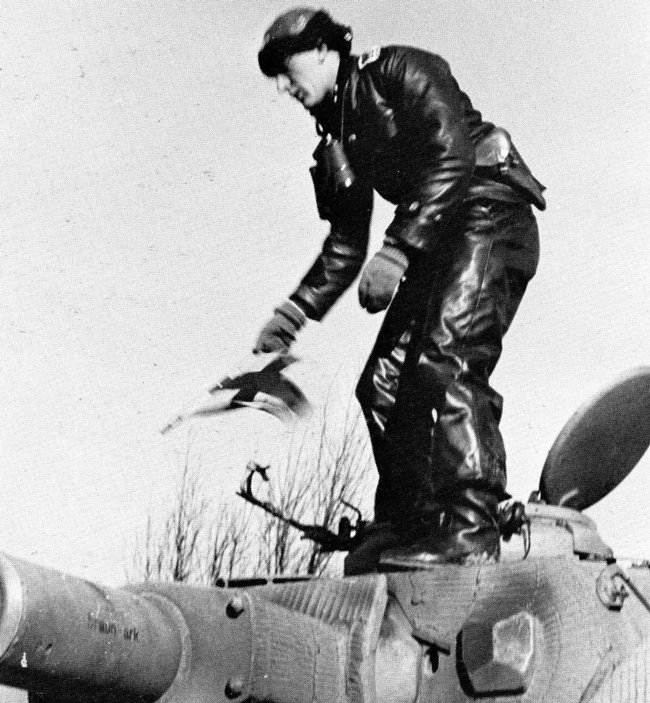 A top his late-model PzKpfw IV, this HJ tanker wears a uniform with a particularly convoluted history. It is a complete set of German U-boat leathers. Apparently they had been made for the Italian Navy but went into storage when it surrendered. Due to bureaucratic mix-ups, they never reverted back to the Kriegsmarine, and rather than let them go to waste, they were commandeered by Hitlerjugend. Nevertheless, one has to wonder about their practicality as a tanker's outfit. [Bundesarchiv]


/ page 24 from 31 /

mobile version of the page
We have much more interesting information on this site.
Click MENU to check it out!
∎ cartalana.com© 2013-2020 ∎ mailto: koshka@cartalana.org