SITE MENU
/
This Article Content
ROBERT C. STERN, illustrated by DON GREER and RON VOLSTAD
SS ARMOR. A Pictorial History of the Armored Formations of the Waffen-SS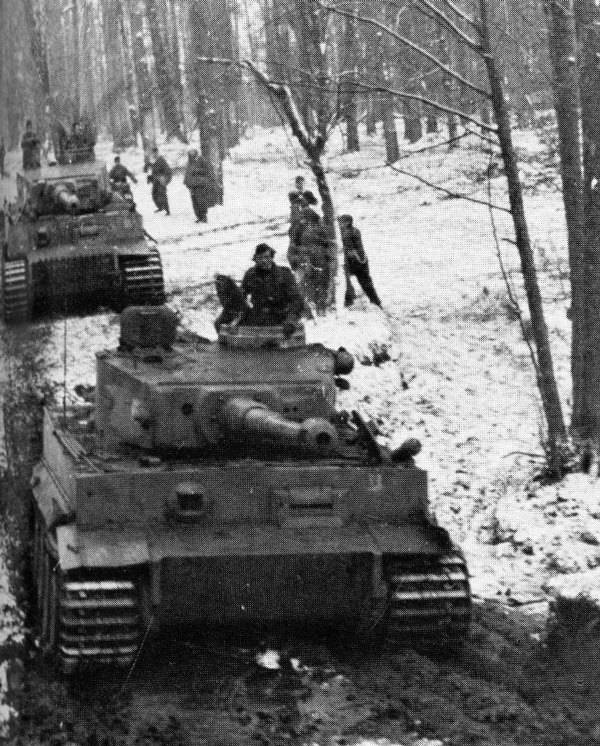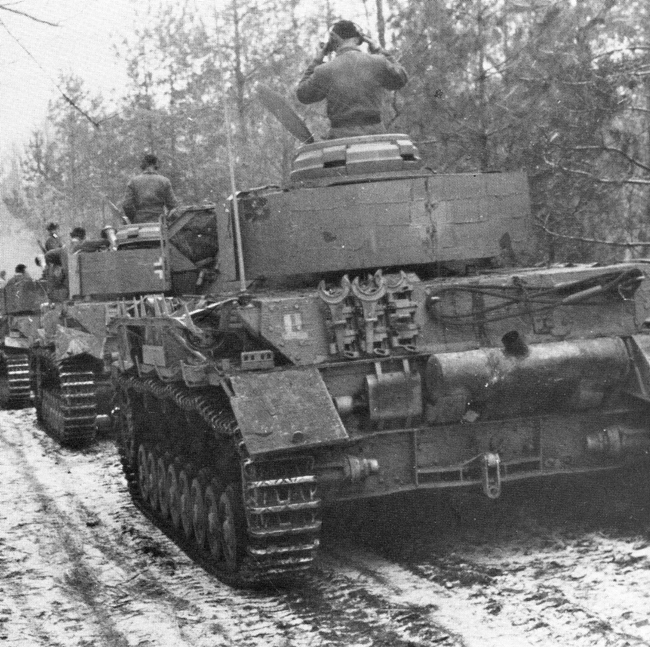 Two more views of Das Reich moving through the woods near Berdichev. To the left above is a front view of two Tigers, to the right three PzKpfw IV ausf Hs follow a pair of Panthers. The PzKpfw IVs have a very even coat of Zimmerit on their turret schurzen. The nearest tank is painted overall Sand Yellow, the cross at the rear of the turret having been painted over sometime after the original paint job. The "Kursk-style" divisional insignia is still being carried. [Bundesarchiv]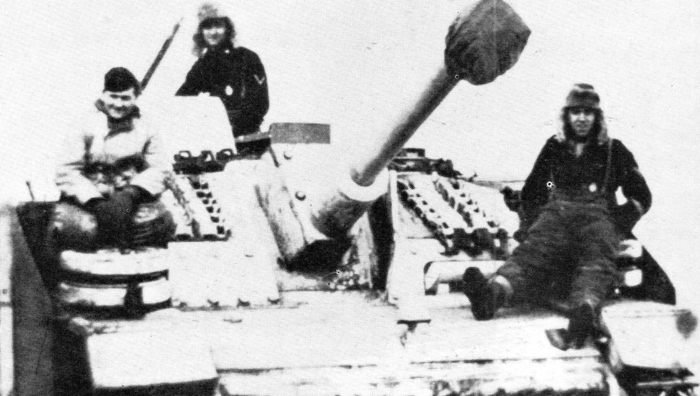 While the Winter was just settling in around Kiev, the snow was deep where Nordland was engaged in North Russia. To the right are two views of that division's armor in the defensive battles back from Oranienbaum to the Narva. In the photo right, a line up of Tigers of SS-Pz-Abt 502, attached to Nordland's Pz-Rgt "Hermann von Salza". Below a close up of a StuG III ausf G. None of the vehicles display any recognizable markings, snow camouflage covering all upper surfaces.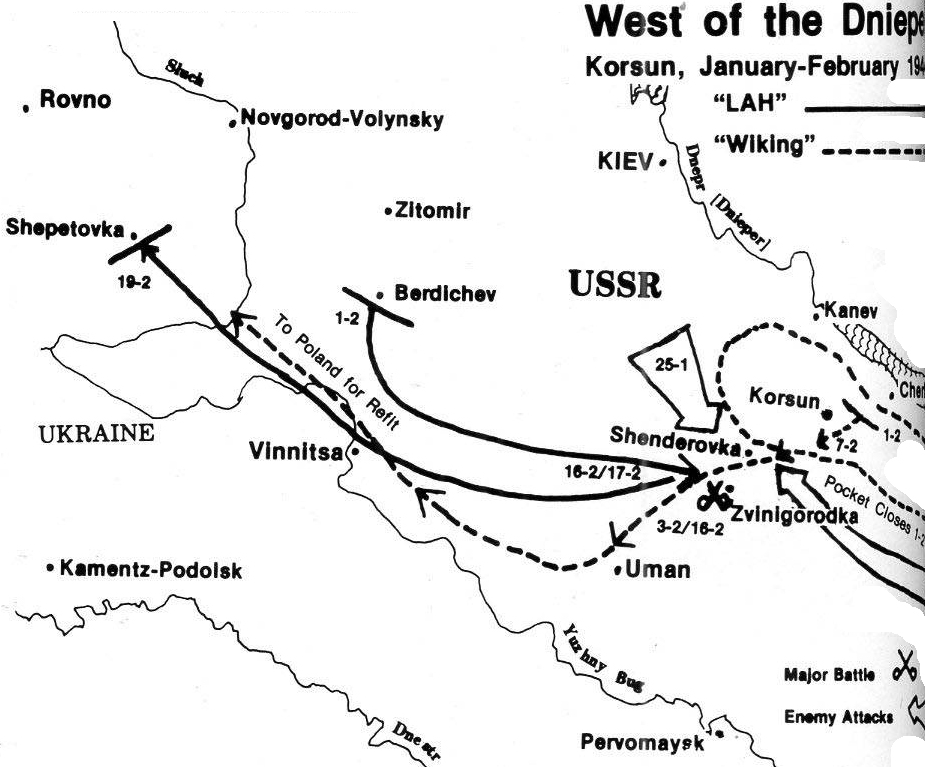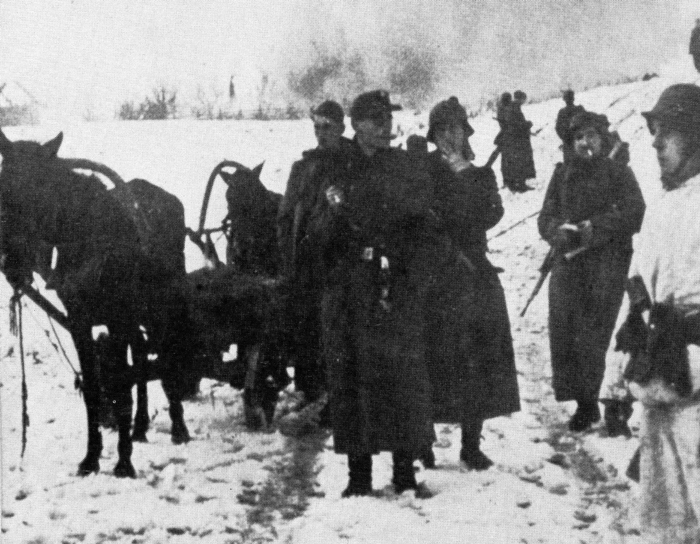 The Winter of 1943-44 saw a continuation of the fierce fighting. For Wiking and LAH it meant the bloody battle of the Korsun Pocket, called Cherkassy by the Germans. Wiking was on the inside, Leibstandarte part of the unsuccessful relief force. This shot shows in excellent fashion how the men of Wiking appeared upon fighting themselves free. No longer adequately equipped, undermanned and totally without armor, the division was fit only to be withdrawn and entirely rebuilt.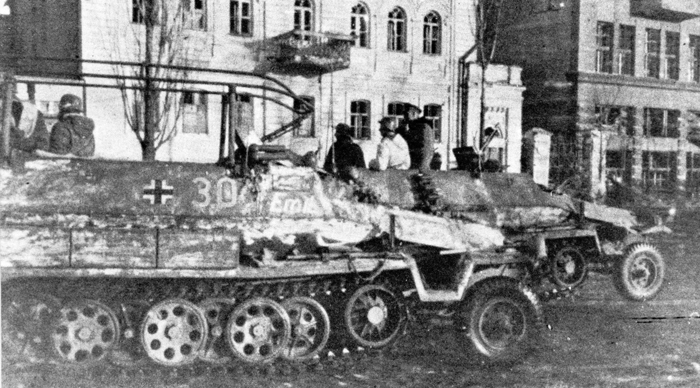 Part of the unsuccessful relief force, these two SdKfz 251 mSPWs of LAH are seen at Shepetovka during the brief lull in fighting, March 1944. "Emil", in the foreground, is a 251/3 radio halftrack while the 251/1 in the background is a standard APC. With Spring on its way in South Russia, the White paste camouflage is being allowed to wear off naturally. Note that while most visible troopers are wearing their parkas Mouse Grey side out, one grenadier still shows the White side. There was no specific date upon which whole units altered camouflage. [Bundesarchiv]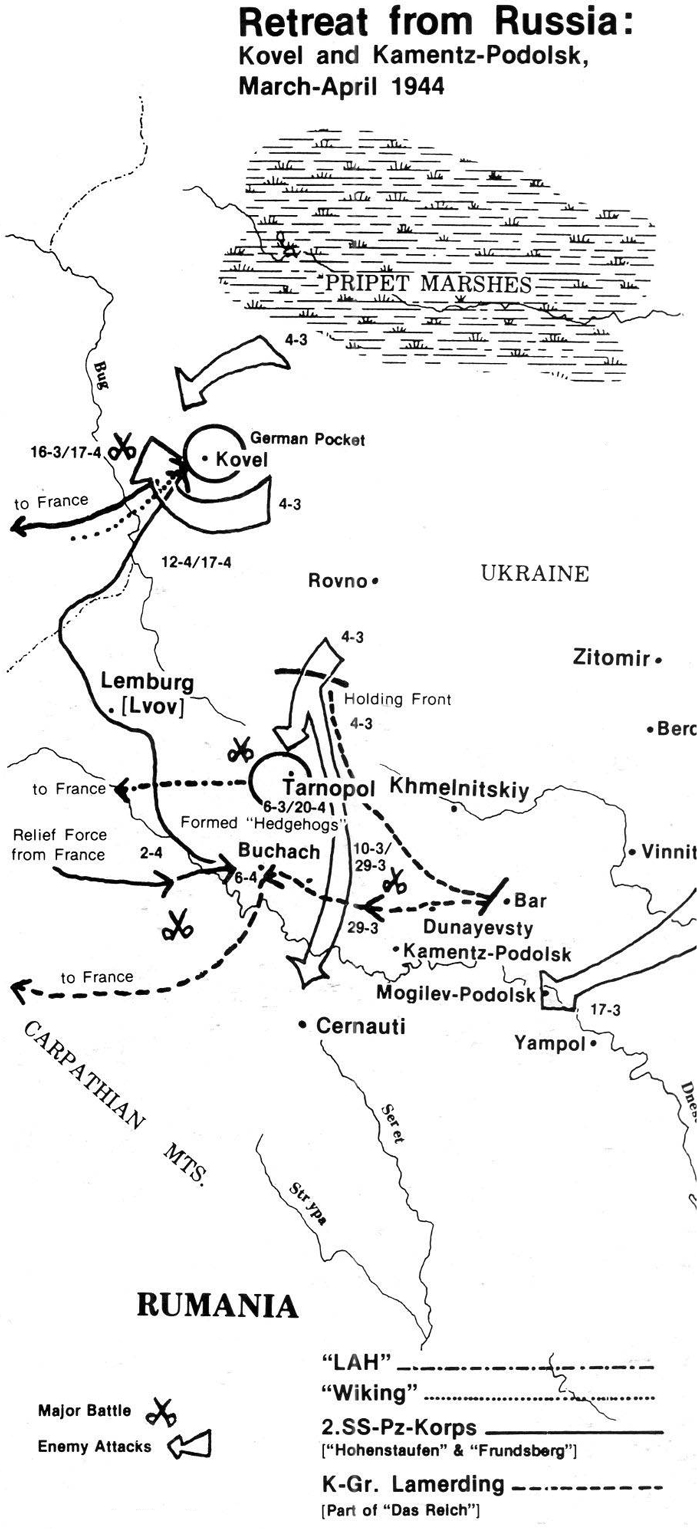 The Russian Spring offensive caught the Germans unprepared, eventually surrounding the entire 1.Panzer-Armee in a huge pocket around Kamentz-Podolsk. The only SS unit caught inside was K-Gr Lamerding of Das Reich, but LAH and later Hohenstaufen and Frundsberg (2.SS-Panzer-Korps) were involved outside. These two views of Leibstandarte halftracks give some idea of what has happened to the magnificent divisions of a year before.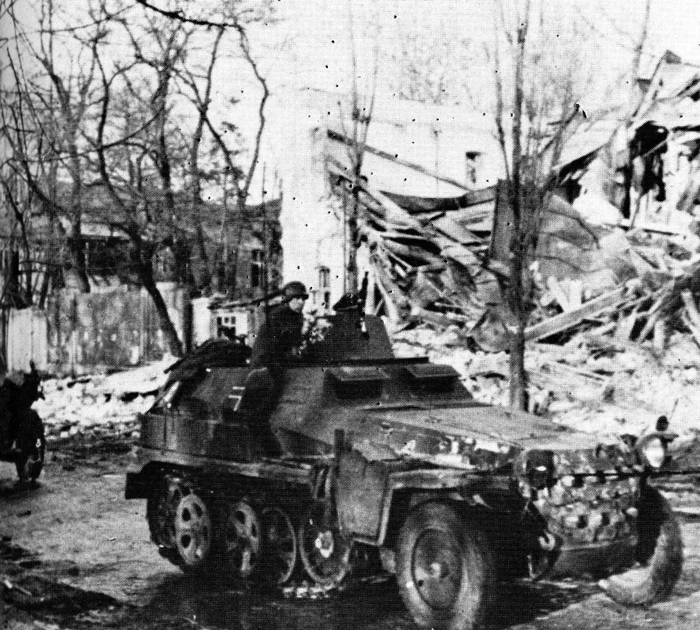 An SdKfz 250/7 ISPW is seen here being followed by an SdKfz 223 four wheel radio car, through the ruins of a South Russian town. The halftrack is unusual in that it is in overall Panzer Grey, indicating that it was probably forwarded from a depot or training unit during the Winter under a coat of washable White camouflage, which has since worn and been rained off. There simply has not been time to repaint it the standard Sand Yellow. [Bundesarchiv]


/ page 22 from 31 /

mobile version of the page
We have much more interesting information on this site.
Click MENU to check it out!
∎ cartalana.com© 2013-2020 ∎ mailto: koshka@cartalana.org