SITE MENU
/
This Article Content
ROBERT C. STERN, illustrated by DON GREER and RON VOLSTAD
SS ARMOR. A Pictorial History of the Armored Formations of the Waffen-SS

1. Mechanic and Tank Officer, 5. SS-Panzer-Division "Wiking", Poland, Summer, 1944. The mechanic wears the panfs to the denim Panzer Uniform held up by suspenders, and a 1943 pattern Field Cap. The officer wears the Mouse Grey jersey shirt and belted camouflage pants.
2. SS-Panzergrenadier, 12. SS-Panzer-Division "Hitlerjugend", France, Autumn 1944. He is wearing a white shirt under his Field Blouse, visible at the rolled up cuffs, and the short boot with gaiters.
3. SS-Oberscharfährer, Tank Commander, 12. SS-Panzer-Division "Hitlerjugend", France, Autumn 1944. He wears the commandeered U-boat leathers and a fur cap. He is holding an assembly flag, used for visual signaling to other tanks.
4. SS-Panzergrenadier, 12. SS-Panzer-Division "Hitlerjugend", Belgium, Winter 1944. He wears a rubberized rain cape over his camouflage smock and is carrying a captured pistol and cigarettes.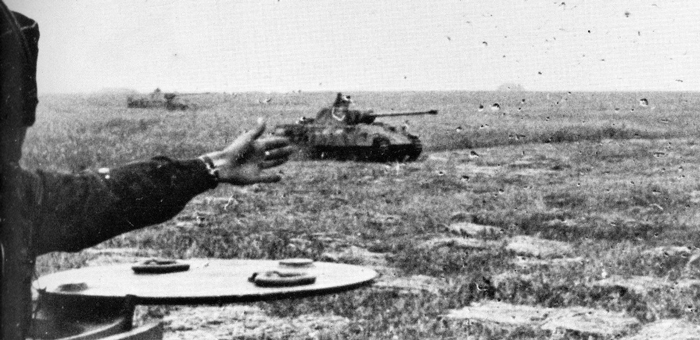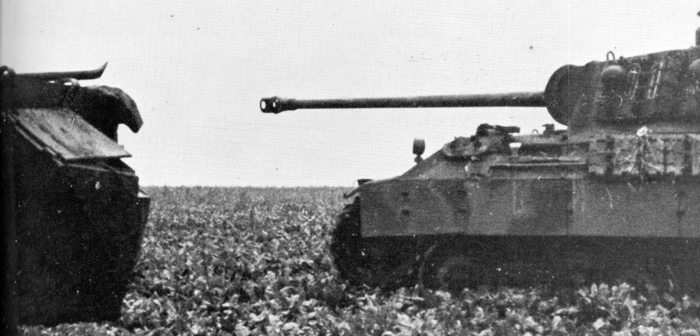 Attached to Das Reich, though technically an independent formation, the Panther ausf Ds of the SS-Panther-Brigade are seen here in the three rare photographs. In the first shot two Panthers are seen dug into defensive position, extensively camouflaged with straw. The view below is of interest in that the vehicle numbers have been painted over the spare track links on the track side. These vehicles are in the regulation three color scheme, authorized in February but just coming into effect. [Bundesarchiv]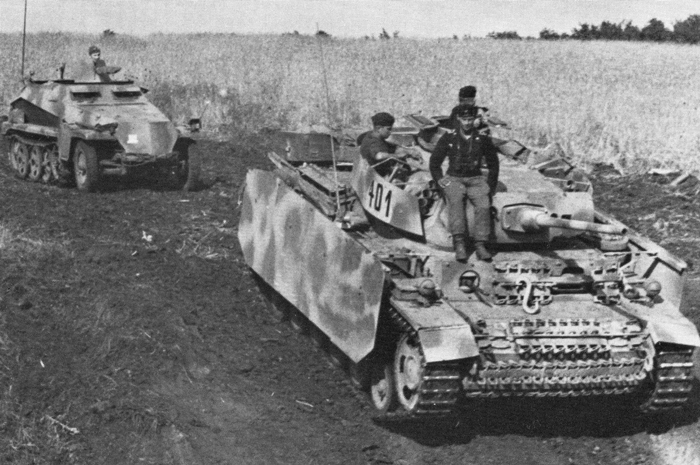 Advancing to the front, the lead vehicles of a company of PzKpfw IIIMs of Totenkopf are seen. The closest vehicle is painted in Sand Yellow with a rather crude Red Brown overspray. Note that the spare track links have been painted and oversprayed as well as the inside of the skirt armor. The vehicle immediately behind is an SdKfz 250/1 ISPW displaying the division's Kursk markings, three vertical bars above a horizontal cross bar. [Bundesarchiv]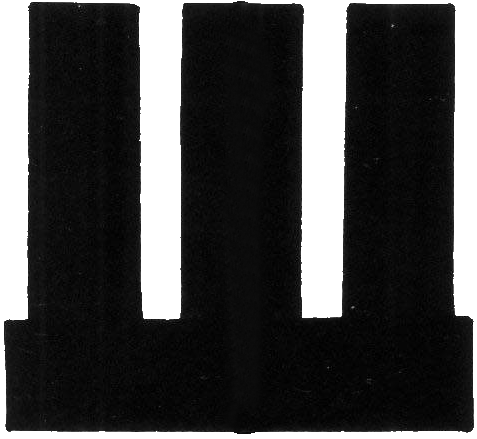 Totenkopf Kursk marking


Two Tiger ausf Es of Totenkopf follow a StuG III loaded with grenadiers across the grasslands near Kursk. These tanks were to advance farther than any other German forces, pushing a bridgehead over the Psel. This photo illustrates well the limitations of any camouflage scheme. These vehicles are painted with the same colors and in a similar pattern to the those of Das Reich, but silhouetted against the sky and sun, they would still make excellent targets. [Scott Van Ness]

/ page 19 from 31 /

mobile version of the page
We have much more interesting information on this site.
Click MENU to check it out!
∎ cartalana.com© 2013-2020 ∎ mailto: koshka@cartalana.org