SITE MENU
/
This Article Content
ROBERT C. STERN, illustrated by DON GREER and RON VOLSTAD
SS ARMOR. A Pictorial History of the Armored Formations of the Waffen-SS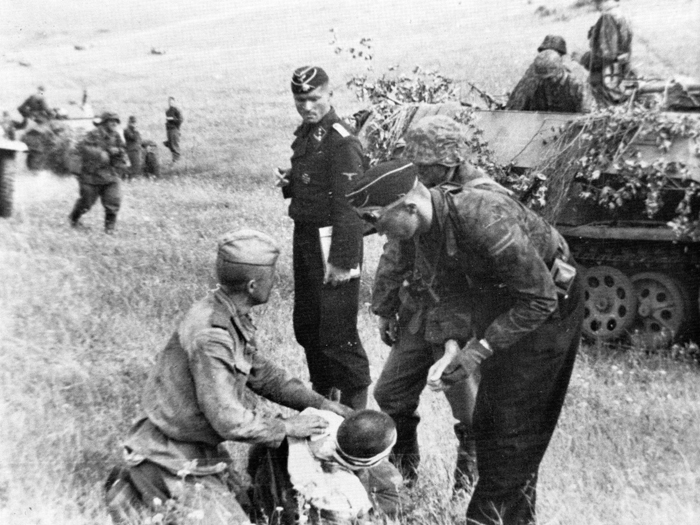 A unique shot showing a quiet moment in the midst of battle. Two Russian prisoners, one wounded, are being interrogated by the commanders of one of LAH's panzergrenadier companies. The captain [Hauptsturmführer] is wearing the Black panzer uniform smoking a cigarette, while his assistant, a Scharführer, is bending over the two prisoners removing his glove. The Scharführer carries his rank insignia in the form of two Green stripes on the arm of his camouflage smock. The SdKfz 251 mSPW from which they have dismounted is Panzer Grey broadly oversprayed with Sand Yellow and liberally covered with foliage. The two other 251s visible on the left appear to be overall Sand Yellow. [Scott Van Ness]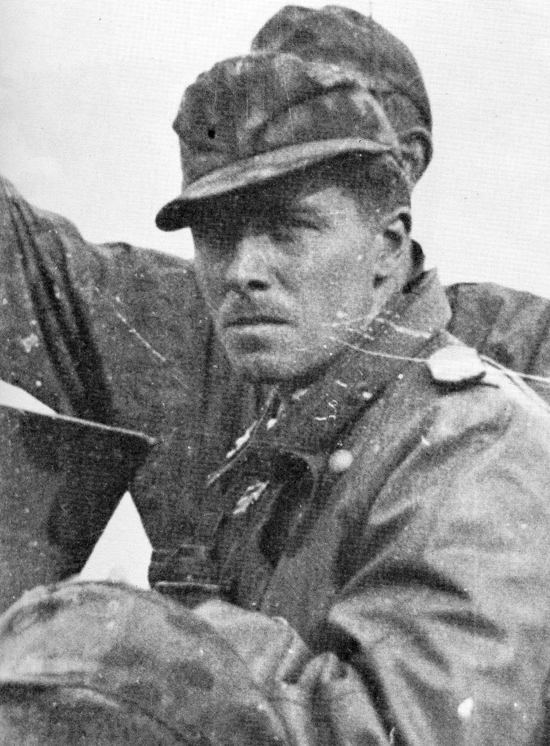 Jochen Peiper of LAM, later to become infamous in the West for his deeds during the Ardennes Offensive, gained his reputation for success and for ruthlessness in the battles at Kursk and after. He is wearing a motoring coat and an SS pattern camouflage cap. [Scott Van Ness]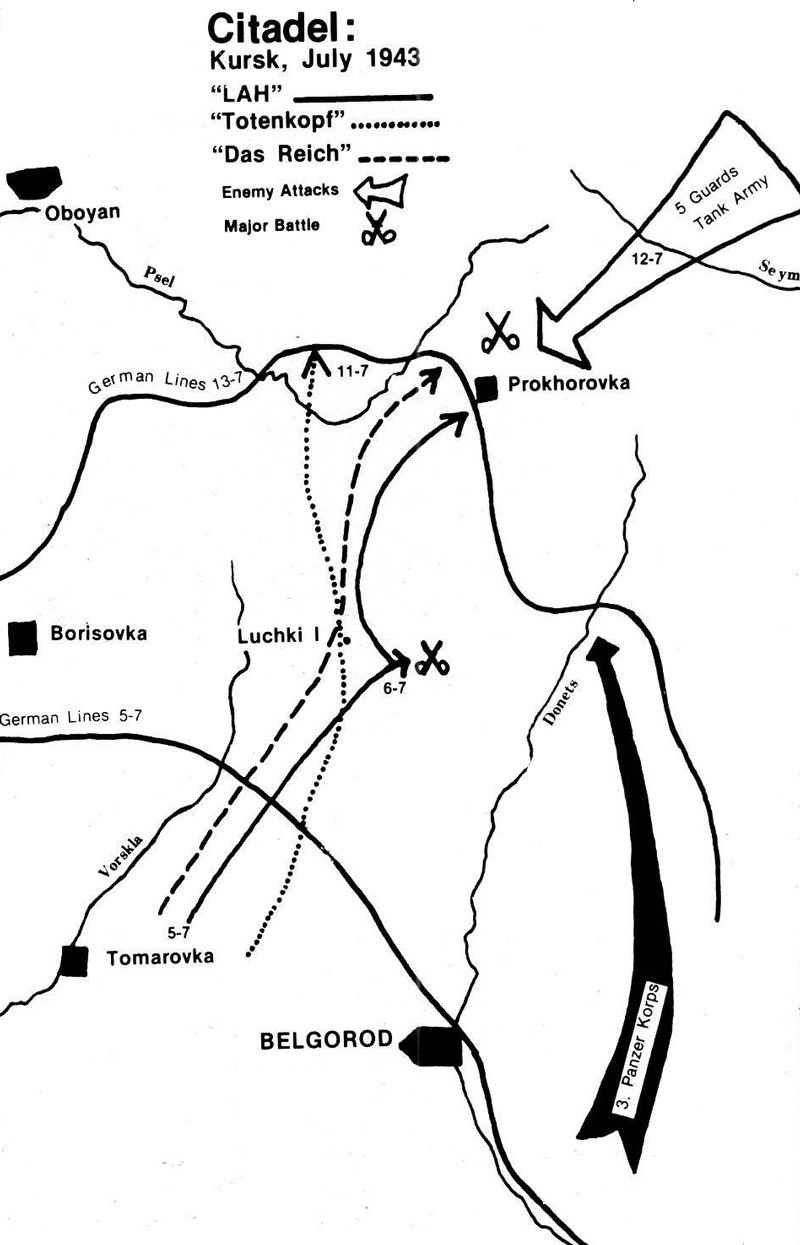 After leaving its entire armored element behind in Russia to be split up among the remaining divisions, Leibstandarte spent its time in Italy training and once again re-equipping. As summer progressed, LAH received a complete new Panzer-Regiment including a Panther-Abteilung, and was at the same time renamed 1. SS-Panzer-Division "Leibstandarte SS Adolf Hitler". When the German forces in the East proved unable to hold the Russians and pulled back to the Dnieper, LAH was once again ordered back, this time to Kiev.
Unfortunately, Kiev would no longer be in German hands when LAH arrived. After taking positions behind the Dnieper in early November 1943, there had been a general redistribution of the SS formations. Das Reich remained near Kiev while Totenkopf was posted South to act in reserve behind the Dnieper front at Dnepropetrovsk. Wiking, upon its return from refit in December, was posted to the relatively quiet sector at Cherkassy. Meanwhile the first of the four new SS armored divisions, Nordland, came into action on the Leningrad front, where it was to see bitter fighting during that Winter's retreats to the Narva.
The end result of this dispersal of SS forces was that when the Russians broke through the Dnieper line north of Kiev in early November 1943, only Das Reich was in position to counterattack. And in a story that was to become all too familiar, it simply was not strong enough to stem the flood of enemy pouring to the South and West. In fact, by 6 November, it had been forced out of Kiev to the Southwest. Only after desperate fighting were the Russian drives to the South blunted and finally halted at Fastov. But even with the arrival of LAH on 12 November, it proved impossible to throw the enemy back over the Dnieper.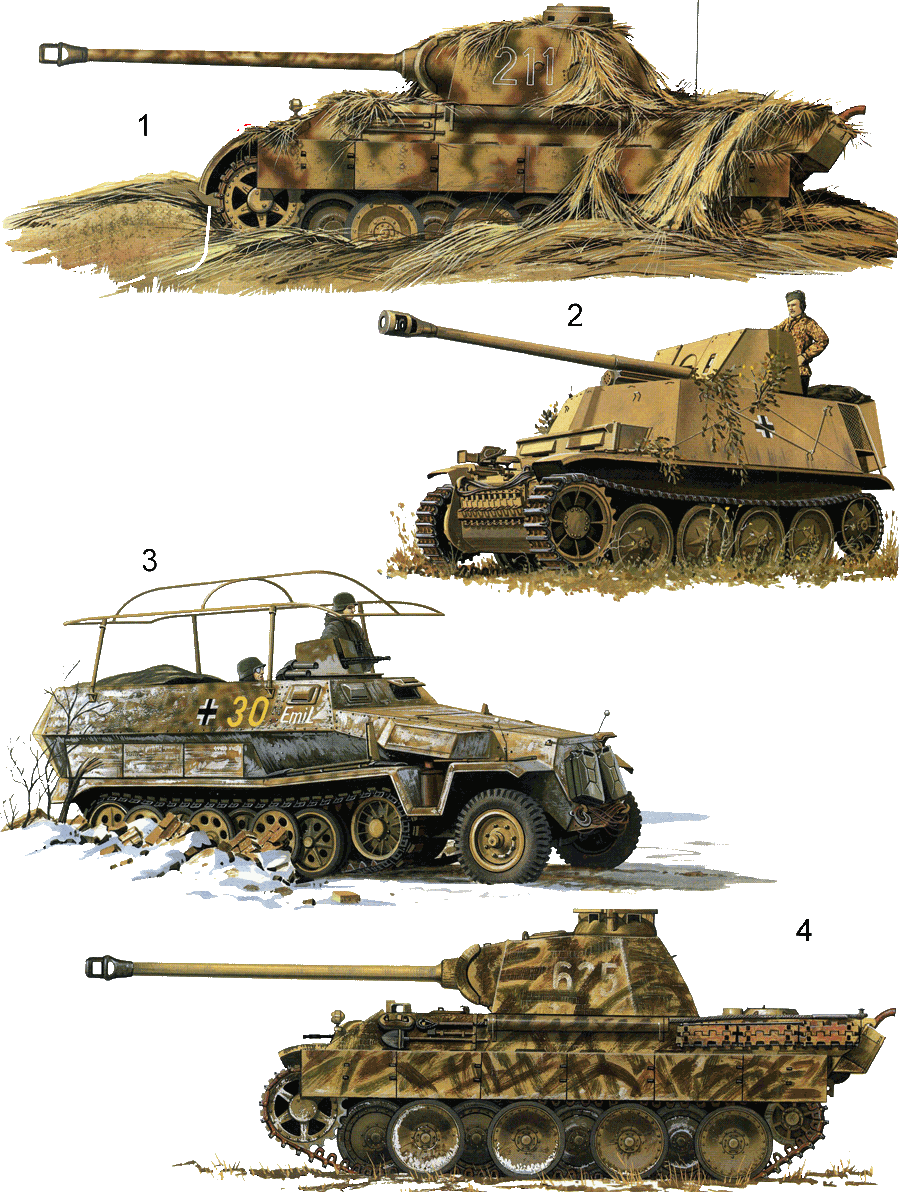 1. Panther ausf D of SS-Panther-Brigade, July 1943, Kursk, Russia.
2. PzJg II ausf D of SS-Pz-Gren-Div "Wiking", Autumn 1943, Central Russia.
3. "Emil", SdKfz 251/3 m. Funkpanzerwagen of 1. SS-Pz-Div "LSSAH", March 1944, Central Russia.
4. Panther ausf A of 5.SS-Pz-Div "Wiking" April 1944, Poland.
This was not for lack of trying. Between 15 November and 30 December, LAH and to a lesser extent the much weakened Das Reich were involved in a series of counterstrokes, as part of Balck's 48. Panzer-Korps, that came close to achieving a major coup. First trapping three Russian Corps at Brusilov, then recapturing Radomyshl and finally attempting to encircle a large enemy force east of Korosten, Leibstandarte desperately tried to re-establish the German defensive lines around Kiev. In the fighting around Korosten the inadequacy of German strength again was shown. LAH, along with 1. and 7. Panzer-Divisions, threw a ring around seven Russian Corps. Not only could the encirclement not be held around so massive a force, but soon the Germans were fighting desperately to keep from being entrapped by their intended victims. By now the Russians had again broken through at Brusilov, overwhelming 24. Panzer-Korps, to which Das Reich had been attached. LAH linking up with the remnants of Das Reich, fought its way back through Zitomir, establishing a line in front of that city. Moved again, this time to Berdichev, LAH and 1. Panzer-Division halted Russian attacks there and by New Year won a well deserved month's rest. By now both sides were too exhausted to continue the fighting in the Ukraine, for a while at least. Das Reich, badly mauled in the fighting at Kiev and Brusilov, had the bulk of its forces pulled back to France in early February 1944. A regiment-sized battle group [K-Gr Lamerding] remained behind with LAH to continue the fight. The next round opened at Cherkassy. Having been halted to the North at Berdichev and to the South at Kirovograd (where Totenkopf had been engaged in bloody fighting alongside Grossdeutschland), the enemy came through the middle. Having been unable to encircle the German 8. and 1. Panzer-Armee, the Russians settled for the two corps that were still holding the Dnieper line between Kanev and Cherkassy. After some of the fiercest fighting yet seen, including a charge by three Russian Cavalry Divisions, the enemy broke through on 1 February to the North and South of the German salient, trapping six divisions, including Wiking, in a large pocket around Korsun.

/ page 15 from 31 /

mobile version of the page
We have much more interesting information on this site.
Click MENU to check it out!
∎ cartalana.com© 2013-2020 ∎ mailto: koshka@cartalana.org