SITE MENU
/
This Article Content
ROBERT C. STERN, illustrated by DON GREER and RON VOLSTAD
SS ARMOR. A Pictorial History of the Armored Formations of the Waffen-SS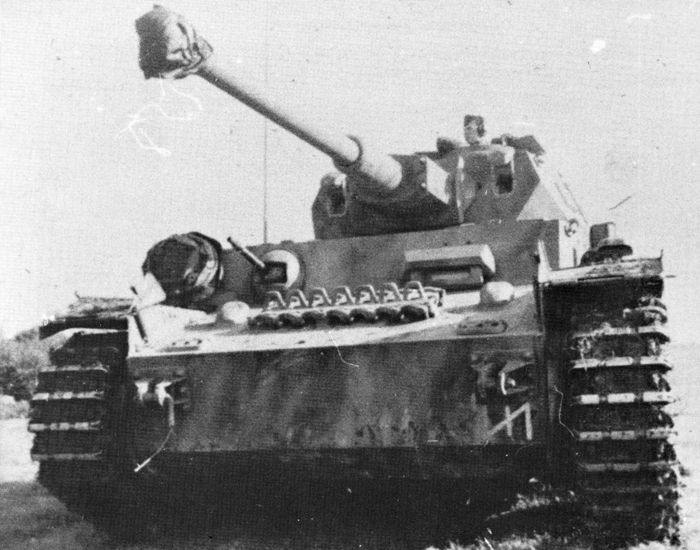 This PzKpfw IV ausf F2 of Das Reich has also had its coat of Panzer Grey oversprayed with the newly authorized Sand Yellow. [Bundesarchiv]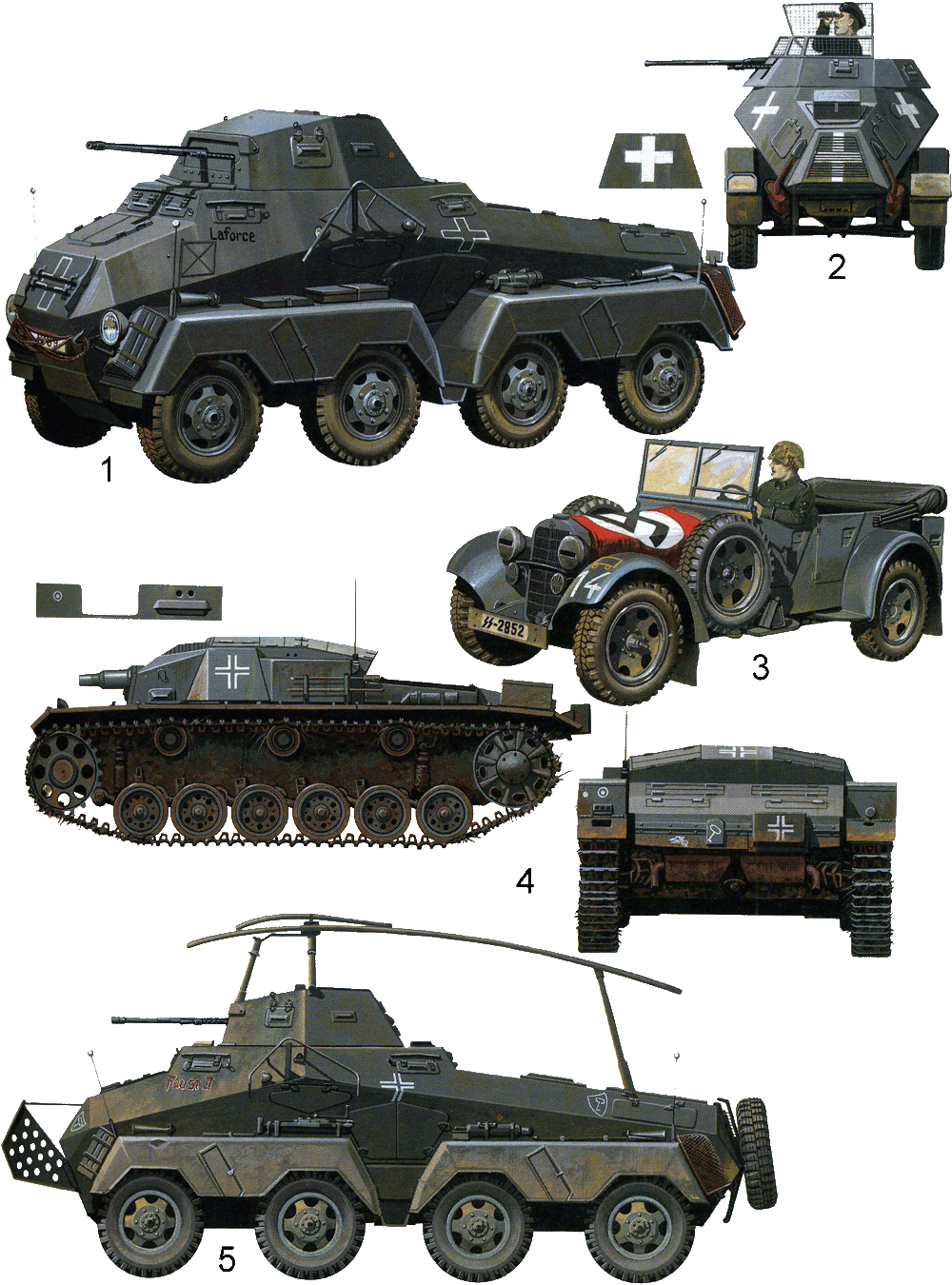 1. "Laforce", SdKfz 231 of LSSAH [mot], October 1939, Prague, Czechoslovakia.
2. SdKfz 222 of LSSAH [mot], September 1939, Poland.
3. Kfz 11 [Mercedes- Benz 230], of SS-V [mot], May 1940, France.
4. StuG III ausf A of LSSAH [mot], August 1940, France.
5. "Faust II", SdKfz 232 of LSSAH [mot], April 1941, Greece.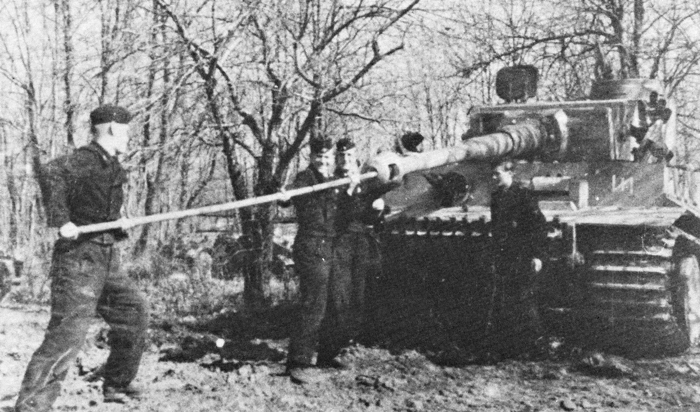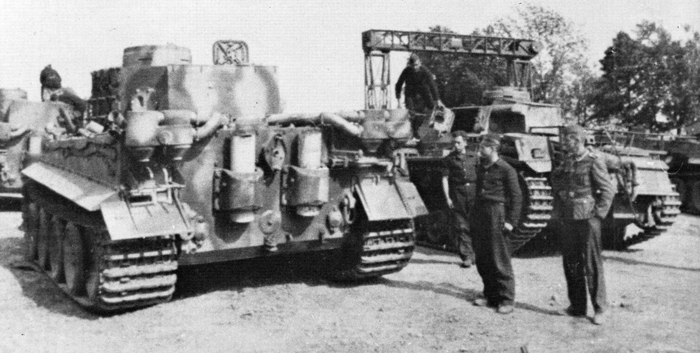 Two views of the new Tiger ausf Es that were being issued to the heavy tank battalions of the SS divisions. These Tigers of Das Reich are extremely early models, complete with the "S" mine projectors at the corners, early style cupola and Feifel air cleaning system. The tank to the right in the shot below is a PzKpfw III ausf M or N. Many new vehicles at this date were arriving still painted in overall Panzer Grey, these have had their original color oversprayed. In the view to the left, notice that in combination with natural shadow, this camouflage scheme was effective in breaking up the shape of the vehicle. [Bundesarchiv]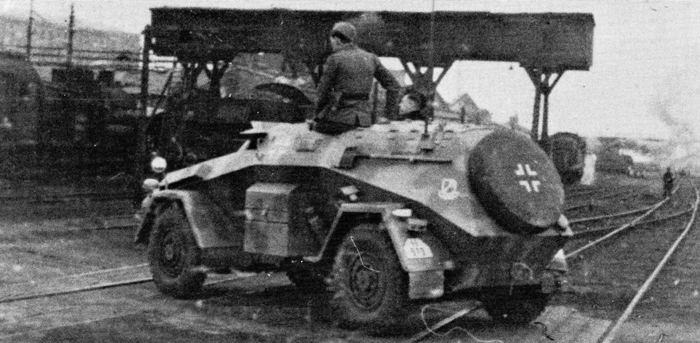 A rare vehicle, no more than twenty of these SdKfz 247/1 armored command cars were built, being issued solely to elite units such as the Wehrmacht's Grossdeutschland and LAH. The extremely low license plate number indicates thai this was one of the division's original vehicles. [Bundesarchiv]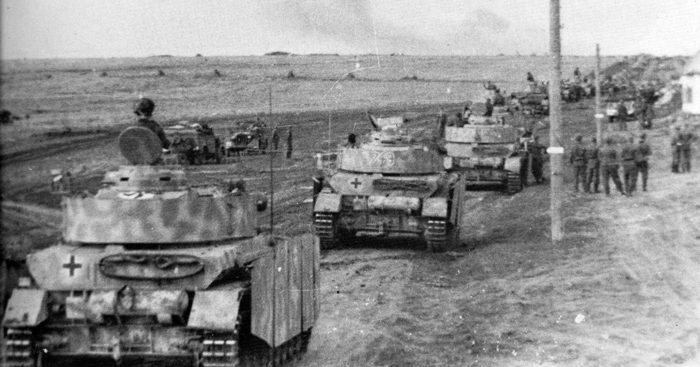 The battle of Kursk opened with perhaps the greatest concentration of armor ever assembled for one operation. This line up of late PzKpfw IV ausf Gs of the 7th Company of Leibstandarte's Panzer-Regiment approaches a horizon already smoking from the opening barrages of the battle. These brand new vehicles are painted overall Sand Yellow with an overspray of Red Brown. From this point on, Sand Yellow was to be the standard base coat on all new vehicles and, as time permitted, old equipment was repainted. But, understandably, a great variety in color schemes was evident throughout this Summer. [Scott Van Ness]

/ page 13 from 31 /

mobile version of the page
We have much more interesting information on this site.
Click MENU to check it out!
∎ cartalana.com© 2013-2020 ∎ mailto: koshka@cartalana.org