SITE MENU
/
This Article Content
ROBERT C. STERN, illustrated by DON GREER and RON VOLSTAD
SS ARMOR. A Pictorial History of the Armored Formations of the Waffen-SS

Spring is coming to Central Russia, as these armored cars of Leibstandarte fight their way into Belgorod. An SdKfz 223 radio car is seen being led by a pair of SdKfz 222 four wheel armored cars. The snow has almost disappeared and the ground is getting soft enough for the first wheel ruts to appear. On the 223, mud appears to have been applied to the vehicle sides to cover what remains of the snow camouflage. Note the prominently displayed national flags on the rear decks, evidence of total German air superiority. [National Archives]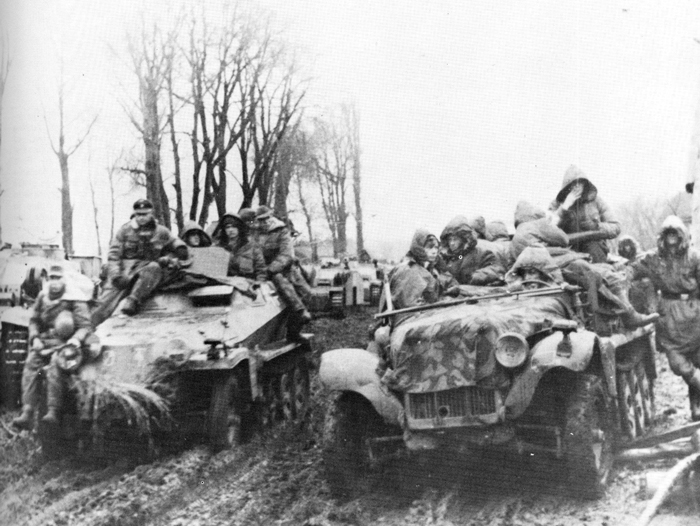 Mud! The Manstein Offensive mires to a halt, perched on the flank of the entire Russian Central Front. In this crowded shot a wide variety of Leibstandarte vehicles is displayed. Halted to the right is an SdKfz 10 one ton halftrack of one of the Panzergrenadier-Abteilungen. Passing it is an SdKfz 250/1 light APC of a motorized artillery battery and beyond that is a line up of very early StuG III ausf Gs [again indicating that SS units got new equipment first] from the division's assault gun battalion. Note that all troopers once again are wearing their reversible parkas Mouse Grey side out. The camouflage canvas draped over the one ton's hood is of Italian origin. It is up to the reader's imagination to figure out which of many ways that could have gotten there. [National Archives]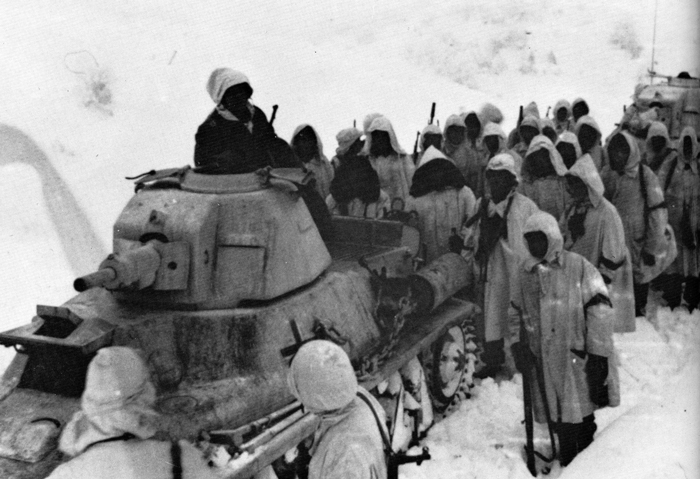 While the three divisions of the SS-Panzer-Korps, assisted by Wiking, were making military history, other SS units were engaged in much less glamourous, or successful enterprises. The SS-Freiwilligen-Division "Prinz Eugen" fought the entire war, from October 1942 on, in the grim anti-partisan battles of the Balkans. Much like the American experience in Vietnam, the Germans were at best able to occasionally disorganize and dislocate the enemy, never to defeat them. And again in striking similarity, the superior equipment, organization and training of Prinz Eugen was no advantage, and was in some ways of grave detriment. Never being considered a "Front Line" division, Prinze Eugen was supplied mainly with captured equipment. Being a mountain-trained unit, the Bergmutze [mountain cap] and climbing boots were standard issue.
Supported by captured French Hotchkiss H35s and wearing captured Russian snow coats, the men of Prinz Eugen set off on their first, and typically unsuccessful, major operation of the war, Unternehmen Weiss, in January 1943. [National Archives]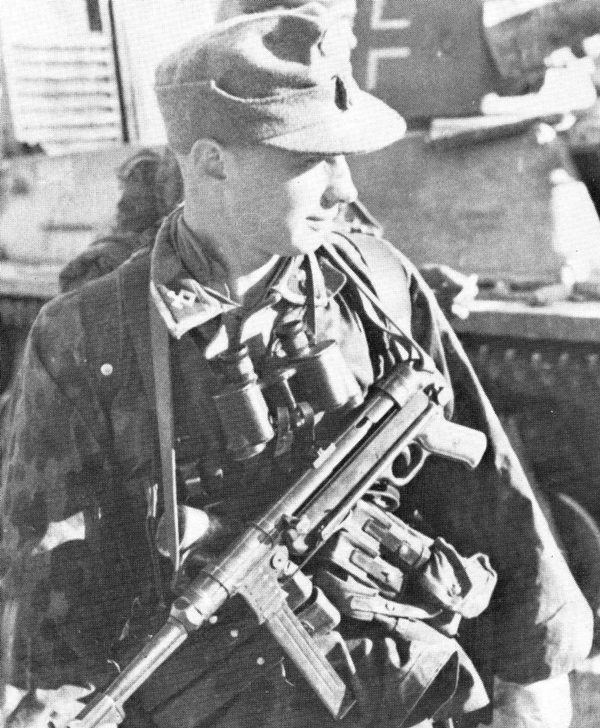 Spring has arrived and suprisingly well equipped trooper of Prinz Eugen poses in front of one of the division's Hotchkiss tanks. Of interest is the Bergmutze which was to be the pattern for the later standard Feldmütze, and the divisional insignia, the so-called "Odalrune", replacing the normal SS right collar tab. [National Archives]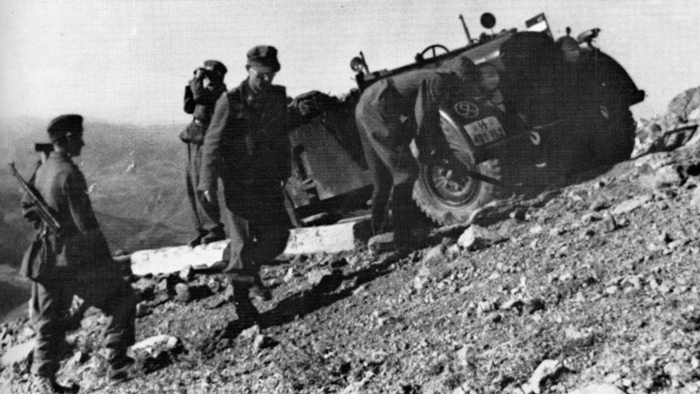 Two views of Prinz Eugen vehicles, dating from Spring and early Summer 1943. Many of the division's original complement of vehicles carried a Yellow Odalrune in a circle insignia, though later replacements most frequently did not.
A Kfz 16 Horch medium signals car, seen here moving cross-country through typically Balkan terrain, carried the divisional marking on its near fender. The pennant on the opposite side indicates that this is a regimental HQ vehicle. [National Archives]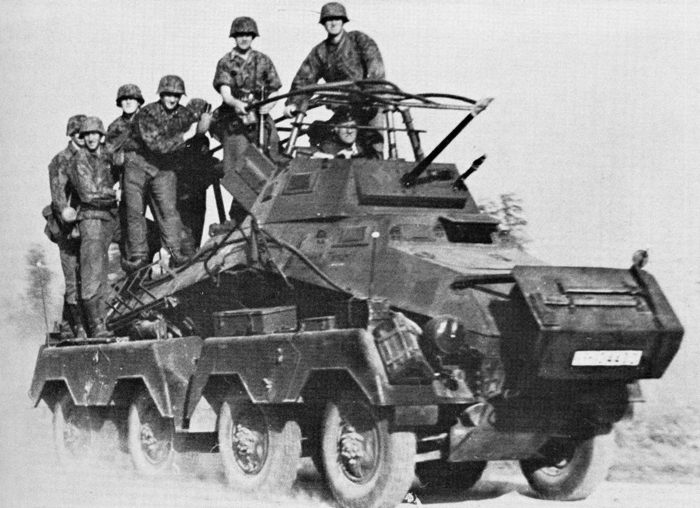 This SdKfz 232 eight wheel radio car of Prinz Eugen seen in June 1943, appears to be virtually free of marking, only a license plate and hull side cross being visible. This is typical of the appearance of this division's vehicles for the remainder of the war. [Scott Van Ness]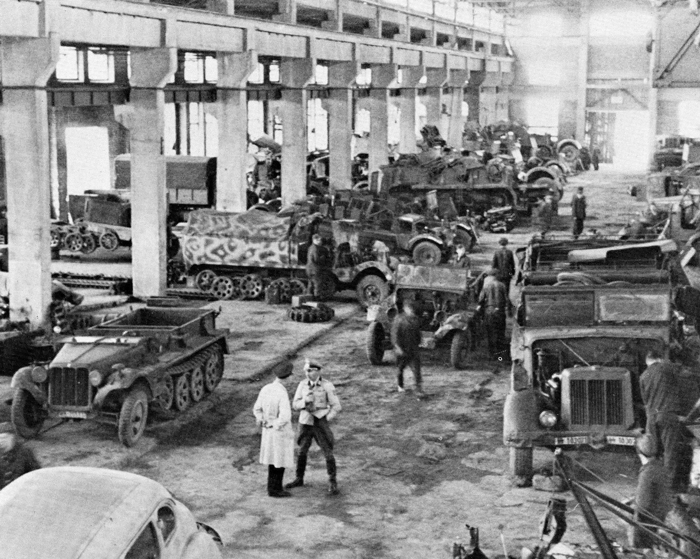 The pause that followed the completion of the Manstein Offensive allowed the repair of worn vehicles and the addition of new.
A rare shot of a halftrack workshop, full of both Wehrmacht and SS vehicles in various stages of repair. From the left, the identifiable vehicles are a one ton, a three ton with Sand Yellow overspray with another one ton and an eight ton behind it, a one ton missing its hood in the center and a twelve ton to the right. Of interest is the difference in the pattern of the license plates on the twelve ton. [Bundesarchiv]

/ page 12 from 31 /

mobile version of the page
We have much more interesting information on this site.
Click MENU to check it out!
∎ cartalana.com© 2013-2020 ∎ mailto: koshka@cartalana.org