SITE MENU
/
This Article Content
ROBERT C. STERN, illustrated by DON GREER and RON VOLSTAD
SS ARMOR. A Pictorial History of the Armored Formations of the Waffen-SS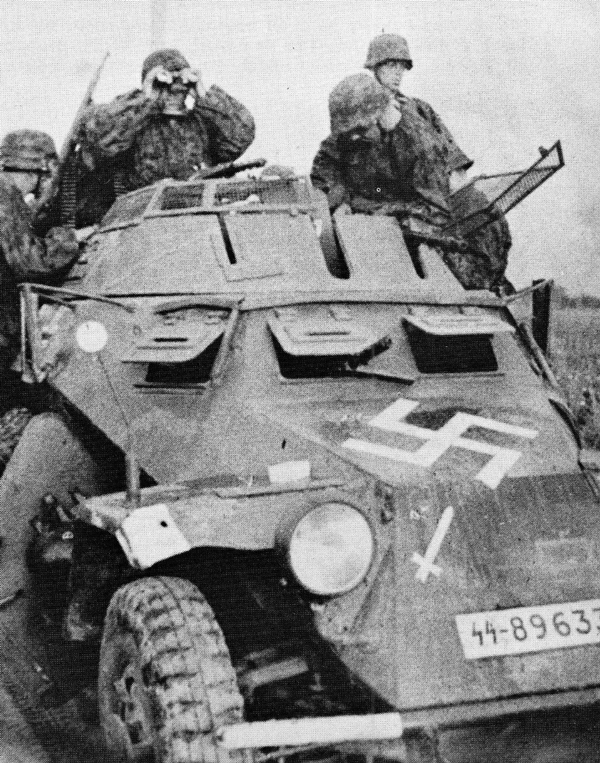 Not reaching divisional status for another year, the SS-Kavallerie Brigade was mainly employed behind the lines clearing up pockets of resistance. Though mainly horsed, the brigade did have mechanized elements. The tactical sign on the bow plate is too obscured to determine which part of the brigade this SdKfz 222 belongs. Inexplicably missing its 2 cm main armament, it has an MP 40 pushed through the driver's right front visor opening for added firepower. [Bundesarchiv]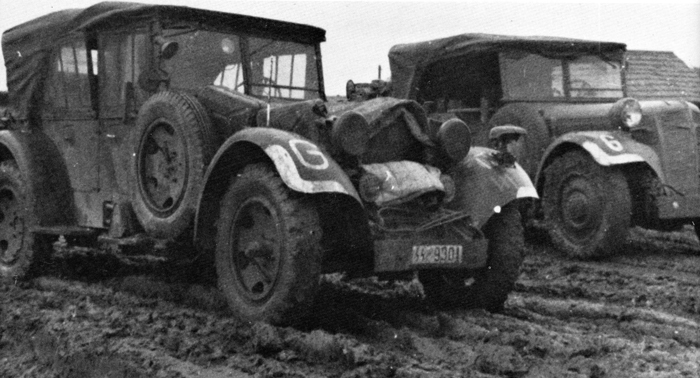 Operation Typhoon, the drive on Moscow, was halted twice, first by mud and then by cold.
The German Army was adequately prepared for neither. Two medium passenger cars of Reich are seen in the mud that could frequently mire cars axle-deep. On the left is a Kfz 15 Mercedes-Benz 230, to the right a Adler 3Gd Kubel. The divisional insignia is in Yellow, making it appear much fainter than the White G and convoy stripes. [National Archives]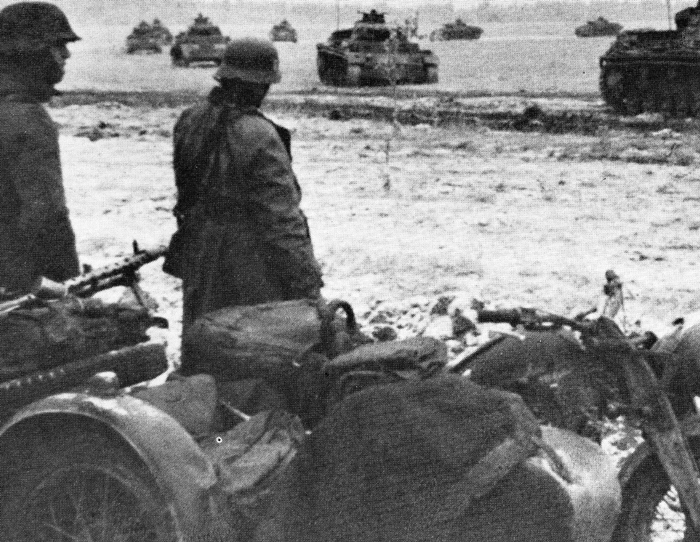 The first snow catches German formations without camouflage or cold weather gear. These Reich motorcyclists already look cold in their motoring coats and extreme weather was still several weeks off. The unexpectedly early Winter was equally hard on equipment and men, halting Reich within reach of the Kremlin. The lineup of PzKpfw IIIs probably are those of 10. Pz-Div., alongside of which Reich fought for most of Typhoon.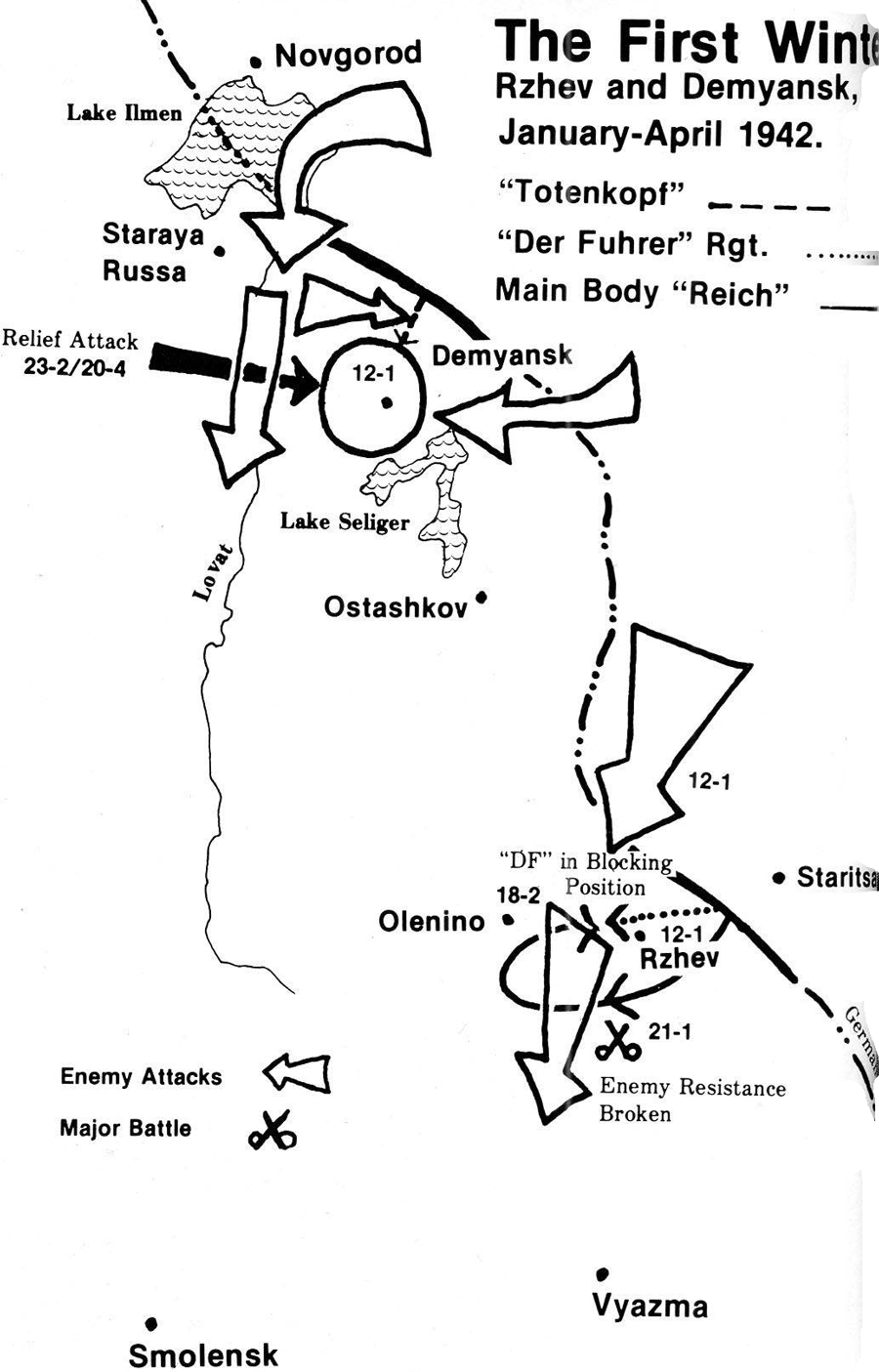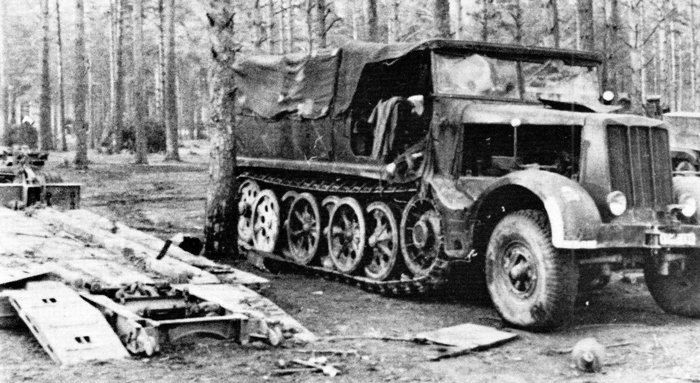 Having spent the Winter involved in the bloody fighting around Demyansk, Spring brought Totenkopf some much needed rest and a chance to prepare for a quieter Summer between Lake Seliger and Lake Ilmen.
An SdKfz 9 Famo 18 ton halftrack is seen among the pines. [Bundesarchiv]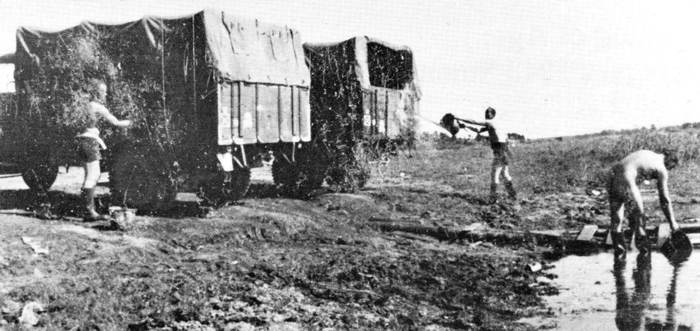 In a rare idyllic moment on the Eastern Front. Three Totenkopf troopers, two wearing shorts, are washing the Spring mud and Winter camouflage off their trucks. [Bundesarchiv]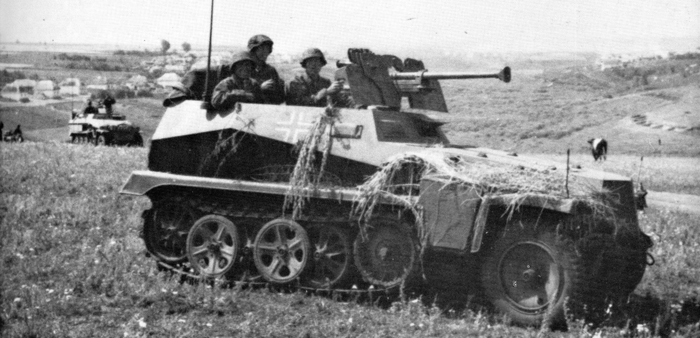 Immediately prior to being sent to France for a much needed refit, this SdKfz 250/11 ISPW light armored personnel carrier of LAH is seen in position in a South Russian cow pasture. The 250/11 was a recon company leader's vehicle mounting the squeezebore 2.8 cm schwere Panzerbüsche 41 light antitank gun. Note the rather casual attempt at natural camouflage by draping a few clumps of straw over the fenders of the vehicle. [National Archives]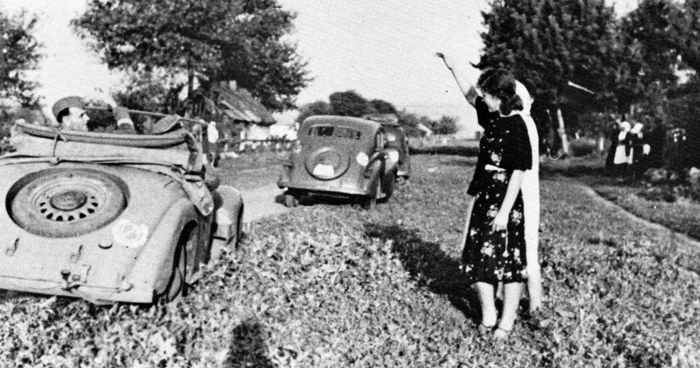 A far cry from the Eastern Front, a lineup of three civilian style cars of Leibstandarte's war correspondant troop are halted by the side of the road while the occupants admire the scenery in sunny France. The wreath of leaves around the shield and key divisional insignia is in honor of the award of the oak leaves to the Knight's Cross to "Sepp" Dietrich. This style of unit marking was carried by LAH vehicles during its stay in France, Summer 1942. Each car also carries the KB [Kriegsberichter] insignia of the war correspondant. [Bundesarchiv]

/ page 8 from 31 /

mobile version of the page
We have much more interesting information on this site.
Click MENU to check it out!
∎ cartalana.com© 2013-2020 ∎ mailto: koshka@cartalana.org