SITE MENU
/
This Article Content
ROBERT C. STERN, illustrated by DON GREER and RON VOLSTAD
SS ARMOR. A Pictorial History of the Armored Formations of the Waffen-SS
In December, a fourth Waffen-SS division was authorized, to be composed of Scandanavian and Dutch volunteers and the standarte Germania taken from SS-V. In honor of famous regiment that was to be its core, the new division was named SS-Division[mot] "Germania". To make up for the loss of one of its regiments, SS-V was supplied with a newly formed, partially motorized Totenkopf regiment, and at the same time renamed SS-Division "Deutschland" after its remaining original standarte. Neither new name was to last very long because of the obvious confusion with the regiments of the same name. At the beginning of January 1941, Germania became SS-Division "Wiking". Wiking began to gather at Heuberg, being declared combat ready on 1 April 1941. Deutschland was renamed SS-Division "Reich" at the end of January. With the cancellation of "Sealion" and the decision to intervene in Yugoslavia and Greece, LAH and Reich were rapidly transferred eastward at the end of March. LAH was sent to Kyustendil, Rumania, where it became part of 40. Armee-Korps(mot) along with 9. Panzer-Division, and Reich went to Temesvar, also in Rumania, where it joined IR "Grossdeutschland" and Brigade "Hermann Goring" in the truly elite 41. Armee-Korps(mot).
The involvement of SS-Division Reich in the Balkan Campaign was brief but intense. As befits the status of the units it contained, 41. Korps was given the task of capturing Belgrade, a process which took only four days. After the capitulation of the Yugoslav capital on 13 April 1941, Reich was transferred to Poland in anticipation of the invasion of Russia.
Leibstandarte had a much more prolonged and arduous part to play. Breaking into Southern Yugoslavia on 9 April, LAH made contact the next day with the Italian forces that had retreated into Albania, completing the first phase of its task. It then immediately turned south into Greece in a drive that was to take it to southernmost tip of that country. Coming under fire to British forces that same afternoon, LAH began a sequence of outflanking maneuvers and frontal attacks in excellent defensive terrain that was to dislodge the Allies from Greece in 18 days. Never allowing the British a chance to establish themselves firmly, Leibstandarte, in conjunction with 9. Panzer-Division, forced them out of their positions in Northern Greece. Choosing not to follow the retreat of the Allies through Thermopylae and Corinth, LAH drove due south to Mesolongion. Crossing the Gulf of Corinth in fishing boats, Leibstandarte arrived on the Peloponnesus at the same time as the retreating British. By 25 April, the British had been forced into a small beachhead at Kalamata. In a pattern similar to Dunkirk, the British fiercely resisted German attack until arriving German reinforcements forced its surrender three days later, after most troops had been evacuated.
The entire Waffen-SS field strength was brought into line for the upcoming invastion of Russia. Hastily refitted (and renamed SS - Division Leibstandarte - SS "Adolf Hitler", but not strenghtened), LAH was designated part of 54. Armee-Korps, while Wiking were assigned to von Kleist's Panzer-Gruppe 1, both of Heeres-Gruppe Süd. Reich was assigned to Guderian's Panzer-Gruppe 2 of Heeres-Gruppe Mitte, while Totenkopf was part of Hoepner's Panzer-Gruppe 4 of Heeres-Gruppe Nord.
None of the SS units saw much action in the first days, all being held in close reserve. Wiking came into action first, on 29 June at Tarnopol. Its partner in the South, Leibstandarte, was not first blooded until it was used in the abortive attempt by Kurt "Panzer" Meyer's SS-Auf-Abt to storm the Tarter Ditch blocking the entrance to Crimea. LAH was then hurriedly transfered to Pz-Gr 1 to participate in the southern half of the massive encirclement of the Kiev Pocket, and remained part of that unit for the drive on Rostov. By mid-November, LAH was in the city and Wiking just north of it, both heavily pressed by Russian counterattacks. At the end of November, both had been badly mauled by fierce combat, and with the rest of the southern front were pulled back to more secure positions on the Mius. Those positions would be occupied against constant enemy attack until late Spring 1942.
Reich had remained in reserve until 10 July when it was thrown into the fighting at Yelnya on the Desna. Here, at the springboard to Moscow, Pz-Gr 2 held off Russian counterattacks for five weeks, in some of the bloodiest fighting of the war. In late August, however, Reich was pulled out of line and moved south to, also, become part of the Kiev battle. It was to be the end of September before the division was back in position again facing Moscow, this time part of Hoepner's Pz-Gr 4. Reich was the only one of the SS units to participate in "Typhoon", the assault on the Russian captial. Setting out from Roslavl toward Borodino against strong Russian resistance, losses were so high that by 14 October the Totenkopf regiment [SS-Inf-Rgt. 11] that had been added to replace Germania was broken up among the Deutschland and Der Führer regiments in an attempt to keep them up to strength. The division had reached Mozhaisk five days later, 49 miles from Moscow, when mud halted advances. A full month would pass before the final drive began, by now too late to be successful. The attack reached Lenino, within 20 miles of the Kremlin, when it ground to a halt on 2 December 1941 in the face of one of the worst Winters on record and massive Russian reinforcements. The drive was officially halted three days later.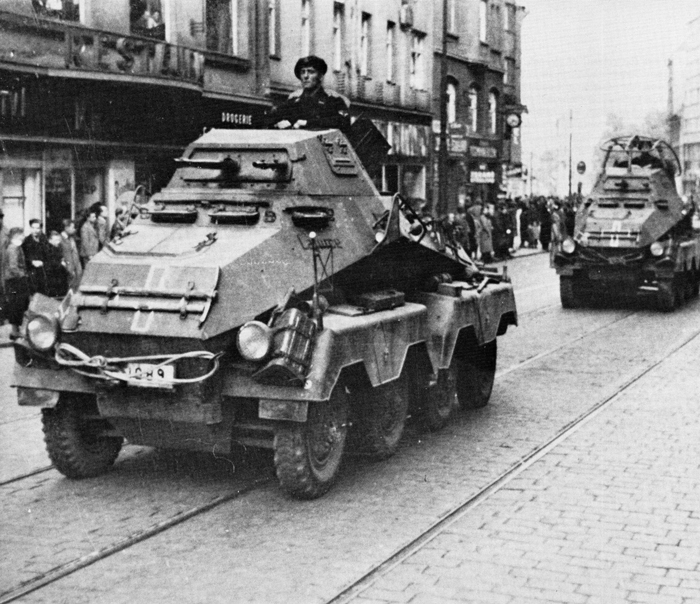 A lineup of LAH armored cars is seen here on parade through Prague, Czechoslovakia on 5 October 1939. An eight wheel SdKfz 231 is being followed by a 232 radio car and a pair of four-wheeled 221s. The most noticeable change in appearance is the darkening of the center of the White crosses that had been carried into the Polish Campaign. The highly visible White crosses had proved to be excellent targets for enemy gunners and were quickly modified. [Scott Van Ness]
On 12 January 1942, Reich having just moved into Winter positions between Staritsa and Gzhatsk, the first Russian Winter counterattack struck. What followed was over a month of a kind of Winter battle for which the German forces were neither equipped nor trained. For one terrible 17 day period, Der Fuhrer regiment was assigned the task of closing the ring behind the trapped Russian 39th Army and stopping all attempts at a breakout. (In closing the gap, DF linked up with the SS-Kavallerie-Brigade which had been mopping up resistance behind the lines until caught by the Winter attacks.) By the time it was over, Der Fuhrer was down to 35 men, and 2nd company having been wiped out to a man.
Meanwhile, Totenkopf had been fighting its own war of attrition in the North. First seeing action on 6 July 1941 in the vincinity of Daugavpils, within weeks it was being used to seal off Russian penetrations, a duty the division was to see frequently in the next year. Initially Northwest of Lake Ilmen and then South of the lake, Totenkopf successfully repulsed a series of enemy counterattacks, by mid-August being placed in immediate reserve between Lakes Ilmen and Seliger. It was to remain in that position relatively uneventfully until 12 January 1942, when the Russian Winter counteroffensive in the North was launched. After fighting against overwhelming odds alongside 2. Armee-Korps for three weeks, Totenkopf found itself encircled in the vincinity of Demyansk. The actual encirclement would last for slightly over two months, but the resulting salient projecting into the Russian lines at Demyansk was to be in existence for well over a year. Totenkopf however, was pulled back to the Lovat region and again placed in immediate reserve.

/ page 3 from 31 /

mobile version of the page
We have much more interesting information on this site.
Click MENU to check it out!
∎ cartalana.com© 2013-2020 ∎ mailto: koshka@cartalana.org