SITE MENU
/
This Article Content
GORDON WILLIAMSON, illustrated by IAN PALMER
KRIEGSMARINE U-BOATS 1939-45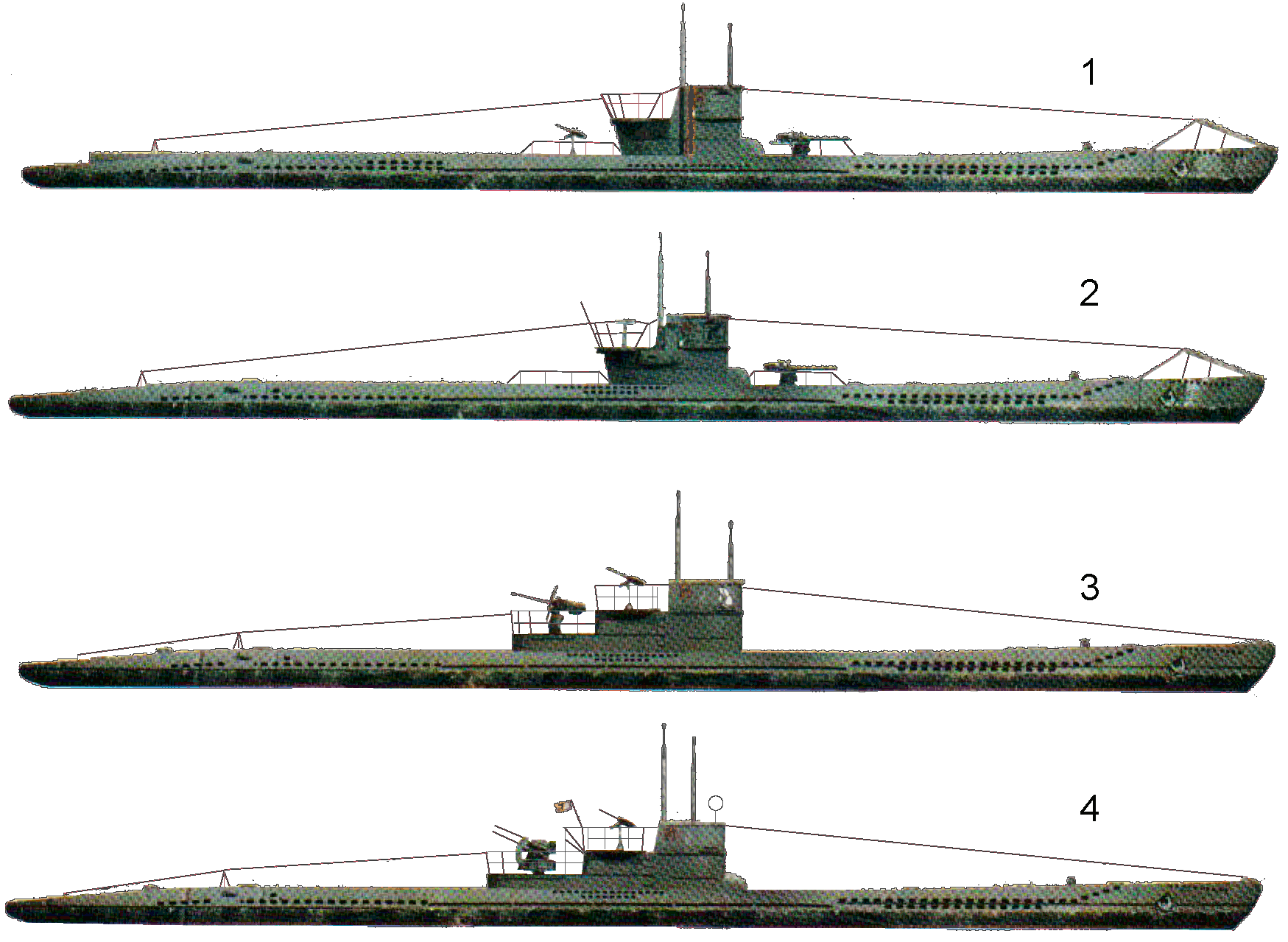 This plate shows the remarkable range in appearance between different variants of the Type VII U-boat.
1) Type VIIA. The earliest of the Type VIIs is instantly recognisable by its prominent stern torpedo tube, mounted outside the pressure hull. Note also that the 2 cm flak gun is still mounted on the afterdeck and has not yet moved to the bridge platform. Shown here is U-29 whilst on nonintervention patrol duties during the Spanish Civil War. The red/white/black recognition stripes were carried by all German warships on duty in Spanish waters.
2) Type VIIB. Shown here is U-101, with the later style of bridge for this model, the 2 cm flak gun having been moved up from the afterdeck and with prominent air ducting up the side of the tower to draw in fresh air for the boat's diesel engines.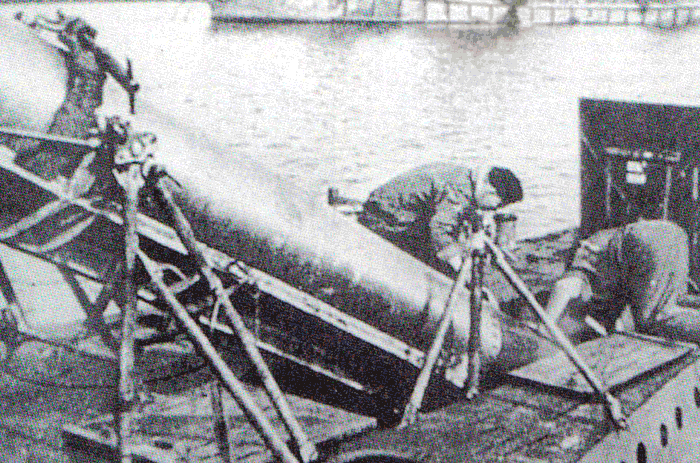 A torpedo is introduced to the interior of a Type VII through the torpedo loading hatch on the foredeck. This is a complex enough operation when in the calm of the boat's home port, and one can imagine just how difficult this would be if the boat was being resupplied whilst on the open seas.
3) Type VIIC. This is U-995, a typical Type VIIC in late-war configuration, launched in 1943. It has a 3.7 cm flak gun on the lower 'Wintergarden' platform, and two twin 2 cm flak guns to the upper. Surviving the war and nine war cruises, she was handed over by the Allies to the Royal Norwegian Navy who used her up until 1965 before decommissioning her. She was then presented to the German Navy, restored, and may now be visited by the public adjacent to the German Naval Memorial at Laboe, near Kiel.
4) Type VIIC/42 This, the ultimate Type VII, was to have the extended lower Wintergarden' mounting a quadruple 2 cm Flakvierling, with two twin 2 cm flak guns on the upper platform, giving it formidable defensive firepower. In the event, even the enormous firepower wielded by the special Flak Boats proved inadequate against determined air attack, so all of the 165 examples of this boat which had been ordered were cancelled.
D: INTERIOR LAYOUT OF A TYPE VIIC/42
SPECIFICATIONS
Length: 67.1 m
Beam: 6.2 m
Draught: 4.8 m
Displacement: 761 tons
Speed: surfaced 17 knots submerged 7.6 knots
Range: 6,500 nautical miles
Crew: 44
Armament: 14 torpedoes, 2 × twin 2cm Flak guns, 1 × quad 2cm Flak gun
1. Quad 2 cm flak gun
2. Twin 2 cm flak gun
3. Navigating periscope
4. Attack periscope
5. Direction finding loop
6. Lifebelt
7. Commander's accommodation
8. Officer accommodation
9. Senior NCO's accommodation
10. Watertight containers for inflatable life rafts
11. Capstan
12. Anchor
13. Bow hydroplanes
14. Bow torpedo tubes
15. Forward torpedo room
16. Junior ratings' accommodation
17. W.C.
18. Commander's attack position
19. Control room
20. Petty officer's accommodation
21. Galley
22. Diesel engines
23. Electro-motors
24. Stern torpedo tubes
25. Stern hydroplanes
26. Rudder

/ page 18 from 19 /

mobile version of the page
We have much more interesting information on this site.
Click MENU to check it out!
∎ cartalana.com© 2013-2020 ∎ mailto: koshka@cartalana.org