SITE MENU
/
This Article Content
GORDON WILLIAMSON, illustrated by IAN PALMER
KRIEGSMARINE U-BOATS 1939-45
VIIC U-371 to U-400 - 30 boats
VIIC U-651 to U-683 - 33 boats
VIIC U-1131 to U-1132 - 2 boats
Total - 65 boats
VIIC U-701 to U-722 - 22 boats
VIIC U-905 to U-908 - 4 boats
Total - 26 boats
VIIC U-431 to U-450 - 20 boats
VIIC U-731 to U-750 - 20 boats
VIIC U-825 to U-828 - 4 boats
VIIC U-1191 to U-1210 - 20 boats
Total - 64 boats
VIIC U-451 to U-458 - 8 boats
VIIC U-465 to U-486 - 22 boats
Total - 30 boats
VIIC U-551 to U-650 - 100 boats
VIIC U-951 toU-1031 - 81 boats
Total - 181 boats
KRIEGSMARINEWERFT, WILHELMSHAVEN
VIIC U-751 to U-779 - 29 boats
VIIC U-821 to U-822 - 2 boats
VIIC U-901 - 1 boat
VIIC U-921 to U-930 - 10 boats
These represent only boats that were actually completed. Others were laid down, but never completed, or were broken up or the order for their manufacture was cancelled.
Many operational flotillas used a variety of different U-boat types through the course of the war, where others seemed to use a specific type predominantly, if not exclusively. The following flotillas are those in which use of the Type VII predominated:
1 Unterseebootsflotille - Types VIIB, VIIC and MID
3 Unterseebootsflotille - Types VIIB and VIIC
6 Unterseebootsflotille - Types VIIB and VIIC
7 Unterseebootsflotille - Various Type VIIs
9 Unterseebootsflotille - Types VIIC and VIID
11 Unterseebootsflotille - Type VIIC
13 Unterseebootsflotille - Type VIIC
14 Unterseebootsflotille - Type MIC
With just over 700 examples built, the Type VII was by far the most successful of all the U-boat types. It fitted well with the decision taken that Germany would build a large fleet of small- to medium-sized boats rather than a small fleet of large boats. Despite its modest size, and relative ease of construction, it proved itself a reliable design, capable of operating throughout the Atlantic, its capabilities restricted only by the amount of fuel/munitions it could carry.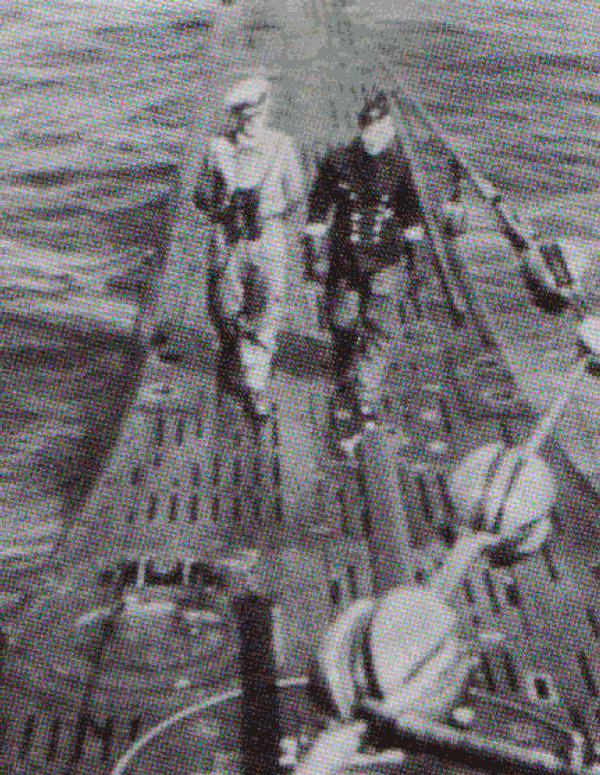 A U-boat commander and his L.I. (Leitender Ingenieur) stroll along the foredeck of their "Type VIIC. The insulator blocks on the jump wires can be clearly seen. Note also the closed hatch for the ready-ammunition locker for the 8.8 cm deck gun just ahead of the commander.
The Type VII had a faster diving speed than the larger Type IX, a critical factor that endeared it to its crews, as did its capability of diving, on occasion, much deeper than its recommended safe maximum depth without mishap. The biggest 'downside' for the crews was the extremely cramped interior. Space was at an absolute premium and conditions within these boats could become extremely uncomfortable very quickly. However, to many U-boat men, even though the Type IX was more spacious and thus more comfortable, its slow diving speed and thus greater vulnerability when caught on the surface made the Type MI a relatively 'safer' boat.
Without doubt, the Type VII in its many guises was by far the most influential submarine in the U-boat war. Through the course of the war, over 2,600 war cruises were undertaken in the Type VII boats. During the course of these cruises, around 1,365 enemy ships were sunk, that total including 190 warships. From the total of just over 700 Type VIIs that were built, over 400 were sunk by enemy action. In the great majority of these cases, the boats were lost with all hands. Of the total of approximately 30,000 U-boat men who lost their lives in the Second World War, around 22,000, or 73 per cent, were serving on the Type VII.

/ page 10 from 19 /

mobile version of the page
We have much more interesting information on this site.
Click MENU to check it out!
∎ cartalana.com© 2013-2020 ∎ mailto: koshka@cartalana.org