SITE MENU
/
This Article Content
STEVEN J. ZALOGA, illustrated by JIM LAURIER
V-1 FLYING BOMB. 1942-52. HITLER'S INFAMOUS "DOODLEBUG"
D: FI-103A-1, FLAK-REGIMENT 155 (W), 1944
1 Air pilot propeller
2 Magnetic guidance compass
3 Belly impact fuze
4 Main warhead exploder tube
5 Warhead explosive filling
6 Reinforcement support for launch rail
7 Main wing spar
8 Stamped metal wing reinforcing rib
9 Forward compressed air bottle
10 Rear compressed air bottle
11 Fuel flow control
12 Electrical battery
13 Flight control
14 Askania gyro flight control box
15 FuG-23 radio transmitter
16 Control surface servos
17 Trailing FuG-23 radio antenna
18 Rudder
19 Rear pulse-jet engine yoke
20 Argun As 109-014 pulse-jet engine
21 Engine ignition spark plug
22 Venturi assembly
23 Engine shutter assembly
24 Forward engine support yoke
25 Pilot tube
26 Fuel tank
27 Center lifting lug
28 Fuel filler cap
29 Rear Z80A fuze pocket
30 Forward Z80A fuze pocket
SPECIFICATION
Fuselage length: 21ft 10in. (6.65m)
Overall length: 25ft 4in. (7.73m)
Fuselage diameter: 2ft 8in. (0.825m)
Wingspan: 17ft 6in. (5.33m)
Launch weight: 4.858lbs (2.200kg)
Fuel: 160 US gal (610 liters; 134 Imp gal) E-1 aviation gasoline
Warhead: 1.870lbs (850kg) Amatol high explosive, redundant impact fuzes
Guidance: Askania pre-set autopilot with gyro inertial platform and magnetic compass
Engine: Argus 109-014 pulse-jet, max. thrust 310kg at 1,000m at 700km/hr
Max. cruise speed: 415mph at 4.500ft (670km/hr at 1,375m)
Maximum range: 125-130 miles (200-210km)
Rate of fire: 72 per launcher per day maximum: about 3 per day actual rate in 1944
Accuracy (ground-launched): Circular error probability of 8 miles (13km)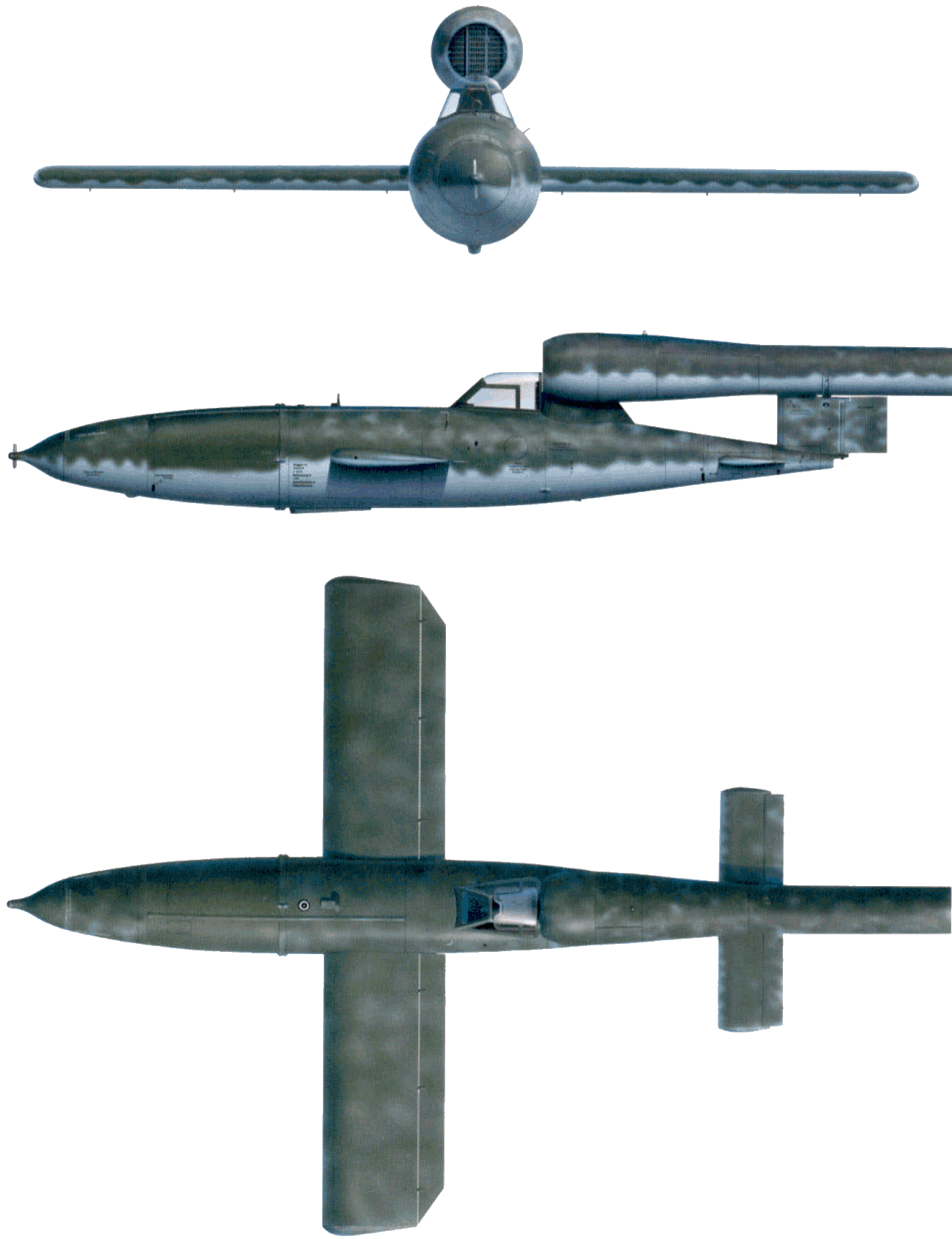 E: FI-103RE.4 REICHENBERG, KARLWITZ MUNITIONS DEPOT, DANNENBERG, GERMANY, 1945
As in the case of the Reichenberg trainer shown in Plate A. the Reichenberg trainers theoretically were painted in late-war RLM colors of RLM 65 light blue and RLM 83 dark green. This shows the standard configuration of the missile had it been deployed in the spring of 1945.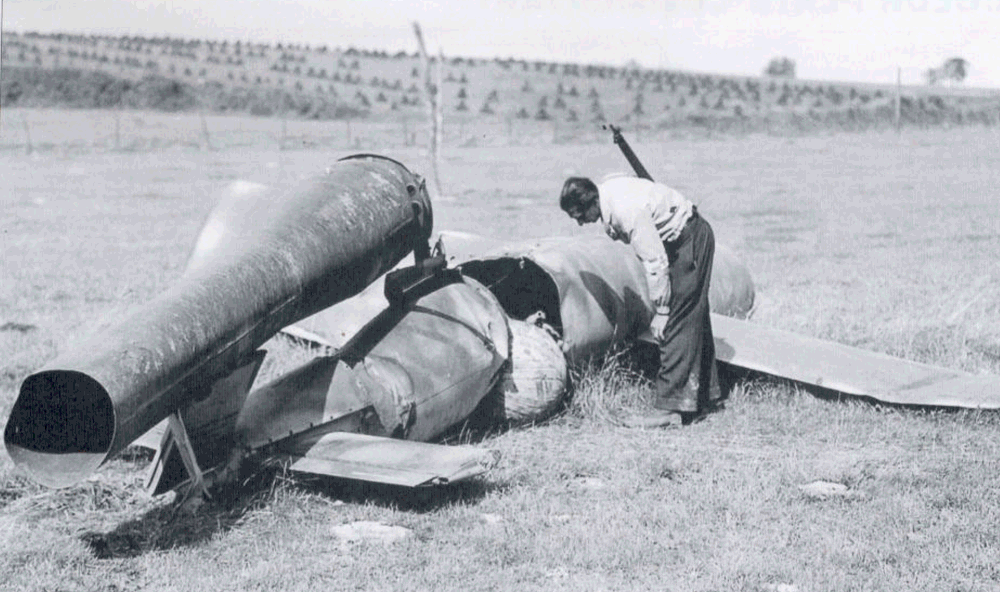 This V-1 was one of many that prematurely crashed after launch in the French countryside, and is being examined by a member of the French resistance. The fuselage has split open behind the center fuel tank, exposing one of its two pressurized air bottles. (NARA)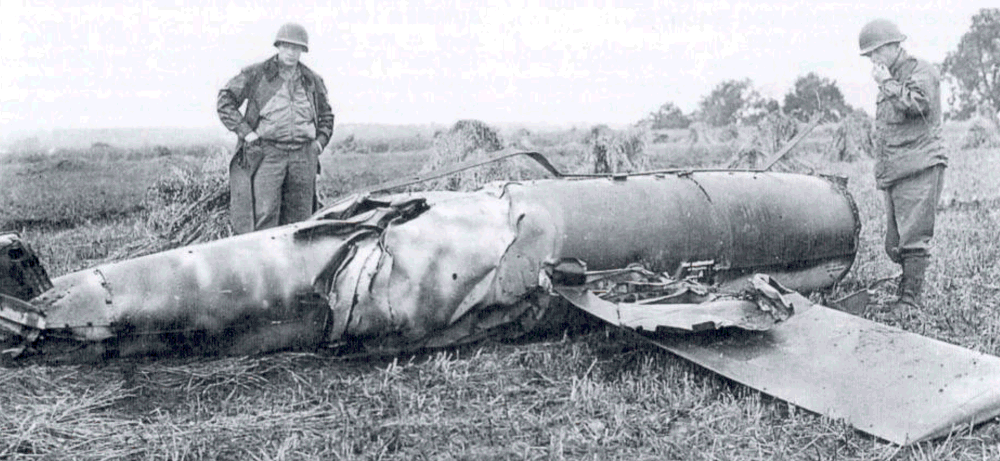 This V-1 was found by US troops near Plomion, France, on September 2nd, 1944, in the sector where I/FR155W was formerly based. The Germans codenamed these crashed missiles as Kieselsteine ("Gravelstones") and special teams were sent to deal with the unexploded warhead which is missing on this example. (NARA)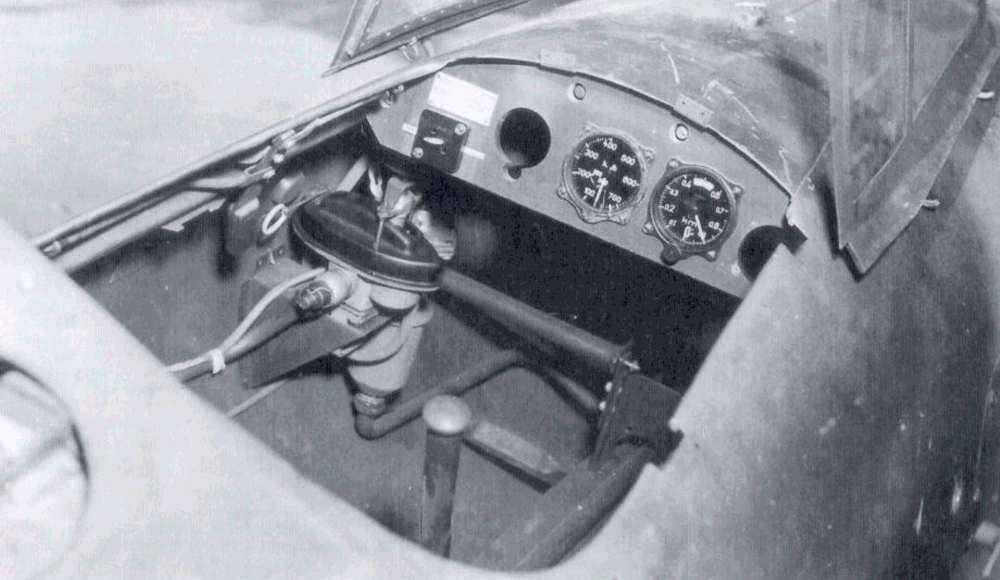 A view into the cockpit of one of the Fi-103Re.4 Reichenbergs discovered at Dannenberg shows the very elementary controls and instruments. (NARA)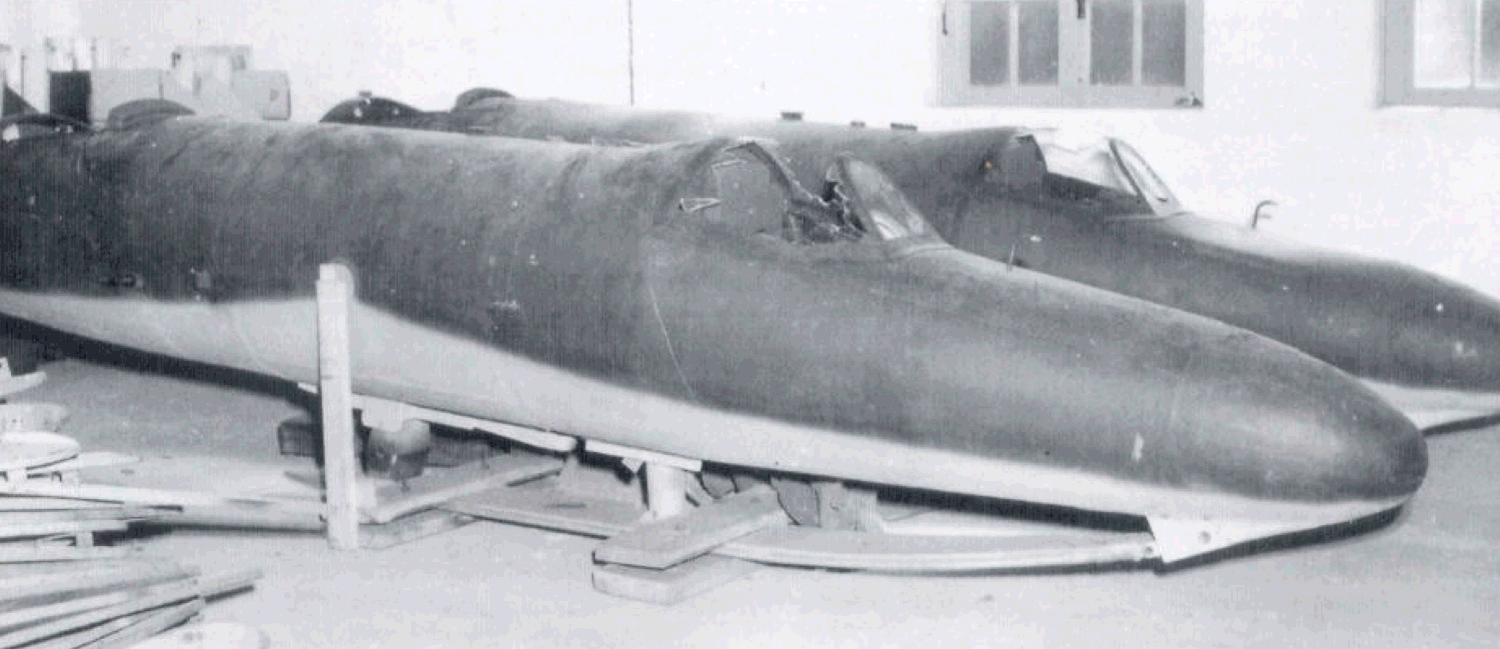 Another discovery at Dannenberg was a small number of incomplete Fi-103Re.3 two-seat trainers. (NARA)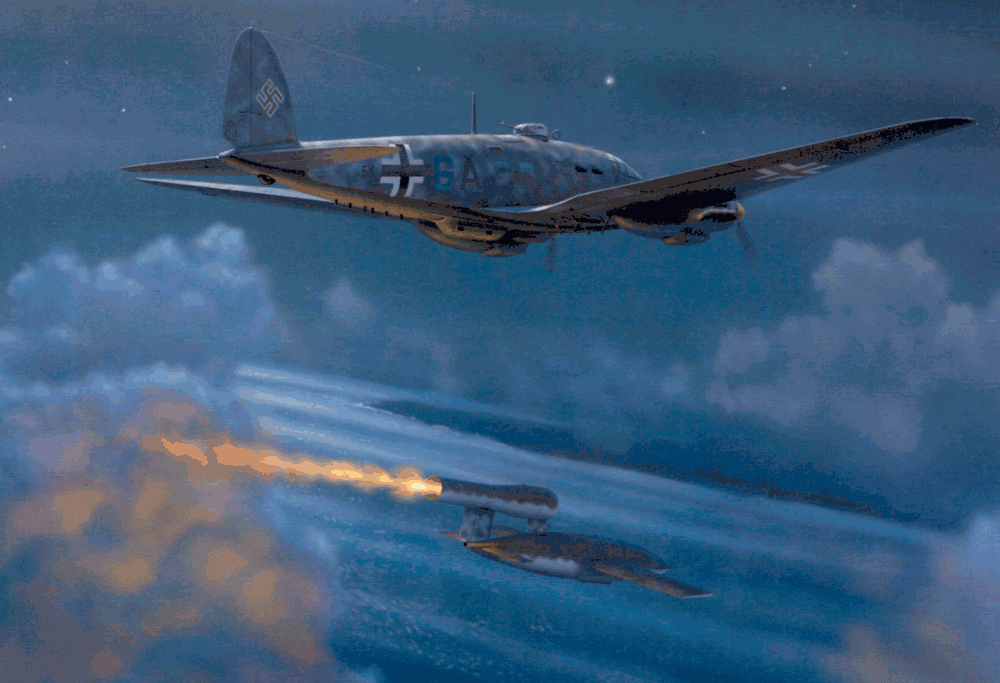 F: HELLHOUNDS OVER THE NORTH SEA, OCTOBER 1944
This scene depicts a night launch of an Fi-103A-1 over the North Sea by an He-111H-22 of KG3. The missiles were usually released from an altitude of at least 1,500 ft as they tended to drop a few hundred feet after launch until the engine accelerated the missile to cruise speed. The Heinkel is quickly banking away, since the launches were visible for long distances and would attract the unwanted attention of Mosquito night fighters.
G: 16KH PRIBOY, SOVIET AIR FORCE, 1951
Although the Soviet Air Force was shifting to the use of bare aluminum finishes on its jet aircraft in 1950, air-to-surface missiles such as the Priboy sometimes remained in the standard late 1940s camouflage finish of overall AMT-11 gray-blue. However, since this was a test missile, the engine remains in a bare steel finish.

/ page 15 from 15 /

mobile version of the page
We have much more interesting information on this site.
Click MENU to check it out!
∎ cartalana.com© 2013-2020 ∎ mailto: koshka@cartalana.org