SITE MENU
/
This Article Content
Text by MARTIN WINDROW, Color plates by MICHAEL ROFFE. YEAR 1972
THE PANZER DIVISIONS
Continuously engaged in the southern and central zones of the Russian front throughout 1942, the division took part in the recapture of Kharkov in March 1943 alongside the premier Waffen-SS Panzer formations. It fought in the great offensive around the Kursk salient in July 1943, and in the gruelling withdrawals from the Donets and the Dnepr Bend in the winter of 1943/4. In May of 1944 the division was heavily committed in Bessarabia, and in July was back in the central part of the front, countering the Soviet summer offensive. In the period August- October 1944 'GD' fought in Kurland, and mounted a stubborn defence around the Memel bridgehead in November. It suffered terrible casualties, and a part of its strength was encircled at Memel. Those units which escaped were reformed in East Prussia; between January and March 1945 the remnants of 'GD' fought a series of defensive actions around the Frisches Haff, from which few escaped.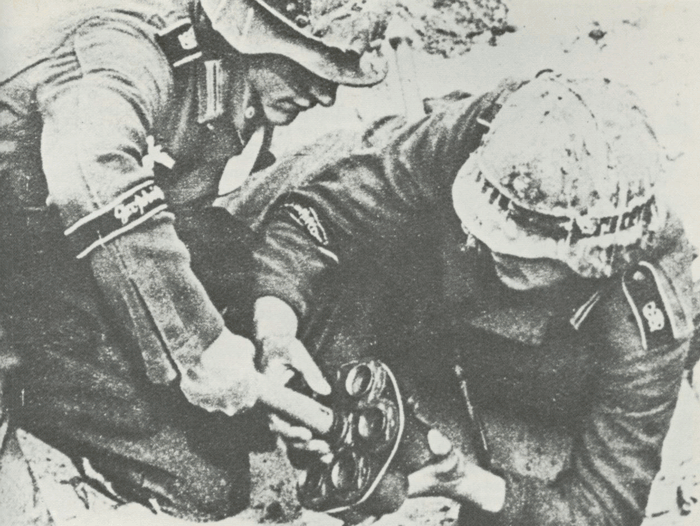 Panzergrenadiers prepare a powerful charge by wiring the heads of seven stick-grenades round one complete grenade. They wear the cuff-titles and shoulder-strap monograms of the crack 'Grossdeutschland' Division, the Army's most powerful armoured formation. (Imperial War Museum)
Panzer Regt. 'Grossdeutschland' (I Bn., PzKpfw. V Panther tanks; II Bn., PzKpfw. IV tanks; III Bn., PzKpfw. VI Tiger tanks)
Panzergrenadier Regt. 'Grossdeutschland' (I Bn., armoured; II and III Bns. motorized; strong integral anti-tank, anti-aircraft and S.P. artillery units)
Füsilier Regt. 'Grossdeutschland' (I Bn., armoured; II and III Bns. motorized; strong integral A-T, A-A and S.P. artillery units)
Panzer Aufklärungs Abteilung 'Grossdeutschland' (1 Sqn., Jagdpanzer 38t.; 2 and 3 Sqns. armoured half-tracks; 4 Sqn., towed artillery)
Panzer Artillerie Regt. 'Grossdeutschland' (I Bn., S.P. guns; II, III and IV Bns., half-track-towed guns)
Panzer Sturmgeschütz Brigade 'Grossdeutschland' (1, 2, 3, 4 Batteries armoured S.P. assault guns)
In the latter part of the war various other elite units, expanded and equipped for realistic participation on the battlefield, were grouped under the overall control of the Division 'GD' with the collective title 'Grossdeutschland Verbände' These included various armoured formations: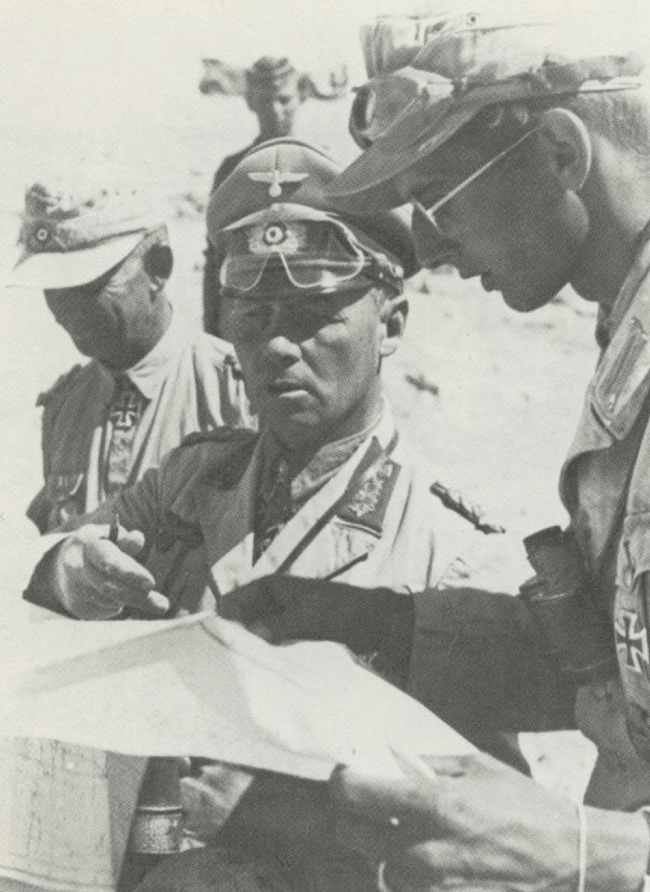 Rommel, a legend in his own lifetime; with limited forces and a crippling supply problem, he outguessed and outfought the Allies in Africa for two years. His brand of dashing 'cavalry' generalship was well suited to desert warfare. (Imperial War Museum)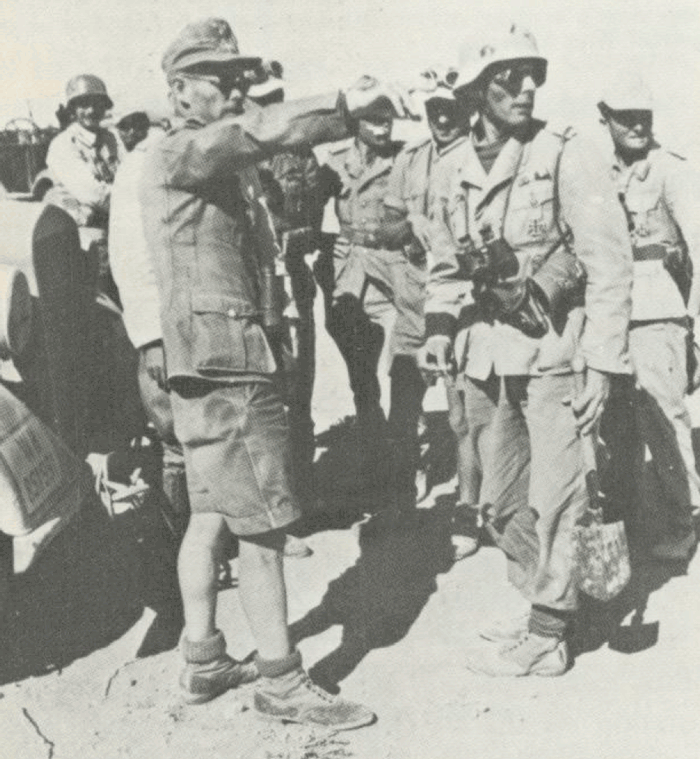 The motley clothing of the desert soldiers, Allied and Axis alike, exemplified by a group of Panzergrenadiers. (Imperial War Museum)
Originally formed in late 1939 as the Führer-Begleit-Bataillon, this unit was the motorized escort for the Führer's general headquarters. In 1940 they were awarded a 'Grossdeutschland' cuff-title. During 1940 they were used for various internal escort and V.I.P. security duties; the unit was fully motorized and heavily armed, acquiring a Panzer company at an early date. Though only infrequently used in combat throughout most of the war (there were two brief excursions to the northern sector of the Russian front) the unit was kept up to scratch by constant and punishing training; they were usually based at Hitler's Rastenburg headquarters. Part of the battalion was moved to Berchtesgaden in 1944; and in July the unit was brought up to regimental strength. In November 1944 the unit, in brigade strength, was sent to the Western front and was very heavily engaged during the Ardennes offensive. Subsequently, in January 1945, it was upgraded to divisional establishment and sent to the Oder front with its sister unit, the Führer-Grenadier-Division (q.v.). Heavily engaged in defensive operations, the F-B-D was decimated while breaking out of a Soviet encirclement near Spremberg in April 1945.
Main combat units: Panzergrenadier Regt. 'Führer-Begleit-Brigade' Panzer Regt. 'Führer-Begleit-Brigade' Artillerie Abteilung 'Führer-Begleit-Brigade', Infanterie Bn. 'for Special Duty' 828.
Raised after the attempt on Hitler's life in July 1944, the Führer-Grenadier-Brigade was stationed at Cottbus near the Rastenburg 'Wolf's Lair'. At the end of September, consisting of a Panzergrenadier Battalion, a Fusilier Battalion, and a Panzer Abteilung, it was moved to the East Prussia area. Between October and December 1944 it was continuously and heavily engaged against Soviet thrusts; in that month it was sent west to the Ardennes. In February it went east again, to the Stargard area, and was engaged in further heavy fighting; it had been uprated to divisional strength at the same time as its sister unit. In March it was at Stettin, and later fought around the Küstrin bridgehead. In April the unit was sent to Vienna; it eventually surrendered to U.S. forces in Austria but was handed over to the Russians. Personnel wore 'Grossdeutschland' insignia throughout the unit's career.

/ page 10 from 18 /

mobile version of the page
We have much more interesting information on this site.
Click MENU to check it out!
∎ cartalana.com© 2013-2020 ∎ mailto: koshka@cartalana.org