SITE MENU
/
This Article Content
RENÉ CHARTRAND, ILLUSTRATED BY RON VOLSTAD
CANADIAN FORCES IN WORLD WAR II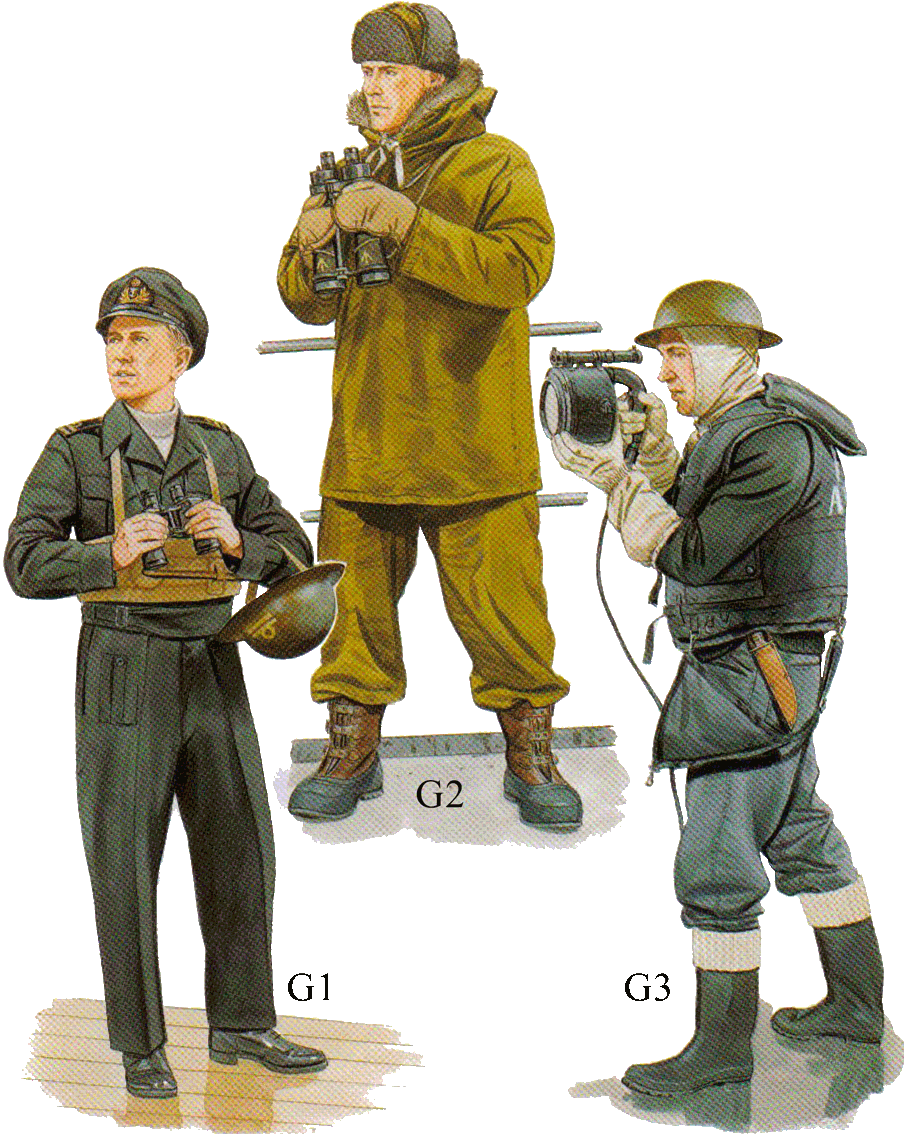 G1: Lieutenant, Royal Canadian Navy, 1941-45
From about 1941, many officers on the smaller ships such as corvettes took to wearing as working uniform the Army issue BD blouse dyed dark blue, or copies privately tailored from dark blue serge; rank was indicated on shoulder boards. Besides its advantages as a practical working dress, most officers were new to the service and often did not have the full service wardrobe of the Regular officers. Many veteran officers also liked BD, as it saved wear and tear on their more expensive service uniforms. In March 1942 the authorities acknowledged the fashion and officers were officially allowed to purchase at their own expense 'Blue Battledress serge uniforms consisting of blouse and trousers (Army Pattern)' for wear 'only while at sea'. Battledress was worn over the white turtleneck sweater when on watch in bad weather, and on more formal occasions with the white shirt and black tie. The officers' rank insignia were often painted on the front of the steel helmet worn when at 'action stations'. The rubber lifebelt was covered in white or khaki cotton, and fitted with a small inflation tube; it was worn around the waist over the uniform and secured with a neck tape, or carried in a small roll.

G2: Seaman, Royal Canadian Navy, Arctic convoys, 1941-45
Severe weather conditions were common in the North Atlantic, where most Canadian sailors served in small, wet warships. Foul weather gear included bulky dark blue-green oilskin raincoats with sou'wester hats and sea boots. The popular buff-coloured 'duffel' coat (named after the town of Duffel in Belgium, where this cloth was originally made) had a deep hood and fastened up the front with wooden toggles through cord loops; it was warm and comfortable in cold weather when worn with a scarf or towel at the neck, mittens and sea boots. Crews who sailed north of the Arctic Circle escorting convoys to Murmansk, Russia, faced the harshest conditions of all. They were issued this special winter clothing consisting of an outer parka and trousers of khaki waterproof Greenfell cloth, the parka hood being trimmed with wolf fur. A grey 'fearnaught' cloth parka was worn under the outer shell. Grey 'fearnaught' mittens with a trigger finger, and special winter boots, were also provided.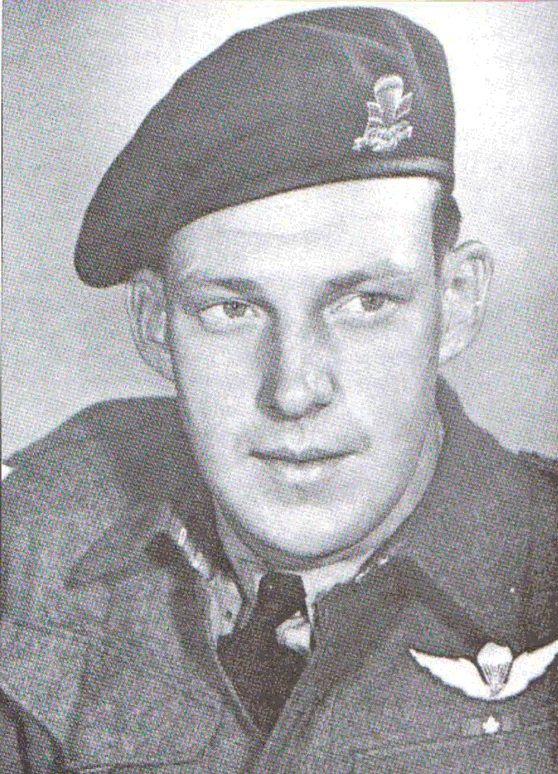 During Operation 'Varsity', the Rhine crossings in late March 1945, Cpl. Frederick G.Topham, a medical orderly with 1st Canadian Parachute Bn, won the Victoria Cross for rescuing wounded under fire. Note the silver cap badge of the unit; Canadian parachutist's 'wings' worn above the left pocket; and the battalion's gold identifying loop around his shoulder strap. See also Plate D3. (Private collection)
G3: Signals rating, Royal Canadian Navy, working dress, 1943-45
Besides the ratings' uniform jumpers and bell-bottom trousers, sailors spent much of their time wearing a practical on-board working dress consisting of a blue jean jacket, shirt and trousers. Only the rank and specialty badges were worn on this working dress, not the national title nor good conduct badges. The cap, rubber boots and a life jacket were often worn with this dress when on watch. At the beginning of the war the life jackets were large cork affairs covered with canvas, which were stowed in lockers and issued only in emergency.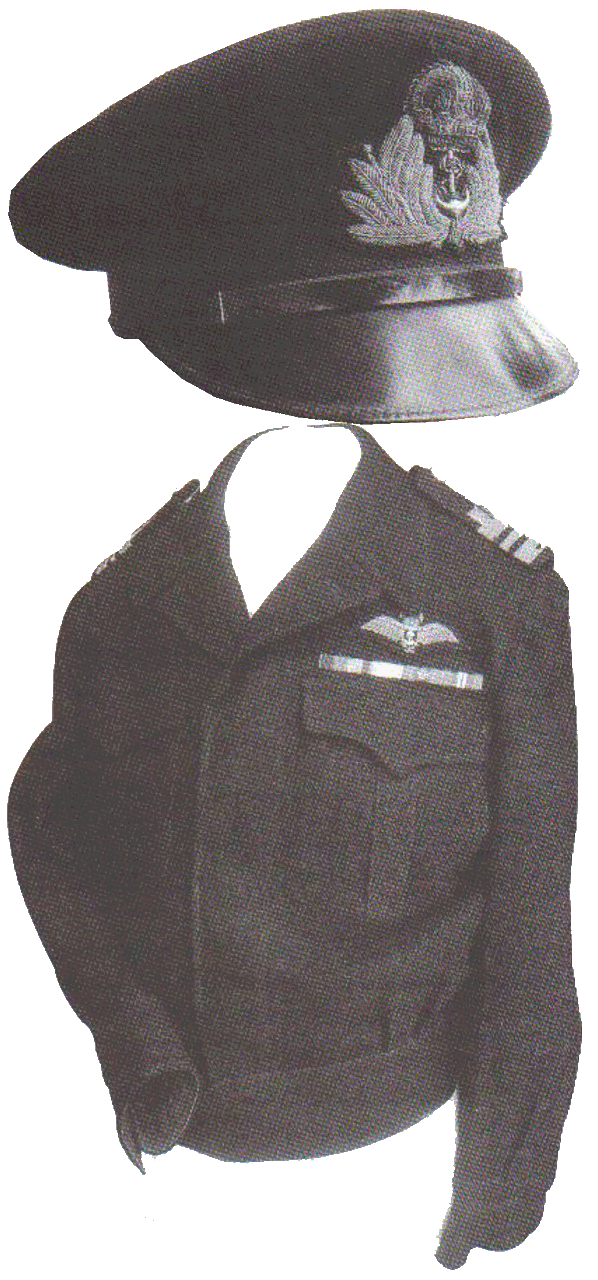 From about 1940 the less bulky inflatable life belt appeared, and was routinely worn or carried at all times when at sea - see G1. That very basic pattern was replaced from about 1943-44 by this aircrew-style vest with a collar to hold the head of an unconscious man up in the water; it was covered in dark blue fabric, with 'RCN' in large white letters and a smaller serial number stamped below. At 'action stations' most personnel wore the life jacket over the clothing, with a white fire-retardant flash hood, long matching gloves, and the khaki-painted Mk II steel helmet.
Royal Canadian Navy officer's cap, c1940-1945; and BD blouse of an RCN officer, c1945-46 - note that all buttons are concealed. This blouse shows lieutenant-commander's gold ranking on the shoulder boards, and on the breast the Fleet Air Arm wings. The gold, arc-shaped national shoulder title appears to have been added when a distinct Canadian naval air arm was formed at the end of the war. Cf Plate G1. (Ross M.A.Wilson Collection)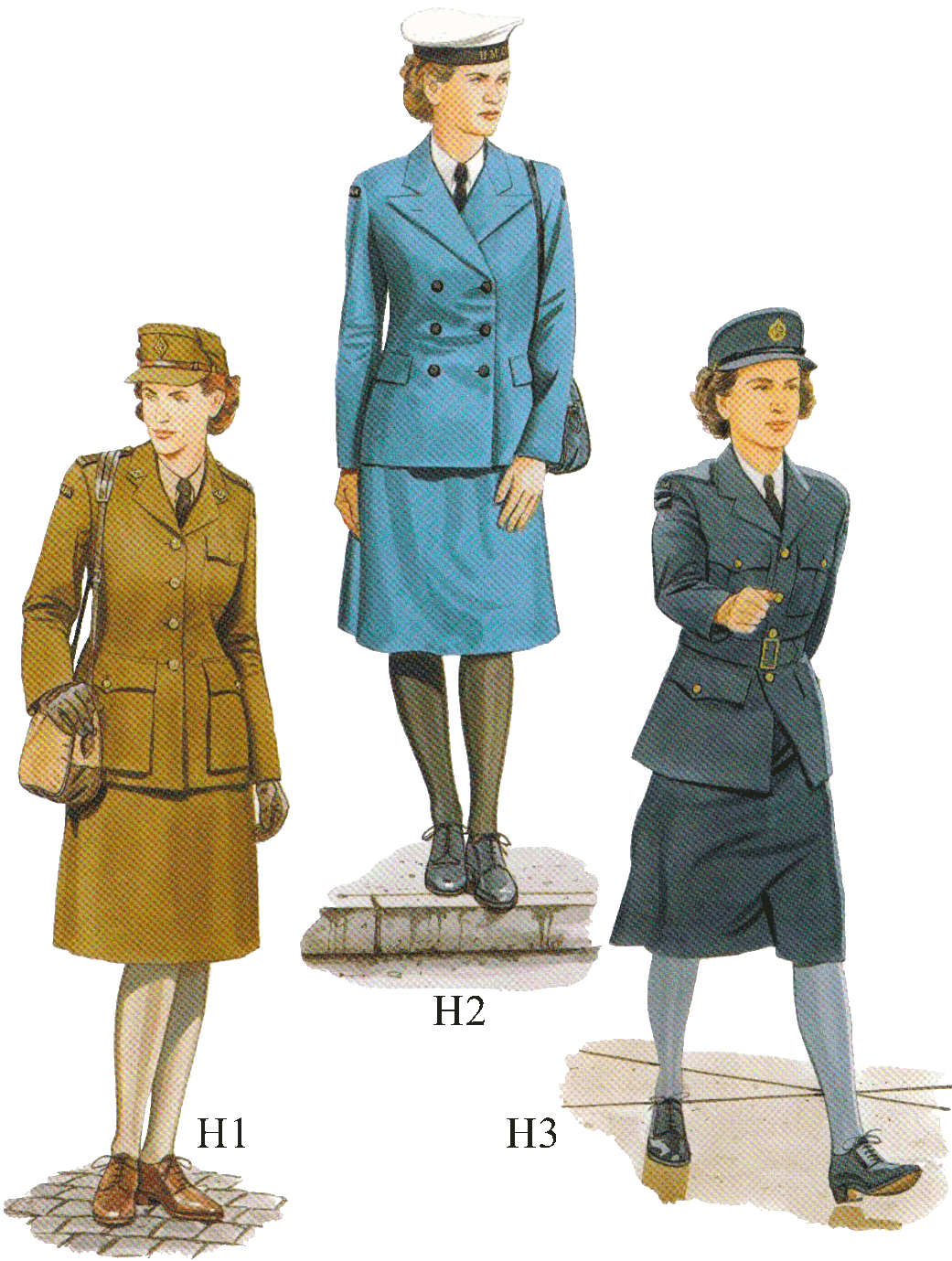 H1: Volunteer, Canadian Women's Army Corps; UK, 1942-45
Initially, in September 1941, the first volunteers continued wearing their volunteer groups' uniforms but with a cherry- red brassard bearing 'CWAC' in small white letters. (The 'cherry-red' shade is sometimes also described as beechnut-brown' - a dark reddish brown hue.) From 9 November the first uniforms started arriving individually addressed to each woman. Sergeant Ada Wilson (later Arney) recalled that the 'uniform, softly tailored in khaki, was an immediate hit with just about everyone. The official insignia was Athene, the Greek goddess of wisdom and protectress of cities and heroes of war'. The uniform consisted of a khaki tunic and skirt, the tunic having an open collar, two patch skirt pockets but only one left breast pocket, four buttons in front and the CWAC's distinctive red-brown shoulder straps; a light tan blouse with black tie, and a khaki cap (including the cloth visor). The brass cap badge was diamond-shaped with three maple leaves and the title of the corps; the brass collar badges and buttons had the helmeted head of Athene with 'C.W.A.C.' below; brass 'C.W.A.C.' titles were worn on the shoulder straps, and a white 'CANADA' title on a red-brown strip on the arms when serving outside Canada, later above a buff or yellow maple leaf and rim on a black disc. The summer uniform was similar but made of lightweight tan material. There were also tan raincoats, khaki double-breasted winter overcoats, brown laced shoes, work blouses, khaki trousers and laced work boots for some trades. (Arney, Ada, Here Come the Khaki Skirts: the Women Volunteers, Cobalt, Ontario; Highway Books, 1988)
H2: Rating, Women's Royal Canadian Naval Service, summer uniform, 1942-45
The service uniform of the WRCNS was similar to that of the British WRNS 'with the exception of the officer's skirts, which are gored rather than pleated'. However, the Canadian naval servicewomen had a distinct summer uniform, shown here. It was light blue with gilt buttons for officers and black buttons for other ranks. On this uniform officers' rank was marked by blue-black shoulder boards with gold lace stripes.
H3: Aircraftwoman, Royal Canadian Air Force Women's Division, 1942-45
The RCAF Women's Division ('Wids') wore the same air force blue-grey jacket and skirt as the British WAAFs, with a light blue-grey shirt and black tie, the same rank badges, and initially the same cap but with a cloth-covered visor. However, the second pattern cap was of this more becoming 'kepi' shape, with a higher stiffened front to the crown. Women serving outside Canada wore the RCAF national shoulder title.

/ page 24 from 24 /

mobile version of the page
We have much more interesting information on this site.
Click MENU to check it out!
∎ cartalana.com© 2013-2020 ∎ mailto: koshka@cartalana.org