SITE MENU
Use search function please. All the info found with Ł - refers to this site
RENÉ CHARTRAND, ILLUSTRATED BY RON VOLSTAD
CANADIAN FORCES IN WORLD WAR II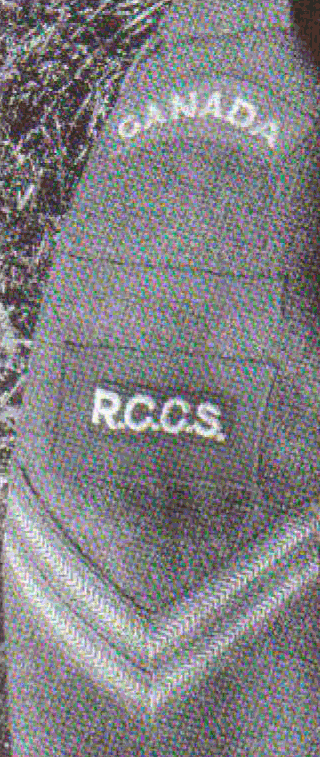 Battledress blouse of a corporal, Royal Canadian Corps of Signals, 1945. The buff-on-khaki 'CANADA' title appears above the red bar which sometimes indicated a division's second brigade, and the red rectangular patch of 1st Infantry Division. Corps were allowed to apply their titles to the divisional sign, in this case in white letters on dark blue. For details of the complex subject of Canadian sleeve insignia readers are recommended to consult Law, Clive, Distinguishing Patches - see Select Bibliography. (Ed Storey Collection)
As in all units, a lot of changes were soon made once in the field, especially to officers' gear and armament. The Sten guns were immediately found 'more dangerous to ourselves than to the Germans', and most officers laid them aside along with the bulky ammunition pouches. Instead they picked up .303in. rifles and disposable 50-round cotton bandoliers; Maj. (later Col.) Jacques Ostiguy recalled that 50 rounds was 'usually enough'. He wore his web waistbelt and hung grenades on it; his revolver was worn at the back, but he never used it - only the .303 'firing from the hip', which he had practised in England. On several occasions Germans armed with pistols shot at him, but always missed, while his rifle brought 'much better' results. He did not use the helmet much, finding it too heavy and awkward to wear. Instead he wore the beret, without the badge, or a woollen 'cap comforter'. On his shoulder straps Maj. Ostiguy wore his father's pips rather than 'the ones lined with red'. Later, when it got colder in Holland, Maj. Ostiguy preferred puttees to web anklets, for their warmth. (Recollections of Col. Ostiguy; Marchand, Gérard, Le Régiment de Maisonneuve vers la victoire 1944-45, Montréal: Presses Libres, 1980)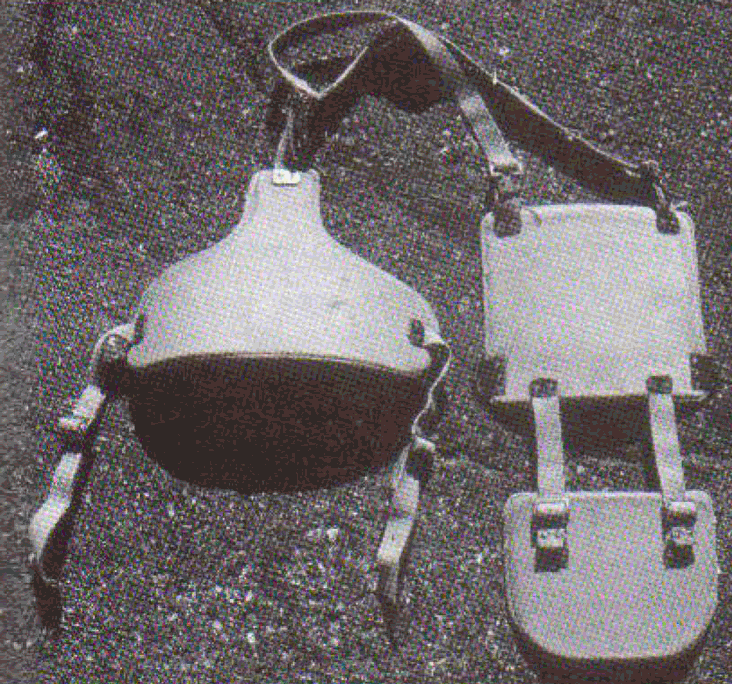 British 'MRC5 body armour was worn by some men of the 2nd and 3rd Inf Divs in 1944. This item originated from a Medical Research Council recommendation of 1940, but although issued in quantity for training it saw very little British use in action. However, some Royal Canadian Engineers with 3rd Inf Div wore it in Normandy; and the biggest users appear to have been infantrymen of 2nd Inf Div - soldiers of the Black Watch of Canada, South Saskatchewan Regt, Fusiliers Mont- Royal and Regt de Maisonneuve (see Plate E2) are known to have worn it. The back plate is at left, the two front plates at right, the lower one always worn low in order - recalled a Canadian Highlander - to protect 'the family jewels'; the steel plates were covered with tan fabric. The armour was only meant to give protection against low velocity projectiles and fragments; in the Maisonneuves, Maj. Ostiguy found that it did not stop rifle bullets. It was heavy and awkward and, after some of the men wearing it were killed anyway, it was abandoned as of doubtful value. (Ed Storey Collection)
E3: Private, Highland Light Infantry of Canada, 3rd Infantry Division; Normandy, June 1944
The Canadian infantry who secured Juno Beach on 6 June were basically dressed and equipped as this figure from the 9th Infantry Brigade. All had the new British Mk III helmet with net, BD, the buckle-flap boots soon nicknamed 'invasion' or '3rd Div' boots, and WE 37 accoutrements. The unit/national shoulder title is in yellow on a yellow-rimmed green backing; below it is the divisional patch, officially described as 'French grey' but found in several shades of light blue and blue-grey. Our man is well armed with a Sten gun Mk III and a PIAT (Projector, Infantry, Anti-Tank). Note that the 'universal pouches' of the 37 set could not be fastened when carrying Sten magazines. (Schipper, Paul, 'The 3rd Canadian Division on D-Day' Militaria Magazine, July 1995)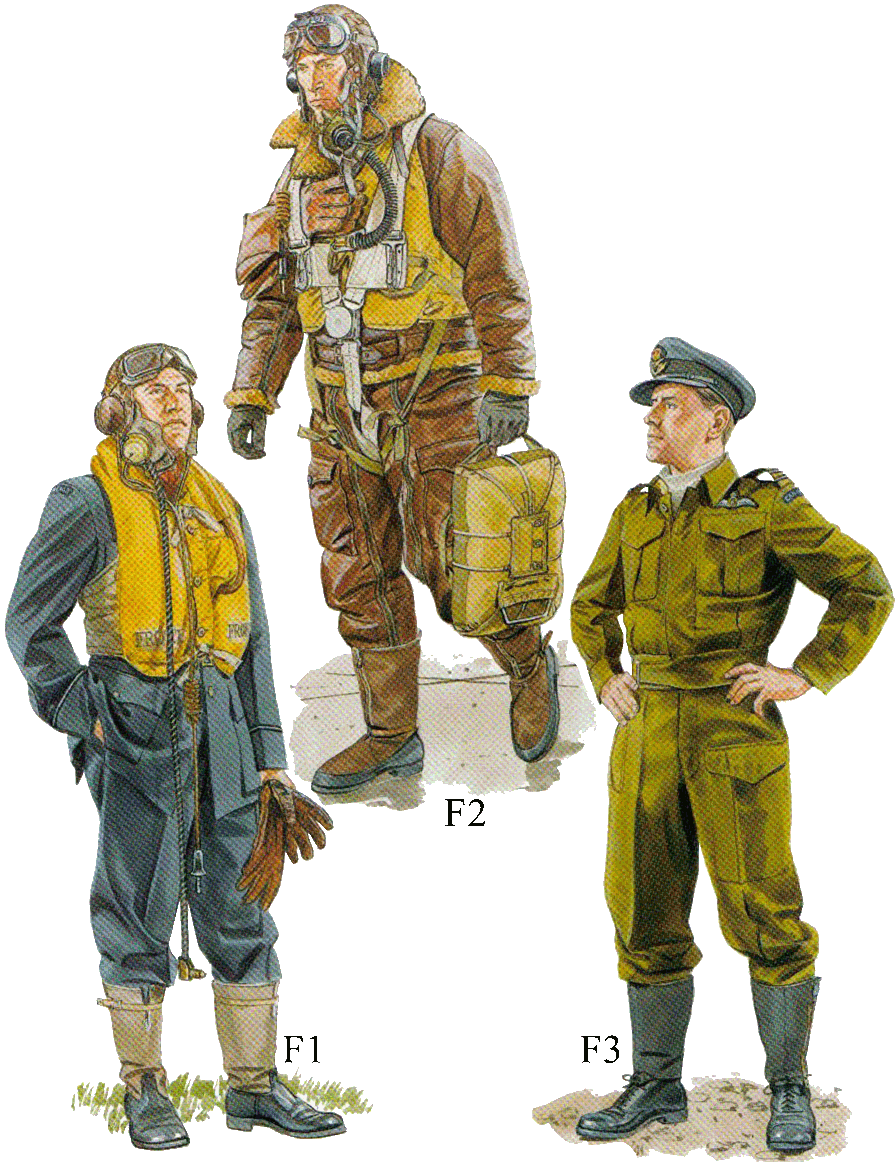 F1: Pilot Officer fighter pilot, RCAF; England, 1940-41
The pilot's service dress was similar to that worn by the RAF although increasingly made in Canada. The 'CANADA' shoulder title was worn only by RCAF personnel serving outside Canada. Our pilot wears the British 1939 pattern boots, 1933 gauntlet gloves, 1932 'Mae West' life jacket, and the Type B helmet with Mk III goggles. Note the single narrow cuff rank rings in light on dark blue.
F2: Air gunner, bomber crew, RCAF; England, 1942-44
The bomber crews of No.6 Group were issued the same heavy 'Irvin' sheepskin flying jacket and trousers as their RAF comrades. Our gunner wears 1941 pattern boots, gauntlet gloves, life jacket, helmet with Mk VII goggles and the 'Observer's' pattern parachute rig, all typical items for mid-war bomber crews.
F3: Flight Lieutenant fighter pilot, RCAF; NW Europe, late 1944
Following the stationing of fighter squadrons in France soon after the Normandy landings, it was feared that the blue-grey BD worn by RCAF personnel could be mistaken for German uniform, especially when dirty from use on front-line airstrips. From September, khaki BD was ordered worn instead when serving in NW Europe. The rank badges and other insignia were unchanged. This was not always greeted with joy, and some continued to wear the old blue-grey uniform; in November 1944, recalcitrant airmen of 83 Group were specifically ordered to get into the khaki Battledress. Our figure is a Typhoon pilot, wearing his service cap and 1943 pattern 'escape boots' with the khaki Battledress.


/ page 23 from 24 /

mobile version of the page
We have much more interesting information on this site.
Click MENU to check it out!
∎ cartalana.com© 2013-2020 ∎ mailto: koshka@cartalana.org