RENÉ CHARTRAND, ILLUSTRATED BY RON VOLSTAD
CANADIAN FORCES IN WORLD WAR II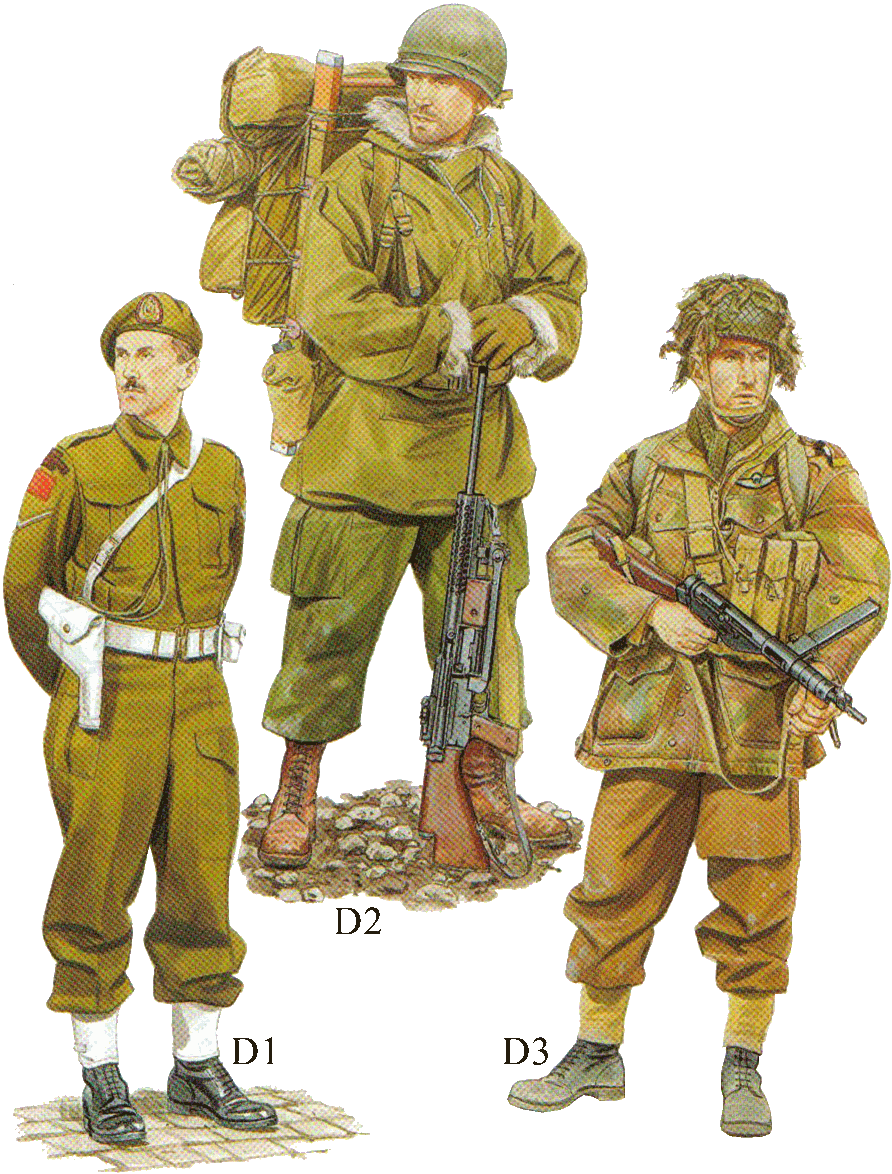 D1: Private, First Special Service Force; Anzio, Italy, 1944
This mixed US/Canadian commando-type unit was originally intended for an operation in occupied Norway. Raised in 1942 and trained in parachute and alpine warfare, it took part in the Kiska expedition in 1943, but proved its real worth as an outstanding infantry regiment in Italy. By the Anzio landings it was completely equipped with US uniforms, accoutrements, weapons and kit. Our figure has the US M1 helmet, a reversible first-pattern parka, mountain trousers, paratrooper boots and a 'Yukon7 pack. His weapon is the M1941 Johnson LMG, used in Europe only by the FSSF. (Burhans, Robert D., The First Special Service Force, Washington: Infantry Journal, 1947)
D2: Lance-Corporal, Royal Canadian Mounted Police, 1st Provost Company; Italy, 1943-45
Members of Canada's famous police force were organised into provost detachments serving with Army divisions in Europe. They wore Army BD with red-on-blue 'ROYAL/CANADIAN MOUNTED/POLICE' shoulder titles, and the RCMP cap badge on the FS cap and later the beret, sometimes on a red backing. On duty their WE 37 pistol equipment was whitened. Normal Army rank badges and formation signs were worn on the sleeves.
D3: Private, 1st Canadian Parachute Battalion; NW Europe, 1944-45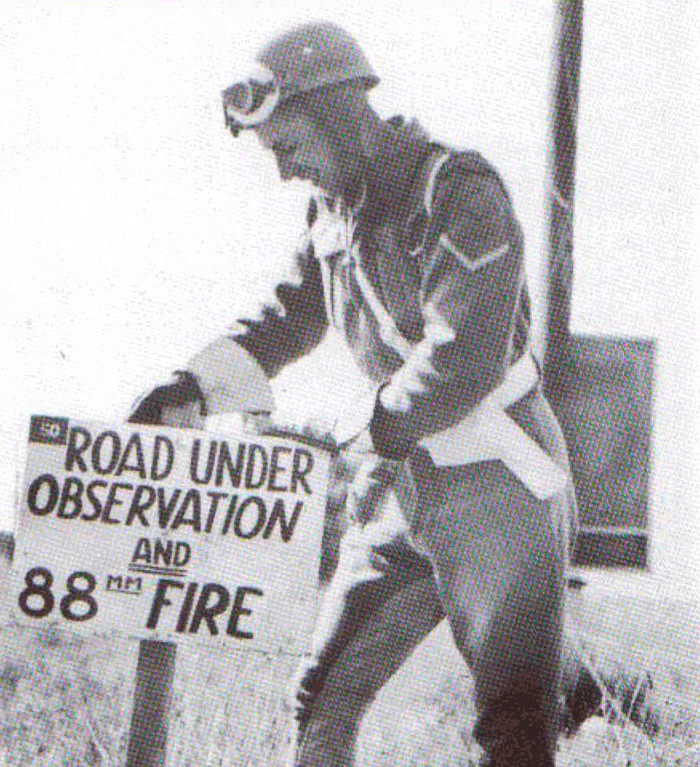 The Canadian paratroopers who jumped in Normandy and later on the Rhine were dressed and equipped exactly like their British comrades of 6th Airborne Division. This soldier has the third pattern jump helmet, camouflage netting face veil, second pattern Denison smock, and parachutist's BD trousers with an extra rear pocket, knife pocket in the seam, and enlarged 'bellows' left thigh pocket lined with thin leather. The WE 37 accoutrements include a 'bandolier' of seven Sten magazine pouches; he also carries a six-foot toggle rope for obstacle climbing. Only the Canadian parachute wings identify his nationality; out of the line he would also display the unit's distinctive badge on his maroon beret. The gold-yellow band on the shoulder straps also identified the unit within 3rd Abn Bde of 6th Airborne Division.
L/Cpl. P.Chimilar, a motorcyclist of the Canadian Provost Corps, putting up a warning road sign near Haumesnil, France, on 14 August 1944. Although near the front the MPs' distinctive white webbing, gauntlets and lanyard are still worn; and the plain blue horizontal diamond patch of I Canadian Corps troops is just visible on his upper sleeve. Military policemen wore a red-on-black 'MP' brassard on the right sleeve. Cf Plates A3 and D2. (Ken Bell, National Archives of Canada, PA131261)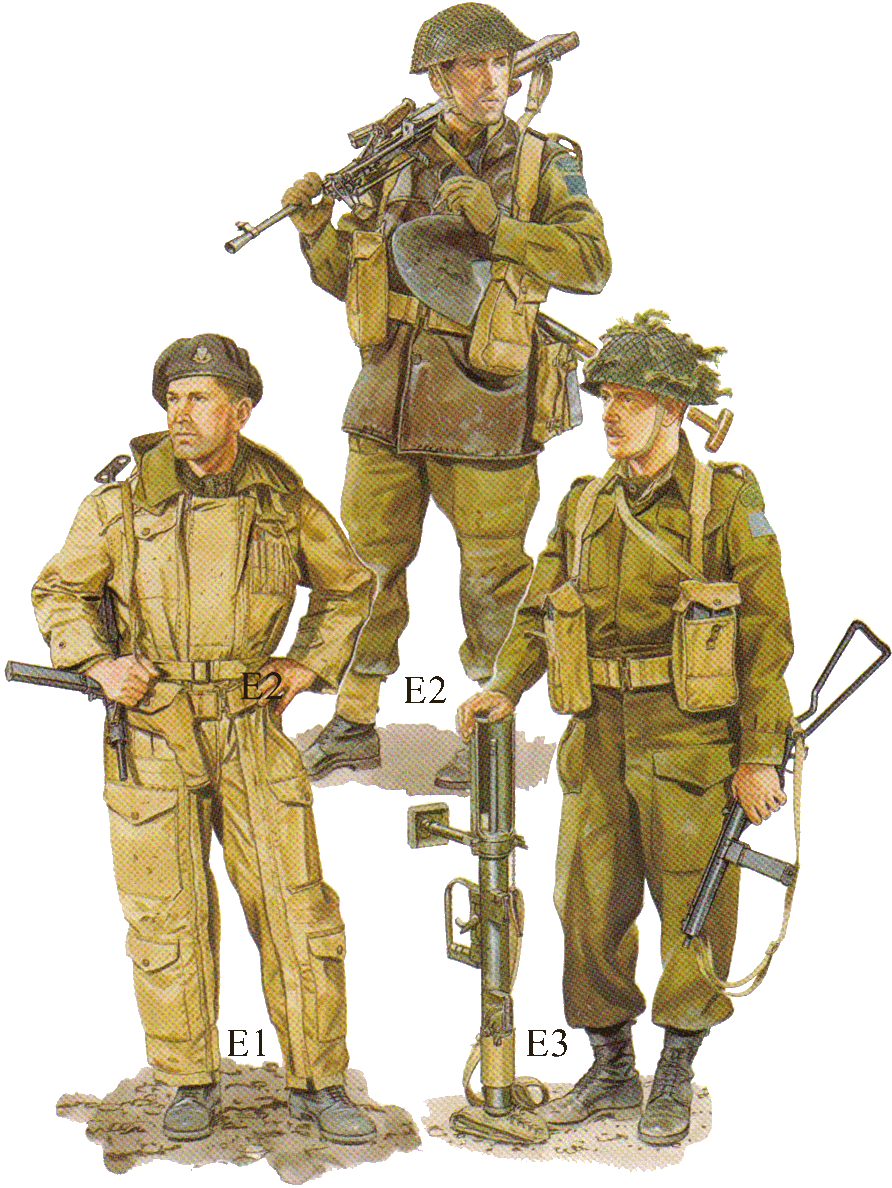 E1: Captain, South Alberta Regiment (29th Armoured Reconnaissance Regiment), 4th Armoured Division; NW Europe, 1944-45
Canadian armoured units were issued with the British 1943 tank oversuit or 'pixie suit'. Made of heavy cotton fabric of a light khaki colour lined with khaki wool shirting material, with two neck-to-ankle zippers, it had no less than 13 pockets. They had a heck of a lot of pockets... but they were too heavy', and thus too warm for tank crews in the summer of 1944, so that 'not everybody had them [on]', recalled Capt. Barford of the South Alberta Regiment. However, 'the tank commander generally had one [on] because he sat in the turret with the draft down the back of his neck'. Captain Jack Summers, of the same regiment, liked the suit in cool weather, as, it seems, did most Canadian tank crews. (Graves, Donald E" South Albertas: A Canadian Regiment at War, Toronto: Robin Brass Studio, 1998; and interview data kindly provided by Mr Graves).
E2: Private, Régiment de Maisonneuve, 2nd Infantry Division; NW Europe, winter 1944-45
This regiment arrived in Normandy on 6 July 1944 wearing standard BD and equipment; as the wet autumn wore on some cold weather items were added. The sleeveless leather jerkin was popular with everyone and, in winter, some soldiers modified them by adding sleeves cut from greatcoats. This Bren gun No.1 - an infantry section light machine gunner - wears the Mk II helmet, BD, jerkin, knit gloves, WE 37 accoutrements, and the parts wallet for his Bren; a GS shovel is thrust under his webbing. Above the dark blue divisional patch is the regimental title, in this case of truncated oval shape.

We have much more interesting information on this site.
Click MENU to check it out!
∎ cartalana.com© 2013-2017 ∎ mailto: koshka@cartalana.org