SITE MENU
Use search function please. All the info found with Ł - refers to this site
RENÉ CHARTRAND, ILLUSTRATED BY RON VOLSTAD
CANADIAN FORCES IN WORLD WAR II
All Canadian military nurses had officer status and, in 1942, this was confirmed with equivalent rank designations. In the RCAMC a nursing sister was a lieutenant, a matron a captain, a principal matron a major, and a matron-in-chief a lieutenant-colonel. In the RCAF, a nursing sister was a pilot officer, a principal matron a squadron leader, and the matron-in-chief a wing commander. In the RCN, a nursing sister was a sub-lieutenant and the matron-in-chief a commander.
In hospitals, RCAMC nurses usually wore a sky blue jacket with two rows of brass buttons and white collar and cuffs, a sky blue skirt, a white veil and, when attending patients, a white apron. Rank badges were worn on the shoulder straps. Near the front lines, they wore khaki drill shirts and skirts in Algeria and Sicily in 1943. Towards the end of that year they were issued with Battledress in Italy, and later in Normandy and NW Europe. The RCN and RCAF nurses wore the same type of uniform as Army nurses in hospitals, but the jacket and skirt were navy blue and blue-grey respectively. The naval service had the gold lace rank stripes with maroon distinguishing cloth for nurses, and green for laboratory technicians, dietitians, etc.
Women's auxiliary military organisations
At the outset of the war Canada had no women's services other than nurses, but there had been precedents during the Great War. Spontaneously, thousands of women organised themselves in various unofficial volunteer organisations. As early as 1940, an estimated 17,000 women volunteers had enrolled in various groups, doing administrative and secretarial work, catering, signals and even some mechanical work, as well as attending weekly drill parades. They were often instructed in first aid by staff from the Canadian Red Cross, St John's Ambulance and Victorian Order of Nurses. Their aim was to fill non-combatant jobs to allow men to join the forces.
The various groups often purchased their own uniforms. A favourite of the Toronto groups was the double-breasted light tan trench coat, worn with khaki peaked caps and black mid-calf boots by some, with field service caps and shoes by others. .Another Toronto group had khaki field caps, a jacket whose cut was based on BD but with small buttons, shirt and tie, a skirt and shoes. The Women's Volunteer Reserve Corps, a Quebec unit about 500 strong, wore an air force blue-grey peaked cap, tunic and skirt.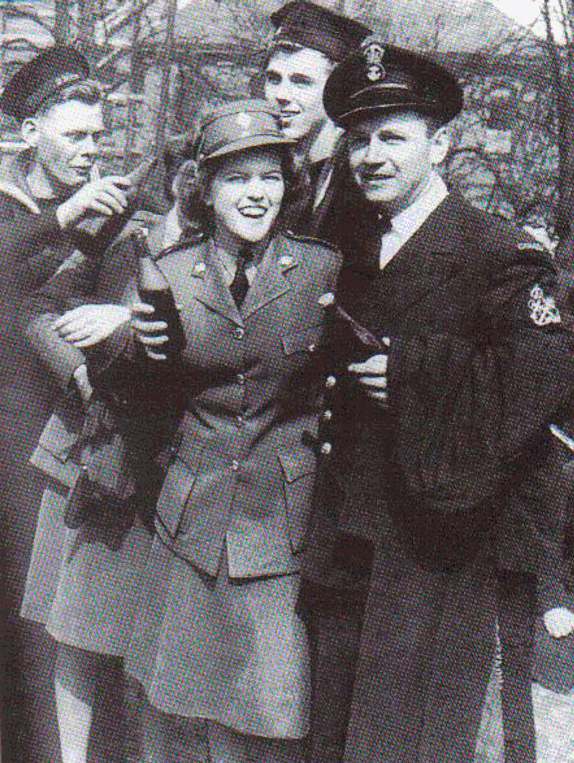 RCN sailors and a Petty Officer celebrating VE-Day with some CWACs on 8 May 1945 in Halifax, Nova Scotia; of Plates G and H. The Petty Officer (right) is distinguished by the peaked cap with crowned anchor badge without a wreath, worn with a double-breasted 'monkey jacket' with gold crown and crossed anchors on his upper left sleeve, white shirt and black tie. Note the CWAC's well-cut khaki tunic with one breast pocket, dark red-brown shoulder straps, and the diamond-shaped collar and cap badges.
After years of restrictions young people in uniform wanted to celebrate, but in Halifax the authorities had made no provision for victory celebrations. Finding all entertainment and liquor outlets closed, thousands of servicemen and women broke into stores and Keith's Brewery, causing the worst disorders in the city's history. A government commission of enquiry blamed the rigid attitudes of senior naval authorities. (National Archives of Canada, C79574)
Appeals were made to the government to recognise and harness all this good will; and finally, from July 1941, a Women's Auxiliary to the Armed Forces of Canada was authorised. The RCAF was first off the mark and immediately raised its Canadian Women's Auxiliary Air Force on 2 July 1941 - the first women's military service to be authorised in North America. It was renamed the Royal Canadian Air Force (Women's Division) on 3 February 1942. It was patterned after the British Women's Auxiliary Air Force and adopted its rank structure, customs and uniforms, but differed in one fundamental feature: it was from the start an integral part of the RCAF and subject to the same code of discipline. Over 17,000 women joined eventually, performing some 70 trades - mostly in Canada, with some in Newfoundland and a few in the USA. From September 1942 a first contingent arrived in Britain; eventually reaching a figure of some 2,000 women, they served mostly at the RCAF Overseas HQ and with 6 Group of RAF Bomber Command. Uniform See Plate H.
On 13 August 1941 the Canadian Women's Army Corps (CWAC) was authorised as an auxiliary of the Army. Some 3,000 women from the volunteer organisations promptly joined and, from 1 September, reported for duty in various locations in Canada. Over the years the CWAC grew to over 21,000 women employed in over 50 trades. Most served in Canada, but many served in the USA and Newfoundland, as well as over 2,000 in the UK, Italy and NW Europe. Uniform See Plate H.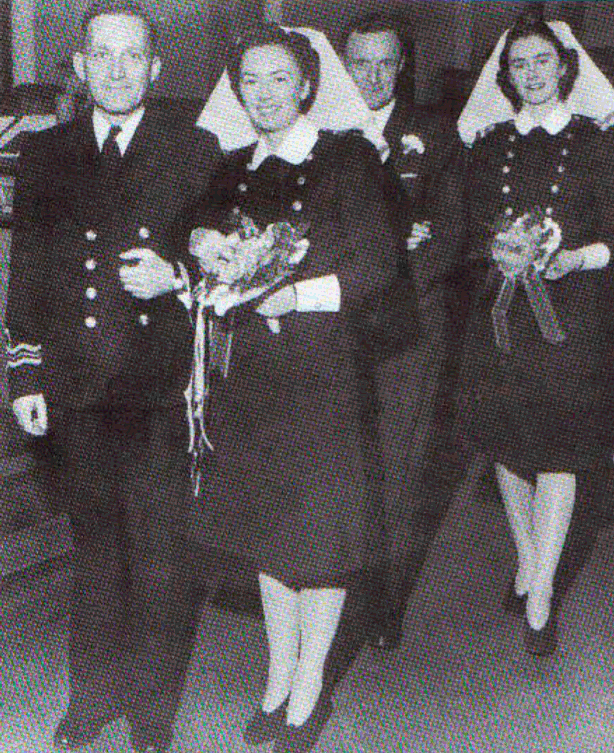 November 1943: Lt.Cdr. Frederick Clairmonte, RCNVR, and his bride Sister Eileen Davidson, with a bridesmaid in the background, both of them in the uniform of the RCN Nursing Service - blue, with gold buttons and gold rank lace on the shoulder boards, white veil, collar and cuffs. (National Archives of Canada, C5859)
The Women's Royal Canadian Naval Service (WRCNS) was organised from 23 July 1942, by three senior officers of the British Women's Royal Naval Service (WRNS) detached for the purpose following a request of the Canadian government. Within a year they had enlisted over 3,000 Canadian women, and the WRCNS eventually numbered over 4,300. The WRCNS was a part of the RCN; its members were subject to the same code of discipline and its training centre, HMCS Conestoga at Gait, Ontario, was commissioned as a training ship. Until June 1943 rank structure was as in the WRNS, but thereafter the WRCNS used naval rank, its officers holding King's Commissions. WRCNS personnel served in over 40 naval bases and establishments in Canada, Newfoundland, New York and Washington in the USA; some were also posted to England and to Londonderry, Northern Ireland. Uniform See Plate II. (See also Brayley, MAA 357, Select Bibliography, for further details of all women's services.)
During World War II, Newfoundland was still 'Britain's oldest colony' and not yet part of Canada (it joined Canada as the tenth province in 1949). However, its wartime defences were closely linked with those of Canada and many Canadian servicemen were posted there. In 1939 there were no military forces or reserves in Newfoundland, which did not have the resources to raise its own. An arrangement was made with Britain whereby Newfoundlanders who joined could serve in the same British units. In 1940 the 59th (Newfoundland) Heavy Regiment, Royal Artillery, and the 166th (Newfoundland) Field Regiment, RA, were raised; the 59th served in North Africa and Italy with the 8th Army, the 166th in NW Europe during 1944-45. The Coast Artillery Battery established at Bell Island, Newfoundland, was the training depot for the two regiments. Some 3,232 men joined the Newfoundland branch of the RNVR formed from late September 1939. Newfoundlanders also joined the RAF in 1940, resulting in the formation of No. 125 (Newfoundland) Squadron. All these Newfoundland volunteers wore the uniforms of the British forces in which they served.
Locally, the Newfoundland Militia was raised in 1939 for active home defence service; renamed the Newfoundland Regiment in March 1943, it was disbanded in 1945. The Newfoundland Auxiliary Militia or Home Guard' was organised for part-time service, renamed the Newfoundland Militia in March 1943. The officers of the Newfoundland Militia, and later Regiment, had buttons with a crowned moose head and 'Newfoundland' in a scroll below. Some 2,100 Newfoundlanders went to Scotland with the Newfoundland Overseas Forestry Unit, a civilian works group. Once over there they formed the 3rd Inverness (Newfoundland) Battalion of the British Home Guard in 1942.


/ page 18 from 24 /

mobile version of the page
We have much more interesting information on this site.
Click MENU to check it out!
∎ cartalana.com© 2013-2020 ∎ mailto: koshka@cartalana.org