SITE MENU
/
This Article Content
RENÉ CHARTRAND, ILLUSTRATED BY RON VOLSTAD
CANADIAN FORCES IN WORLD WAR II
The enlistment of tens of thousands of volunteers brought a new spirit and a call for more Canadian identity on the uniform, as in the other services. Yellow-on-dark blue 'Canada' shoulder tides were added in 1941, although at first somewhat resented by old-timers. Again following an unofficial RN fashion, by 1942 some ratings were seen with ribbons bearing e.g. 'H.M.C. DESTROYERS' or 'H.M.C. MINESWEEPERS', etc; this practice was immediately forbidden, and an order of 15 May 1942 confirmed the 'H.M.C.S.' tally as the only pattern allowed.
There were occasional variations in the uniform. From September 1939, the seamen's white jumpers and trousers traditionally made of British duck flax material were made of cotton, a material available in quantity in Canada. In February 1941, gold silk lace was authorised for officers' rank rings because of the scarcity of metallic gold lace.
For all, hair was cut short and moustaches not allowed, but 'permission to discontinue shaving' was occasional)' granted to crew members by captains - as long as the resulting 'full set' of beard and moustache was suitably virile and neatly trimmed.
Officers belonging to the RCNVR had the same dress as the RCN but, according to regulations, 'instead of each distinctive stripe of gold lace round the sleeves of the coat there is a waved line of three-eighths inch gold lace. (The half stripe, however, is a straight line of one-eighth inch gold lace.)'. As in the British service, this special rank lace earned the RCNVR the nickname of 'Wavy Navy'. The coloured edges of nonexecutive officers followed the curves of the lace. In February 1941, only the curl on the sleeve, the same size as on shoulder straps, was allowed due to the scarcity of lace at that time. RCNVR Midshipmen had maroon collar tabs and twist cord instead of white. Ratings wore identical uniforms to the RCN, initially with 'R.C.N.V.R.' cap ribbons from 1938, but later the 'H.M.C.S.' ribbon was worn. Royal Canadian Fleet Reserve officers had their rank lace narrow and intertwined. The ratings wore identical uniforms to the RCN, with 4Royal Canadian Fleet Reserve' cap ribbons from 1 April 1939 but later with the 'H.M.C.S' ribbon.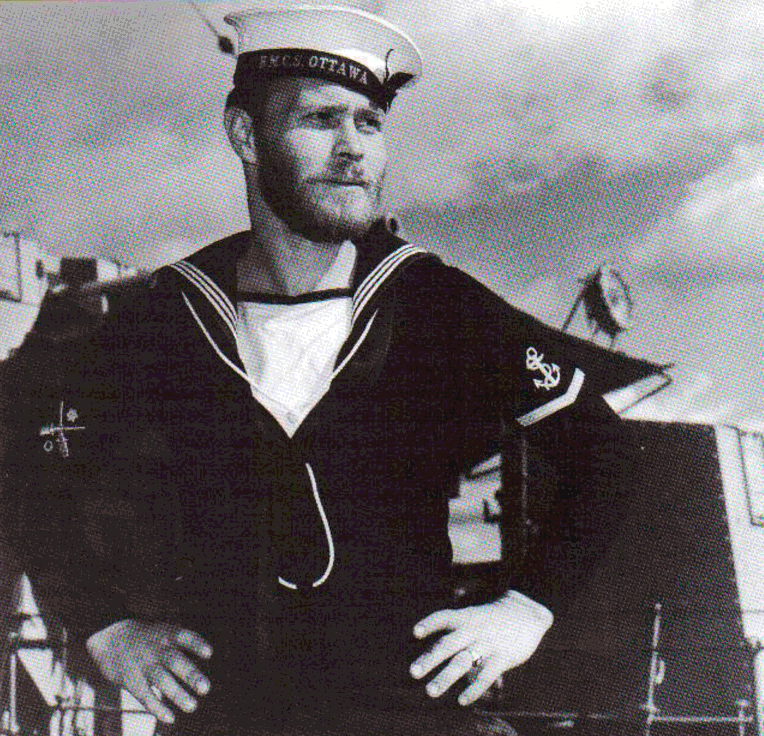 Leading Seaman Brown, of the destroyer HMCS Ottawa, at Halifax in summer 1940. He wears the white-topped cap with No.1 Dress - blue jumper with badges in gold rather than red, bell-bottoms, blue-edged white front', collar, black silk neckerchief and white lanyard. The anchor and chevron on his left sleeve indicates his rate and three years of good conduct. On his right sleeve the star, crossed guns and 'Q' indicate a 2nd Class Gunnery Rating for Quarters. At this date the full ship's name was still worn on the cap tally by crews of the few pre-1939 ships to mark them out from the Hostilities Only ratings already rearing the universal 'H.M.C.S.' ribbon. This HMCS Ottawa was ost on 13 September 1942, but a new River Class destroyer took up the name in 1943. (National Archives of Canada, PA104373)
There was also, from early 1942 until April 1943 on the Pacific Coast, a small 'Fishermen's Reserve' for service in local waters. Made up of about 191 fishermen manning 21 vessels, they were very active, largely in going into the bays and inlets of British Columbia to make sure Japanese ships were not hiding in them. It was initially assumed that the reservists would want to wear civilian clothes, but they requested uniforms so that they would be identified with the navy. A uniform of sorts evolved: officers wore a seaman's jersey and bell-bottom trousers with an officer's cap, and seamen wore uncollared jerseys with bell-bottoms. Often, however, the fishermen resorted to their more familiar civilian working rig of Cowichan sweaters, trousers and gumboots; as a result they were informally referred to as 'the gumboot navy'. Seventy-three went on to serve in the RCNVR as landing craft crews.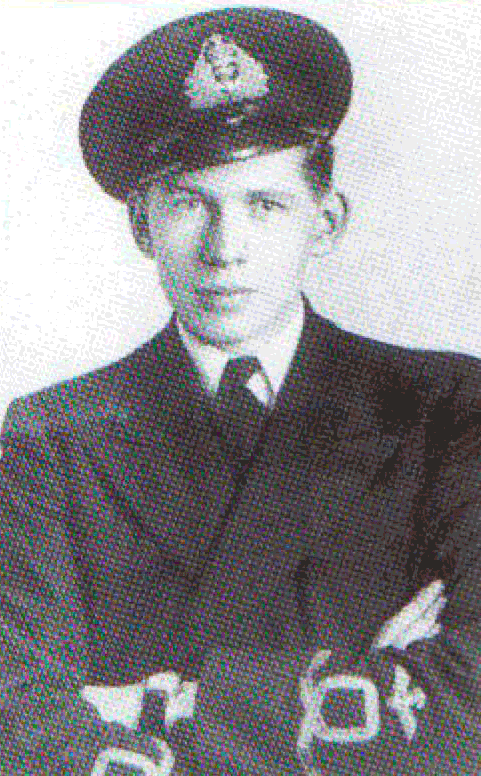 Sub-Lt. Ross M.Wilson was a member of the Royal Canadian Naval Volunteer Reserve who trained to be a carrier pilot in the Fleet Air Arm; he perished in 1942. Just above the 'wavy' RCNVR rank lace can be seen the FAA aircrew badge of a crowned silver fouled anchor and wreath and gold wings. The 'CANADA' shoulder title was apparently not worn by individual Canadian pilots serving on British carriers. (Ross M.A. Wilson Collection)
Canadian military nursing services trace their origins back to the 1885 North-West Rebellion, and the first contingent of Canadian nurses to go overseas was during the South African War. In 1904 a small permanent nursing service was set up within the Royal Canadian Army Medical Corps (RCAMC). Around this small core, nurses from across Canada could be mobilised in times of war according to an agreement between the government and the nursing associations (notably the Canadian Red Gross, St John's Ambulance, and Victorian Order of Nurses). Thus, within months of the outbreak of World War II, thousands of nurses had volunteered into the RCAMC; about 3,656 served in all, more than 2,600 of them overseas, in nearly all theatres of war and in units ranging from field ambulances to general hospitals and convalescent centres. There were also two Canadian hospital ships, the Lady Nelson and the Letitia, which carried 28,000 Allied and 2,700 POW casualties.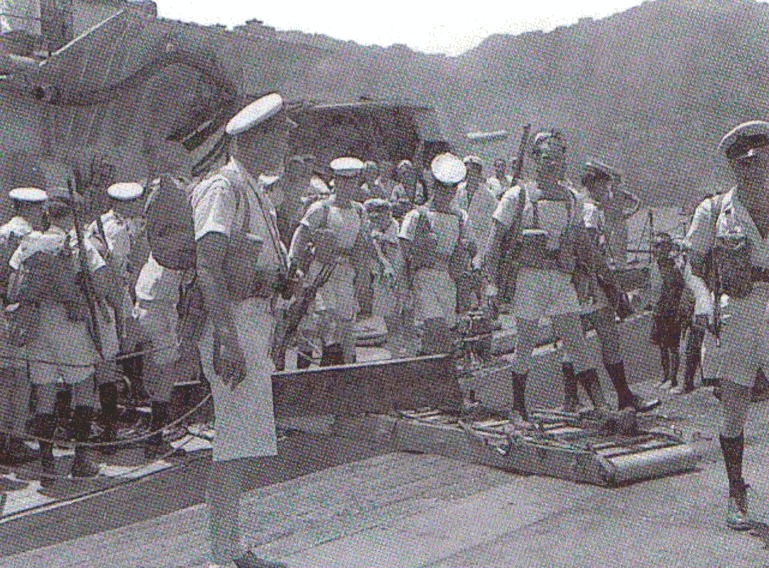 Sailors from HMCS Prince Robert disembarking in Hong Kong on 30 August 1945. They wear the RCN's warm climate dress of white 'fronts' and shorts, with British pattern 1937 khaki web equipment, and carry SMLE rifles, Brens and Stens. Their task was to liberate the survivors of the two Canadian regiments overwhelmed by the Japanese attack in December 1941. At Shamshuipo Camp they found some 1,500 dazed and skeletal prisoners, none of whom would ever entirely recover from their atrocious captivity. Of the Canadian POWs in Japan and Hong Kong, 1,418 survived the ordeal but at least 311 died, of exposure, sickness, exhaustion and ill-treatment - a very marked contrast with the kindness shown to Axis POWs in Canada. (A.M.Sirton, National Archives of Canada, PA114810)
At the outbreak of the war neither the RCN nor the RCAF had nurses. The RCAF Nursing Service was authorised on 28 November 1940 and grew to 481 personnel by 1945, about one in seven of them serving overseas. The RCN began its Nursing Service with three nurses on 4 December 1942, which grew to 343 by the end of the war. In all, Canadian nurses staffed over a hundred major hospitals, admitting some 60,000 Canadians as well as thousands of Allied and enemy wounded soldiers.

/ page 17 from 24 /

mobile version of the page
We have much more interesting information on this site.
Click MENU to check it out!
∎ cartalana.com© 2013-2020 ∎ mailto: koshka@cartalana.org