SITE MENU
Use search function please. All the info found with Ł - refers to this site
RENÉ CHARTRAND, ILLUSTRATED BY RON VOLSTAD
CANADIAN FORCES IN WORLD WAR II
Winter clothing consisted of double-breasted greatcoats, overshoes, gloves, fur caps for officers and cloth caps for enlisted men. The pattern and cut of the greatcoats and caps were the same as for the Army but made from RCAF blue-grey cloth, with RCAF titles, badges and buttons. The fur and cloth caps were only worn in North America.
The BCATP trainees wore their respective nations' air force uniforms. From 18 July 1941 the false turned-up peak visible at the front of the field service cap became white for aircrew under training; this was removed after graduation. Between July 1941 and February 1942, white armlets were issued to graduates until they could obtain officers' uniforms. The civilian personnel of BCATP instruction schools wore dark blue uniforms of approximately the same cut as the RCAF with distinctive brass buttons, cap badges and pilots' wings; these usually bore the letters 'EFS' (Elementary Flying School), 'EFTS' (Elementary Flying Training School) or 'AOS' (Air Observer School), Women instructors had dark blue jackets and skirts with white 'ETFS' titles on dark blue shoulder flashes, and pale blue or white open-collar blouses.
During 1940, when Britain was desperate for aircraft of all types and U-boats were sinking over half of those shipped from North America, a scheme to fly the larger planes across the North Atlantic was approved by Prime Minister Churchill and the Canadian authorities. Regular air crossings had been deemed impossible, especially in winter, and far too costly; but these were desperate times - if more than half of the aircraft sent over made it to Britain, it was worth the gamble.
The RAF would direct these operations with a few senior officers in Montreal, where Dorval airfield was built. Aircrews and support personnel would be mostly civilians. Airline pilots from Canada and Britain, Canadian 'bush' pilots and American pilots thus joined ATFERO (Atlantic Ferry Organisation) from the autumn of 1940, becoming 'Ferry Command' on 20July 1941. Ground security personnel were uniformed, armed, and assumed duties as varied as trying to save aircrew from burning crashed planes to providing part of Churchill's 'British' security guards at the Quebec Conferences. In March 1943, Ferry Command became No.45 Group in the new RAF Transport Command. Over 10,000 men served in this organisation during the war, and it flew some 10,000 aircraft to Europe.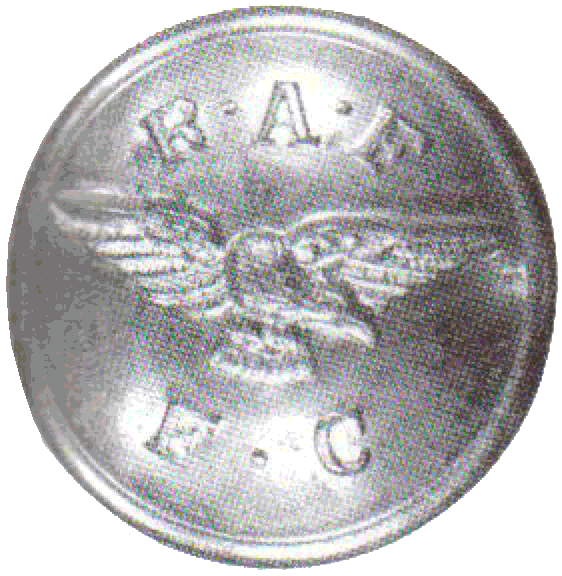 IAF Ferry Command brass button, 1940-45. This RAF organisation based in Canada, which evolved from the Atlantic Ferry Organisation of civilian pilots, had distinct buttons for its dark blue RAF-style uniforms. Private collection)
Initially, ATFERO's non-RAF personnel had no uniforms, and this raised concern over their fate should they be forced down in enemy territory. Anything that looked like a uniform was initially worn, with personnel from airlines such as Imperial Airways or Trans-Canada Airlines (now British Airways and Air Canada respectively) wearing their dark blue uniforms. In the early summer of 1941, Air Cdre.G.J. 'Taffy' Powell 'put them all in service-style khaki with caps', and a badge was hastily designed in his Dorval airfield office; this featured a lion astride the Northern Hemisphere. Few of these badges were made up, as from mid-summer 1941, we were on firmer ground for insignia generally', recalled Powell. We fell heir to the standard RAF eagle and the astral crown. These were incorporated in cap badges, wings and half-wings, which were worn with chrome buttons on dark blue winter uniforms and khaki in summer. Standard RAF-type stripes were used for senior captains, co-pilots and other aircrew. From then on we were reasonably sure of officer status being given to those who got into strange situations or became prisoners of war.'
Ground security personnel were also dressed in the dark blue RAF-style uniforms and had RAF rank insignia for NCOs. The buttons were distinctive, having no astral crown but bearing 'F.C.' They were used until the end of the war, as were the dark blue uniforms, long after Ferry Command had become RAF Air Transport Command.
Formed in 1910, the Royal Canadian Navy (RCN) had a permanent component supported by a Reserve. It was patterned very closely on Britain's Royal Navy in organisation and equipment. In 1923 the Royal Canadian Naval Reserve and Royal Canadian Naval Volunteer Reserve were formed as distinct organisations, which were to prove invaluable in the coming conflict. In September 1939, Canada had only six destroyers, five minesweepers and two training vessels, manned by 1,365 officers and men, with the reserves adding another 1,800. From these the Canadian fleet grew to 363 craft of all sorts, making it, by the end of 1945, the third largest Allied navy after the USA and Britain, with a total during the war years of 118 corvettes, 60 frigates, 15 destroyers, 12 other escorts, three armed merchant cruisers, two cruisers and two escort carriers, plus numerous minor craft. Bv VJ-Dav, 89,000 men and 6,700 women had enlisted in its service.
During World War II the RCN concentrated mostly on the difficult but vital mission of escorting convoys in the North Atlantic. Small escort vessels, notably corvettes, coped with an unpredictable climate including fog, heavy seas and winter ice, as well as German U-boats. In 1942, U-boats penetrated the Gulf of St Lawrence and sank 22 vessels, some of them within sight of coastal towns.
Tasked with vastly greater responsibilities than either the Canadian or the British naval staffs had anticipated, the RCN expanded to sixty times its pre-war strength between 1939 and 1945. At first undertrained and underequipped, Canadian warships managed to destroy 33 enemy submarines by the end of the war: one each in 1940 and 1941, six in 1942. seven in 1943, and 18 in the last 18 months of the war against Germany. In spite of some setbacks, the small RCN ships safely escorted about 25,000 merchant ships bearing 180 million tons of cargo from North America to Britain.
On D-Day, 109 RGN ships manned by 10,000 sailors were part of the Normandy invasion fleet for Operation 'Neptune', and ferried some 45,000 soldiers to the beaches. In response to British requests for help in manning ships, the RGN acquired two light cruisers and provided crews for two auxiliary aircraft carriers in 1943-44, with plans for greater participation in the war against Japan. However, only one cruiser took part in operations in the Pacific before VJ-Day.
Initially, RCN uniforms were very similar to those of the Royal Navy (see Plate G; and Sumner, Elite 79, Select Bibliography). The British dress regulations were followed in minute detail, and indeed, most pre-war Regular officers bought their uniforms from Gieves, the naval outfitters in London, when they took their initial training with the Royal Navy. The only difference was the small 'Canada' on the gilt button between the crown and the anchor for officers with the rank of commodore and below. Chief Petty Officers had only the crown and anchor. Leading rates and below had black horn buttons with 'Canada' between the crown and the anchor. Sailors wore the yellow- gold 'H.M.C.S.' (His Majesty's Canadian Ship) followed by the ship's name on the black cap ribbon, with a uniform otherwise identical to the Royal Navy's. After September 1939 die ribbon officially bore only 'H.M.C.S.'.


/ page 16 from 24 /

mobile version of the page
We have much more interesting information on this site.
Click MENU to check it out!
∎ cartalana.com© 2013-2020 ∎ mailto: koshka@cartalana.org