SITE MENU
Use search function please. All the info found with Ł - refers to this site
RENÉ CHARTRAND, ILLUSTRATED BY RON VOLSTAD
CANADIAN FORCES IN WORLD WAR II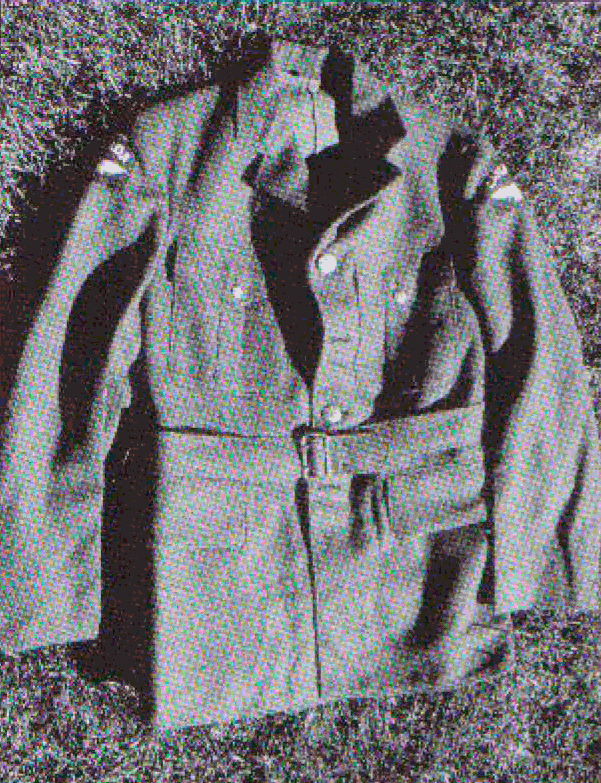 1936 RCAF enlisted ranks' blue-grey service jacket with white metal buttons. The blue-black shoulder title with 'CANADA' in an arc over the eagle, both in white, shows that this garment was worn overseas This example was made in Montreal by the T.Eaton Co. in 1942. (Ed Storey Collection)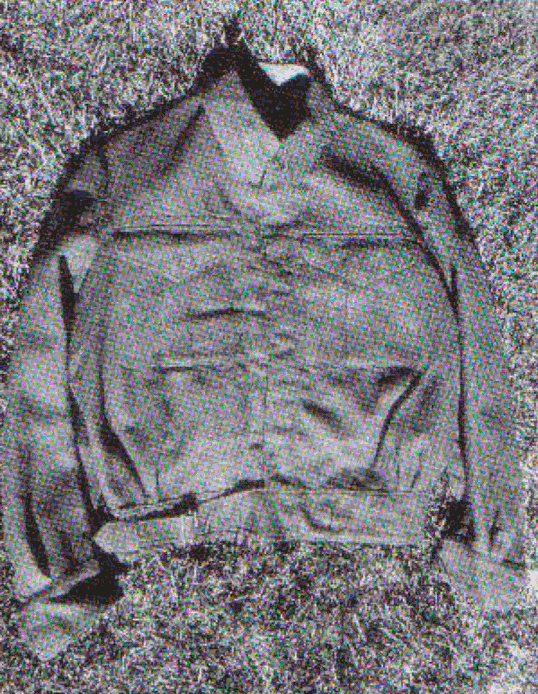 In 1940 a blue-grey blouse and trousers modelled on the khaki Battledress was introduced in 1940 as the 'Suit, Aircrew' - redesignated 'War Service Dress' in October 1943. It was not to be worn for parades and was of the same quality for all ranks. A feature of the trousers was that the left thigh 'map' pocket was much smaller than on Army BD trousers. (Ed Storey Collection)
The Japanese offensive of December 1941 naturally increased the urgency of organising some defence for the west coast. From June 1942 British Columbians became seriously worried about Japanese air attacks when, in the Aleutians, Dutch Harbor was bombed and the islands of Kiska and Attn were occupied by Japanese troops. Politicians bowed to public pressure, and scores of modern aircraft were quickly sent to the west coast. With hindsight this may be judged a highly successful Japanese diversion: eventually a total of 36 RCAF squadrons were based on the Pacific coast which, as Japan's naval air resources declined sharply after the battle of Midway, saw virtually no action. (There was one encounter, when an RCAF Bolingbroke - the Canadian version of the British Blenheim bomber - sank a Japanese submarine off the coast of British Columbia in July 1942.)
In spring 1943 the Allies were at last successfully turning the tide in the Battle of the Atlantic against Germany's U-boats, and RCAF squadrons - notably those now flying B-24 Liberators - made a significant contribution to 'closing the mid-Atlantic gap'. As time passed and the possibility of serious enemy attacks practically vanished, so the Home Air Force shrank, and many squadrons were transferred overseas or disbanded. By September 1945 there remained only 17 RCAF squadrons in Canada.
The first RCAF unit overseas was No. 110 Squadron with its Lysander scout planes, which arrived in England in late February 1940, followed by No.1 Sqn with its Hurricanes, and many others in August and September 1940. With more RCAF squadrons on the way to Britain from Canada and elsewhere, a new squadron numbering sequence was introduced by the RAF in March 1941 in order to avoid confusion. Canada got the 4400' series, which expanded rapidly from its initial four squadrons. In the meantime, the RAF's No.242 all Canadian* squadron had been formed in Britain during October 1939 from Canadians volunteering directly into the RAF. Badly mauled in the closing stage of the Battle of France, No.242's Hurricane pilots quickly recovered their edge under the leadership of the legless RAF ace Douglas Bader; based at Coltishall, they fought effectively in the Battle of Britain under command of No.12 Group.
The Canadian government eventually wished for a more distinct RCAF identity, since some 60 per cent of Canadian flyers were serving in RAF units and a quarter of Bomber Command was formed by RCAF personnel, notably 6 Group. Thus, in time, some RAF units became Canadian. However, senior operational command devolved to the RAF which effectively controlled the Canadian squadrons overseas. As time passed the RCAF squadrons became quite mixed, much like many other RAF units. The RCAF unit ground crews were mainly British, and some pilots of British or other nationalities could be found on the squadrons.
Whatever the politics, it was an effective combination. By late 1944, 43 RCAF squdrons were serving overseas including 19 day fighter and fighter-bomber, three night-fighter and 15 bomber squadrons. The RCAF were credited with downing some 1,200 enemy aircraft; and the top Canadian aces in the RAF were credited with another 119. The RCAF's 6 Group of bomber squadrons made nearly 41,000 sorties, dropping over 126,000 tons of bombs, though at a cost of 814 planes.
From 1924 the uniforms and equipment of the RCAF were very similar to those of the RAF. (For details, see Cormack, Select Bibliography.) The RCAF pilot's wings badge worn on the left breast was similar to that of the RAF except that the letter 'C' surrounded the 'A' in early versions and circled all letters in later versions. The other badges usually had 'RCAF' in small letters below the trade's crowned letter, except for the observer's 'O' which was plain.
The basic identification for Canadian airmen serving overseas was a white title 'Canada' on a blue-black shoulder flash, plain for officers and below the RAF's white eagle badge for enlisted men. (The title and badge were red on the tropical khaki uniform.) On 17 May 1940, personnel in Canada were 'absolutely prohibited' from wearing the national tide while in the country. It was allowed for RCAF personnel serving in Newfoundland on 5 September 1941.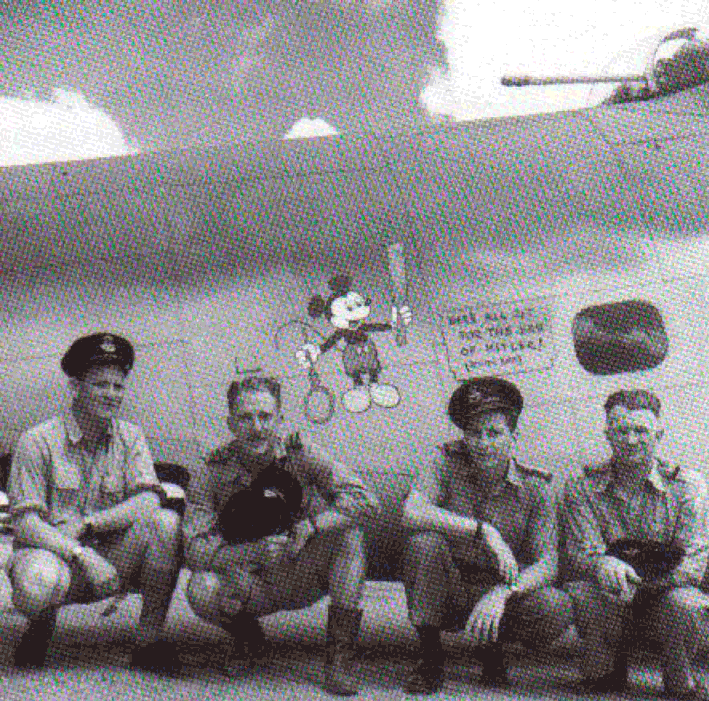 Royal Air Force Ferry Command aircrew in Trinidad, West Indies, in front of a Lockheed Vega bomber, October 1943. Besides the main North Atlantic route some aircraft were ferried via Nassau (Bahamas), Trinidad, and Senegal (French West Africa) to North Africa. The summer light khaki shirtsleeve uniform is worn with the distinctive dark blue Ferry Command cap. (National Archives of Canada, PA114613)
In early 1941, bizarrely, the wearing of scarves was forbidden for RGAF personnel when flying, but this order was widely ignored. On 30 May 1941, Americans in the RCAF were allowed a 'U.S.A.' shoulder title when serving in Canada, and when overseas a title with 'Canada' above 'U.S.A.'; this order was cancelled in 1943 (DND, RCAF Routine Orders 1940-1943).
Khaki drill summer uniforms were ordered discontinued from August 1941 for all RCAF commands, but this rather impractical order was cancelled in 1943. The RCAF issue consisted of the KD bush jacket and trousers to be worn with blue-grey caps. There was no RCAF issue of tropical sun helmets, shorts and stockings as there was in the RAF, but the few Canadian squadrons serving in the Middle East and Far East received RAF tropical issues. Ralph Palmer, who served with No.420 Sqn in Algeria, recalled that 'pith helmets, shirts and shorts were the usual attire' in early 1943.


/ page 15 from 24 /

mobile version of the page
We have much more interesting information on this site.
Click MENU to check it out!
∎ cartalana.com© 2013-2020 ∎ mailto: koshka@cartalana.org