SITE MENU
/
This Article Content
RENÉ CHARTRAND, ILLUSTRATED BY RON VOLSTAD
CANADIAN FORCES IN WORLD WAR II
Following World War I the Canadian government made plans for a much expanded volunteer force, but found it had insufficient equipment in its stores. Additional WE 08 equipment was sought from the UK in 1920, but could not be supplied. Thus, by 1923, the Quartermaster-General reported having some 43,120 WE 08 sets, 10,780 of which were only missing the entrenching tool carriers. Spare parts could make up another 22,480 sets. In all, about 50,000 sets of surplus WE 08 which had seen previous service in the trenches could be issued. There were also 13,000 sets of the Canadian 1916 leather equipment. Although there were various proposals to replace these supplies with more modern equipment, the idea of a large volunteer force was by now no longer entertained.
The Great Depression of the 1930s esured that nothing more would be done. Consequently, until 1940 the solid if aging 50,000 or so sets of WE 08 were still the only equipments available to the Volunteer Militia.
France, 28 July 1944: Tprs. Holstrom, Lardner and Mitchell relax on 'Clanky', the Sherman command tank of Cap. David Currie VC, C Sqn, South Alberta Regt, 4th Armd Div - of Plate El. By the time this photo made the 16 December 1944 cover of Liberty magazine, 'Clanky' had been lost in action at Bergen-op-Zoom, Holland; the crewmen survived the war, however. Here they wear general issue collarless shirts and BD trousers with 'ammo1 boots and the black Armoured Corps beret.
For the Regular infantry regiments of the Permanent Force - and for the Royal Canadian Air Force - there was a limited and somewhat confusing attempt to provide new equipment in 1928. This took the form of a Canadian issue of the British WE 19 equipment, later re titled WE 25 because it had some features of that newer British model too; this was in khaki for the infantry and blue-grey for die RCAF. When World War II broke out, the Regulars who went to Britain with the 1st Canadian Division in December 1939 had this WE 25 and the volunteers the ancient WE 08 of World War 1 vintage. These much-worn accoutrements were exchanged for the new British WE 37 equipment in England.
While the Canadian government had approved the British WE 37 in 1938, none of it was even made, let alone issued, until early 1940. Thereafter, however, the pace picked tip quickly as Canada's industrial output soared. By the summer of 1940 many units on active service had been re-equipped, and by that autumn there were enough new equipments for the thousands being called tip under the Selective Service programme. The WE 37 pattern was the standard equipment of Canadian soldiers from that time. There was one exception: the 13th Inf Bde Group in 1943. Serving with the Americans for the Kiska expedition, they received US Army accoutrements and helmets but Canadian issue weapons, uniforms and light respirators (see Plate B2).
Perhaps because of the sheer size of their country, many Canadians were especially attracted to aviation. During the Great War thousands of Canadians served in Britain's Royal Flying Corps (from April 1918, Royal Air Force) - among them many of its leading Tighter aces. In the wake of such feats, and to cope with increasing demands for a national air force, the Canadian Air Force was set up in 1920, redesignated Royal Canadian Air Force (RCAF) in 1924. The small RCAF of the 1920s-30s was more of a communications, survey and reconnaissance service than a combat air force. Made up of Regulars and volunteers, in September 1939 it mustered just 2,200 permanent and 966 reservist personnel; it had 53 combat aircraft out of a total of 201 machines, nearly all of them obsolete except for seven recently acquired British Hawker Hurricane fighters.
The Commonwealth air training programme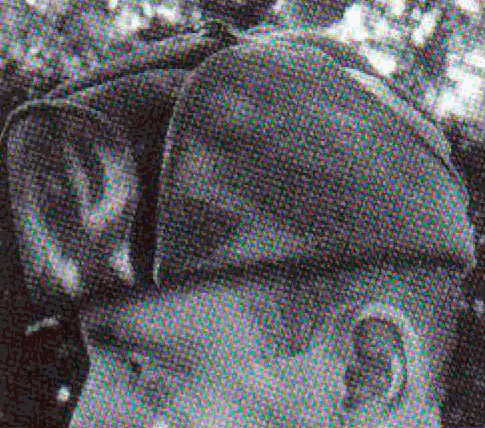 Canadian Army winter cap for enlisted men issued to troops in Canada. It was fairly high- crowned, with the side flaps usually worn tied up with a thin ribbon across the top. Its front flap was permanently turned up and the unit badge was often pinned to the centre - of Plate A2. (Ed Storey Collection)

The officer's winter cap issued for service in Canada was of khaki woollen cloth but with front and side flaps faced with brown fur. (Ed Storey Collection)
As soon as war was declared thousands of volunteers signed up to join the RCAF; some even went directly to England to join the RAF. The small RCAF was immediately overwhelmed: it needed vast numbers of new- aircraft, new airfields and, most of all, trained aircrews. The British RAF also urgently needed trained aircrews; and on 17 December 1939 the British Commonwealth Air Training Plan (BCATP) was created. This called for a huge training programme for aircrews to be established in die vast - and safe - air space of Canada; outright, Canada became the largest flying school in the world. By 1941 there were 30 Elementary Flying Schools, 29 Elementary Flying Training Schools, 11 Bombing 8c Gunnery Schools, ten Air Observer Schools, seven Operational Training Schools, six Air Navigation Schools, four Wireless Schools, three Flying Instructor Schools, one Naval Air Gunners School and one Flight Engineers School. All this was organised in Training Commands numbered 1 to 4.
Aircraft were found in Britain and the USA, but in this as in so many other cases the home industry also rose to the national need. Initially tiny, the Canadian aircraft industry grew by leaps and bounds; old Finch and Fairev Battle aircraft were soon joined by numbers of Tiger Moth and Harvard trainers. Training was given by Canadian, British and American instructors; as many were civilians, they were often grouped in para-military organisations. SuFFIce it to say that, from its inception until 31 March 1945, so me 131,553 aircrew graduated from the BCATP. Of these 73,000 were Canadians; 42,000 from the RAF (including airmen from various British territories as well as Free French, Belgians, Poles, Norwegians, Dutch, etc.); 10,000 from Australia, and 7,000 from New Zealand. This was an impressive total when one considers that 288,000 aircrew were trained in the USA, whose population and resources were ten times those of Canada.
The RCAF also had to expand quickly to meet the demands for home defence and squadrons sent overseas. The Home Air Force in Canada initially concentrated in a few squadrons, all scrambling to get some aircraft - notably flying boats and bombers. With U-boats lurking along the Canadian coastline targeting ship convoys going to Britain, the emphasis fell on the Atlantic provinces and Newfoundland in 1939 and 1940; the west coast was all but undefended, with only a handful of elderly aircraft.

/ page 14 from 24 /

mobile version of the page
We have much more interesting information on this site.
Click MENU to check it out!
∎ cartalana.com© 2013-2020 ∎ mailto: koshka@cartalana.org