SITE MENU
/
This Article Content
RENÉ CHARTRAND, ILLUSTRATED BY RON VOLSTAD
CANADIAN FORCES IN WORLD WAR II
Various elements of the Canadian infantry used no less than four helmets during the war. The army helmet in use in September 1939 was the British Mk I of Great War vintage. Samples of the new 1938 British Mk II had been sent to Canada in 1939, but the first 25,000 were only manufactured from late May 1940, with another 115,000 ordered a month later and 135,000 more (including 20,000 for the RGAF) at the end of that year. Some 200,000 more were ordered in 1941. From July 1941 the helmet liners were edged with steel wire clips to hold the rubber buffers on the liner band, a feature not found on British-made helmets. In 1942, half a million helmets (including 200,000 for the RCAF) were ordered to meet the demand of the vastly expanded Canadian forces. Thereafter helmet orders were lower but, by the end of the war, a total of 1,131,600 (including 155,000 for Civil Defence) had been produced, with even more liners and chin straps.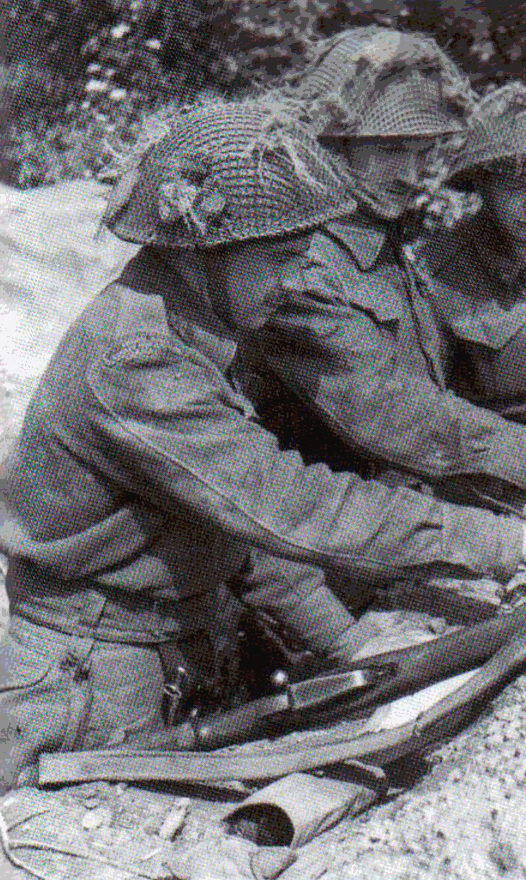 Sgt. F.C.Edminston, Highland Light Infantry of Canada, 9th Inf Bde, 3rd Inf Div photographed in Normandy, 20 June 1944. Note that he has removed his rank badges, a common precaution against snipers; typically, however, he retains the large shoulder title - 'HIGHLAND/LIGHT INFANTRY/CANADA', in yellow on grass green within a yellow inner rim - above the divisional patch; see also Plate E3. Though sometimes dulled over with mud or camouflage cream, the titles were important to unit 6sprit de corps and seem normally to have been worn in action.
Appearing in the UK from late 1939, these titles proliferated in 1942-43; designed at unit level by 'beer bottle heraldists', in traditional unit colours, their shape and style varied widely. In 3rd Inf Div most were arc-shaped with 'CANADA' below the unit title, usually but not always embroidered on the same backing. A few other representative 3rd Div examples are:
(7th Inf Bde) arc with rectangular bottom extension, black ground, white lettering 'ROYAL WINNIPEG RIFLES/CANADA';
(8th Inf Bde) shorter over longer arc, dull red ground, light red inner rim, white lettering, 'LE/REGIMENT/DE LA/CHAUDIERE';
(9th Inf Bde) longer over shorter arc, blue ground, red lettering 'GLENGARRIANS/CANADA' (Stormont, Dundas & Glengarry Highlanders).
Some 48 variations are recorded in all - see Sexton, D.J., Select Bibliography. (Ken Bell, National Archives of Canada, PA133104)
Canadian-made Mk II helmets, including those for the RCAF and Civil Defence, were sprayed with a base coat of matt khaki paint which was initially browner than the more olive shade produced after 1942. Unit or arm of service decals were often applied to the left side. There was occasional repainting in camouflage, sand-textured olive-green or tan for specific purposes. A net of khaki or olive-green, or bi-coloured brown and green from 1943, was nearly always worn. It was sometimes interwoven with bits of khaki cloth 'scrim' for added camouflage. Canadians nearly always stuck their first field dressing packet under the net so their helmets had a bulge, usually at the back or one side.
Even as Mk II helmets were being made, the Canadian forces toyed with the idea of adopting the new American Ml helmet, and a few hundreds of these were experimentally issued to troops in southern England during autumn 1942. The Ml helmet was found to give better protection and it was recommended for adoption at the end of 1942 nor only by Canadian but, ultimately, by all British forces. Canada went ahead and immediately ordered a quarter of a million helmets from the USA. Meanwhile, the British changed their minds in early 1943 and decided to develop instead their own Mk III helmet. The Canadians' policy of maintaining a high degree of commonality with the British forces led them too to adopt the new Mk III; but the American order had to be honoured to at least 200,000 helmets, so that by April 1943 over a million dollars' worth of US helmets had arrived in Ottawa.
Senior supply officials wondered what to do with them; it had been decided that the British Mk II helmets would continue to be used in Europe except for the 3rd Inf Div, which would get the new British Mk III. The obvious answer was to issue the American Ml to units posted in British Columbia, the most likely to serve with American troops in operations in the Pacific. Thus die 13th Inf Bde, which was attached to the US forces for the liberation of Kiska, wore the Ml. Later, in 1945, Ml helmets were issued to the 6th Inf Div then being reorganised in British Columbia for participation in the projected invasion of Japan. The Ml saw various uses in the post-war years, but it officially replaced the British Mk II only in September 1960.
The turtle-shaped British Mk III became much associated with Canada in many Canadians' minds, as it was the invasion' helmet often shown in the press worn by Canadians during 1944. Some collectors later claimed that it was a Canadian design, but in fact none were made in Canada and all were issued in Britain to the Canadian troops. The 2nd Inf Div landed in France in July wearing Mk II helmets; this was also the only helmet used by the 1st Inf Div in Italy and later in NW Europe.
Following British practice, the pre-1939 peaked (visored) service cap quickly disappeared in favour of the khaki Field Service cap (sidecap), which was issued with the BD uniform from autumn 1939. In 1943 the Canadian War Dress Regulations introduced, following 1937 British Army regulations, a complicated table of colours for FS caps worn optionally on ordinary duties by officers and enlisted men. While staff officers and NCOs in London or Ottawa would have indulged in this, there is not much evidence that the coloured FS caps were widely acquired. Instead, from 1943, the khaki FS cap was replaced by the khaki General Service cap. The Canadian pattern was a true beret, made of one piece of material and generally of superior quality and appearance to the British GS cap, which was made from several pieces with a broad separate head band and which the Tommies bitterly compared to a cow-pat. The relevant unit cap badge was worn over the left eye, and some units used coloured cloth badge backing - e.g. the Royal Winnipeg Rifles had green backing following the outline of their badge, while Toronto's Queen's Own Rifles had a green square. 'Scottish' units had the khaki Balmoral bonnet (see Highlanders below). The Irish Regiment of Canada had the caubeen bonnet in dark green for officers and khaki for enlisted men.
For the six regiments converted 'on paper' to the armoured role in 1936 the next few years would be frustrating, since no actual tanks were forthcoming. Even the armoured corps' black berets were first denied to the units, and they were ordered to continue to wear their 'traditional headdress'. There was a loophole in the case of the Essex Regiment, since as a newly raised regiment it had no traditions. Members of the unit bought black berets at their own expense and wore them at the regiment's inaugural parade on 20 April 1937, making it the first Canadian unit to wear berets. The Department of Defence eventually followed suit, so that all armoured units had black berets during the war. (Curiously, the 13th Inf Bde in the Aleutians was also issued black berets in 1943.) Parachute units had maroon berets like their British counterparts.

/ page 12 from 24 /

mobile version of the page
We have much more interesting information on this site.
Click MENU to check it out!
∎ cartalana.com© 2013-2020 ∎ mailto: koshka@cartalana.org