SITE MENU
Use search function please. All the info found with Ł - refers to this site
RENÉ CHARTRAND, ILLUSTRATED BY RON VOLSTAD
CANADIAN FORCES IN WORLD WAR II
At all other camps the guards were permitted, indeed tacitly encouraged, to show kindness to the prisoners; and the mature age of most of the guards helped produce a generally calm and co-operative culture in the camps. The great majority of the German POWs, at first taken aback, were quite content with their treatment. Many POW enlisted men worked on farms or in logging camps, in return for pay and under only the lightest surveillance. There were even times when guards at Kenora, Ontario, lent their rifles to POWs for hunting deer and ducks! Though this was an extreme case, the unofficial policy of general tolerance had very positive results.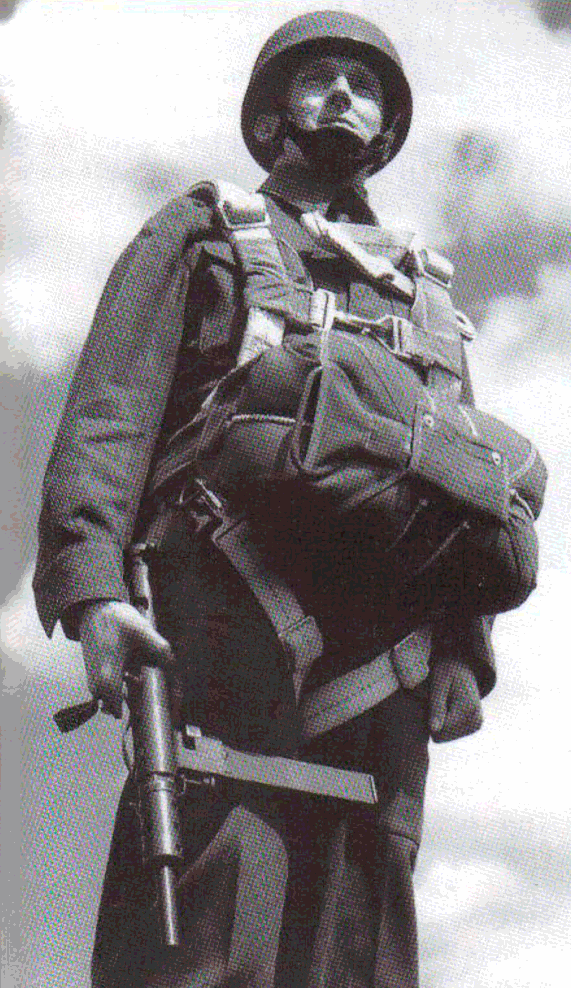 Pte. C.McKean, 1st Canadian Parachute Bn, poses for a photograph in 1943. He wears the third model airborne troops' helmet with chin cup in black leather, and Canadian BD. Interestingly, although the battalion jumped on D-Day as part of British 6th Abn Div, in this training shot he has an American T5 parachute harness complete with chest reserve pack. The Sten gun could be carried during the jump, thrust under the chest harness. (Canadian Dept of National Defence, ZK-226)
As time went by, POWs wore their German uniforms and less - especia1ly after D-Day when, as Hans Kaiser put it, 'We knew it was over'. Siegfried Bruse, a U-boat commander, was much impressed by the Canadians who 'made my life as pleasant as possible from the day I came here as a prisoner'. The kindness shown by the soldiers of the Veterans' Guard of Canada to Bruse and many German POWs changed their minds and their lives: thousands came back to settle in Canada alter the war.
The same could not be said of most Japanese POWs. Indoctrinated with the blind fanaticism of the bushido spirit, and tormented by guilt at having allowed themselves to be taken alive, many Japanese prisoners remained irreconcilable. In one instance three Canadian guards were killed during a break-out in which Japanese rushed the wire. However, once outside the escaped prisoners simply sat down, apparently waiting to be killed, and admitted after recapture that they had been seeking an 'honorable death' rather than a way home.
The subject of Japanese POWs reminds us that the VGC also guarded another type ol camp. Following the Japanese attack on Pearl Harbor on 7 December 1941, the Canadian as well as the American west coast was traumatised by fear of surprise attacks. The occasional appearance of Japanese submarines did not help to calm the population. Consequently, internment camps were established for 'Japanese' civilians - an ugly episode in Canada's, as in America's war record. Some 16,000 innocent Canadians of Japanese descent were arrested and interned, along with some 7,200 resident Japanese nationals. Their property was seized and their livelihoods ruined in an abject act of blatant racism for which the Government of Canada, long after the war, formally apologised.
Another and dreadfully ironic category of internment was that suffered by German Jews who had fled to Britain before the war, and now found themselves regarded as 'enemy aliens' because of their German citizenship. In 1940 many in Britain were interned (though briefly, and under generally decent conditions) on the Isle of Man; and some 1,800 were sent to Canada for internment as potentially dangerous aliens. These were greeted in Quebec City by troops with fixed bayonets and were at first regarded as hard-core enemies; however, a number of incidents made the Canadian authorities reconsider. Initially interned at several camps, most were sent to Fort Lennox, Quebec, a historic tourist site before the war. The guards and the local villagers from nearby Saint- Paul did what they could to help. The barbed wire around the fort was mostly removed in 1941. These innocent victims of persecution were gradually freed, though it was only at the end of 1943 that the last 83, by then transferred to Hull, Quebec, were released. Many remained in Canada to start a new life.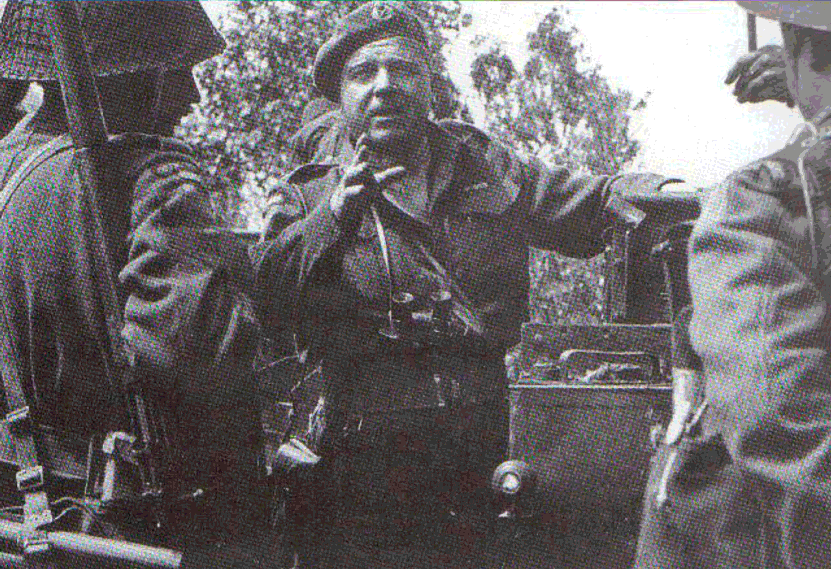 Above Juno Beach, Normandy, 6 June 1944: Maj.Gen. R.F.L.Keller, GOC 3rd Canadian Inf Div, gives instructions to men of the Queen's Own Rifles of Canada. At left, note the unit's red-on-dark-green arc-shaped title 'QUEEN'S OWN RIFLES' above a separate national title, above the division's French grey rectangle, above black-on-dark-green Rifles NCO's rank chevrons. At right, the rear of a British battle jerkin is just visible. (F.L.Dubberhill, National Archives of Canada, PA115544)
The Veterans' Guard continued to serve for some time after the war, in dwindling numbers as POWs were repatriated, until March 1947 when the last 200 veterans were disbanded. Uniforms See Plate A2.
British Columbia's extensive and rugged coastline was impossible to defend and there were few troops available for surveillance. To provide at least warning in case of Japanese attack, die Pacific Coast Militia Rangers were raised from March 1942. This was a volunteer force consisting mainly of woodsmen, lumberjacks and fishermen formed into companies scattered along the length of the BG coast. The organisation was patterned after the British Home Guard of 1940. There was no age limit, but these mostly older men had to be lit and familiar with their area. They formed their own local companies, elected their officers and NCOs, and served without pay.
The concept was immediately successful. By July 1942 some 10,000 volunteers had organised 123 companies; by 1945 there were 138 companies totalling about 15,000 men. The Rangers' permanent base was at Chiliwack, BC, where a monthly bulletin - The Ranger - was published, and where training was given to new volunteers in map reading, weapons care and guerrilla warfare. The local companies assembled at evenings and weekends to practice guerrilla tactics; there was very little drill and no 'spit and polish'. It was understood that the Rangers might be mobilised ai a moment's notice. Later on, they were tasked with spotting and neutralising the many Japanese balloon bombs which landed in British Columbia. The PCMR were disbanded in October 1945. Uniforms All members had a light khaki armband with P.C.M.R.', the company number (e.g. 'No.31 Coy. ) above and the local designation (e.g. 'NAN AI MO RANGERS') below, all in black. This was worn both with civilian dress and with the uniform. The primary uniform was a 'Drv-Bak' cruiser-style tunic made of water repellent duck with metal snap buttons and four pockets, and 'logger' pants (reinforced with double thickness fabric from the waist to two-thirds of the way down the legs) - a popular outdoor outfit made by Jones Tents & Awnings of Vancouver. On 22 June 1942 the firm was contracted to make 15,000 such suits of khaki duck especially for the Rangers, with shoulder straps added. Black shoulder flashes with 'P.C.M.R.' in yellow were often added. The initial khaki lightened considerably after several washings, and assumed a light tan colour. The headdress was patterned after the hunter's popular Dry-Bak khaki duck 'shooting hat' and had a rather narrow brim. The badge could be worn in front, or holding up the left side of the brim 'Aussie style'. The Army's cotton drill summer BE) was later provided to some as secondary dress. The Rangers at first used their own sporting guns, but were later armed with a variety of older rifles such as the Ross .303, Enfield .30-06 1917, Marlin 1936 and Savage 99; the most popular were Winchester 64 and 94 models in .30-30 calibre. Sten sub-machine guns were later issued on a scale of about one to every 15 men.


/ page 6 from 24 /

mobile version of the page
We have much more interesting information on this site.
Click MENU to check it out!
∎ cartalana.com© 2013-2020 ∎ mailto: koshka@cartalana.org