MARK R. HENRY, MIKE CHAPPELLTHE
US ARMY IN WORLD WAR II. NORTH-WEST EUROPE
Based on recommendations from the ETO, the QM in the USA designed a short version of the four-pocket service coat. This new jacket was made from a slightly darker drab material; matching trousers with flapped rear pockets were also manufactured. The jacket had epaulettes, two pleated breast pockets with pointed flaps, buttoned cuffs, all buttons concealed, and a belted waist with take-up buckles on each hip. Unlike the British issue BD blouse, but like the ETO jacket, it also featured open lapels. The QM intended for this jacket to serve as both a field and service jacket replacing the four-pocket tunic; GIs were suppose to have it loose fitting for field wear, and to use it as a liner under the M1943 four-pocket combat jacket. However, the GIs had other ideas: they had it tailored tight and wore it almost exclusively as a service jacket.
This 'wool field jacket' first began limited issue in mid-1944 and was an immediate success, being universally nicknamed after the general who had shown the way. Because of limited availability, many GIs based in England had their four-pocket service tunics cut and retailored into a brass-buttoned version of the short 'Ike' jacket. Alter VE-Day GIs were issued the M1944 jacket almost exclusively. Rank was worn on both sleeves; insignia were in OD green on black felt, silver on black, or, more commonly, the newer green-on-black version.
An officer's version of the 'Ike' jacket was produced in dark green/chocolate (OD shade 51) and was worn with appropriate insignia; the officer's cuff trim was usually in a dark shade. This jacket - of which custom-tailored variations were also seen - was worn with either matching trousers or 'pinks'.
Each branch within the US Army had its own distinctive colour. This colour was only normally seen on flags, in some of the embellishments on officers' dress blue uniforms, in the cord piping on the curtain of enlisted men's overseas caps, and in the cords of the old campaign hat.
Each branch also had its own collar insignia. For officers these were of cut-out design, normally in brass but in some cases with additional coloured enamelling; chaplains' insignia were silver. They were worn on both lower lapels of the officer's service coat, below cut-out 'U.S.' national cyphers on the upper lapels. When in shirtsleeve order the branch badge was pinned to the wearer's left collar and the rank insignia (see MAA 342 for chart) to his right. Enlisted men wore the national cypher and the branch insignia on brass discs on the right and left upper lapels respectively.
The colours and insignia of the major branches normally encountered in combat zones are described in the table on page 8.
Many units were authorised to wear heraldic-style crests in coloured enamels, which were sometimes displayed in the ETO on the officers' and enlisted men's service dress when out of the line. They were displayed by officers centred on the service coat epaulettes, top inwards, and by enlisted men on the lower coat lapels; EMs could also pin one to the left front of the overseas cap.
Normandy, summer 1944: an officers' orders group at a battalion HQ of the 29th Division (the censor's pen has scribbled over the right-hand man's patch). All wear the so-called 'tanker's jacket'; the man sitting in the middle has a fighting knife sticking out of his custom-made buckled leather legging. The kneeling man has British-made hobnailed boots, and an officer's bar painted on his helmet back; in the ETO all officers and NCOs were supposed to have a 2in-wide white bar painted here, vertical for officers and horizontal for NCOs. While not universally applied, these were commonly seen throughout 1944/45.
During the American Civil War the Union Army began to use cloth identification patches, distinctively shaped for each corps and coloured for each division, and normally worn on the headgear. The British Army used many complex systems of distinctive sleeve patches at battalion, brigade and divisional level during World World I; these 'battle badges' were normally geometric shapes in solid colours, identifying units within a formation by their colour, shape and number. General Pershing also authorised the use of shoulder patches within the American Expeditionary Force in France, but the war ended as they came into issue. These differed front most of the British systems in being actual insignia rather than systems to identify units. By World War II the use of such patches - officially, 'shoulder sleeve insignia' - within the US Army was common.
A division used a standard patch throughout its organisation, usually based on the previously designed World War I patch. In general these were embroidered multi-coloured patches, worn at the top of the left sleeve. The symbols used ran the gamut from heraldic designs, through visual references to the home state, to punning plays on words. Independent units, corps and armies also used patches, as did the Army Air Corps. Corps patches were normally blue on white, and commonly used Roman numerals. Those CIs not assigned to specific divisions usually wore corps or army patches.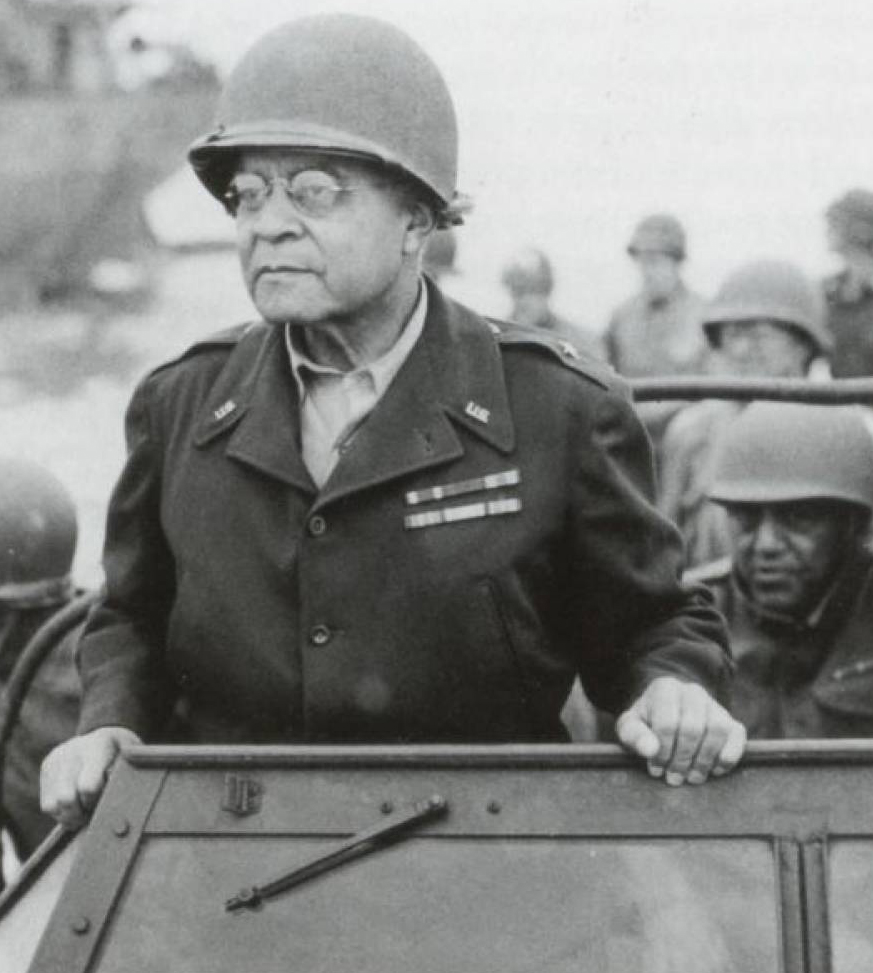 Gen Davis, the only black general officer in the US Army during World War II, was a veteran whose service stretched back to the Spanish- American War of 1898. He served or support and QM staffs in the ETO, and was partly responsible for the integration of squads and platoons of black GIs into infantry combat units in the winter of 1944/45. Here he wears a custom-made woollen 'ETO jacket' with exposed buttons and 'hand-warmer' slash pockets.


/ page 3 from 24 /

mobile version of the page
We have much more interesting information on this site.
Click MENU to check it out!
∎ cartalana.com© 2013-2018 ∎ mailto: koshka@cartalana.org