SITE MENU
Use search function please. All the info found with Ł - refers to this site
MARK R. HENRY, MIKE CHAPPELL
THE US ARMY IN WORLD WAR II. THE PACIFIC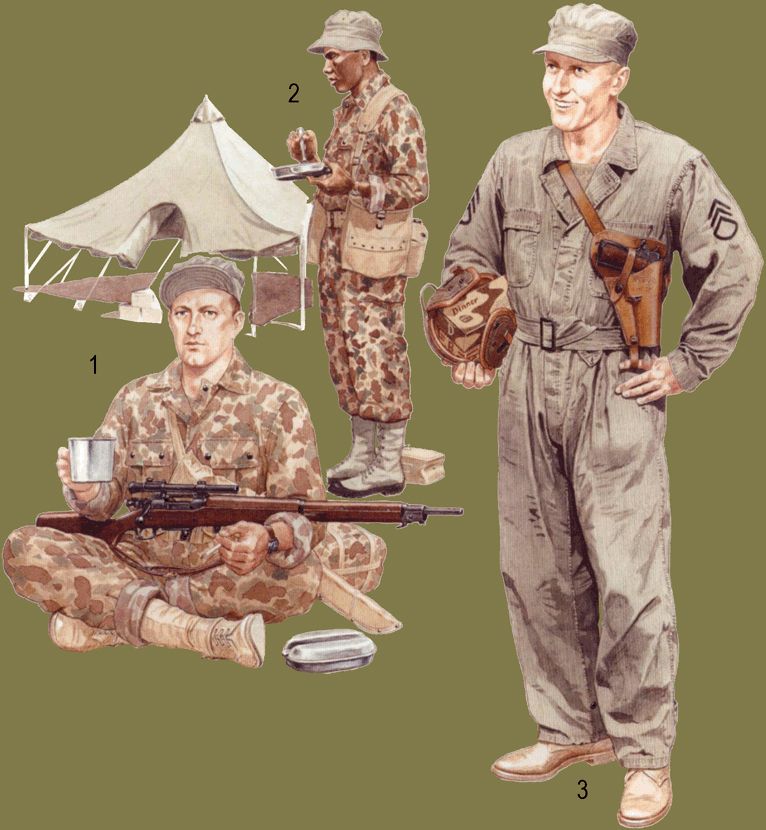 1: Sniper of an infantry unit
This sniper wears the one-piece M1942 camouflaged suit, and the M1941 billed soft fatigue cap - a very popular item, and sometimes seen worn under the helmet. The one-piece suit was the first special jungle uniform issued, but like its HBT green counterpart it proved too hot and too awkward - when heading for the latrine the GI had to remove his web equipment and shrug the top half of the suit right down. The camouflage pattern of green and brown spots on a drab straw-coloured ground was also somewhat easy to spot when the wearer moved. Nevertheless, for snipers - who moved very little when working - the suit proved useful. This GI is armed with the M1903A4 with a Weaver 2.5 x scope sight. He carries a lightweight 60-round bandoleer for extra ammunition; behind him is the new M1943 jungle pack.
2: Medical orderly, 93rd Infantry Division
This medic from an African-American unit wears the same one-piece camouflage suit as E1; it was in common issue in 1943. His footwear are the canvas and rubber jungle boots; and his floppy hat is the later green HBT version of the earlier 1940 khaki 'Daisy Mae'. His pair of medical pouches are supported by special yoke suspenders. This soldier is unarmed, although medics commonly armed themselves in the Pacific theatre due to the Japanese habit of targeting them; for the same reason he displays no red cross insignia. The carry-all bag at his feet, designed to hold a steel ammunition box, was used for many different purposes in the field. African-Americans served in segregated support units throughout the Army, but one all-black division - the 93rd, which had distinguished itself under French Army command in World War I - served in the Pacific.
3: Staff sergeant of a Tank Battalion
This staff sergeant wears the one-piece HBT suit intended for mechanics and vehicle crews. As was common with HBTs - but rare in the Pacific - he has inked his rank on to the sleeves of his coverall. He wears the first pattern of the .45 pistol shoulder holster, which was intended for the use of tankers and drivers. In his fibre and leather tank crew helmet he carries K-ration boxes, the breakfast, dinner and supper meals marked and colour-coded.
US tanks could easily handle Japanese tanks, but the enemy's 47mm anti-tank gun could knock out a Sherman from the side; suicide attacks by sappers with pole or satchel charges and anti-tank grenades were also a serious threat. Some of the Army tank and tank destroyer units which saw action in the Pacific included: SW Pacific: Bougainville, 1944 754th Tk Bn; Hollandia, New Guinea, 1944 4th Tk Bn, 632nd TD Bn (M10) Biak 603rd Sep.Tk Co.
Central Pacific: Makin, Nov 1943 193rd Tk Bn (M3 Lee); Marshalls, Feb 1944 767th Tk Bn (M4A1, M5A1, M10, flamethrower tanks), 766th Tk Bn; Marianas, June 1944 - Saipan 762nd, 766th Tk Bns Guam 706th Tk Bn; Palau Islands, Sept 1944 710th Tk Bn, 819th TD Bn (M10); Philippines, Dec 1944-Feb 1945 44th, 716th, 754th Tk Bns, 632nd (M10), 637th (M18) TD Bns. Okinawa: 706th, 711th, 713th, 715th Tk Bns.


/ page 22 from 25 /

mobile version of the page
We have much more interesting information on this site.
Click MENU to check it out!
∎ cartalana.com© 2013-2018 ∎ mailto: koshka@cartalana.org